Legend of Zelda Gift Ideas
Whether you just started your adventure with video games or if you've been jumping, slashing, and exploring since even before Nintendo's early days, you've almost certainly heard of the green-garbed hero of Hyrule. You might have been there on day one, venturing into the cave to learn that it was dangerous to go alone, or you may have been venturing through time, twilight, in the skies, or the seas, always with your trusty sword at your side. (Or even the cartoon series!)
Well, excuuuuse us, heroes! Just in case you have hit max rupees in your wallet or if you have an eager explorer in need of some dungeon-quality trinkets, we're happy to be your guide to Legend of Zelda gift ideas! Like Mario on a hunt for the ultimate Power-Up or a Fortnite player building the perfect shopping list of gear, let's look at what we have to offer to make you a birthday, cosplay, or Halloween hero!
Legend of Zelda Merch
While finding yourself at the foot of a dungeon entrance can feel a little intimidating, it is also quite exciting. Why? Well, you can be nearly certain that you're about to acquire a fancy new accessory! From the hookshot, epic bow, wands of fire or ice, and stranger things yet, these are some of your favorite Legend of Zelda treasures!
While we don't have quite the same magical flare as the enchanted items of Hyrule's history, we have a bunch of great Legend of Zelda products that we know you and yours are going to love. (And it won't require you to solve any complicated block puzzles to find them, either!) Scroll through to find everything from Link and Zelda statues to rare Legend of Zelda collector's sets and games!
Legend of Zelda Backpacks
When wise Hylians offer you supplies to help you on your dangerous quest, it is still hard not to end up going alone if you don't have the right bag to keep everything together! Whether you've got a kiddo heading back to school or you want a geeky bag to tote your things throughout the day, you can't do better than a Legend of Zelda bag! We have styles with all over print as well as signature items showing off the Hyrule crest or Hylian shield.
Legend of Zelda Collectibles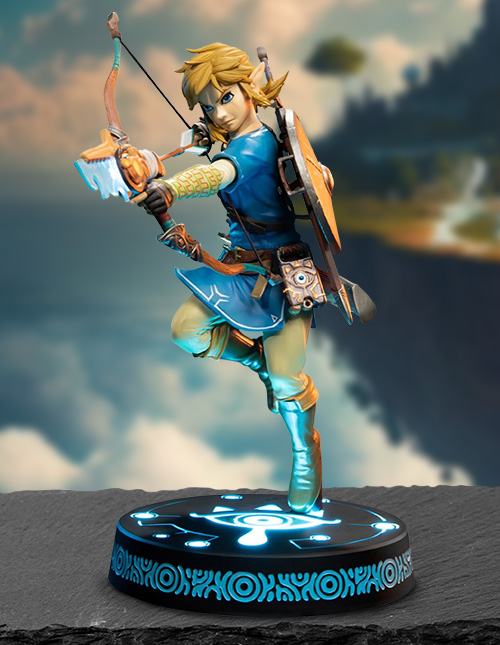 Many of the best treasures in Hyrule are hidden in caves with bombable walls or even stranger locations that require you to fight anything from hordes of boblins to vicious lynels! But if you want to get your hands on a collectible Link statue or Revali figurine, you won't have to work that hard! We have plundered every cavern across Hyrule to bring you the ultimate secrets. Add them all to your mantal. These Zelda collector's items don't need to be a secret!
Legend of Zelda Toys
Do you ever want to keep exploring Hyrule even after you switch off the Switch? Well, fear not! We have some fun Zelda toys that will help you extend the adventure as long as you like. If you're struggling with the Water Temple, try putting together a Legend of Zelda puzzle at the table! Practice your sword techniques with Zelda and Link action figures or give 'Tag' a new twist with a toy bow and arrow set themed after your heroic Hyrule adventures!
Legend of Zelda Accessories
When you are out and about on Earth, show that you are a true fan of Hyrule by wearing some of our Zelda clothing! Let everyone know that you've got the Triforce on your mind with a Legend of Zelda hat or be ready for any climbing situation with a pair of fun Legend of Zelda socks. From shirts, caps, pins, and more, you'll find a ton of amazing Zelda and Link Accessories that are hiding just one click away. Find your favorite and level up your game!