Chucky Halloween Costumes
If you're a fan of horror movies, perhaps you're not so far from being a cosplay fan, too. Whether you're gearing up for Halloween, heading to the ultimate geeky convention, or just want to add a few extra screams to your movie marathon, you're sure to love our collection of Child's Play costumes. Chucky and Tiffany make for an iconic couple's costume… and the best part is you can just swap your spirit around when you're ready to slip into another role!
Tiffany Bride of Chucky Doll Costume
You might be surprised by this beginning. You see that we're starting right off talking Tiffany, bride of Chucky. Doll, killer, or sweetheart of the ages, we can't deny that this gal has captured all our hearts, even more than the soul-swapping serial killer who started the series. Is it her optimism? Her conflicted heart? The combo of a bridal gown and a leather jacket? It could be any or all of this but, either way, we know you'll have fun wearing this costume.
Chucky Good Guy Doll Costume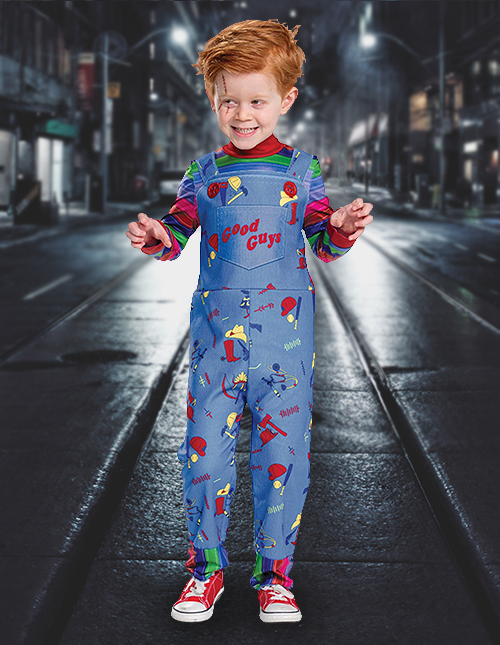 Viewers had to find the combination of an evil doll and an outfit calling him a "Good Guy" to be a bit of a contradiction. Perhaps that's why Child's Play was so good! If you love the iconic look of Chucky's stained overalls and wicked grin, you can't go wrong with a Chucky costume. Buy an outfit and combine it with a wig, mask, or even a faux machete to bring this wicked wonder to life. (Just remember that toddler sizes are a great surprise but hold off on the movie!)
Child's Play Chucky Doll Dog Costume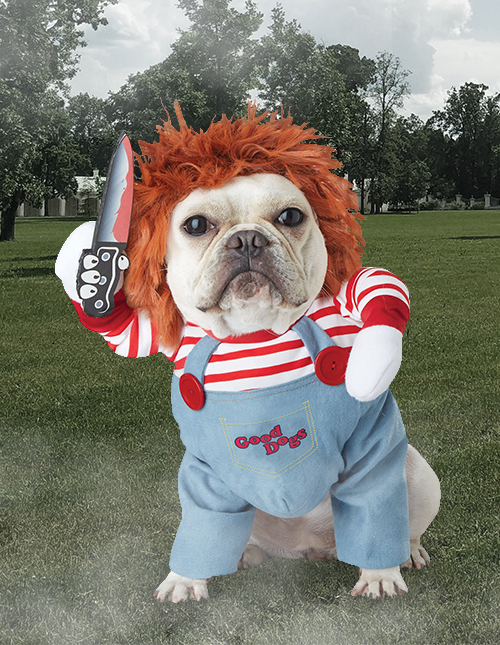 Do you have a doggie who likes to get in on the fun? Well, if someone like Charles Lee Ray can body swap his soul, there's no reason that a furry friend couldn't enjoy an evening dressed in a Chucky dog costume. Just imagine! Instead of a blood-thirsty killer on the loose in a dolled-up disguise, your pet will be chasing after treats. Twice as cute and the only danger is a bit of slobber on your outfit. (On second thought, better bring some treats along, too.)
Heart of Damballa Child's Play Necklace
However scary Chucky might seem, without his mystical pendant, he isn't quite the threat he could be. The Heart of Damballa is the key to all of his strange soul-swapping. Of course, if you're looking at creating the ultimate costume, be sure to add this to your outfit. Worn around the neck or hung at your side, it'll give you just the authentic edge you're looking for. Just remember the words: Ade due Damballa; make this costume complete, I beg you!