Care Bears Halloween Costumes
It all started in the 1980s. Folks wanted to send their heartfelt sentiments and needed to incorporate the classic teddy bear into the mix. Suddenly, we were whisked over the clouds and given the gift of the Care Bears! Each of these lovable and cuddly characters came in a variety of different colors, sporting a unique belly badge on their tummies that gave them magic powers. Naturally, these adorable greeting card characters evolved into an epic television series, three feature films, and a couple of adapted revival series, too!
With all the variety of characters and adventures to enjoy, how could we not get our FUN design team to make a whole bunch of the best Care Bear Halloween costumes out there? Now is the time to figure out your favorite! Browse through this collection to find your favorite Care Bear costumes and start on your adventure!
Care Bears Onesies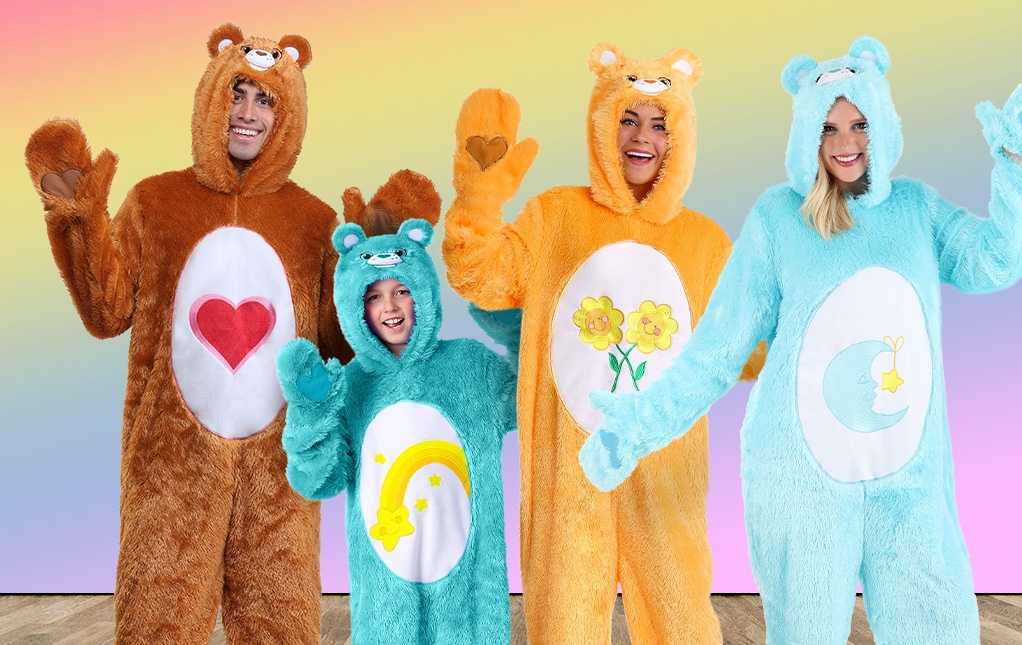 There's nothing quite like a costume onesie to combine a cute costume with a comfy outfit! Loungewear is all about kicking back to your favorite TV or video game and union suits make it possible to make it to your costume party with ease! When you combine all that with Care Bears cuteness, you have the opportunity to celebrate cartoon history while showing off your favorite personality traits, too. How?
Well, each Care Bear has their own unique Belly Badge right on the tummy. If you're a sleepy sort of fellow, Bedtime Bear's moon and stars let folks know you'd rather be napping! Perhaps you bring the luck of St. Patrick's Day with you wherever you go. In that case, Wish Bear is there with a four-leaf clover for all occasions. Pick your favorite occupation, holiday, or even prove you're the ultimate foodie. There's sure to be an adult or kid's Care Bear onesie to bring your inner Bear to life!
Kid's Care Bears Costumes
Obviously, characters like the Care Bears are perfect for folks of any age. Still, there's something about the innocence (and adorability) of the tiniest of our number that brings out the ultimate cuteness of a Care Bear costume! Whether they are getting together for a play date or snuggling in for some TV time, you can buy your kids a Care Bear onesie to ensure that they're in cozy comfort the whole time! Just like our adult Care Bear costumes, you'll find a wide variety of colors and characters to choose from. Of course, your tyke will need to settle on a favorite color first!
Baby Care Bears Costumes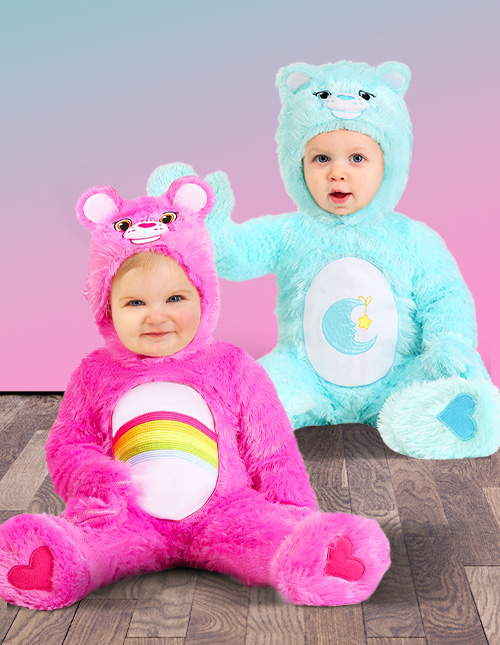 Let's be honest. There's something exceptionally cuddly about babies. Is it the chubby cheeks? The tubby tummy? The way their giggles and huggles make our hearts soar? It's hard to say exactly what makes us grin the way we do whenever they let out a little squee! Now take all that cute energy and put it into an infant Care Bear costume and you'll see what makes Baby Hugs and Baby Tugs a pair of the best Care Bears out there. In fact, the only thing even more adorable would-be imagining Bedtime and Cheer Bear back when they were crawling around the clouds!
Care Bears Costumes for Toddlers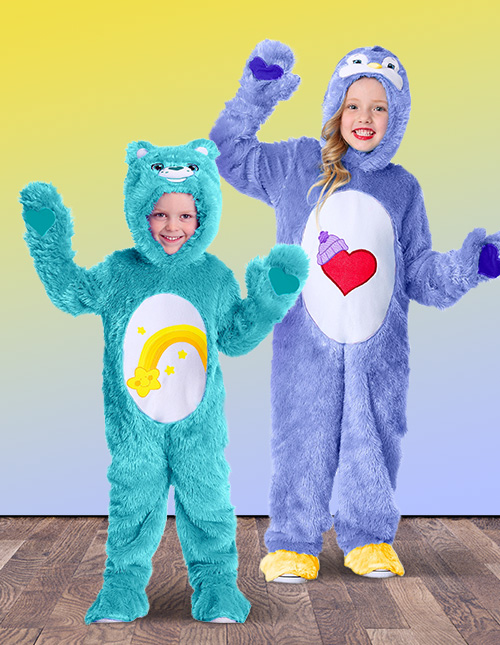 When it is time for your kiddos to play imagination games together, it might help to give them a bit of inspiration. Sure, you could just listen to them play Pete the Cat or click Play Again on the most recent song YouTube has to offer. But when you buy a pair of Care Bear Dress Up costumes, you will find you have a couple of toddlers teeming with joy and you get to enjoy some of your own nostalgia for once! You'll find several Care Bear toddler costumes available and—best yet—the color palettes and animal options mean there is always a perfect pairing!