THEY'RE HEEERE! We're talking about the best horror gifts for adults and kids, of course! We're huge fans of horror movies, TV series, books and video games, so it should come as no surprise that our desks are covered in horror figures—along with other pop culture gifts. (Pennywise and the Demogorgon and Aliens, oh my!) From frightening to downright spoopy, let's take a look at some of our favorite horror action figures, horror clothing and other scary gift ideas so you can cater to your horror-loving friends and family.
Stranger Things Gifts

Part horror, part 80s nostalgia trip, Stranger Things wormed its way into the hearts of both horror fans and those who love pop culture movies and TV shows. They have scary figures of creatures such as the Demogorgon and even a hulking Funko POP! of Bruce. If you're looking more for horror clothing, you can find Stranger Things gifts like this colorful shirt. Also, who doesn't want a miniature Sheriff Hopper to hang in their home? The Christmas ornament string just makes it easier to display wherever you want!
Godzilla Gifts
How many Godzilla movies are there? Is anyone even counting anymore? If you're looking for Godzilla gifts for a fan of this radioactive reptile, you can find plenty of collectible figures and action figures, apparel, and even board games! (Jenga may be a pretty basic party game, but Godzilla was thematically made for it!) If your horror fan is really into collectible figures, there are tons of Godzilla statues for any budget—from popular and wallet-friendly Godzilla Funko POP!s to more expensive Godzilla action figures by the likes of S.H. Monster Arts. Just because Godzilla destroys entire cities doesn't mean that these gifts need to break the bank.
Five Nights at Freddy's Gifts
When people think about the world of horror, they tend to gravitate towards the big movies. But there are also horror TV shows and even video games loved by horror fans. Speaking of horror video games, one of the most viral was Five Nights at Freddy's—or FNAF for short. If you ever worried about the likes of Chuck E. Cheese and Ronald McDonald coming to life and haunting their respective restaurants, you have the basics of FNAF down. These haunted animatronics roam the halls of Freddy Fazbear's Pizza, likely scarring the night security guard for life. If you're looking for horror gifts for a gamer, these Five Nights at Freddy's gifts are simply perfect!
It Gifts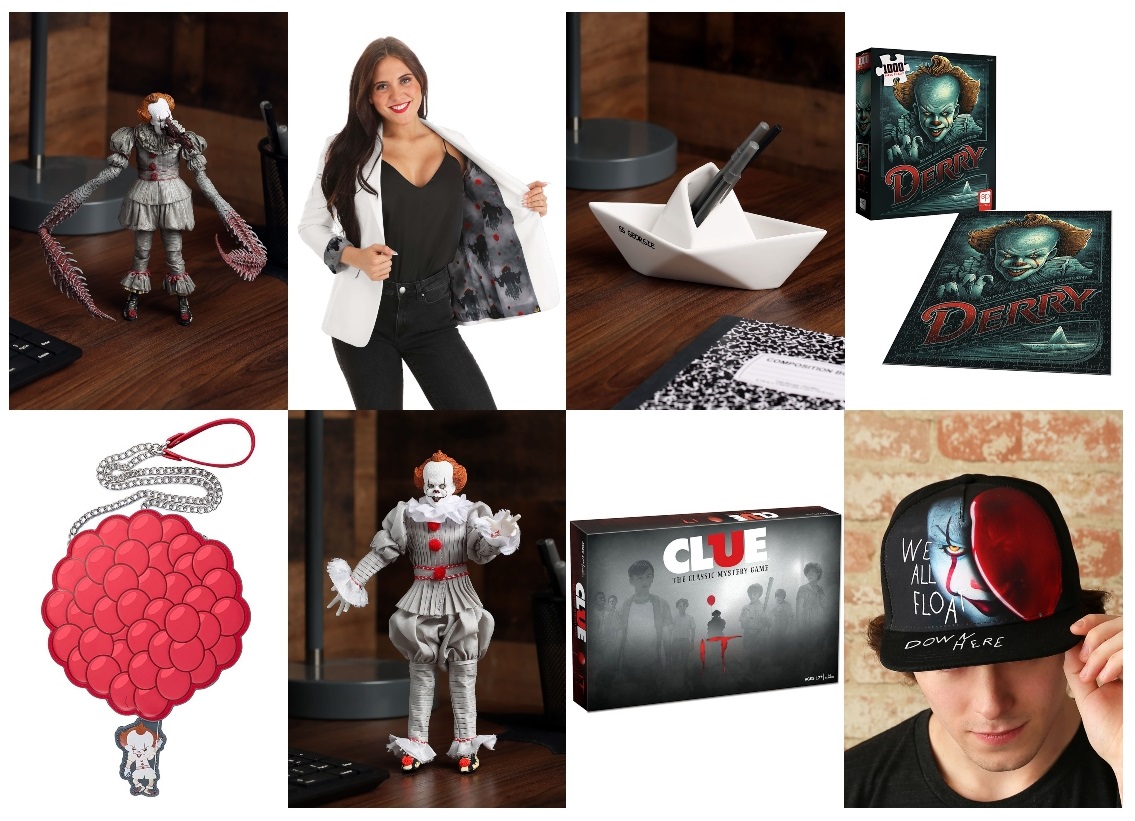 After the success of the new It movies, Pennywise increased in popularity among the horror community. Should you also be shopping for a Pennywise fan—or shopping for some It goodies for yourself—these Pennywise gifts are sure to scare up a good time. Horror NECA figures are definitely fan-favorites, but you can also find board games and puzzles to tease your brain. If you want creepy-cool clothes, you can find some Pennywise-themed apparel and accessories perfect for putting together the ultimate horror-themed outfit!
Michael Myers Gifts
Speaking of older horror movie franchises catching their second wind, Halloween is back and better than ever! Michael Myers was always an iconic slasher who really helped the genre take off, and we're excited to see the new Halloween movies giving us an abundance of Michael Myers gifts. Sip cold drinks out of a Michel Myers Geeki Tiki while binging some of your favorite horror movies, or collect your favorite horror action figures to decorate your entertainment system. If you're not looking for yourself but you're shopping online for a friend or family member, we have Michael Myers horror movie gifts perfect for any budget.
Friday the 13th Gifts
Jason's iconic hockey mask is a favorite among horror aficionados, so why not find a few iconic Friday the 13th gifts? Keep cozy for late-night horror movie watching in snuggly socks, sleep pants and shirts. There's even a Camp Crystal Lake hat for a more subtle nod at the franchise. Otherwise, you can get a variety of collectibles and other Jason Voorhees knickknacks that are sure to please any collector of creepy curios.
Addams Family Gifts

The Addams Family has come a long way since they first appeared in the pages of The New Yorker in 1938. Whether you love them because of the 60s TV series or the newer movies and TV adaptions, the characters themselves are iconic. There are plenty of Addams Family POP! Vinyl figures to collect, but you can also find other dolls and figures too! Department 56 even has an Addams Family collection for people looking for a spooky version of otherwise typical Christmas village decorations. These high-end collectibles even light up with LEDs!
Ghostbusters Gifts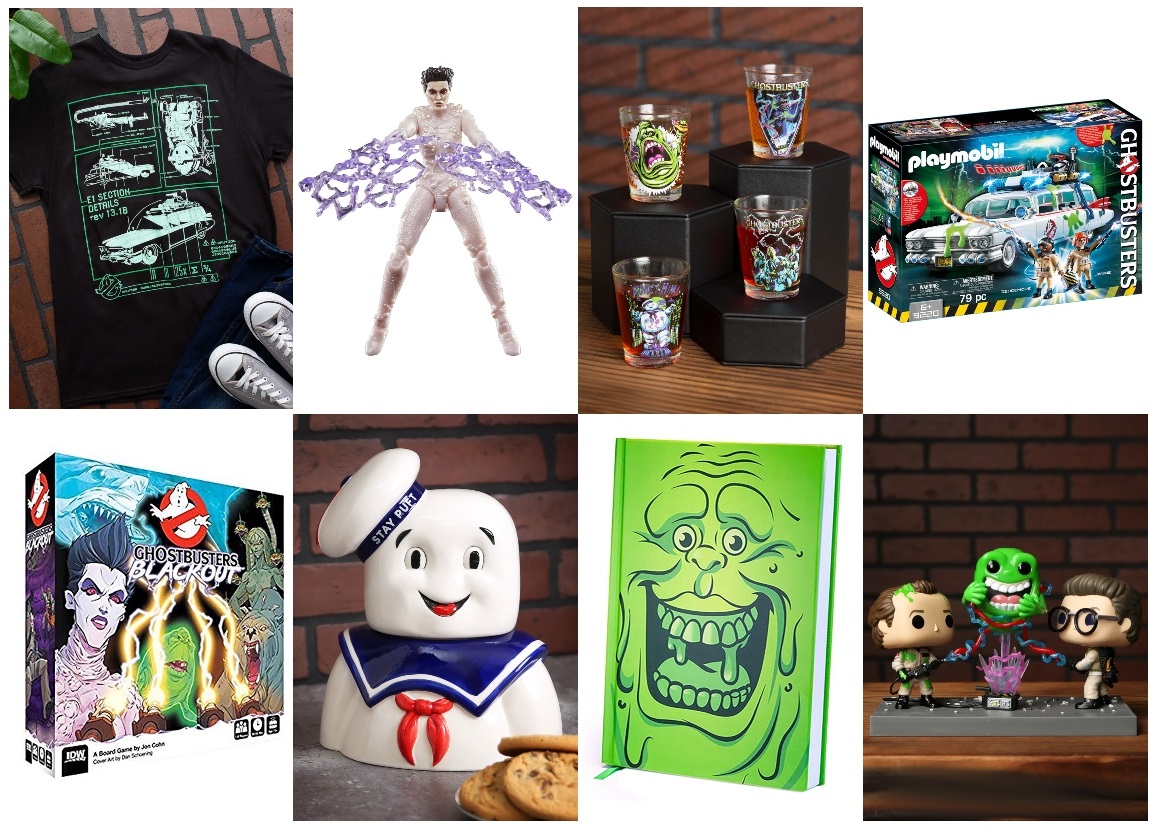 Who you gonna call when you're hunting for spooky gifts? While Ghostbusters isn't strictly horror, there's enough crossover with ghosts and demigods that many horror fans love the franchise, too. There are so many great Ghostbusters gifts that we couldn't possibly list them all here. Cool clothing, toys, games, kitchenware, collectibles and other slime-filled goodies await you! You can even find Ghostbusters gifts for kids with the Ghostbusters Playmobil toys, or perhaps a Slimer journal.
Beetlejuice Gifts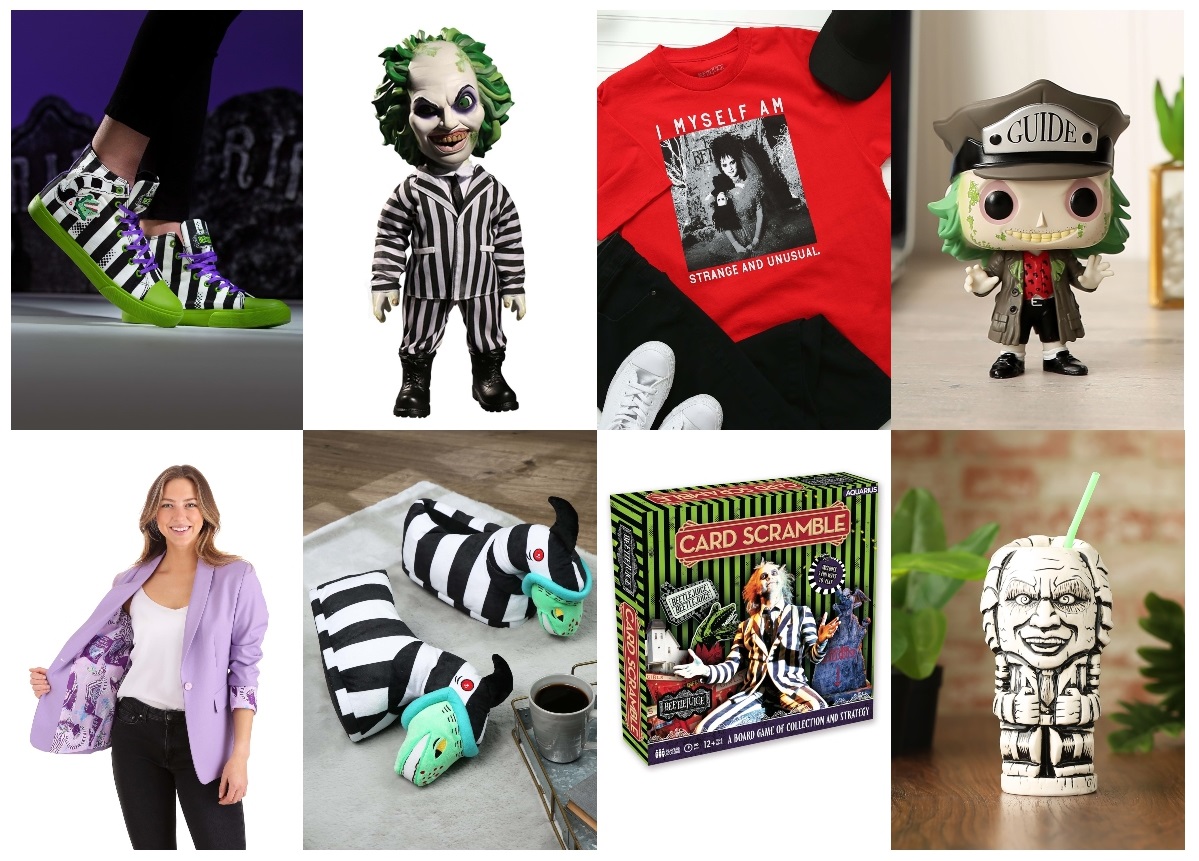 Speaking of horror-comedy movies, the beloved Beetlejuice has sand-wormed its way into the hearts of many fans. (How many of us have looked up to Lydia for her sense of style?) If you love alternative fashion or Beetlejuice's popular color palette, we have Beetlejuice gifts that should be right up your alley! Style yourself in sandworm-striped shoes and slippers, or take it easy with Beetlejuice t-shirts. If horror apparel isn't what you're hunting for, there are other collectibles and gifts to get your Beetlejuice fan.
Freddy Krueger Gifts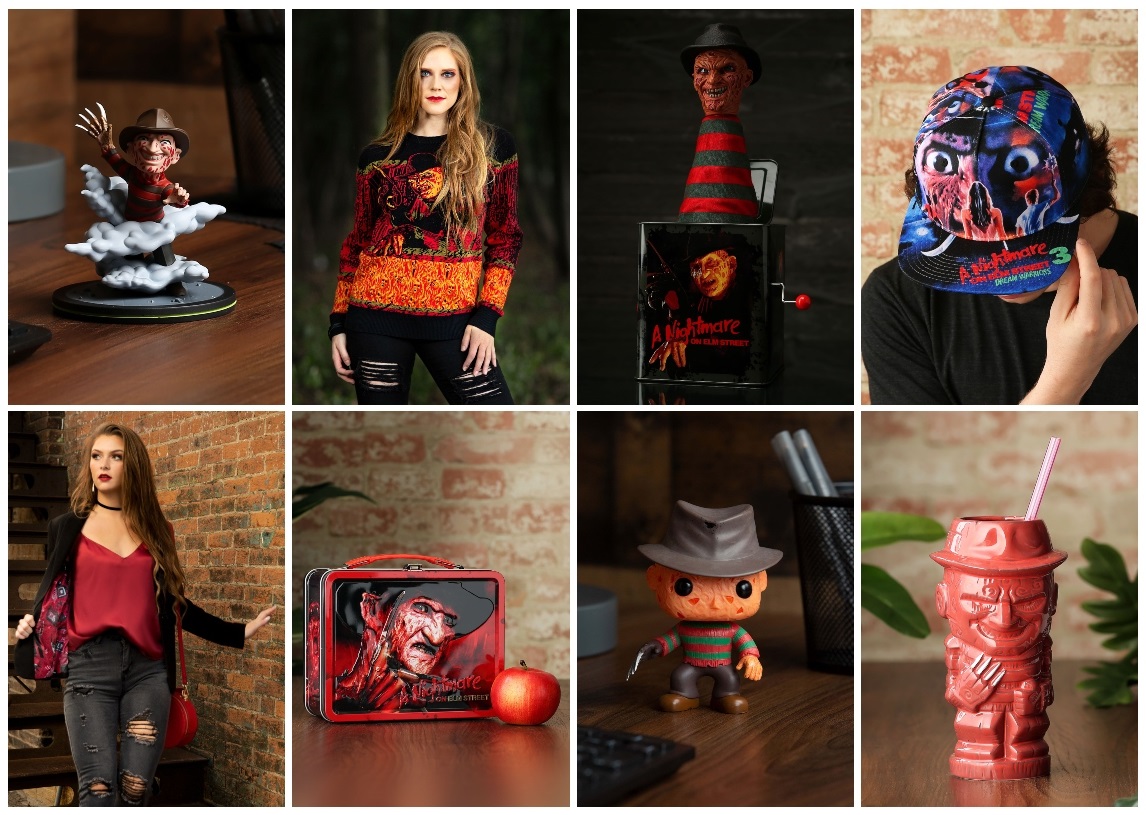 One, two, Freddy's coming for you—although in this case, you're coming for Freddy! This iconic dream demon has a loyal fan base that relishes the cheesy one-liners and crazy sequels. Freddy fans will love our array of Freddy Krueger apparel and gifts, including some cool collectibles. Find a vintage-style tin lunchbox and even a cute Q-Fig statue! Your giftee is sure to love any one of these cool horror gift ideas for men and women.
Predator Gifts

It doesn't get much cooler than 80s movies, aliens and Arnold Schwarzenegger! One of the most awesome monster designs around, the Predator action figures and collectibles look great in any horror collector's display. NECA horror figures are some of the most sought-after collectibles, but that doesn't mean you can't branch out into something a little different. Whether you prefer the less expensive (and adorable) mini-vinyl figures or the 11" tall Predator statue, you're not going to want to twiddle your thumbs on these Predator gifts. Get to da choppa!
Texas Chainsaw Massacre Gifts
Putting aside the fact that The Texas Chainsaw Massacre was nearly called Head Cheese, this movie walked so other horror movies could run. This indie horror film terrorized audiences in 1974, but there are still fans of The Texas Chainsaw Massacre today. Find Leatherface gifts that you can wear or collectibles made for a display shelf. This early horror icon isn't to be overlooked by any serious horror fan.
Gremlins Gifts

If you have seen Gremlins, you know better than to buy exotic pets from mysterious sellers. But that doesn't mean that you can't buy these Gremlins gifts for fans of the mogwai. (You don't even have to keep these gifts from eating after midnight!) Slip into a pair of Gremlins pajama pants and eat all the movie snacks you want, or take your Gremlins out on the town with a cool canvas tote bag. There are also several Gremlins action figures and statues that won't disappear in the sunlight.
Universal Monsters Gifts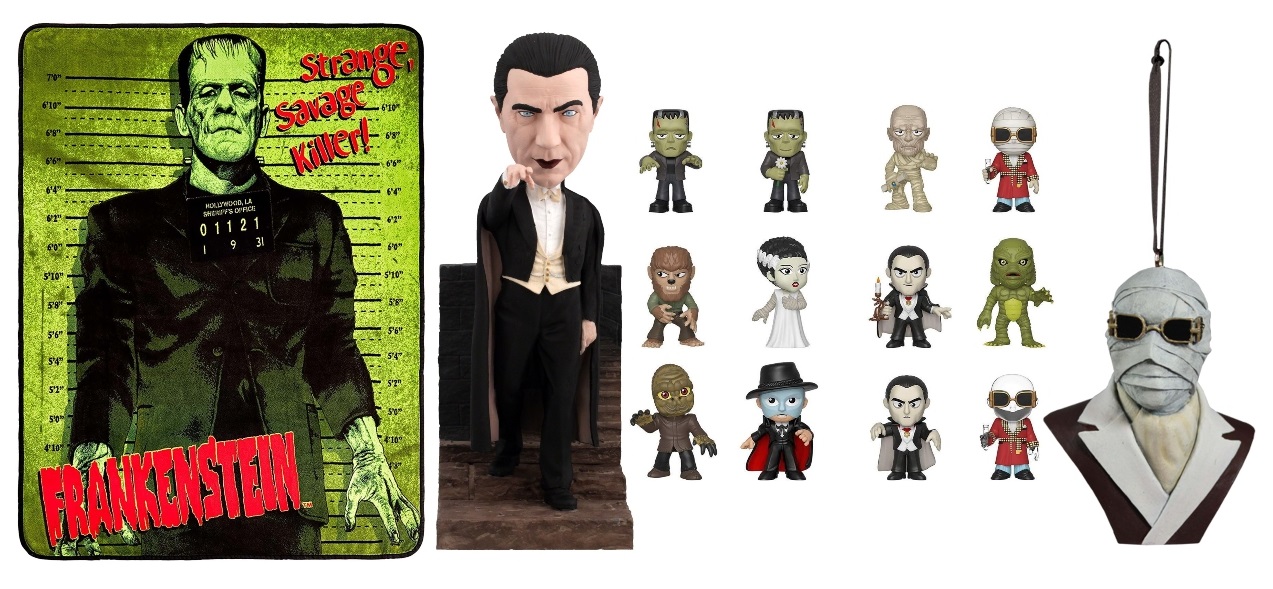 Classic horror fans, where you at? (We know you're out there.) The Universal Monsters were so iconic that, naturally, horror fans want to grab anything with Bela Lugosi's face on it—or Boris Karloff. Dracula, The Mummy, The Wolfman, Frankenstein's monster and other characters are so well-known that they make great gifts for horror fans. (Beginner collectors, too!) Horror figures are an excellent way to get any collection started, and this cozy Frankenstein blanket will be their best horror movie-watching companion.
Aliens Gifts

Alien fills that special niche between the horror and sci-fi realms. Even people who have never watched any of the Alien franchise are at least somewhat familiar with face-huggers and the infamous chest-burster. (And, of course, the Xenomorph!) We love these collectible Alien gifts, and action figure fans will too! The vintage-look ReAction Alien action figures are the perfect fit for any horror collector.
Hellraiser Gifts

We have such sights to show you! Pinhead and the Cenobites are impossible to miss, and horror fans won't want to skip the opportunity to add these Hellraiser gifts to their collection. A replica Lament Configuration is every Hellraiser fan's dream—or nightmare, should it happen to be real. Naturally, as the most recognized character, there's plenty of Pinhead collectibles too. There's even a Geeki Tiki mug that allows you to sip out of Pinhead's skull! (Don't worry—there are no sharp edges!)
We hope you figured out a few scary gifts to get for your horror fan! Is there a particular movie, video game or TV show that they enjoy? Do they collect horror action figures, or do they prefer practical gifts like clothing and home goods? If there's something you'd like to see on FUN.com, don't be shy and leave us a comment! We're always on the prowl for the best horror gifts.