THEY'RE HEEERE! We're talking about the best horror action figures, of course! We're huge fans of horror movies and collectibles, so of course our desks are covered in horror figures. (Pennywise and the Demogorgon and Aliens, oh my!) From frightening to downright spoopy, let's take a look at some of our favorites so you can cover your desks, too!
NECA Action Figures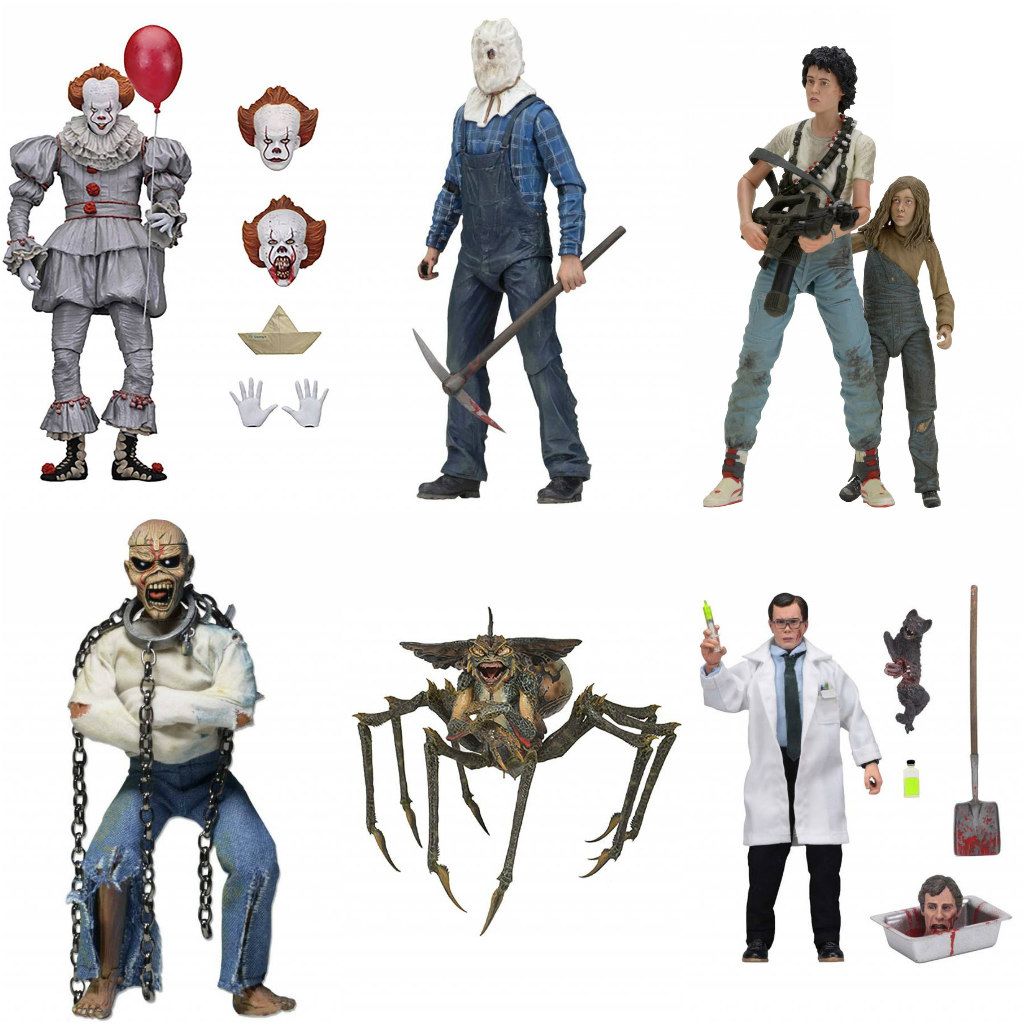 NECA action figures: It Pennywise 7" Figure | Friday the 13th Part II Jason 7" Figure | Iron Maiden Eddie 8" Figure | Re-Animator Herbert West 8" Figure
If you're into scary action figures, then you're probably a fan of NECA already. After all, they're one of the biggest names in the business! You can find NECA horror figures for pretty much any franchise and character, from It's Pennywise to Friday the 13th's Jason and even cult classic Re-Animator's Herbert West. You can also buy multi-figure sets at Fun.com, like the NECA Alien action figures that include both Ripley and Newt, plus music action figures including the Iron Maiden mascot Eddie.
Horror Collectibles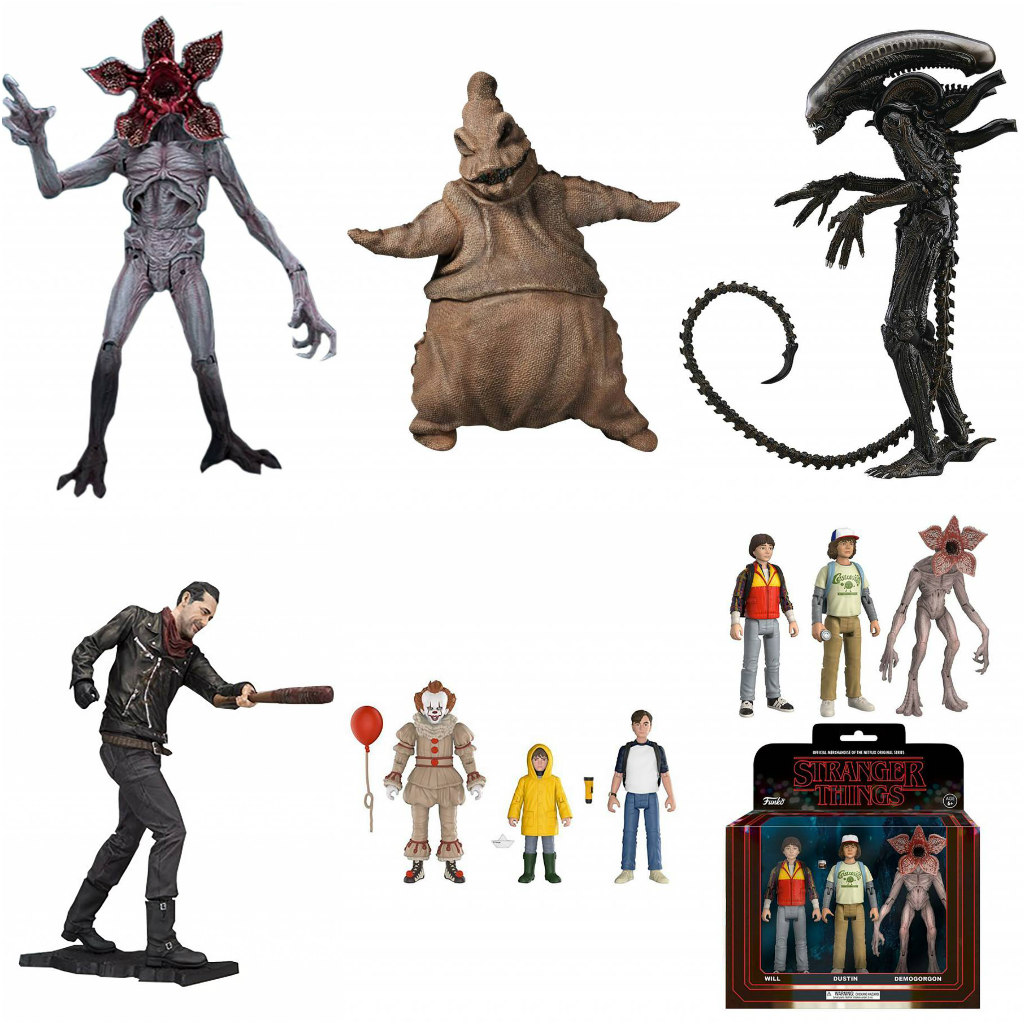 Horror collectibles: Alien 6" Figure | The Walking Dead Negan 10" Figure
Of course, it's not all about NECA. Plenty of other brands make horror movie collectibles. McFarlane Toys is known for its realistic action figures and statues from movies and television. Then you can shop for the Demogorgon figure from Stranger Things and the Negan "Merciless Edition" figure from The Walking Dead. The Good Smile Company also makes high-end horror movie action figures like this Alien from, well, Alien. The Nightmare Before Christmas isn't usually considered a horror flick, but Oogie Boogie certainly scared us as kids. This figure from Diamond Select will fill your dreams to the brim with fright! And while Funko is most known for their Pop! Vinyl figures, they also make action figures from It, Stranger Things, and other franchises. Of course all of these figures are available online at Fun.com!
Funko Horror Figures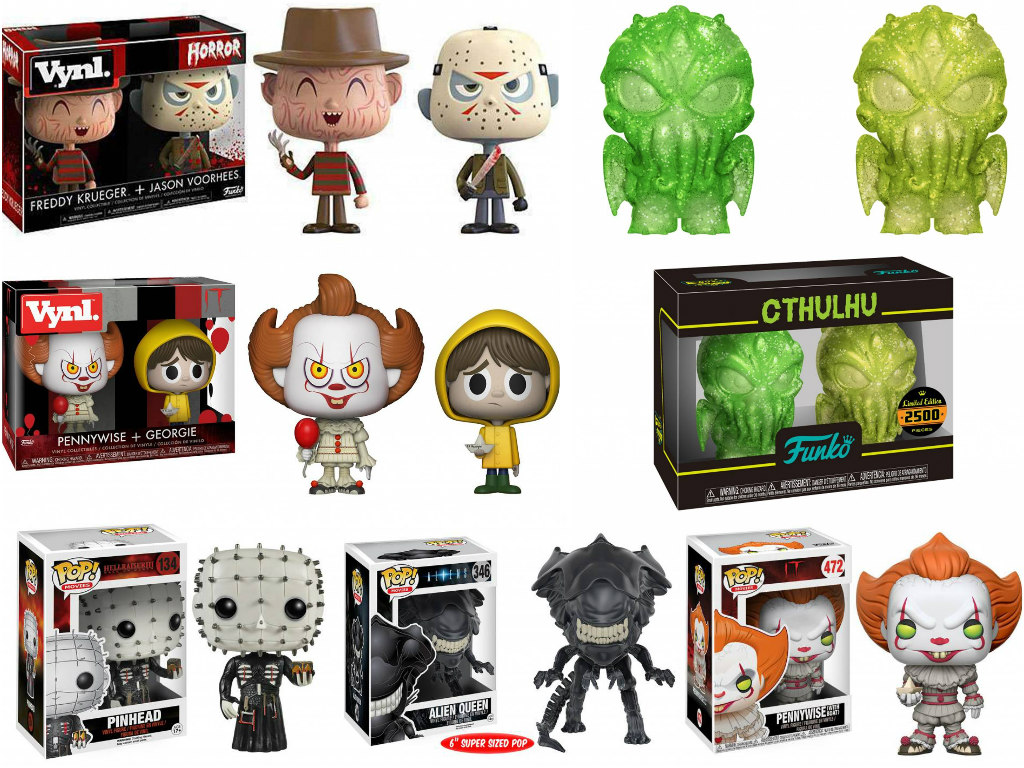 Funko horror figures: Cthulhu Hikari Vinyl 2 Pack | Hellraiser Pinhead Pop Vinyl | Aliens Collectibles | It Pennywise Pop Vinyl
Speaking of Funko, let's take a look at some of their cuter designs. Of course, you can find spoopy horror Pop! figures like Hellraiser's Pinhead, the Alien Queen from Aliens, and It's Pennywise. Plus you can buy stylized Vynl figure sets including Pennywise and Georgie from It and the most epic horror movie team-up ever, Freddy Krueger from A Nightmare on Elm Street and Jason Voorhees from Friday the 13th! Funko also makes the highly-collectible Hikari line, which includes these two sparkly Cthulhu figures. We bet R'lyeh would look great covered in glitter! (Too far?)
Did you find the horror movie figures you needed? If you're still shopping for that one difficult-to-shop-for scary figure fan, check out our horror collectibles and other horror and scary gifts! Be sure to let us know which horror figures you love in the comments, or even if there are cool figures you'd love to see us carry.