Star Wars Home and Office
There might be only one place where we spend more time each day than what we spend between our home and office... and that's in our imagination. Looking up into the stars and thinking of jumping into hyperspace and exploring all the weird and dangerous planets or, probably more often, gesturing at the automatic doors to open them with the Force. Well, imagine doing the same thing when you are in the home and office! Bring balance to your den, Jedi Masters, with our selections of Star Wars home and office merchandise. From the computer desk to the bedside table, live in your world and in a galaxy far away.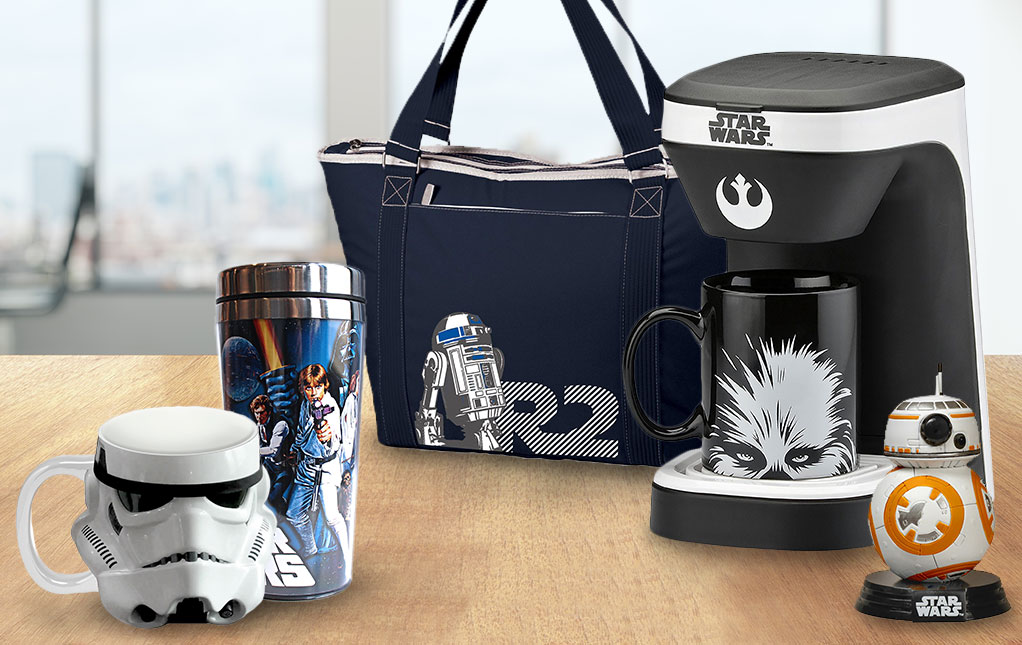 Star Wars Home Décor
Who would want to live in a galaxy far away? A world that's filled to the brim with space-faring smugglers, weird creatures, enigmatic Jedi, and a handful of dangerously ambitious Sith sounds rather terrifying! Sheesh! Well, we're going to guess that you didn't navigate here by way of a broken hyperspace drive, so it is more than just the Force suggesting that you'd like to see your own home planet a little more mysterious! While it might be difficult to get the whole world on board for a galactic transformation, you can at least make your Feng Shui a bit more Force sensitive with the right selections of decorations in your domicile to bring Star Wars home.
Star Wars Living Room
Star Wars Rugs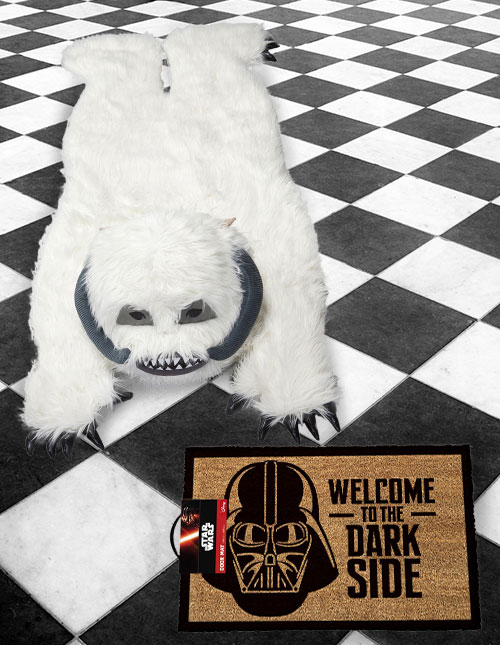 Make your home a galactic adventure for yourself and your friends. Start the experience out on the Dark Side with a surprisingly welcoming Darth Vader at the door. Just picture the other options you may have. Will you have Yoda guarding your living room or show off your victory in Hoth with your prized wampa rug? Just make sure they put their Star Wars drink on the coasters or they'll have to feed credits to your BB-8 bank!
Star Wars Office
The struggle with heading to work in the morning is the clear knowledge that you're leaving behind all the comfy and cozy that your own homestead provides. Unless you normally live on Hoth or Jakku (or, depending on the date, Alderaan), who wants to leave home!? Fortunately, the Force is in all things. All you need to do is foster an environment in the office that matches your wise inner spirit and you will feel right at home. Plus, who wouldn't like the ever-present guidance of certain luminaries of a long-ago past to help out during those conference calls? You never know! You might be speaking with a member of the Rebellion!
Star Wars Office Supplies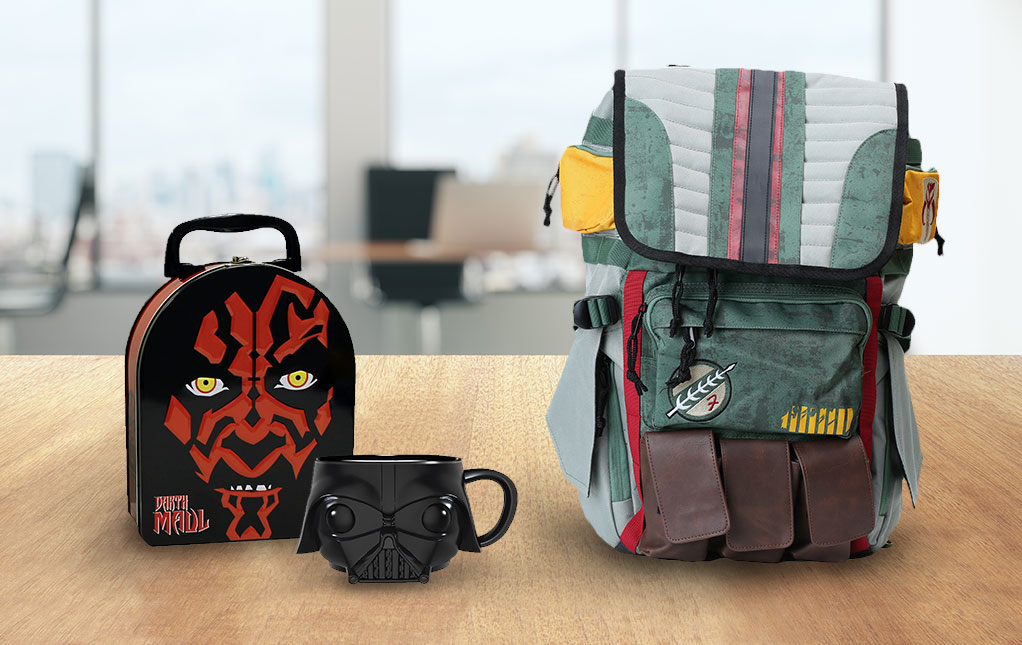 Every office space basically requires a few things to function. You need your computer, a nice lamp, desk, coffee mug, a few professional looking pens... You know... all that boring stuff! But, when a stocked office isn't enough, you can give it that perfect galactic flair by bringing in the laptop with Boba Fett's help. Also, you can keep your lunch guarded with a Sith Lord who doesn't believe in needing to write names on your foodstuffs!
Star Wars Office Décor
Feel the Force around you when you are tackling your responsibilities with the help of a few other friends. You'll feel Luke and Yoda's powers of the Light Side of the Force with you when they brighten your office. Who knows!? It might increase your productivity or even make the boss crack a smile. And, failing that, there are always a few underworld scoundrels who can chase away troubles. Who is going to assign more work to a guy guarded by Boba? And, who knew that Jabba actually makes a mean coffee!?
Star Wars Bedroom Décor
No amount of Star Wars comforts are going to count if, by the time you are ready to retire to your own private domain, that you don't have a similar atmosphere of intrigue and delight awaiting you. The bedroom is the place of dreams! If you can't be among the stars there, well, that might make anyone begin to doubt the Force. We can't have that! Augment your existing style with the wonder of a galaxy far away and make sure your dreams are way closer to reality.
Lightsaber Room Light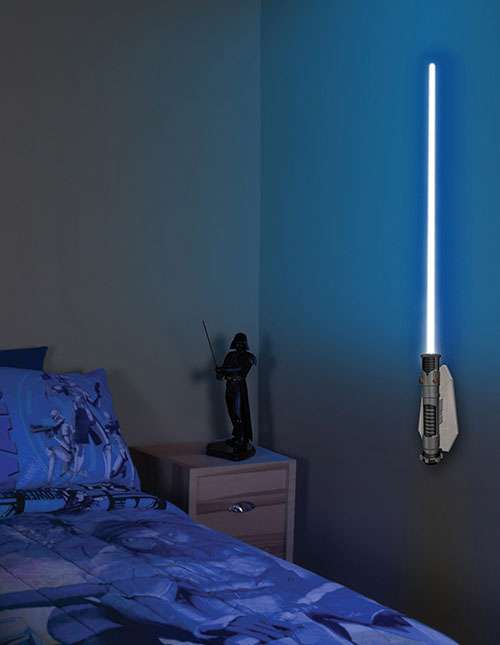 It is possible that there isn't anyone in any galaxy that folks would prefer to have as their guardian and guide through life than Obi-Wan Kenobi. Sure, Yoda is pretty bright, but there are those moments that he's just lacking a bit of the flexibility that we need to feel comfortable and safe. Plus, there's something to said about the soft blue light from Kenobi's lightsaber. You and yours will find a peaceful sleep under the safeguard of this Force-activated lightsaber room light based on the bright beam of Obi-Wan Kenobi's lightsaber. (Well, maybe it is remote control, but you'll feel like you're using the Force!)
R2D2 Light Set
Just because a string of lights is most commonly seen decorating a tree around the holidays doesn't mean that's all they can be used for. The right set of string lights can bring personality and an accent of light or color that any room needs. And, when you're trying to make a bedroom more customized, how can anyone go wrong with some lights lining the ceiling or around a door frame!? You just can't! Of course, you can go even more right when you have everyone's favorite astromech ready to beep and blast away the bad dreams. That's just what these R2D2 lights will do!
Death Star Planetarium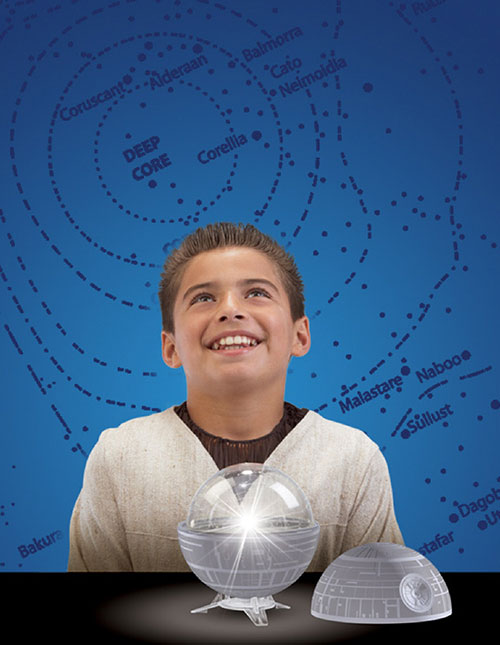 The Empire was very pleased with their engineers after the Death Star's construction was completed. There was a party honoring them and they even received a pretty awesome trophy for their work. Of course, things didn't end so well, and those engineers got fired (into space). At least their awesome trophies are still around and can offer your favorite people a much safer view of the stars. This Death Star planetarium is a great way to see both our and the Star Wars galaxies from the comfort of bed, giving just a little light in the darkness for you to chart where you'll all be going in your dreams.
Darth Vader Ceramic Bank
There is something about the foreboding helmet of the Dark Lord of the Sith that sends a clear warning to any who come upon it. Maybe it has something to do with all the Force choking. Perhaps it is just the deep and resonating voice or the enigmatic appearance in general. Either way, having a piece of Star Wars memorabilia like the bust of Darth Vader is probably enough to bring a wide smile to anyone. But, imagine that it did more than just look awesome! That's what will go through the head of whoever receives this Darth Vader bank while they are putting coins through its head!
Star Wars Bedding
Eventually, every smuggler needs to put the blaster down and hit the hay. Space can be a lonely place, though, so that little extra comfort is always going to make the chill fade to thrill. When your dorm is in the delightful décor of galactic gadgets, naturally, you'll want your bed to be just as inviting! The right Star Wars bedding set will make you feel like a King, Queen, or even an Emperor when you lay back to relax... but, hopefully not that Emperor. Throw on the perfect Star Wars pillows to accentuate your kids' Star Wars twin bedding and give them a better start than the Skywalker twins managed!
BB-8 Throw Pillow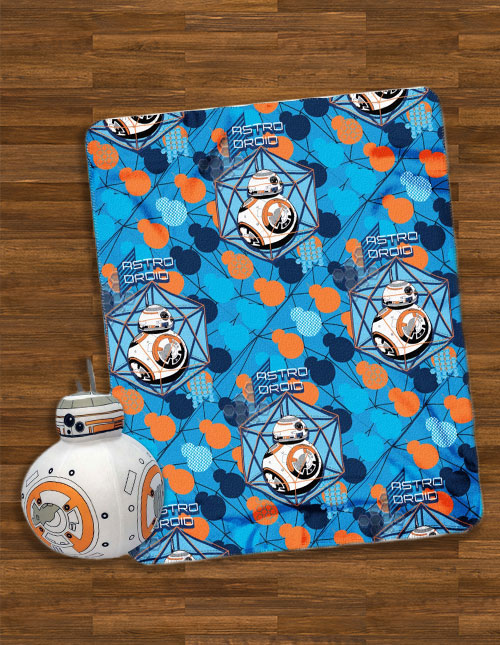 Getting a great sleep is probably the one thing that we've got at the top of our itinerary. So much so that some of us wake up, realize that we haven't succeeded, and dive back into the glorious embrace of the blankets for another try! Fortunately, there are a few things that you can do to help increase your odds of a blissful bedtime. One of them is having a great companion and we can't recommend BB-8 enough. Such a sweet droid and, best yet, with this pillow and throw combo, you even get a soft version for sleep or when you cuddle up on the couch to watch Star Wars!
Han Solo Comforter
Unfortunately, you can't watch Star Wars all the time. There has to be time in the day to recharge those batteries. (We're not droids, after all!) But, the fact that you can't always watch Han Solo taking off in the Millennium Falcon on the screen doesn't mean that you can't dream about the journey. And, why hold yourself to just one of the great ships of Star Wars. Take your favorite one to dream land with this twin comforter featuring the space vessels of the galaxy. It will make a great addition for Star Wars kids bedding or great bedding for adults, too!
Star Wars Books
You've obviously heard of the Star Wars universe, but there are many other tales to be told. The Extended Universe gives us a ton of great new stories to fill our lust for lore from the ancient galactic past. But, even that doesn't have to be the end of the adventure! While dreaming up your own stories, you can ask several 'What If?' questions and explore the galaxy in other tasty ways. Enjoy some Wookiee cookies and other exotic Star Wars food, then go on even more adventures with these Star Wars books.
Jedi Academy Trilogy
What do you imagine growing up as a youngling would be like? (Obviously, we're aiming for the time before Mr. Anakin decided to give an unexpected visit.) Would it be like heading off to school and learning the three Rs but, instead of reading, writing, and arithmetic, it was rebellion, resistance, and republic? (Well, that's probably for later, too.) Let your 3rd to 7th graders join Roan Novachez as he figures out how to be a kid and handle this whole Force sensitivity thing with this boxed set of Jedi Academy graphic novels. Everyone needs to know how to deal with phantom bullies!
Secrets of the Galaxy
You know that there must be a ton of weird secret codes or ancient philosophies that make the factions of Star Wars function the way they do. With this amazing set of hardcover tomes barely saved from a mysterious lightning-struck tree, you can learn the Secrets of the Galaxy, including lessons of the Jedi Path, Book of Sith, Bounty Hunter Code, and Imperial Handbook. Each book will sate your hunger for Star Wars lore from lightsaber techniques to names of ancient Sith Lords, all with annotations from your favorite characters! This is a must-have for any collector of Star Wars lore.
Darth Vader and Son
We hope it is no longer much of a spoiler to talk about that time Darth Vader told Luke, "I am your father." But, the moment is still one that can make the excitement of any Star Wars geek rise. Imagine, though, how life would have changed if Obi-Wan hadn't gotten those kids away from Anakin! See what kind of good life Daddy Darth and Luke might have had when Vader and Son stay on the Light Side of the Force with this great Jeffrey Brown graphic book. This touching tale will bring a smile to your kid's face and just maybe a tear to a geeky dad's eye.
Vader's Little Princess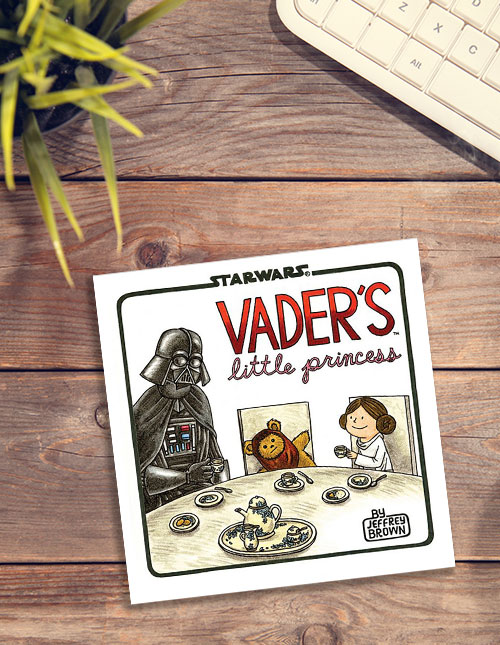 Of course, the story wouldn't be complete if we only saw Luke and Darth Daddy hanging out together in those formative years. See what Leia might have been like as a daddy's girl when Vader's Little Princess goes from precocious kiddo to teenage rebel in the Jeffrey Brown graphic sequel. This reimagining of Star Wars lore shows a much brighter turn out for the Skywalker team without all those Dark Side dealings, despite still having the giant black helmet. Actually, the combination of a darling tea party with princess and gentle Sith Lord is pretty much perfect.
Star Wars Kitchen
So, you've heard that there is this exquisite little shop on the Outer Rim planet, Abafar, that serves the perfect galactic waffle, possibly from a recipe from one of our cookbooks. Unfortunately, desert planets aren't ideal for ongoing business, so the famous "Admiral Snackbar" has gone out of business. As tragic as that might be, you can replicate all the Star Wars food you could desire with the some of our Star Wars kitchen accessories!
Star Wars Kitchen Items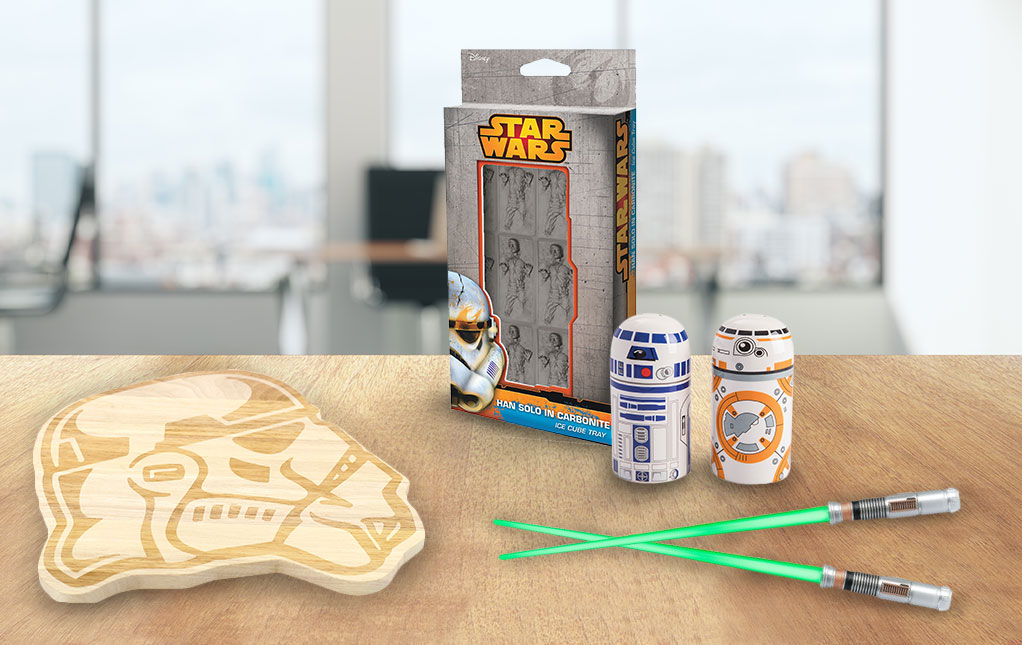 Don't let your dining feel dull. This Star Wars kitchen stuff will make every moment from snack to three-course dinner feel like you're enjoying it on the mess hall of a galactic cruiser. Prepare your proteins and veggies with a Stormtrooper cutting board and have some droids keep it seasoned perfectly. Kick back and enjoy some carbonite ice in your drink while you imagine how eating with lightsabers would work.
Star Wars Kitchen Appliances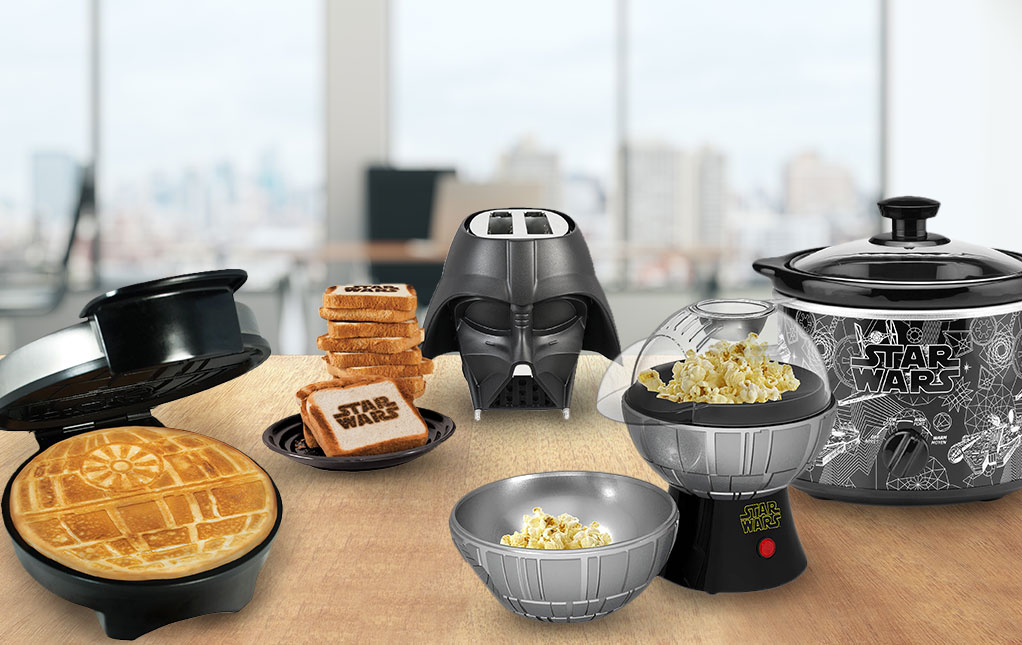 In a galaxy far, far away, they wouldn't have to resort to all the rough work that we do here, so why not bring in the power of the Force with these Star Wars kitchen gadgets to make it all fun? Slow brew your stew with this themed slow cooker and, until we've got lightsabers to do it, have Darth Vader make your toast! Who knew he was so accommodating? Need more snacks? Well, it turns out those Imperial engineers had more up their sleeve than we thought. Enjoy some waffles and popcorn courtesy of the Death Star and all without having to give up Alderaan.
Star Wars Cookbooks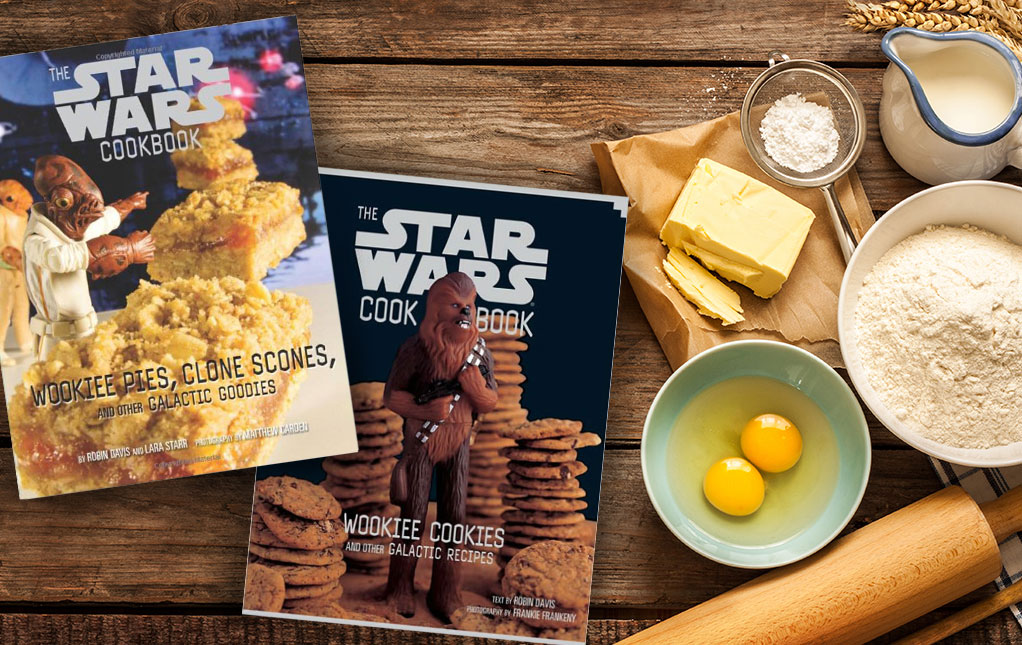 Measuring all the ingredients you need to make your delicious food can sometimes be some tough math. But, one equation that is always easy to solve is what happens when you combine fun activities, tasty treats, and the galactic goodness that is Star Wars. Prepare for some serious fun while you're preparing Wookiee Pies, Wookiee Cookies, and other galactic recipes with these amazing cookbooks. Not only do you get to know what Chewie Wookiee cookies and Boba Fett-uccine is like, but you and your kids will have a blast with the fun figure photos, stickers, and cookie cutters included!
Star Wars Outdoor Christmas Decorations
Bringing the Force to your holiday spirit in your home's interior is a great start, but the galaxy is a really big place! You've got to share that sort of awesome with the whole neighborhood! Plus, others may not know that it is once again safe to bring those Star Wars decorations outdoors... so be the one to start the season with our festive lawn décor.
BB-8 Christmas Lawn Decoration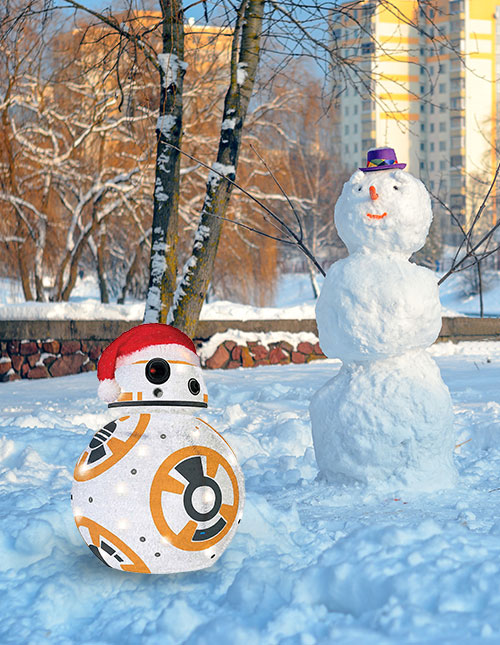 How many times have you longed to bring this adorable rolling droid home since the first time you saw him rushing through the sands of Jakku? Well, this little droid is perhaps the most jolly and giving droid that anyone has ever met. What better way to bring home BB-8 than to combine him with the holiday! Meet Old Saint BB-8 and smile as he brightens your season with his festive Santa hat and shining lights.
R2-D2 Christmas Lawn Decoration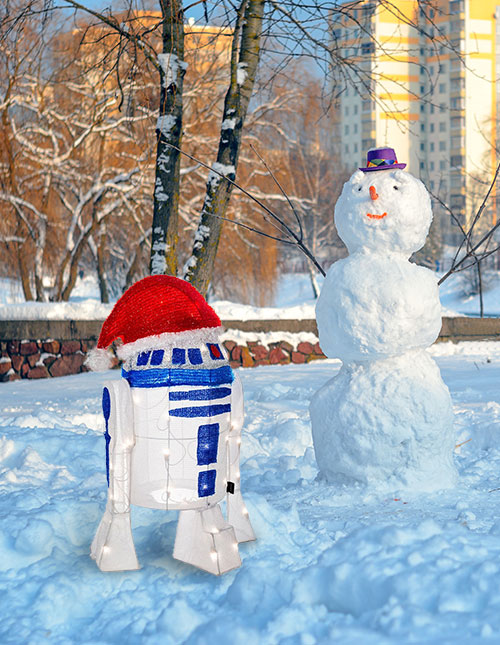 Of course, you might only have true love for one astromech... and who could blame you? While he might not be able to truck through sand and snow with the ease of BB-8, nobody can deny that droid companions are pretty amazing in original flavor! That said, R2D2 has just as many tricks up his plasteel, so it is only natural that he'd feature as a Santa R2D2, too! At this rate, you might need both for a truly bright holiday.