Nintendo Gifts
From the days of blowing into an argumentative NES cartridge to syncing up digitally with friends for some online Switch play, gamers love Nintendo. Is it the careful and precision jumping in Mario Bros. platformers that keeps us gripping our controllers? How about the deep lore and exciting exploration of Hyrule? Does the creepy music and alien environments of Metroid still give you pleasant nightmares and the urge to face down Ridley just one more time? And are you even close to filling out your National Pokedex that keeps reaching for the thousands of pocket monsters? Well, we can certainly relate to every bit of that fun. From Animal Crossing daily life to giving the old one-two with your best rivals in Smash, it's great to be able to dive into the world of Nintendo!
But is that really enough? Of course not! That's why we're happy to offer a wide variety of Nintendo Gifts that will help you make the most of your video games fun. Get a jump start in the morning with some Mushroom Kingdom décor and remind everyone that facing the workday alone is dangerous. Put your favorite fandoms out there for everyone to see with some epic Nintendo clothes You've got the right idea by visiting this category. Follow the old man's advice and take some of our Nintendo products with you!
Pokémon Gifts
How often have you imagined living in the world of Pokémon? The encouraging words of every Pokémon Professor at the start of any game, movie, or TV series makes it sound pretty inviting. A lovely world of mysterious creatures with supernatural abilities sounds pretty scary...until you realize that they really just want to be your best friend! All of a sudden, it isn't enough to find your favorite. It is time to collect as many as you can! The question is whether you like the animal Pokémon the best or if you're more interested in some serious dragon glory. Well, we can't get you the literal creatures, but we can certainly offer you some Pokémon products that will put you right in Kanto!
Nintendo Toys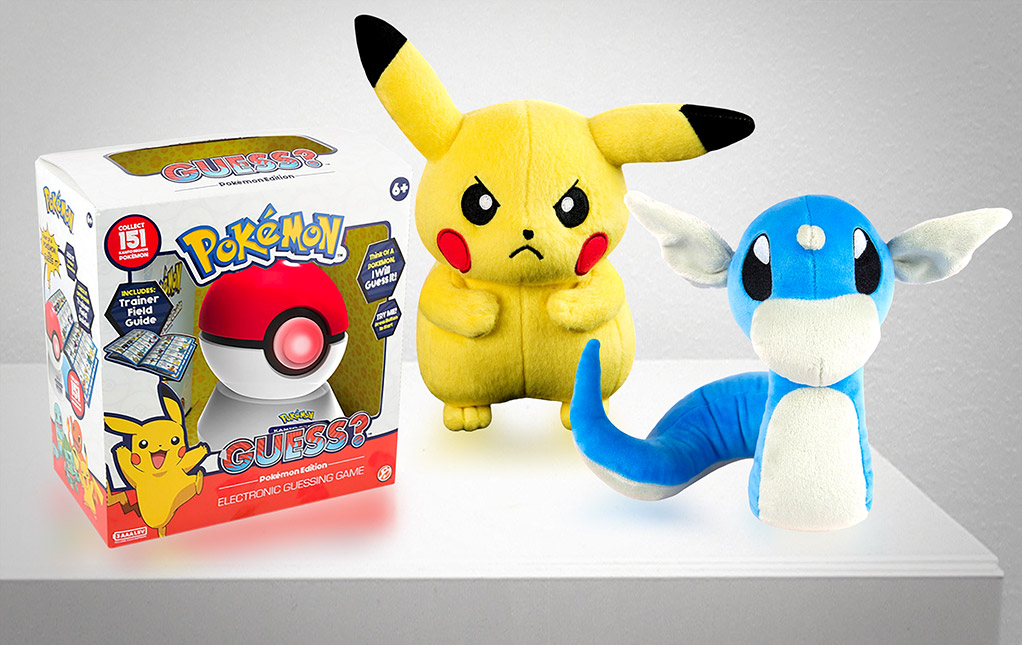 Sometimes, merely collecting a team of Pokémon to decorate your mantle isn't enough! You want to snuggle up with them or give them a real thrill of combat. That's where you can turn to some of our Pokémon toys to bring the game to life. Pick out your favorite Pokémon plushies and you'll finally understand why the adorable Dratini might just be the perfect dragon. Of course, snuggling up with Pikachu will help you live out your true dream of becoming a Champion! Our selection of Pokémon games and Nintendo toys will let you put on an epic stuffed animal battle and bring the Pokémon world to life. Even Eevee would be jealous! (Now that would be an evolution!)
Pokémon Costumes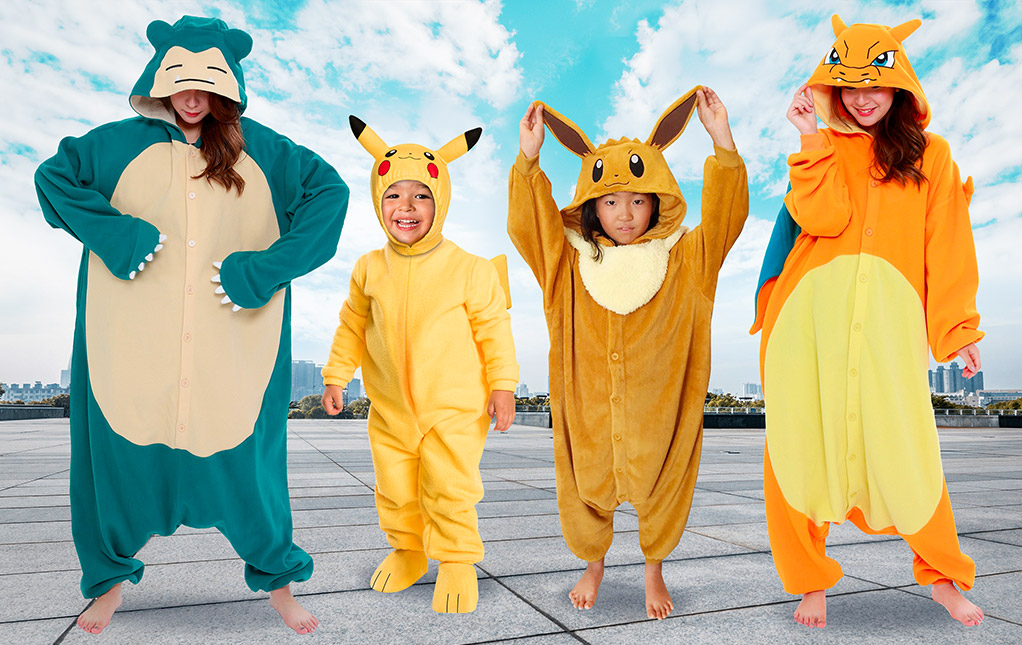 Perhaps the only thing better than collecting your favorite Pokémon is actually joining the lineup. We have a ton of Pokémon costumes that will help the kids live out their every Poké-dream. (And all of us adults, too!) Head out with a Pokémon Halloween costume or make dress-up day at school the best one ever. Throw a themed costume party that will have folks bringing the most inventive libations out there. Of course, you can even enjoy a night at home to a glorious Nintendo marathon of games and movies when you're snuggled up in a Pokémon kigurumi. Choose your favorite characters and evolve to the next level!
Pokémon Collectibles
Are you just starting your Pokémon collection? Perhaps you're already on to collecting Mythic beings! Even if you're one of the few to have completed your Pokédex, it never hurts to remember where you started! We have Pokémon collectibles that range from classic Funko Pop! figures to pieces of home décor that will make it seem like you live in the middle of a patch of tall grass! Then again, you can finally step into your role as a Pokémon Professor by giving a gift to someone and helping them begin their own Nintendo collection!
Nintendo Merchandise
How can you show that you're a well-rounded Nintendo fan with so many different games to choose from? Well, by collecting a bit of everything, you can turn your home into a literal Super Smash Brothers! (Though, ideally without quite as much roughhousing, of course.) Claim some true Nintendo power with a selection of Nintendo home décor and outfits so you can bring the gaming with you whether you're sitting down for dinner or out on the town.
Nintendo Funko POP!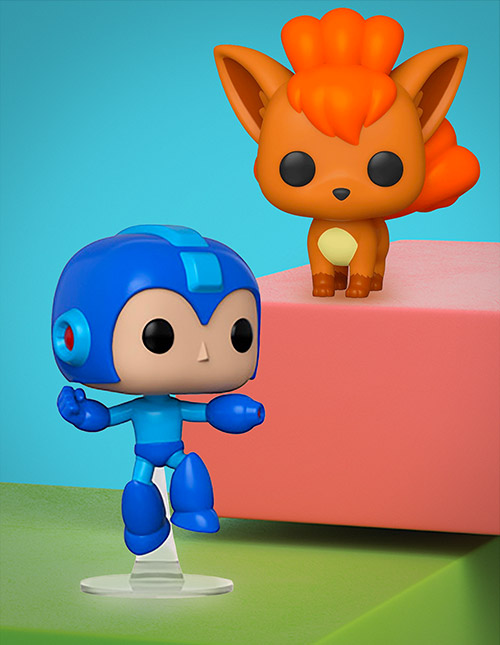 Think of Funko POP! vinyl figures like little portals that bring your favorite characters out of the screen. Our preferred use has to be setting them up with cardboard dioramas to create the most epic of levels. Some can get pretty intense, so we recommend starting Mega Man out in a good old-fashioned World 1-1 stage of Mario. But it's pretty easy to ramp it up from there. Create your own adventures with a team of Nintendo Funko figures!
Nintendo Collectibles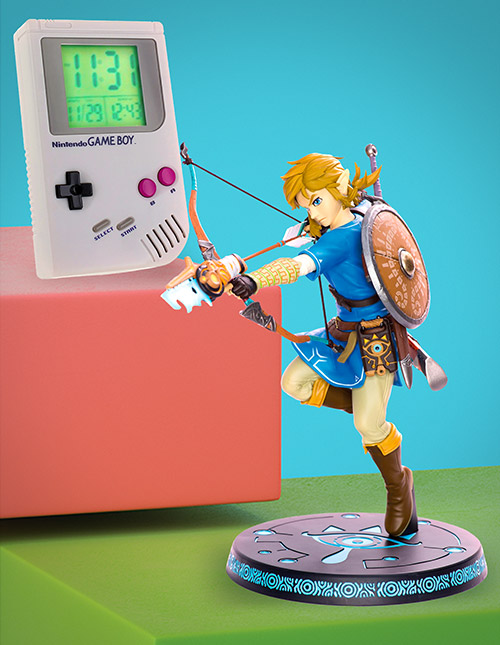 Home décor can feel like a developer's nightmare. Will a block this many pixels be too easy a jump or will it break the whole darn level? Fortunately, we don't have to deal with that too often in the real world. But that doesn't mean attaining the perfect Nintendo Feng Shui is an easy process, either. Fear not, though! We have the epic Nintendo collectibles that will give your dwelling that Super Nintendo edge you've been seeking.
Nintendo Clothing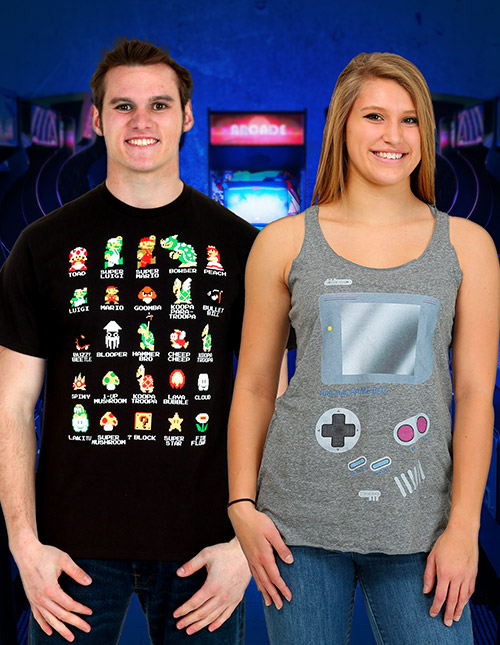 It can be awkward to run up to new people, holding out your Nintendo handheld systems, and just hoping that they'll be up for game time. That's why we've got some simple tricks to help you find your fellow Nintendo fanatics. How? Well, all you need to do is wear your fandom right on your sleeve! The right Nintendo shirts let you promote your Smash Bros. main and a Triforce symbol on your hat makes it clear that you're the chosen hero!
Nintendo Backpacks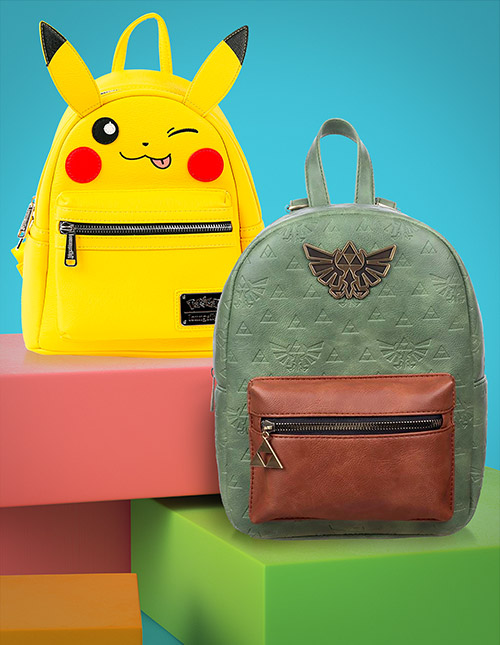 Even the most heroic of Nintendo characters have one major limitation: inventory restrictions! Mario can only handle a couple power-ups at once and even Link has to cough up a ton of rupees to fit a few extra arrows in his quiver. We don't want you to suffer the same fate. That's why you'll find several pockets of storage in our Nintendo bags and backpacks. The fact that they feature your favorite video game decorations is just a bonus!
Legend of Zelda Gifts
The ancient prophecy says that a mysterious evil power will be born in every age, but a courageous hero will rise to work alongside the wise pinnacle of light. Now, it would probably be best for the world that such a dangerous curse could be brought to an end...but then we would be losing the gift of more Legend of Zelda. We can't have that! Instead, give yourself and your nearest and dearest some of our Zelda and Link Gifts! You'll be conjuring the magic of Hyrule every day thanks to the Legend of Zelda costumes, magical tools, and iconic collectibles. So, lay your hand upon the Triforce, and with an open heart, make your wish for the best Legend of Zelda products the world has to offer!
Link Costumes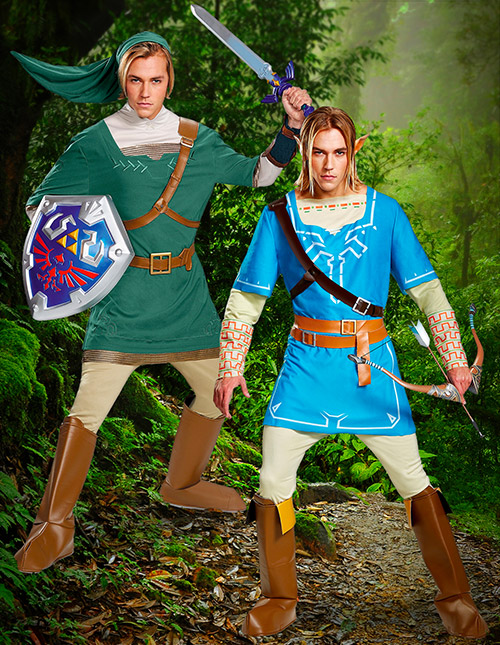 No matter which generation you're born to (or which timeline you find yourself in), the hero is destined to arrive. But who wants to quest just to find their hero's clothes?! Skip right into the fun with a Legend of Zelda Link costume. All you need to decide is which path to follow: the Hero of Time with Link's iconic green tunic, or challenging the wilds with the brilliant blue Champion's tunic!
Zelda Costumes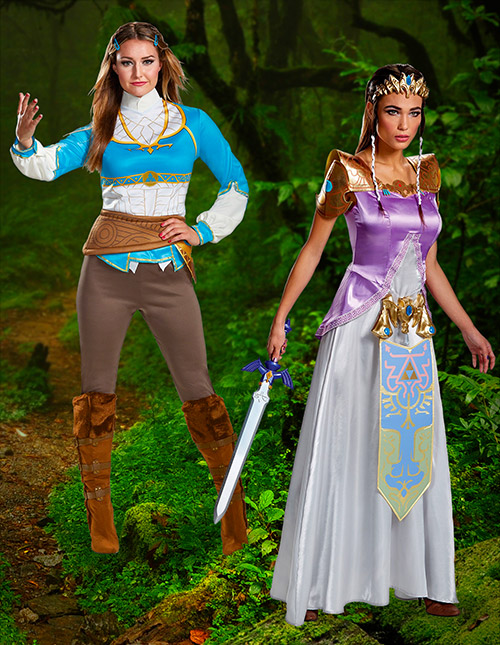 Once upon a time, the stories were all about saving Princess Zelda from the clutches of Ganon. Of course, there are way better stories. (Who taught the Hero of Time how to save the world, after all?!) Strike out and prove it is Zelda's wisdom that will save Hyrule...and your Halloween. Aim true with Zelda's magical bow as the Maiden of Light, take a fresh breath of the wild, or even discover the secret of Sheik in a Zelda costume!
Legend of Zelda Accessories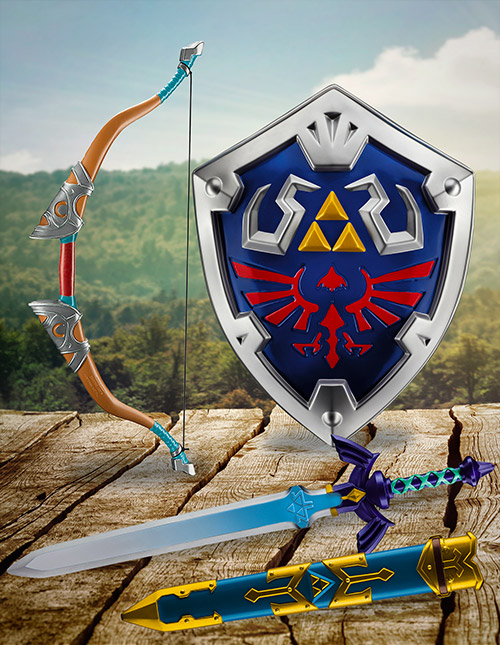 What is an adventure in Hyrule without collecting magical treasures? Rupees and fairies are nice, but it's nothing like the excitement of opening a Big Chest and discovering the secret treasure of the dungeon. Prove your skills with the iconic bow and arrow or keep yourself safe from danger with the Hylian Shield. Just remember, no quest can be complete without finding the Master Sword. As the old man says: it's dangerous to go alone, but we're here to help!
Legend of Zelda Décor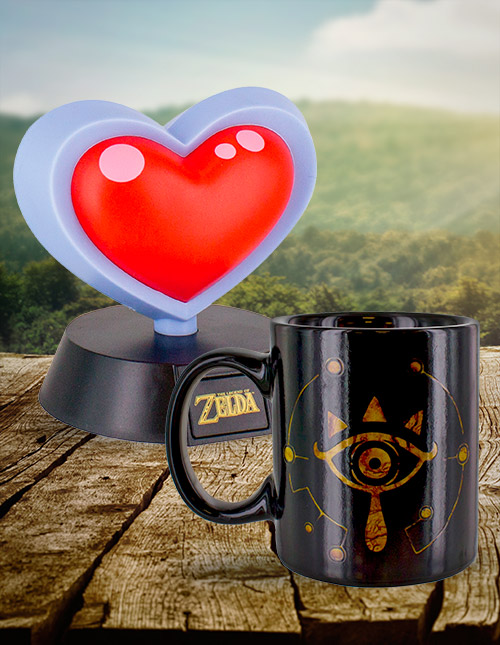 What happens when your quest is finally over?! Ganon is banished. The land is restored back to light. Phew! But what's next? The answer is clear. Bring your treasures home and liven that place up! Decorate your den with our Legend of Zelda home decorations. Give that cozy bed some Hyrulian sophistication and dine in style the Hylian way. Of course, that glowing Triforce would look fantastic on your mantle, too. (Just watch out for greedy Ganons!)