Mermaid Gifts and Merchandise
Who says you need to be under the sea to experience the enchantment of mermaids? Whether you're looking to sprinkle a touch of aquatic allure to your home, add some ocean-inspired glam to your fashion game, gift a wave of joy to your little ones, or even adorn yourself with whimsical accessories that echo tales of deep-sea wonders, we've got you covered!
Looking to transform your space with some mermaid decor? We have tapestries and throws to deck out your home. We offer mermaid-inspired fashion, like t-shirts and leggings to update your wardrobe. And you can be sure we have mermaid toys that will let mermaid-loving kiddos play out their favorite fantasies.
Whatever your mermaid desires, explore our collection and let the magic of the deep sea enchant you. Dive in and embrace the allure of our mermaid merch!
Mermaid Décor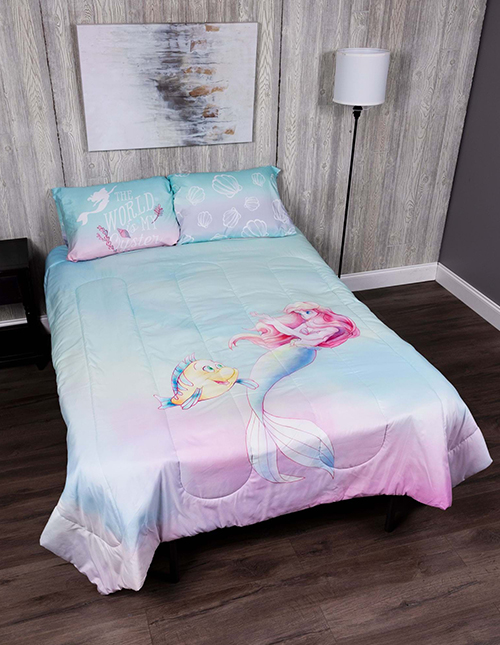 Ready to turn your living space into a slice of under-the-sea magic? We've got the perfect nautical knick-knacks for you! First, let's talk bedtime vibes. Our The Little Mermaid Full Comforter Set brings not only comfort with its brushed microfiber polyester but also a splash of ocean charm with its stunning Little Mermaid graphics. It's like diving into a sea of dreams!
For those cozy movie nights or just a dash of Disney style, the Disney Ariel Garden Tapestry Throw is your go-to. Whether draped over a couch or displayed as decor, Ariel's image on this woven tapestry promises to fill your space with enchantment.
Mermaid Accessories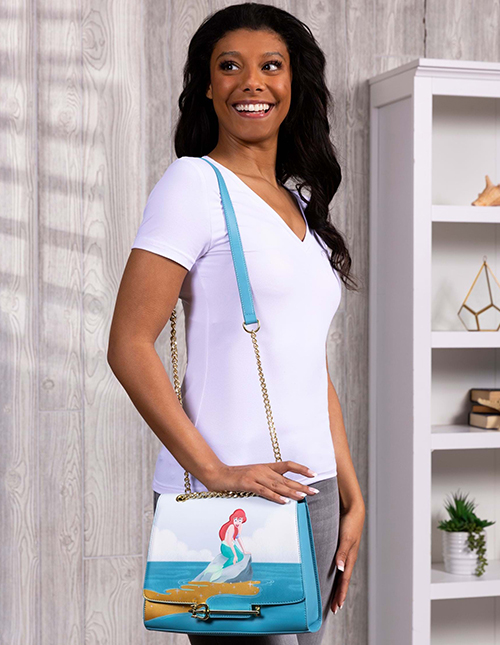 True ocean aficionados will want to consider accessorizing the mermaid way! If you are stepping out for a day in the town or hitting the beach, you'll want to make waves with a mermaid backpack or handbag. And we have some great options from Loungefly to consider.
The Little Mermaid Triton's Gift Crossbody isn't just any mermaid handbag; it's a statement piece that whispers tales of deep-sea adventures and magical kingdoms. We also sell Loungefly Little Mermaid backpacks with unique appliqued designs and appealing vegan leather. No matter which accessory you choose to tote your stuff, every outing is going to be a splash!
Mermaid Toys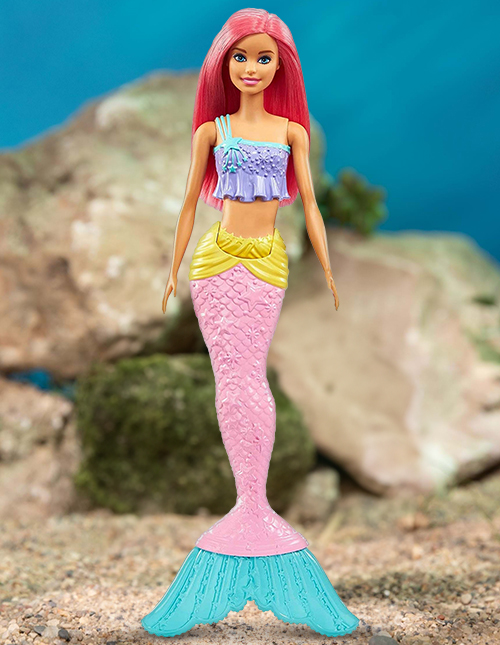 If your kiddo's eyes light up at the mention of mermaids, then we've got some treasures for you. Check out our fantastic options for mermaid toys and let the oceanic adventures begin! We sell mermaid Barbie toys – because who doesn't want Barbie to have a tail, right?
For those who adore a good old cuddle or imaginative play, our mermaid dolls are the perfect sidekicks. But wait, there's more! Little kids can dive into endless fun with our mermaid playsets, where adventures never cease, and the deep-sea tales are as boundless as your little one's imagination. It's time to make some waves in playtime!
Mermaid Clothing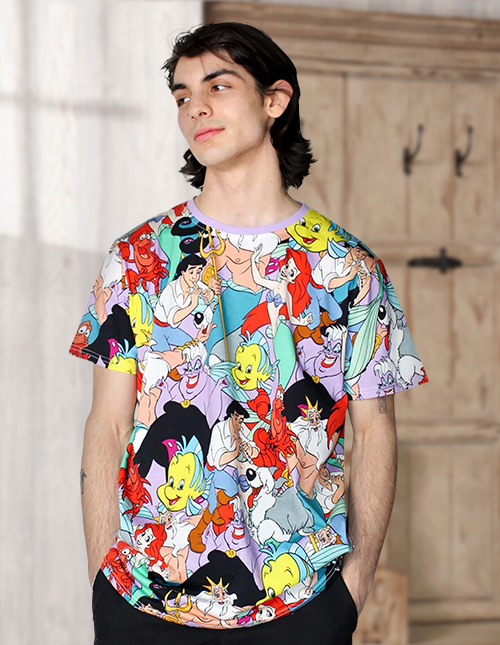 Hop right into our whimsical range of mermaid apparel that's perfect for daily dazzle. First up, the Cakeworthy Little Mermaid All Over Print Shirt pictured here. Made of comfy cotton and rocking a unisex fit, it features everyone's favorite Little Mermaid characters all over. It's like wearing your childhood memories!
Or if you want something more on the dressy side just take a look at our Cakeworthy The Little Mermaid Dress. Its stretchy fabric promises comfort, while the vibrant Little Mermaid graphics guarantee head turns. It's not just a dress; it's a statement. Wear your mermaid pride on your sleeve... or your entire outfit!
Mermaid Halloween Costumes
Halloween is all about channeling your inner alter ego, and what's more enchanting than embracing the mysteries of the ocean? Welcome to our collection of magical mermaid costumes tailored for everyone, from the ladies who've always been intrigued by the siren's song to kids who can't get enough mermaid fun!
Whether you're looking for sultry allure or iconic Ariel vibes, we have the perfect aquatic outfit waiting for you. We have plenty of looks to consider in adult sizes including extended plus sizes. Any of them will have you glowing with oceanic elegance! The kiddos can also light up the room with great mer-looks when you shop our mermaid costumes for girls.
So, gear up to let the mermaid magic sweep you off your feet this Halloween. With our collection, everyone gets to be a part of the mesmerizing underwater world, even if it's just for a night.
Women's Mermaid Costume
Have you ever dreamt of exploring underwater kingdoms? Dive right into our collection of women's mermaid costumes and make a splash at your next event. From the captivating allure of our Sea Siren Costume to the spooky twist of a deep-sea skeleton with our Mermaid Skeleton Costume, we feature many unique offerings.
Our selection includes sexy mermaid costume ideas as well as costumes for Disney's Ariel. Whether you're planning on dancing at a party or hunting for hidden treasures on the shore, our mermaid outfits promise a tail-flipping good time whenever you slip them on!
Plus Size Mermaid Costume
If you fancy yourself as a fabulous sea queen, embrace the waves with our curated collection of plus-size mermaid costumes. Our Plus Size Undersea Mermaid Costume lets you shimmer like the deep blue, capturing the mystique of the ocean's depths. If you're aiming for an allure that's hard to resist, our Plus Size Sea Siren Costume has got your back.
The Plus Size Alluring Sea Siren Costume is your go-to for a touch of enchantment that's impossible to overlook. Celebrate your gorgeous self and make a truly unforgettable splash. Here's to making waves in style and confidence!
Girls Mermaid Costume
If your kiddo has ever watched a mermaid movie and wished they had a glittering tail, well, their wish is our command! Our selection of girl's mermaid costumes includes kid-sized versions of our most popular mermaid costumes. Now, the little ladies can match the big gals, taking the underwater glam to the next level.
These outfits are perfect for birthday parties, Halloween, or just a day of imaginative play. Dive into the deep-blue world of sequins and scales where every little girl becomes the star of her own oceanic fairy tale. So, kiddos, get ready to twirl, whirl, and let your mermaid dreams unfurl!
Toddler Mermaid Costume
Ever seen your toddler stare deeply into water puddles thinking they're the vast ocean? We've got just the thing to match that boundless imagination. Check out our super adorable Toddler Sea Mermaid Costume - it's all about that baby-sized splash and dash! And for the little ones who hum "Under the Sea" before they even know their ABCs, the Girls Classic Ariel Costume is an absolute win.
Designed for the tiniest of explorers, these costumes are perfect for photo ops, playdates, or any magical under-the-sea adventure. Dive in and let your toddler shine like the brightest pearl in the sea!
Mermaid Costume Accessories
So, you've picked out your mermaid costume and you're almost ready to rule the undersea kingdom. But wait! You're not quite done. Let's talk about the cherry on top – or should we say, the pearl in the oyster? Introducing our collection of mermaid costume accessories that'll take your look to 'ocean-chic' in no time!
Starting with the classic, a mermaid shell bra is not just a staple; it's an under-the-sea fashion statement. And guess what? It comes in both dazzling purple and tropical teal shades. Want something more? Take a peek at our Starfish Mermaid Shell Bra; it's the right kind of quirky to make heads turn (or should we say, tails flip?)
Slide (or glide) next into our Mermaid Skirt. It's the perfect blend of style and fantasy and is designed to flare just like a mermaid tail. You'll look like you've stepped right out of a fairy tale, ready to dance on the ocean floor. Or you can embrace the sea with our Mermaid Leggings, showcasing an exquisite fish scale pattern to pair with your choice of top.
Since we're talking about oceanic kingdoms, we should mention that every mermaid queen deserves her crown. So, put on our plush Mermaid Crown and let everyone know you're not just any mermaid; you're royalty. You'll be able to shine, shimmer, and rule your marine domain!