LEGO Halloween Costumes
LEGO Ninjago Halloween Costumes are perfect for fans of the LEGO Ninjago series. Whether your kiddos love the original show or the spin-off Masters of Spinjitzu, these costumes will help your child roleplay as their favorite Ninja character. We sell outfits for the two most popular characters from the franchise: Lloyd and Kai. Kids will love showing off the awesome colors and details of these LEGO costumes, which come with masks and gloves to complete the LEGO look.
LEGO Ninjago Lloyd Costumes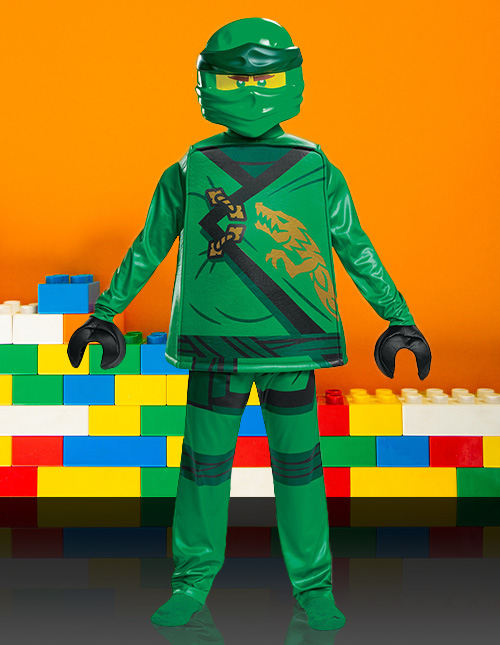 A LEGO Ninjago Lloyd Costume for kids is sure to make any young fan smile. Not only will they look like the famous Green Ninja and leader of the group, but they'll also have lots of fun pretending to use the power of Spinjitzu while they trick-or-treat or attend costume parties. Complete with the distinctive green tunic, a Lloyd mask, and LEGO hands, this costume will make your little one feel like a true Ninja Master this Halloween!
LEGO Ninjago Kai Costumes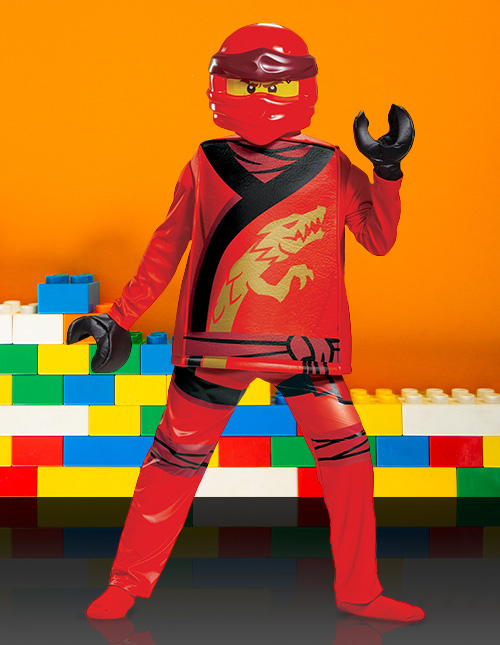 While all of the Ninjago heroes are popular with boys and girls, Kai costumes are one of the top-sellers. Kids love roleplaying as the Fire Ninja since he's a martial arts whiz and has two amazing red swords made of metal. Kids can start a Ninjago adventure at home when you buy the Deluxe Legacy Kai Costume. With a red tunic top and matching pants that feature ninja details and a golden dragon, it will help any little one feel just like an authentic LEGO hero.
LEGO Costume Ideas
There are also lots of great LEGO Halloween costumes that are born right out of the magic of LEGO toy sets. If your kid can't get enough of the brick-building fun at home, they're going to love dressing up as classic LEGO pieces for Halloween! We offer LEGO brick costumes that provide a pullover tunic perfectly shaped like the classic building unit of the LEGO system. And we have kits that provide the iconic look of a LEGO minifigure's yellow head and hands!
LEGO Brick Costumes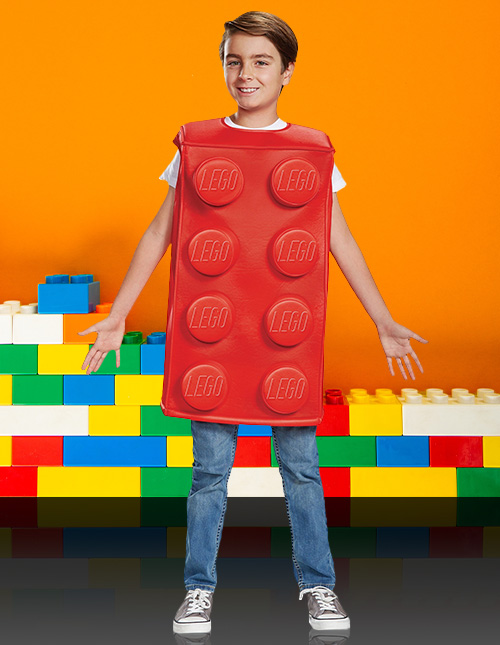 For kids that are serious brick builders a LEGO brick costume will be tough to beat this Halloween. We sell a LEGO Red Brick Costume and a Blue Brick Costume that will have kiddos decked out just like a rectangle LEGO brick. Each suit features a foam-backed tunic with squared edges and 8 brick "studs." The suits slip over the head and have a slit with a hook and loop closure in the back, so they fit great while trick-or-treating.
LEGO Mask and Hands Kit
If you're shopping for a child who loves everything LEGO, this costume will be tough to beat. Because the Kid's LEGO Guy Set turns your kiddo into a LEGO minifigure! It comes with a plastic mask that recreates the look of a figure's yellow brick head, as well as gloves that recreate the signature cupped LEGO hands. The best part is that all it needs is a t-shirt and jeans to be a complete outfit. But it can also be any LEGO character possible with just a little extra effort!