Pennywise Gifts
Horror fans know that Stephen King's IT is an absolute nightmare staple! If you don't know, Pennywise the Dancing Clown is an ageless entity that landed, asteroid style in what later became Derry, Maine. Residing in the labyrinth-like sewers of Derry, Maine, the entity sleeps for three decades at a time, waking up to feast on the terror of the townspeople. While Pennywise usually shows up as a clown, IT can transform into anything really. That means IT is always keeping track of the significant fears of the kids in town. So, there you go. Just in case you want a little backstory before buying an IT Pennywise gift for the horror fan in your life!
Because IT is a horror movie staple, you have many choices when it comes to choosing the right gift. We feature two versions of Pennywise on this page. Horror novices should know that there are two versions of IT. The first is a made for tv, beloved 1990 miniseries starring Tim Curry as a colorful yet formidable Pennywise that looks like it popped straight off a Cracker Jack box.
Then, there is the two-parter version from 2017 and 2019 starring Bill Skarsgård. In this version, Pennywise rocks a Victorian-style clown costume with a ruff around his neck, ballooning-pants, and a gray color scheme. Now, people are rather passionate about Pennywise the clown and some have their costume preference. Remember to check which IT film your gift-recipient prefers before you invest in any Pennywise gifts!
Pennywise Costumes
Now, it might not seem obvious to purchase a Pennywise costume for a gift. But if you have a family member or friend with a birthday in September or early October, purchasing an ultimate Pennywise the clown costume is actually a brilliant idea! Even if Halloween is over, you could spur delight within any horror fan by investing in a Pennywise Dog Costume. Then send Fido in to meet birthday boys and girls, balloon in hand. Now, that's the kind of birthday clown we can get behind!
Pennywise Toys
We have a surprising array of Pennywise gifts for a range of sizes. Maybe you have a strange little child who happened to stumble upon and emotionally attach to Pennywise the Clown. (Stranger things have happened!) We've found that kids will love a Pennywise doll like the adorable Hug Me plush! And for teens and adults, there are Pennywise-themed games and eerie action figures! Check them out, along with ideas on how to display them below!
Pennywise Action Figure
There are some seriously impressive Pennywise action figures out there! Some high-quality versions come with interchangeable hands and portraits so you can recreate some of your favorite scenes from IT. Just as we promised in the beginning, we're representing Pennywise played by Tim Curry as well as our favorite Dancing Clown from the modern Skarsgård version. We love the idea of posing these characters with some dramatic lighting. If you really want to level up, gift these Pennywise action figures with one of our IT lights to achieve this goal!
Pennywise Games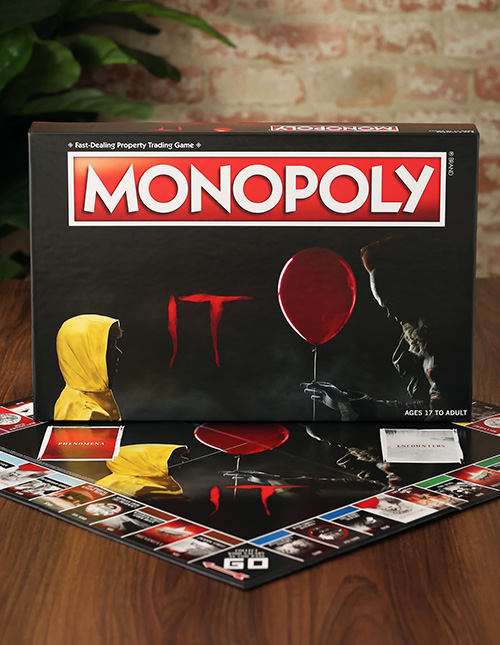 Horror movie marathons are pretty fun. But adding a board game or round of cards is a great way to lure your horror fan from the mound of blankets on the couch. If you're watching the whole three-hour-twelve-minutes long IT miniseries, work in an intermission to vent some of that pent-up fear-induced energy. A break from Pennywise-style mayhem has to be good for your psyche.
Pennywise is the kind of guy who would want to play a game. Although, we're pretty sure any game he played would end quickly and horribly. That's not the case with these games, however. These are Pennywise versions of Monopoly with game pieces shaped like essential elements from IT: the paper boat, a balloon, and Silver the bike. Check out the rest of the games, too. From puzzles to playing cards, there's plenty of Pennywise-themed fun to be had!
Pennywise Decorations
Pennywise decorations aren't just for Halloween, though a Pennywise Halloween decoration is an excellent way to make your house's Halloween feel stand out. We've included all sorts of ways to add a touch of Pennywise mischief into home décor. From living room bookshelves to your office desk, every home deserves a touch of evil dancing clown fun!
Pennywise Funko Pop
Pop Vinyl figures are like little buddies for all the empty corners of your household. Decorating with Pop figures isn't only about collecting in one place. We're sure that that weird Pennywise Pop figure will add interest to an unexpected area. Imagine Pennywise peeping down from the top of a deep door ledge or hanging out on a windowsill along a staircase. If there's any character that deserves the surprise treatment, it's Pennywise the clown!
Pennywise Halloween Decorations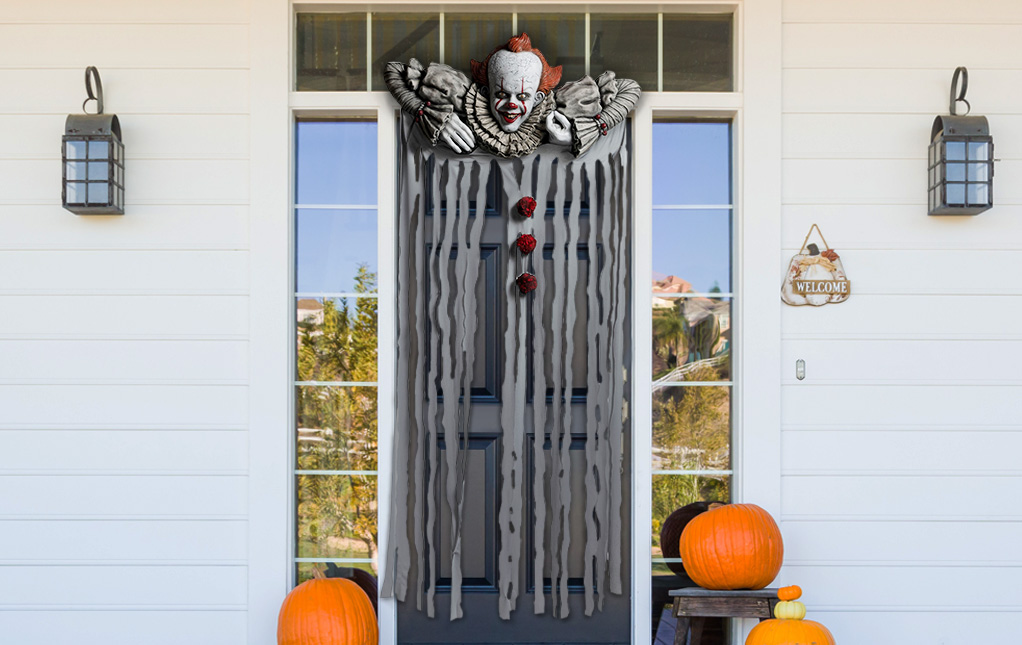 Do you remember the creepy clown craze of a few years back? Bored people dressed as clowns were skulking around their small towns. That ended out being somewhat controversial as many people felt rather unsafe. However, it proved that creepy clowns remain one of the scariest Halloween characters, no matter who you are. Whether or not the Halloween revelers in your neighborhood are familiar with IT, they're sure to shiver when they see Pennywise decorating your home this October. The featured Pennywise door-hanger can be displayed inside or outside and is the perfect way to greet thrill-seeking guests!
Pennywise Collectibles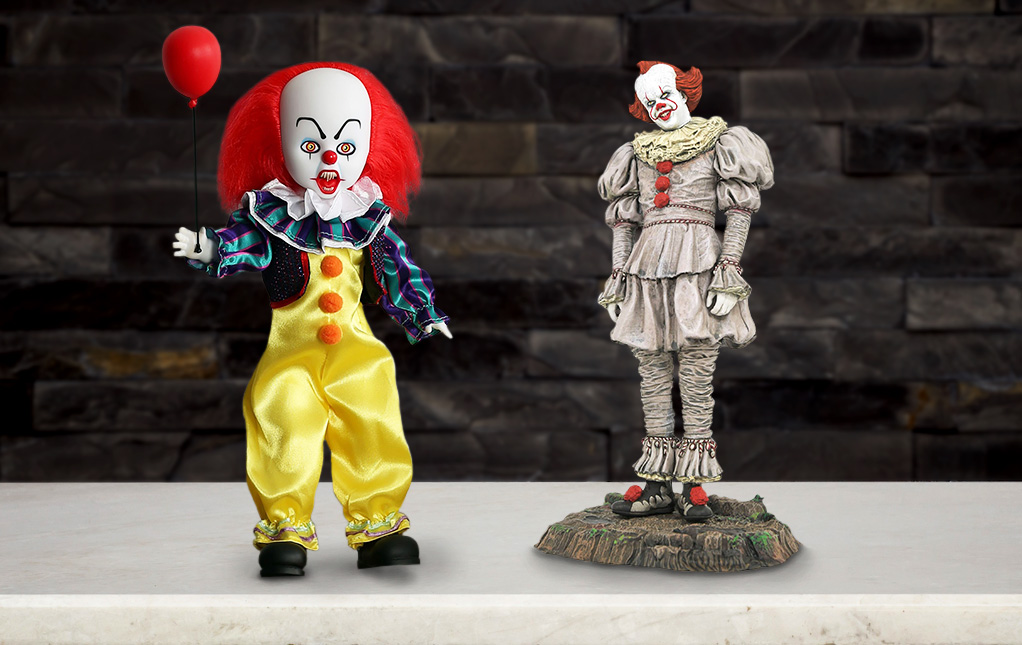 Everyone who likes IT has strong memories of the first time they saw the movie. Many people spotted parts of the 1990 miniseries accidentally as kids. They'll never forget the images of blood bubbling up from sewers and Tim Curry dressed as a maniacal clown flashing up on the screen. Others were first introduced to Pennywise when Bill Skarsgård slipped onto the big screen in his sleek and unsettling role. Skarsgård's interpretation of Pennywise was faithful to the book version, transforming into a seventy-five-foot-tall Pennywise and appearing when the viewer least expected it!
The collectibles featured here are a great example of both versions of the dancing clown. The collectible Pennywise doll from the 1990 movie is colorful with a china doll-like face. The Pennywise PVC statue from the newest version of IT is dignified and will look surprisingly elegant on any display shelf.
Pennywise Clothes
Gifting a Pennywise wardrobe can help bring Pennywise up from the sewers and onto the streets! These Pennywise clothes are a great way to stir-up a little horror-oriented conversation. There's nothing like pondering over the Loser's Club mistakes in part one, leading to them having to face off with Pennywise thirty-years later. Or maybe these Pennywise clothes will inspire one of the infamous, previously mentioned Skarsgård versus Curry discussions. From IT-themed face masks to a Pennywise t-shirt, horror fans will be delighted to receive any of these unique Pennywise clothing items! The big question is, are you pacifying the sewer-dwelling entity or just capturing IT's attention?
Pennywise Shirt
The humble t-shirt will always be the best way to display fandom. And the featured Pennywise T gets straight to the point with hungry clown eyes staring down anyone who happens to pass by! It's easy to work Pennywise t-shirts into a wardrobe, no matter the season. In cooler weather, simply layer this under a flannel and you'll be cozy while you walk the streets of Derry, Maine. We can't say that Derry's residents will be able to look your way for long, however! We're always coming up with new styles, so check out the rest of our Pennywise shirts to make sure you get a creepy T that's just what you're looking for!
Pennywise Hat
Help your friends and family top off any look with a little evil entity mischief. Pennywise the Clown hats are ready for sunny summer days and dark snowy weather. Any Stephen King fan knows that fear is far from seasonal! The featured "We All Float" hat features Pennywise's dangerous face and iconic red balloon, while the classic pom-pom hat is just subtle enough to not scare the kiddos at Christmas time while the knitted clown faces and paper boats are sure to spur conversation in fellow IT fans!
Pennywise Socks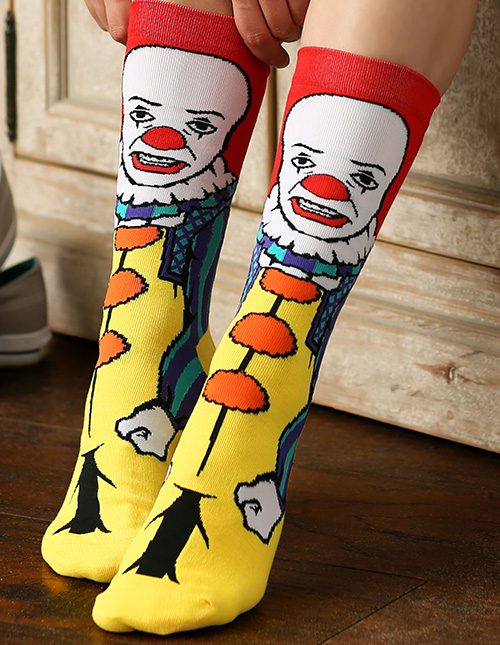 They're feet, but spooky! Gift a pair of Pennywise socks and horror fans will think of you whenever they look down. Maybe they'll even ponder how they'd fare if they had to face off with Pennywise in the sewers of Derry, Maine. Our variety of horror-themed socks allows you to work a little spooky dancing clown action into your wardrobe. And even better, without raising any eyebrows at school, work, or while touring Maine! If you really want to go above and beyond, you could even gift all the versions of our Pennywise or horror socks to create a scary sock gift package.
Pennywise Accessories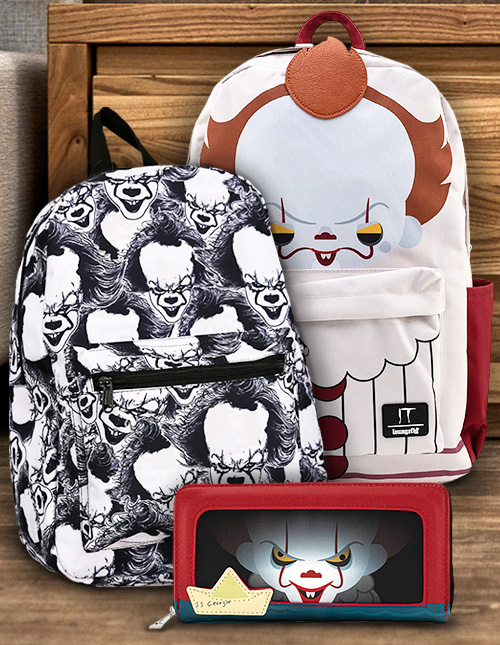 You don't need a whole outfit to prove that you're a fan of IT. A few accents will do the tricks! We have all sorts of accessories from bags to umbrellas, all of which make great gifts because you don't have to go-guessing any sizes. Phew! We've featured a few different bags and backpacks here because they are unique pieces that would go with any outfit!
We think Loungefly's take on Pennywise the clown is right on the money. The Pennywise Loungefly backpack has a playful ruff around the front pocket, a cartoon version of Pennywise's face, and the iconic pom poms mentioned repeatedly throughout the book. Yet another Loungefly wallet features the paper boat sewer scene that starts off every version of IT. Both of these pieces are great for all ages, whether your gift recipient is in high school or a full-blown professional adult. The all-over print backpack is a little more casual with a black and white Pennywise pattern. Plus, it's tough enough to withstand everyday wear and tear and maybe even a little greywater sewer exploration!