Godzilla Merchandise
Thanks to some new flicks in the 2010s and 2020s, Godzilla is bigger than ever. Which is saying a lot because he's been a big boy for a while! The atomic monster first appeared on screen in 1954 and he has been amassing fans around the globe ever since. If count yourself among the many fans of the world's most preeminent daikaiju, you know that bingeing your favorite Godzilla movies only takes your fandom so far.
You really need some Godzilla toys and merch to amp things up! We like fans here at FUN, and as the top shopping spot for gifts and goodies that feature your favorite characters, we're happy to report that we're stocked up on some of the coolest Godzilla merchandise and gear available. We offer Godzilla figures, statues, and memorabilia that are great as collectibles. We also have cool gift ideas that feature the monster, like Godzilla board games, t-shirts, and baseball caps. With lots of great options to choose from, we want to highlight some of the top merch available. So, we have more info on our best-selling Godzilla items right here!
Godzilla Action Figures
Any Godzilla toy would likely be a kid's favorite plaything. Since powering around a giant lizard that showers his enemies with radiation would be an irresistible proposition to a kiddo! But as more high-end toymakers have come on to the action figure scene, we've seen more and more premium Godzilla figures offered as collectible items for adults. We sell some of those quality Godzilla action figures right here at FUN, and a great choice is the S.H.MonsterArts Godzilla Vs. Kong Godzilla action figure, seen above. Metallic coloring, optional hands, and ultra posability make this the top collectible figure from the hit movie.
Godzilla Funko POP!
Funko POP! vinyls are incredibly popular collectible items, so when Funko dropped a full slate of Pop! figures from the 2021 movie, Godzilla fans started snatching them up as fast as possible. We offer some of those iconic Godzilla Pops for sale right here. Start your shopping by checking out the 1017 Godzilla figure. On a 3 3/4" scale, it has a great sculpt based on the movie. Then be sure to take a gander at the 1018 Godzilla, aka Heat Ray Godzilla! This great Pop! features the kaiju posed in destruction mode with blue atomic breath spewing from his mouth.
Godzilla Shirts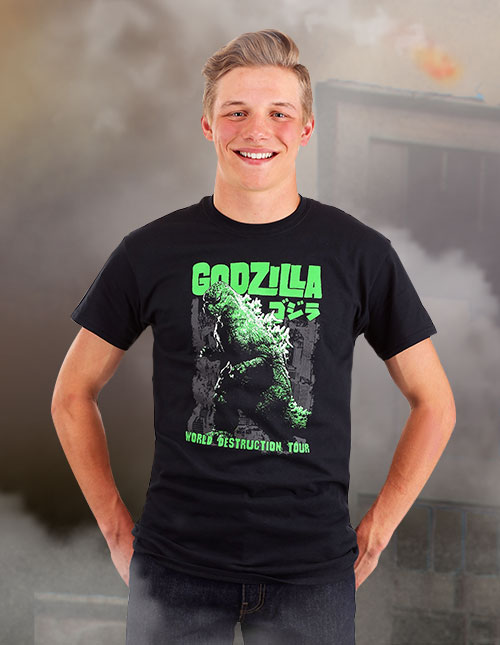 There's no better way to connect with other fans than by wearing a shirt that shows off your fandom. So, if you're crazy about Godzilla, you better be sure you have a Godzilla t-shirt stashed in your closet! We have some slick Godzilla tees available here at FUN. The Godzilla World Destruction Tour T-Shirt, pictured here, is an awesome option. Inspired by rock n' roll tour tees, the graphic art on the front features the old-school Toho Godzilla. And then, the back features a list of cities, just like a band tee. But in a hilarious twist, it lists them all as destroyed since he did a number on them in the classic movies!
Godzilla Board Game
If you can't get enough Godzilla action, the good times don't have to be limited to movie night. Because, with a Godzilla board game, you can enjoy your favorite monster on game night, too! We sell several games inspired by the radiation-powered monster. Try the Godzilla Monopoly Game for the classic gameplay you know and love with creative monster-fueled twists added to the spending frenzy. Another option is the Jenga Godzilla Extreme Edition game, which cleverly puts the monster on a track towards the block tower. Each roll of the die gets Godzilla's heat ray closer to the knocking down the tower!