Christmas Decor
What do you know, it's the most wonderful time of the year! Well, that's up for some debate. Some people prefer a time when you can exit the house without wearing five layers of clothing. But perhaps you can blame that controversial opinion on our company's northern location. Officially, we still think this is the best time of the year. What other holiday has songs that are just about decorating for the season? We can't think of any. Trimming the trees, decking the halls, it just doesn't get any better! Whether you're looking to add lights and cheer to your home, office, or even your dorm room, we're here to help!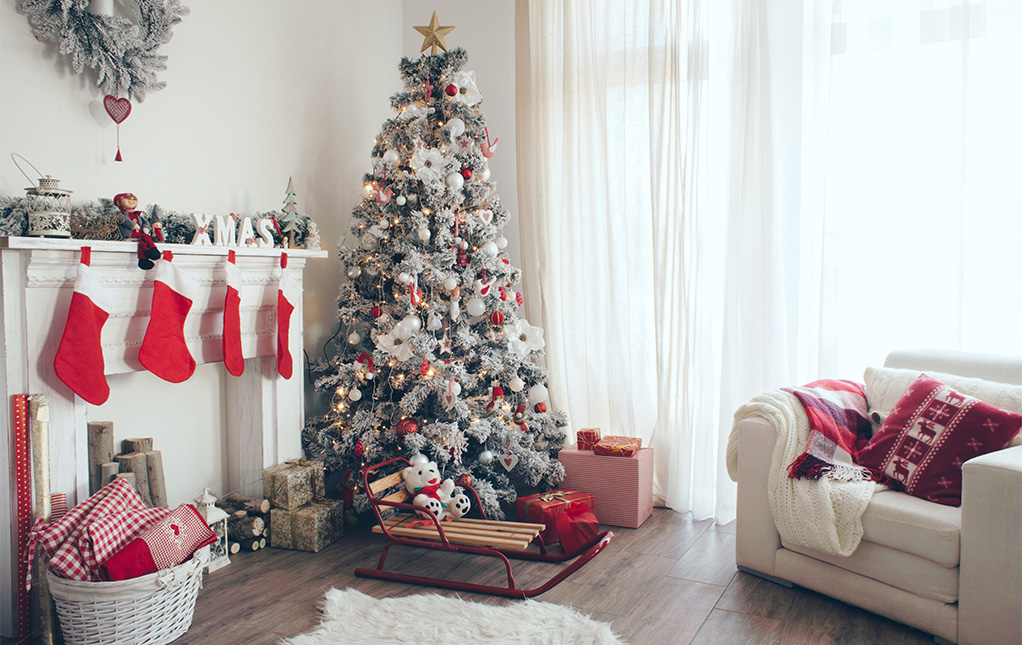 If you don't detect a distinct aura of peppermint and gingerbread rolling off your screen, just wait. Scroll on through this collection of unique Christmas decoration ideas and you're sure to feel the holiday season! Play your Christmas cards right and your guests will get the holly jolly vibes as soon as they see your sparkling front door Christmas wreath. And they'll stay in that same spirit after the last eggnog toast!
Christmas Decoration Ideas
The Christmas season is about nostalgia, sure. But that doesn't mean we have to stay with the same décor aesthetics we grew up with. Come on, we have to move on from silver tinsel. Keep the Christmas music and the generations-old cookie recipes, and update this holiday season with new Christmas decorations. How about funny Christmas lights and NFL Christmas ornaments for the tree? Whether you delight the little ones by expanding your snow globe collection or add a DIY touch with craft kits, you're sure to find a unique way to frame your holiday home when looking through our Christmas decoration selection!
Unique Nutcrackers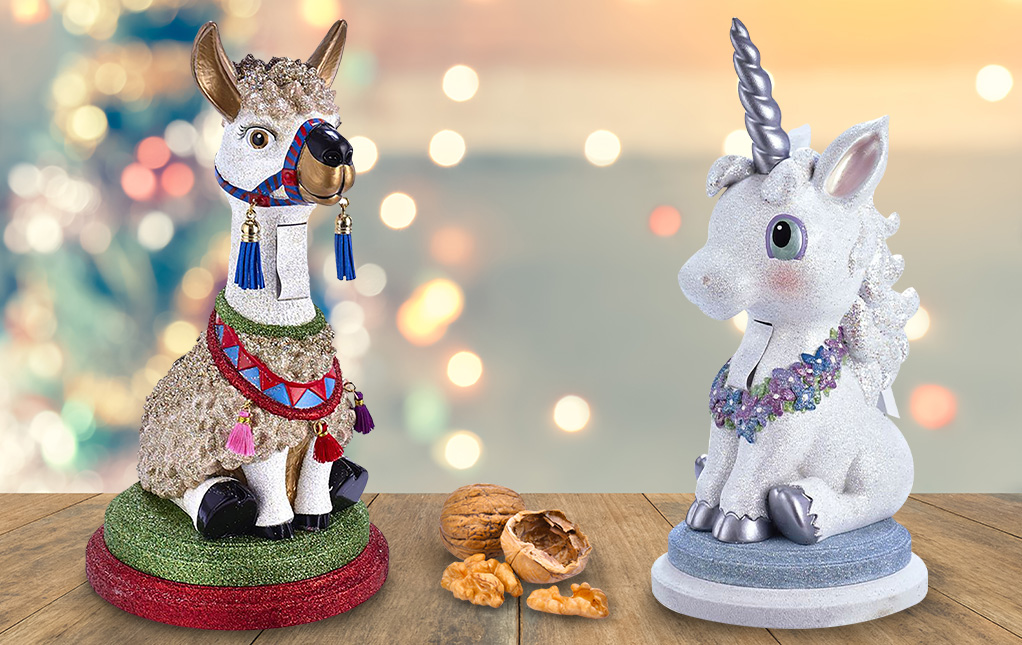 The nutcracker tradition goes deep. Yes, deeper than the ballet that we all know and love. A German custom from the 17th century, these carved dolls were said to bring good luck to their households. That's a good thing to keep in mind when you're trying not to burn Christmas dinner. While the traditional nutcracker might be the shiny red soldier that fought the Rat King, the sky is the limit these days. Want a little South American touch in your homey holiday décor? The sweet gold-trimmed llama nutcracker will look quite perfect with cacti. Or what about sugary sweet fairytale touches that can be kept out even after the tree has been put out on the curb? The sparkly sweet unicorn nutcracker is so lovely, you'll tell everyone to keep their walnuts to themselves!
Musical Christmas Snow Globes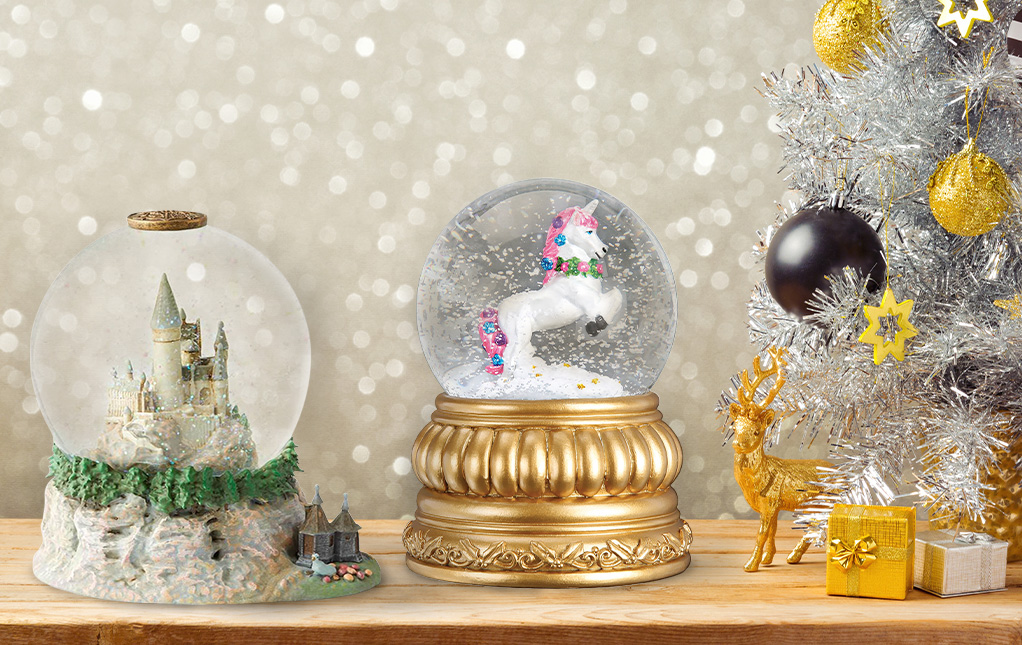 There's something special about a snow globe. It's like seeing a tiny little world through a sparkly snowfall. A world that you can hold in your own two hands. And it only gets better when you add music into the mix. When you twist that tiny knob on the bottom of the snow globe, you can really get sucked into the scene, especially if you have a child-like sense of wonder. Gifting unique Christmas snow globes can be a beautiful tradition. Have an avid reader in your family who reads the Harry Potter series every Christmas? The Hogwarts Castle snow globe will add a little more magical atmosphere to your reading nook. Have a mini princess in training in your house? The unicorn snow globe is a great idea! When choosing a snow globe, think about what world your family members would want to hold in their hands because, besides a good book, watching the snow fall on a mysterious scene while tinkling music plays is one of the best ways to whip up the imagination!
Unique Christmas Lights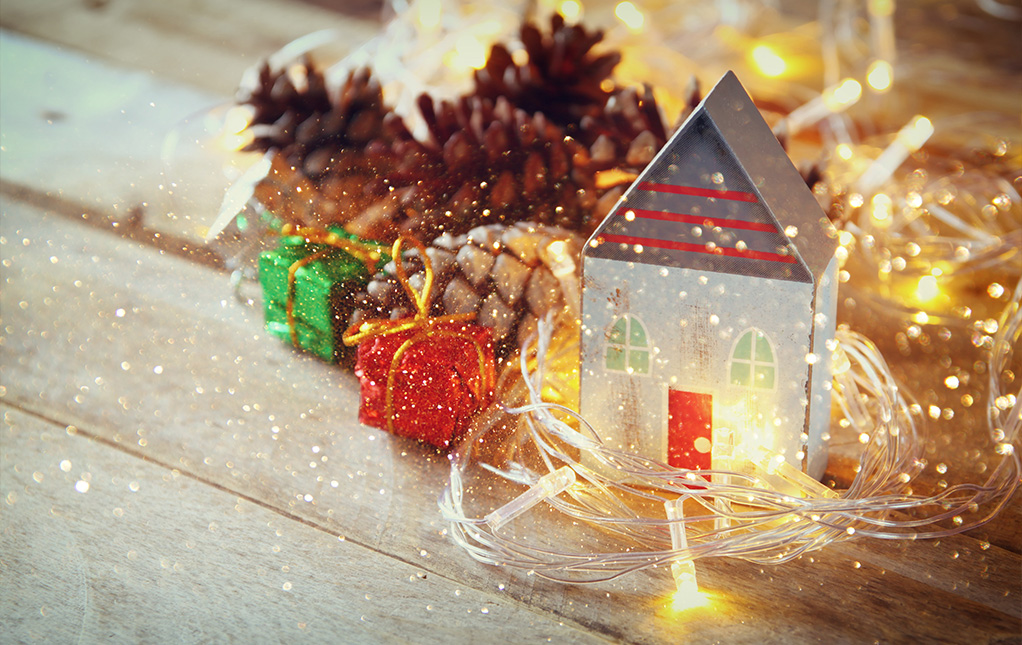 Any party planner, casual or professional, will tell you that lighting is one of the most important aspects of setting a festive scene. And when it comes to Christmas, the twinkly aspect of that lighting is even more critical. After all, how many songs reference the sparkly lights that trim the trees, street lamps, and homes? If you're looking for a fun take on the traditional Christmas lights, you're in the right place. The perfect way to accent a playful mini Christmas tree in your office or set the mood in your she-shed, a unique string of lights doesn't have to replace the timeless twinkle of a traditional bulb. It simply gives one area a raucous, fun vibe.
For instance, imagine a set of Harry Potter lights. How much fun would it be to set up a reading nook accented with the Hogwarts shields? Or perhaps you want to go a completely different direction? You can accent the bar in your basement with a set of lights that tells your guests to take it easy, they're on vacation for the evening. Well the Corona lights can be there to give your humble basement bar a distinctly beach-like appeal. While these lights don't only have to come out at Christmas, all the parties in this festive season make for a great excuse to set them up. It's the modern era, you get to choose just how you want to deck your halls!
Funny Christmas Lights
Because they glow brightly, decorative lights naturally bring attention to themselves, letting you make an impact on a room's vibe without a lot of effort. If you're putting together a winter party with a distinctly Western theme, the guitar lights and the funky cowboy boot lights are a great way to put the "howdy" into the holidays. Trim a tree, accent a bar area, or add a bit of pizzazz to the snack table with a line of funny lights. We have different lights for every theme, too. So if you get together with the whole family and have a Star Wars marathon, the BB-8 lights will help transport everyone to a galaxy far, far away. There are so many choices, you'll just have to scroll on through our selection of lights to make sure you find a set that's right for you!
Disney Tree Skirt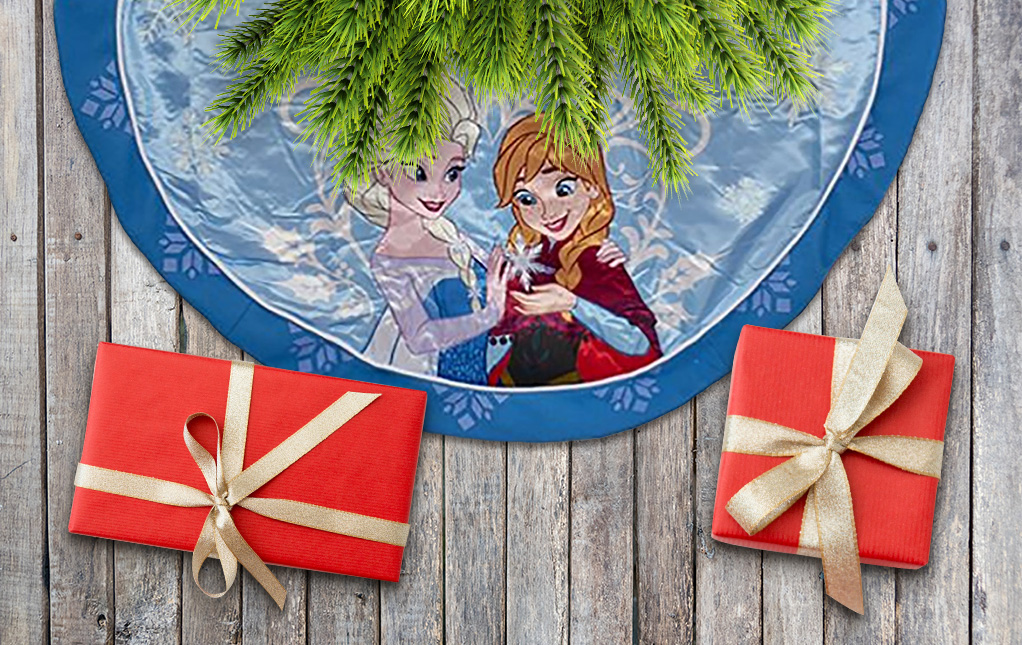 When we're talking about decorating the Christmas tree, we talk about lights and tinsel and ornaments. We often forget about the perfect touch to complete your holiday look: the Christmas tree skirt. Adding presents to the tree will become more exciting when you choose a thematic skirt like the Frozen skirt. Though it might be a little sad to cover the beautiful design up with gifts as Christmas gets closer, tree skirts finish off your look to make sure every element of your holiday stands out! And when you distribute all those gifts, there won't be a sad, empty place where colorful presents once were. A holiday design will be revealed, promising holiday happiness for years to come!
Christmas Stocking Holders
While it's a lot of fun to unwrap big gifts, it's also quite delightful to find the little knick-knacks that appear in your cozy stocking on Christmas morning. Now, not all of us have mantels anymore but the stocking tradition will always live on! Attach your stockings to stairs, window ledges, or even a good old-fashioned fireplace with a themed stocking holder such as the BB-8 holder. Or pay respects to the superhero in your household with the Superman-themed hook. There's a little Christmas magic for everyone in our Christmas décor collection!
Outdoor Christmas Decoration Ideas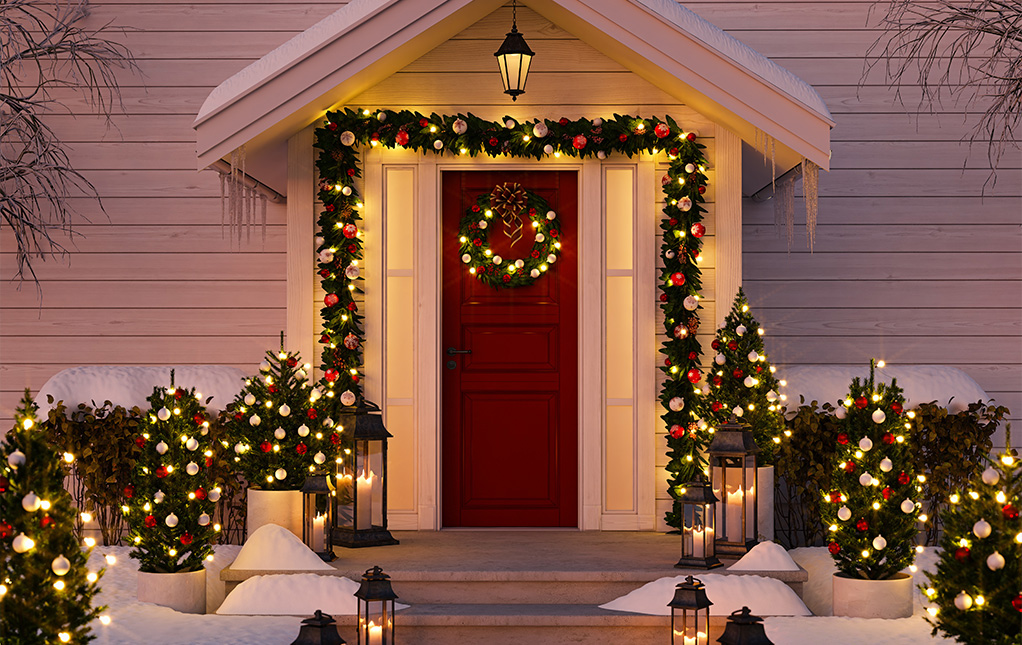 Do you remember driving to take in the Christmas decorations when you were a kid? You'd sit in the back seat while Christmas music played over the radio, taking in the twinkling lights and the scenes of Santa Claus and his reindeer. Now you get to spread that particular brand of magic yourself! People really have a lot of fun with their yards these days. So when you're thinking of how to decorate your home for Christmas, you can have a lot of fun with it! Show your true Christmas spirit with an outdoor inflatable. Accent your house's façade with sparkly lights. Add your favorite Disney characters, a modern Christmas ornaments wreath, and you'll be ready to uphold that wintery wonder that we all treasured as kiddos.
Front Door Christmas Wreath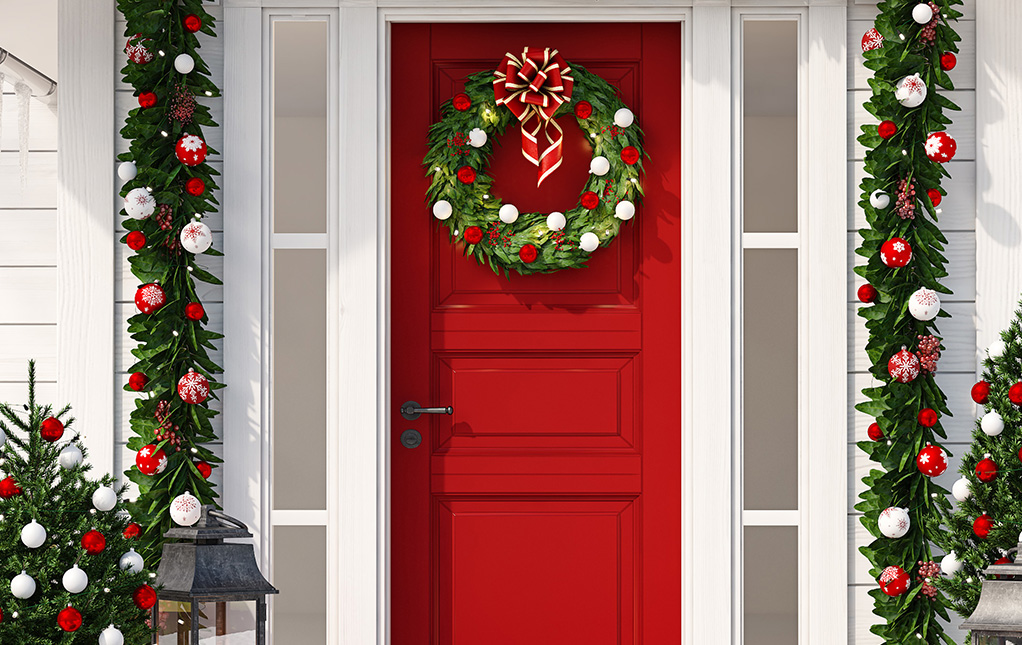 If you look up Christmas wreath decorating ideas, you'll have so many ideas that you'll end up in a Pinterest loop until the holidays are all wrapped up. It's nice to know when you can easily create a DIY look and when you just get a beautiful, unique wreath that comes ready to hang. Either way, you don't have to get wrapped into how-to videos and start a new time-sucking Pinterest board when you choose a welcoming holiday wreath from our selection!
Christmas Lawn Decorations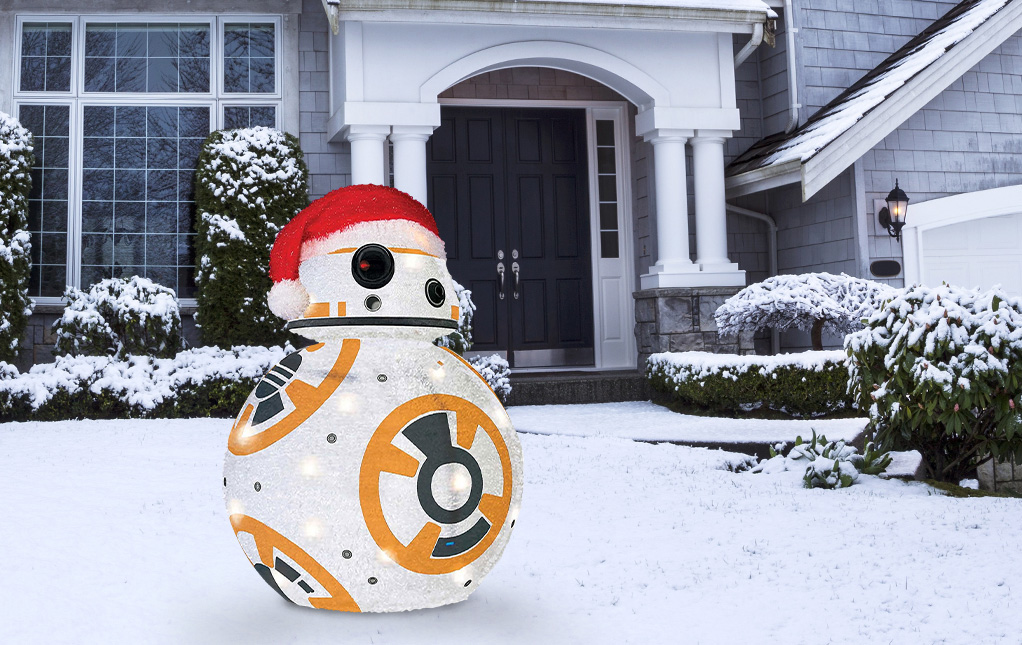 Christmas cheer isn't only for those people who live in cold climates. Anyone can enjoy festive holiday decorations. And we're reasonably sure that decorating your front lawn in a holly jolly fashion would be a lot more fun while wearing jeans and a t-shirt rather than shivering in a parka. Whether you're decorating on a green lawn or you're trudging through the snow, fun centerpieces for the lawn like this wild inflatable BB-8 decoration will remind anyone that passes that it's the most wonderful time of the year!
Christmas Figurines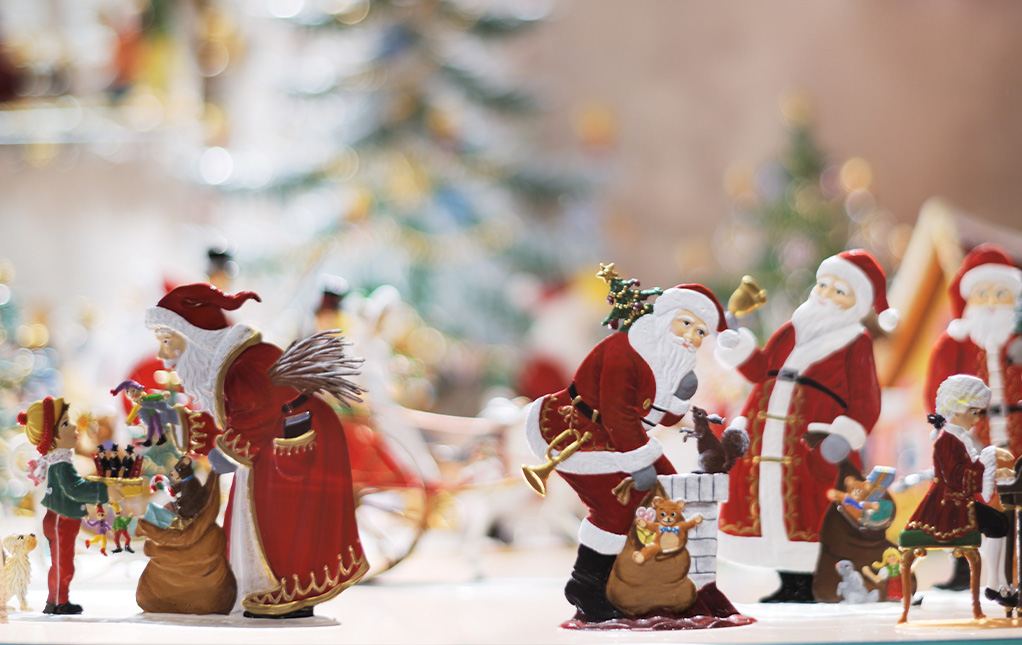 Setting the holiday scene is all about the little details that we get to revisit year after year. You might remember closely examining the little reindeer grazing around your Grandma's side table. Or discovering the secrets of Christmas village that you and the family set up each year. This is all to say that the right Christmas miniature has the power to spark magic in your home. Now, whether you're looking for unique pieces for your very own mini Christmas village or the perfect Santa Claus for your desk at work, you'll find sweet little details among this catalog of Christmas décor ideas!
Nightmare Before Christmas Figurines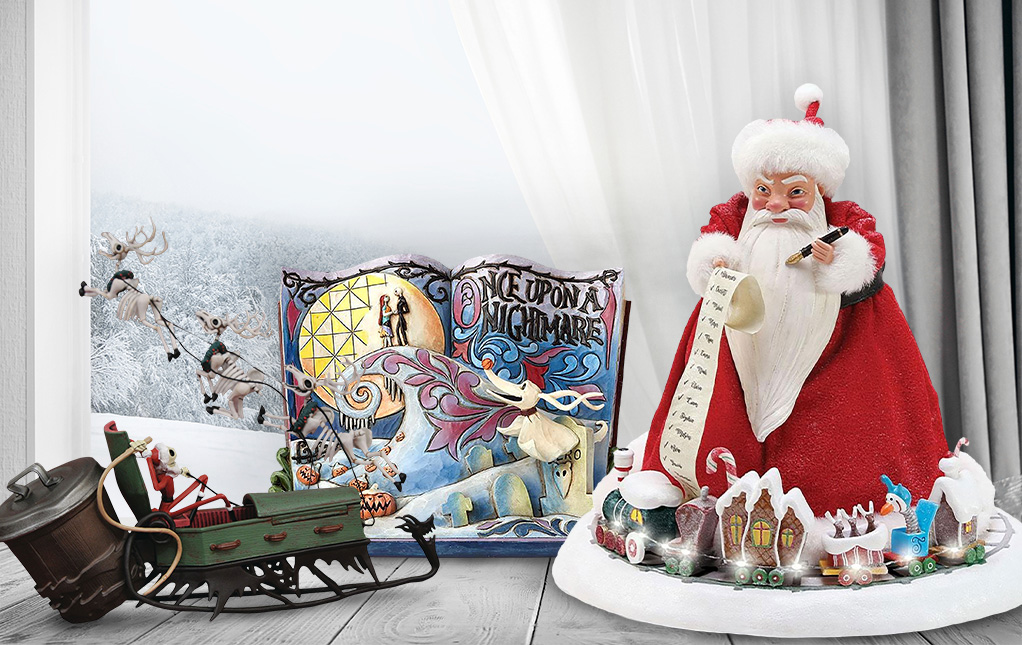 If you're great at understanding the holiday spirit, then you probably love the idea of décor that spans the gap from Halloween to Christmas. The charm of a Nightmare Before Christmas mini-village captures that idea perfectly. All the wonder of Christmas is balanced with the whimsy of Burton's Halloween Town when you arrange the mini, macabre houses and towers. All you need to do is sprinkle a little fake snow over the scene to make this dark little Halloween Town Christmas ready!