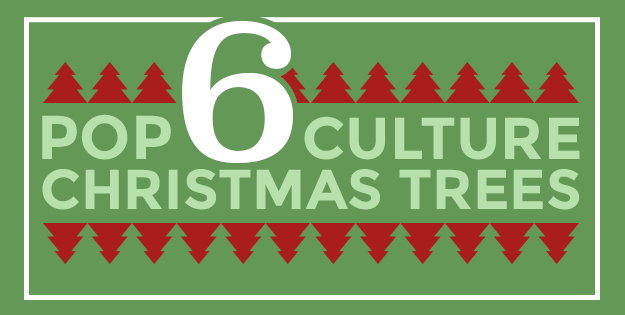 You know those classic carol lyrics, "deck the halls with boughs of holly?" They're obviously super helpful if you're looking for ideas on how to decorate your halls, but there aren't any carol lyrics that tell you how to deck your Christmas tree! We decided to take advantage of there being no guidelines and create six creative pop culture themed trees. It just wouldn't be very FUN.com of us if we used plain old bulbs to decorate, so we opted instead for doughnuts, Hulk hands, inflatable bananas, and glowing Elvish swords.
1. Hobbit Tree
Is anything more inviting than the prospect of curling up in a recliner beside Shelob to read some Tolkien, while you bask in the glow of a Hobbit themed Christmas tree? We wove several Hobbit Map Scarves through the branches to start off this theme, and the main accent pieces are leaf clasps, Smeagol bobbleheads, various weaponry from the realm, and of course, one ring to rule them all (Can you spot it?). The skirt is comproised of several pairs of hairy Hobbit feet slippers!
2. Avengers Tree
Avengers assemble! We had a blast putting together this super themed tree, complete with a foam Hulk hand topper. Besides the stand-out items like Captain America's shield, Thor's Hammer, and an adorable Iron Man plush doll, the tree is filled with brightly colored Avengers party favors, and silver star wands.
Incredible Hulk Gifts Captain America Shield Prop Thor Stormbreaker Hammer
3. Mario Kart Tree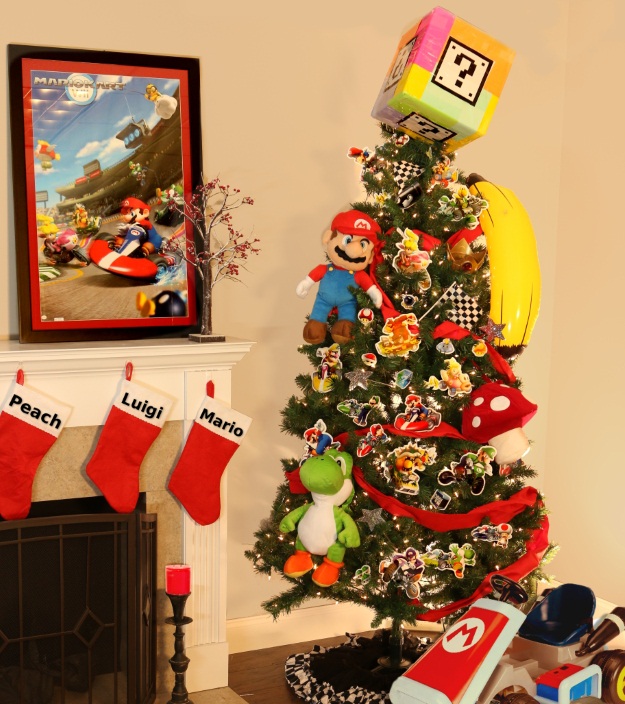 You may have a great career and a beautiful family, but you won't know TRUE success until you've earned a gold trophy in Mario Kart. Dodging bananas, tossing red shells, and power sliding past your competitors? Aint nothin' like it. We find the results of our Mario Kart themed tree similarly victorious. Plush backpacks and an inflatable banana are the attention-grabbers on this tree, and we filled it out with wall decal stickers, checkered flags, and a DIY Item Box tree topper. We even stuck a life size ride-on Kart underneath this geeky beauty!
Super Mario Bros. Gifts Nintendo Gifts
4. Frozen Tree
Frozen was the hit film of 2014, and its icy landscape made it the perfect theme choice for a chilly white Christmas tree! We brought in a blue motif with the help of some turqoise feather boas, and accented the tree with Pop Vinyl Figurines from the movie's most famous characters. You'll also see large wall decals, a throw blanket tree skirt, and a pair of long Elsa gloves - conceal don't feel!
Frozen Character Pop Vinyl Figures Frozen Gifts
4. Sesame Street Tree
This just in: Sesame Street has the word tree right in it! Sesame sTREEt! We couldn't believe that was just a coincidence, and had a blast putting together this bright, fluffy, inviting tree. We perched a Big Bird puppet on top and continuted the Big Bird theme by weaving yellow feather boas throughout the branches. The rest of the tree features 12 to 14 inch character plushes, Sesame Street coasters, and a chocolate chip cookie tree skirt - nom nom nom!
Sesame Street Toys Sesame Street Gifts
6. Simpsons Tree
Any tree that has a sparkly Marge wig as a topper and a Duff can "beeramid" as the skirt, is going to be a winner in our books. To achieve the Duff can effect, we just printed off Duff logos from a free printable and taped them to a bunch of empty soda cans! The rest of the tree is populated by plush character figurines, stainless steel donut flasks (!), and cheery bow ties. If you don't try recreating this tree at home, you'll be kicking yourself for Christmases to come - DOH!
Do you have a crazy themed tree in your home or office? We SO need to see it! Send us pictures in the comments, along with any theme ideas you'd like us to try next time. Merry Christmas!