Aladdin Gifts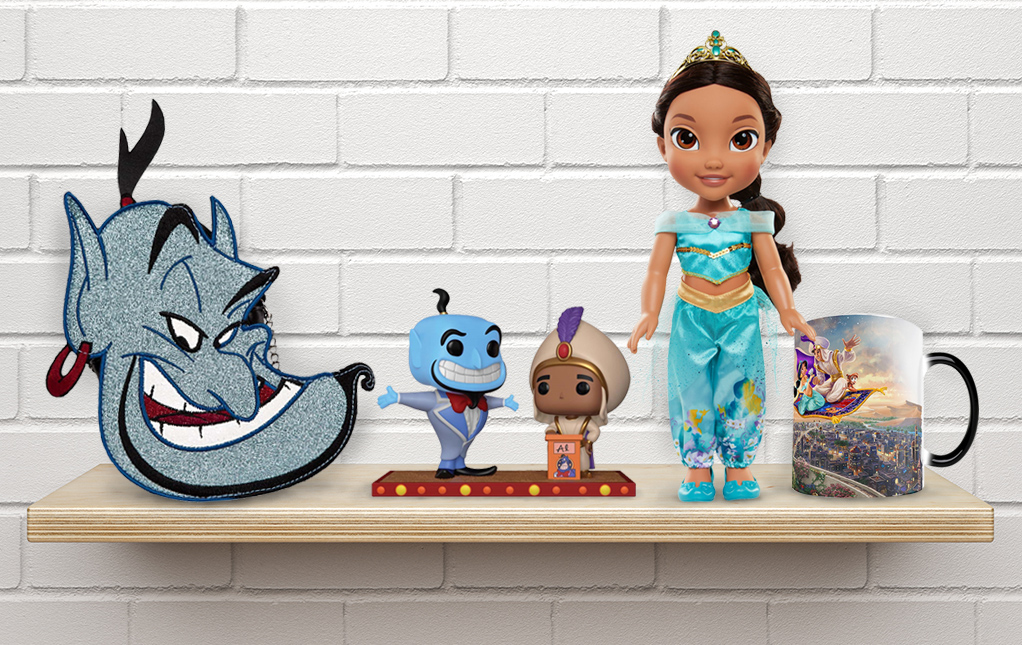 If you're reading this, then you probably already know that this site is the place to go for collectibles and fun apparel. It probably wouldn't surprise you that we have a whole new world of Aladdin apparel waiting for you. From the colorful genie purse to an adorable Jasmine figure for your Disney collection, you'll be inspired to slip into the songs from this classic nineties Disney movie whenever you see these characters. Gift the hilarious Thomas Kinkade morphing mug to coworkers for a unique Secret Santa gift. Honor the cave scene with the First Wish Pop Vinyl set. Whatever your favorite scene or character, there will always be an Aladdin product for you!
Aladdin Gift Ideas
Want to box up the magic of Agrabah for someone special in your life? It's easy to come up with a delightful gift for serious Disney fans. Whether celebrating a birthday, Christmas gift, or a successful musical theater audition, we're pretty sure anyone would appreciate unwrapping Aladdin Genie collectibles. Yes, the figure might not give up three wishes to serve your whims but at least it'll make anyone's collection extra interesting. Dive into the following ideas and you'll be delighted by the variety of molded vinyl figures.
Aladdin and Jasmine Pop Vinyl Figures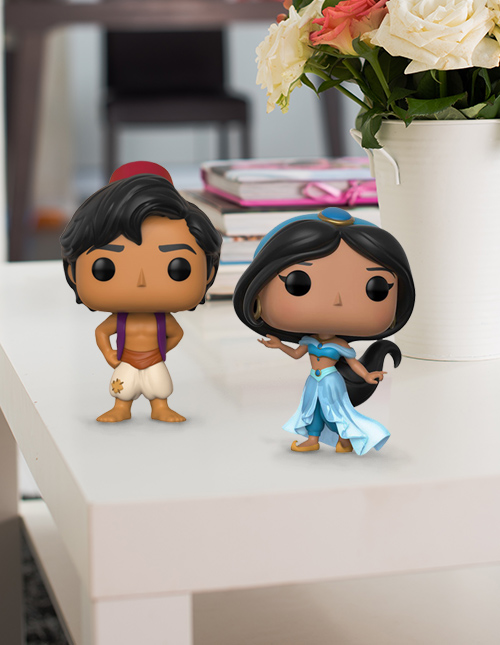 Despite their wildly different economic upbringing, Aladdin and Jasmine made for a great couple as soon as they met one another. Can you beat their meet-cute? Come on, who meets at a market after a big guy threatens you for stealing an apple these days. And then they go on to pull off some sweet parkour moves on the rooftops of a sun-soaked desert town…. If you want to represent one of our favorite Disney couples, these sweet Pop Vinyls are right up your aisle. Pair Pop Jasmine in her royal palace harem pants and pretty crown with Aladdin in his sleek vest and little hat and both Pops are sure to inspire more interesting dates. Heading to the rooftops for an evening view of the palace sounds like a good time to us.
Aladdin Character Pop Vinyl Figures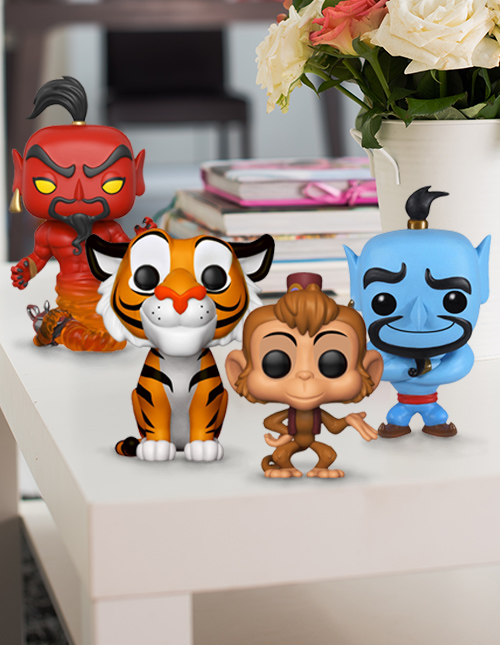 All the characters in Aladdin stand out. Maybe that's why this movie is such a reliable classic. Everyone stands out, no character is left shallow and boring, no matter how briefly they might be on screen. There's Jafar who not only knows how to put together a good scheme but rocks a stunning twisty beard as well. Then there are the animal companions. Maybe we're biased but we're pretty sure that the big-eyed Rajah is one of the cutest pets in Disney's history. Not only is she lovely and affectionate but she also will defend her princess if need be. Whether you're looking for a bright and cheerful genie or a figure of the happy monkey, Abu, you're sure to love the Pop Vinyls in our catalog.
Aladdin T-Shirts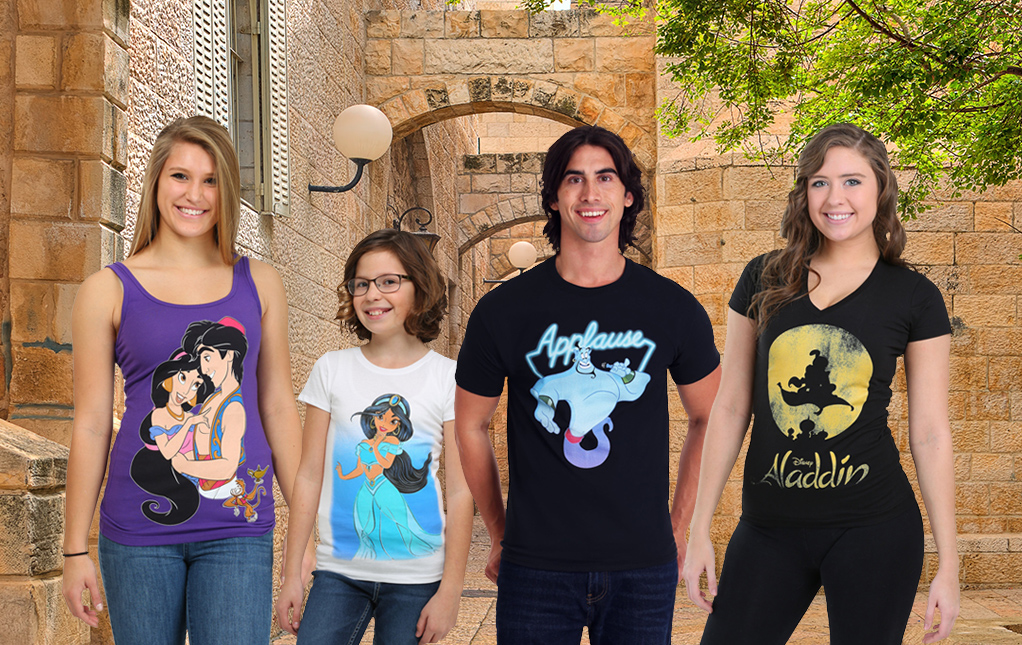 There are so many reasons why adults and children alike would want to wear Aladdin apparel! Who doesn't want a little more fairytale adventure in their lives? No matter who you're looking for, you'll love wearing your love of Aladdin literally on your sleeve. High schoolers will love rocking a nineties look in the black and yellow "Whole New World" t-shirt or the"Al and Jasmine" tank top. Are you an adult fan who wants to pay tribute? Throw on the "Applause" t-shirt and honor the genie's awesome performance. Pay Aladdin interest forward into the next generation with the Aladdin Jasmine girls' t-shirt.
Aladdin Backpacks
Want to channel adventure for your travels, even if you're simply heading across town? Rocking any of these Aladdin backpacks are sure to add a touch of excitement to any travels whether you're heading out by car, bus, or carpet. With pockets and padded straps, this will stay comfortable and easy to travel with no matter how much turbulence your woven ride is giving you.
Aladdin Wallets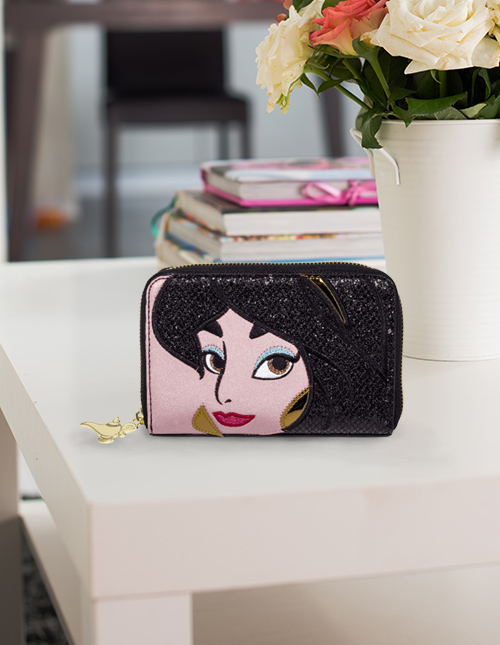 Doesn't Jasmine simply have the most beautiful eyes? They're eyes that say "are you sure you want me to pay full price for this coffee?" This wallet has gorgeous coloring with plenty of sparkles and shiny gold accents making up the fabric. Other Aladdin wallets and clutches include a sparkly Genie clutch and laid-back carpet ride wallet. So, go ahead and this throw this Jasmine purse on and head out. Why wouldn't you want a little more fairy tale sparkle in your life while you're on your everyday errands?
Aladdin Costumes
Do you want to embrace the adventure of Aladdin and Jasmine for yourself? This couple's beautiful costume makes for an amazing adventure no matter what their age might be. Make this look into a group ensemble when you add Jafar and the Genie into the action. Whether you're searching for Aladdin and Jasmine costumes for Halloween or a themed costume party, you're sure to get the perfect look for your occasion from our extensive collection.
Aladdin and Jasmine Costumes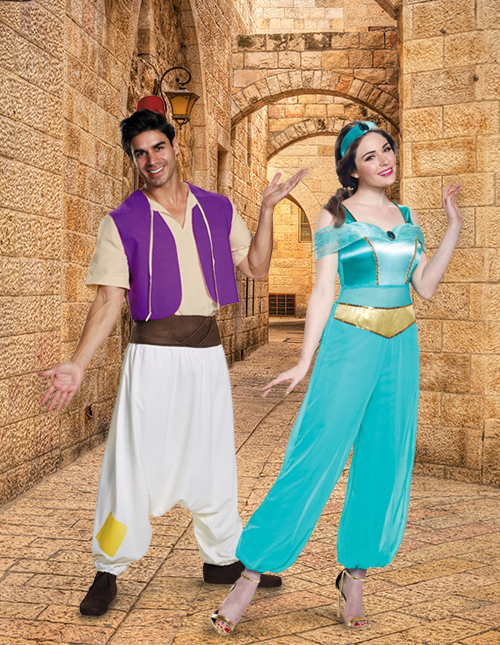 Ask us and we'd take street rat Aladdin over Prince Abubu any day! Match his shabby chic vest with those patched harem pants and we're pretty sure anyone could be given the glorious title of "diamond in the rough". You can be sure you'll look awesome in these Aladdin Halloween costumes, just don't be surprised when people want to sing "Street Rat" with you. Oh yeah, and you might be expected to vault through the rooftops as well!
Genie Aladdin Costume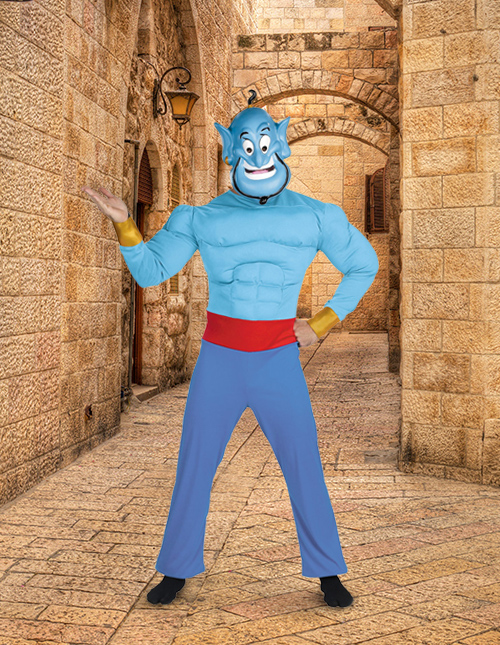 Ahh, the magic of the internet. Phenomenal cosmic powers! Itty bitty living space! If you're scrolling through your phone, looking for Genie from Aladdin costumes than you're probably looking for two features. A confident grin and blue bubbly muscles! The good news is you don't have to rely on a magical blue guy from a lamp in order to get what you seek. Throw on this Genie costume and you'll be able to make the Aladdin epic adventure move on. One more tip? We'd suggest practicing the Genie's outrageous quotes and songs. The children of the nineties have learned to expect some serious laughs from anyone who comes out of a bottle.
Kid's Jasmine and Aladdin Costumes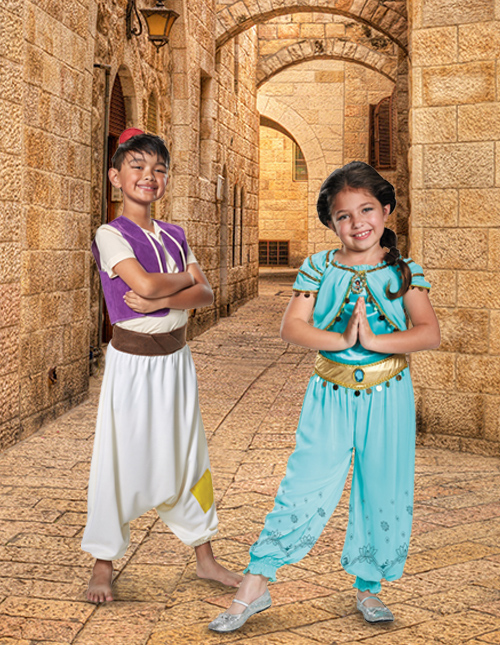 Do your kids dream of traveling around the world someday? Does adventure play seem to come up on every play dater? If so then it seems like Princess Jasmine and Aladdin costumes would be right up their alley. Are you looking to make your next costumed event extra special? Then go with classic Disney characters while staying one jump ahead of the boring hoard with prince Aladdin costumes. Do you want to watch your child search for the cave of wonders (hint: check the broom closet)? Are you ready to see your children see the songs you loved when you were growing up? The simple fact is, Jasmine and Aladdin Halloween costumes are going to be an inspiration for your kid's playtime! So let them check out a whole new world and watch them have a great time!
Toddler Aladdin Costumes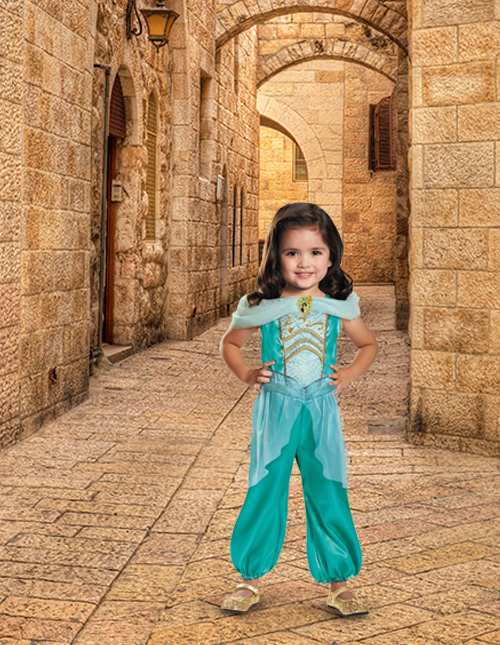 They're after me! They're after you? Jasmine might have been a princess but she was also a rebel. She wasn't going to be stuck in a palace and told what to do her whole life. She wasn't afraid to get a boost from her pet tiger and head over the palace wall for a market adventure. This classic billowy, blue costume is sure to make your little one feel like a strong and intelligent princess. This Jasmine costume is sure to inspire a lot of playtime. And your little one might be a little young for a solo magic carpet ride but that doesn't mean she can't head to the skies on a rug with mom or dad. Flying out to fireworks in China does sound like a fun Tuesday night!