It's no secret that relaxation and sleep play an important role in our overall mental and physical health. So while you're taking it easy or catching some ZZZs, you may as well wear the coolest sleepwear around! Leave those old nightshirts behind and let us show you some nerdy pajamas that'll knock your socks off.... And once your socks are off, you can put on some cuter novelty socks! From women's nerd pajamas and men's novelty pajamas to children's geeky pajamas, we have the best novelty PJs for your whole family.
Nerdy Women's Loungewear
Whether you're taking a "me day" or vegging out after a tough day at work, nothing beats ditching your jeans and regular attire for comfy lounge apparel. And of course, a geeky woman wants to relax in style! Relive your favorite fantasy novels and flicks with unicorn PJ pants or even a unicorn onesie, or chill out in your favorite sweats for adults. It's nice to have the luxury to treat yourself once in a while!
Geeky Women's Sleepwear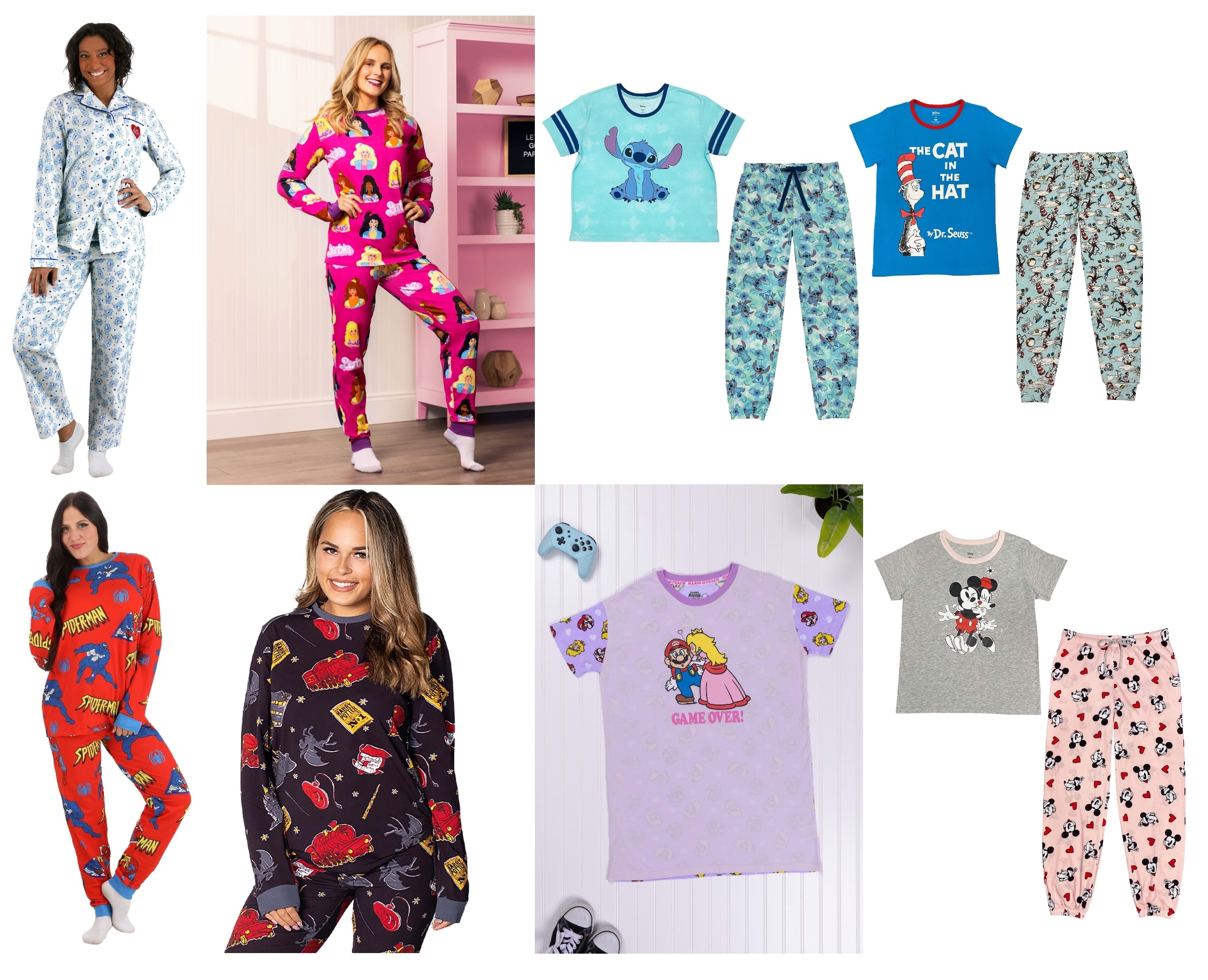 Ladies! Throw away your old nightgowns. You know which ones we're talking about. But don't worry, we have the geeky pajamas for your bedtime dream wardrobe. If you're torn between heroes and villains, then consider some women's superhero pajamas. Or try going to sleep dressed up in Harry Potter Hedwig pajamas. (Maybe you'll get your letter to Hogwarts soon!) Need something that's more for lounging around while drinking your morning coffee? From characters like nostalgic Saturday morning cartoon favorites to superheroes and dragons, your day is sure to start out great while wearing these nerdy pajama sets for women.
Nerdy Men's Loungewear
Who said the guys have to miss out on all the fun? We have all the nerdy men's loungewear you'll want to bring home. Drink your morning coffee dressed up as Buzz Lightyear from Toy Story while you let the caffeine do its work. Or lounge around in our exclusive Harry Potter bathrobe, which is nice and toasty. Looking for something different? Sweatshirts and men's lounge pants have the ability to keep you cozy for a lazy day at home.
Geeky Men's Sleepwear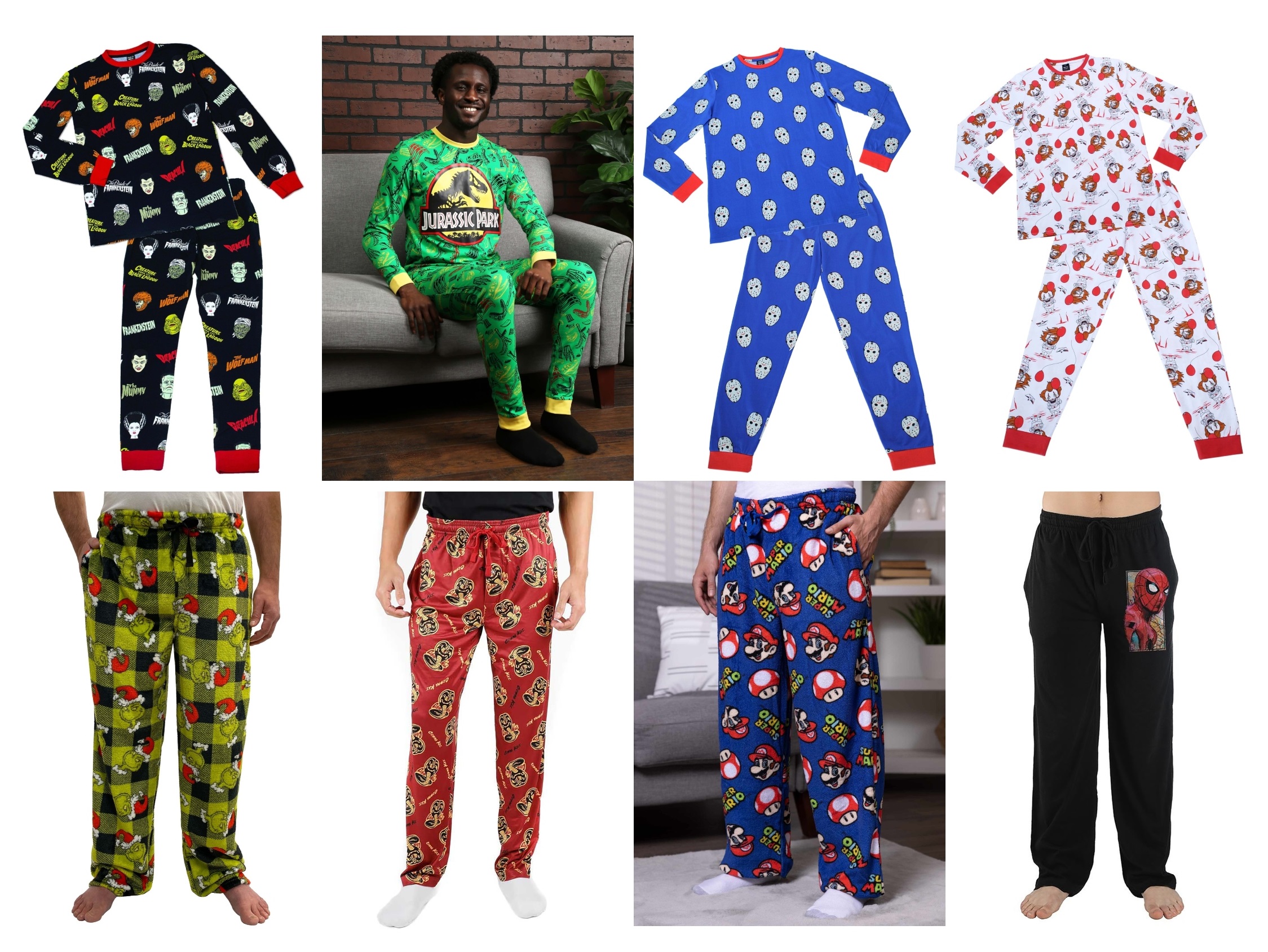 You're a nerdy guy, and you're not about to wear any regular pajamas for dudes. No, you're a comic book nerd dead-set on wearing superhero sleep pants. (Or shorts. Those would be nice for warmer nights!) Well, never fear, because your sleepwear favorites are here! Or maybe do fear, if you like spine-tingling horror PJs. Whatever you prefer to wear when you catch some Zs, we're sure you can find the geek pajama pants you'd like!
Nerdy Kids' Sleepwear
You can become the coolest person in the world by getting these pajama sets for the little ones. They'll be thrilled at the thought of transforming into their superhero before bedtime. Does your child like Wonder Woman? That's perfect, because we have the Wonder Woman jammies of her dreams. More of a gamer boy or girl? We've got those, too! Is it possible to have bad dreams if you go to sleep dreaming of Star Wars? We don't think so. There are so many adorable kids' sleepwear sets for your little nerds that you might be jealous you can't get them in your size!
Geeky Kids' Loungewear
Whether you're spending a quiet weekend at home with the kids or sending them off to Grandma's house, having some comfy kids' lounge clothes on hand is always a plus! Comfy throws and kigurumis are great for movie night snuggles, while sweatpants and hoodies are perfect for most situations. We have everything from princesses to superheroes, perfect for any pop-culture kid!
Nerdy Bathrobes
There's nothing quite like settling into a cozy bathrobe after a warm shower or bath. But, let's be real here—we're all about that nerd life, so if we can have a nerdy bathrobe, we will. You can find Karate Kid and Cobra Kai bathrobes reminiscent of the famous martial arts uniforms, along with a Harry Potter robe with a hood. (And no, this geeky house robe isn't meant for spellcasting!) Even kids can get in on the fun with a Batman bathrobe! Hopefully it makes bathtime just a little easier.
Nerdy Adult Underwear
Let's also talk about these fun men's boxer briefs and women's underwear! Leave those plain old boxer briefs and underwear in the back of the drawer and bring out these bad boys to brighten up your day. From anime and video games to adult superhero underwear, you're sure to find a pair that fits your personality at FUN.com.
Geeky Adult Slippers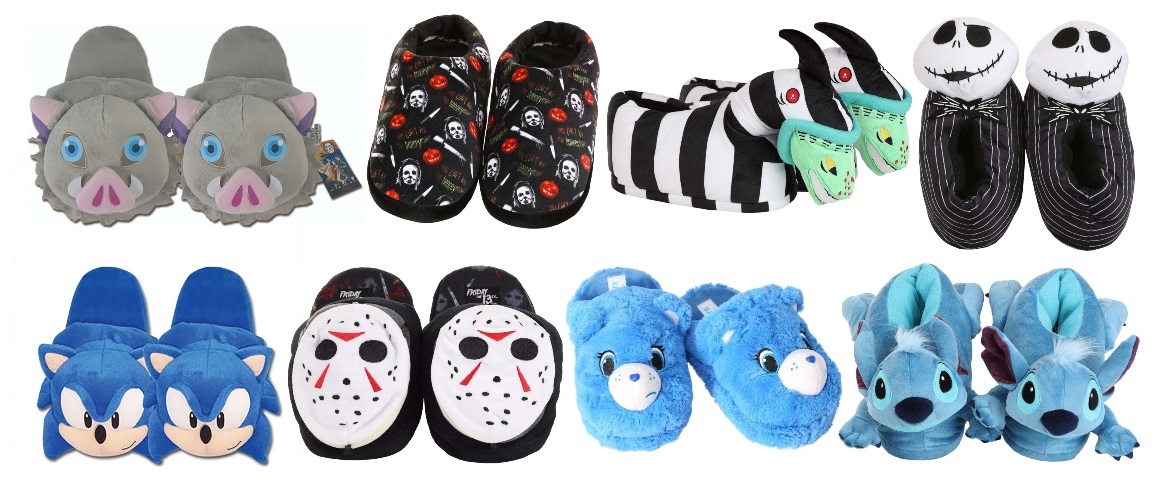 When cold weather approaches, make sure to keep your toes nice and cozy. These adult nerdy slippers are the perfect thing! Animation fans might enjoy Care Bears or Lilo and Stitch slippers, or you could show off your intergalactic style with NASA slippers! Let's put it this way: there's no wrong slipper for adults lounging around the house, it's all about what keeps your toes warm!
Kids' Slippers
Don't forget about the littlest toes in your household as well. Finish the children's pajama look with these cute slippers for kids. Some kiddos will love our Disney slippers, while others may prefer the Paw Patrol or the Spider-Man slippers. Maybe they'll run around the house playing pretend with their new character slippers!
We hope we've shown you the comfy clothes of your dreams! If you're still looking for a cozy morning outfit, remember that we have the pajamas and loungewear for you. Superhero slippers, Harry Potter comfy throws, and Kigurumis are only some of our favorites! What would you want to wear in your dreams while fighting zombies, riding unicorns, or training with the Avengers? Let us know in the comments below! In the meantime, goodnight, sleep tight, and don't let the bed bugs bite.