Alright, it's time to get your head in the game! The biggest social gathering of your high school career is fast-approaching and you need to lock down a date for the big day. It's PROM, for goodness sake! Some of your peers have waited their whole student career to attend such an event, so sheepishly blurting out the big question in between class periods just won't fly anymore. It's time to step up your game if you want to not only secure a date, but create a fond memory for your crush. Hence, the era of the promposal! A promposal should involve props, puns, and plenty of ingenuity, so don't even think about sending that lame text you just typed out. If you haven't thought of a promposal idea worthy of earning you a date (and the Instagram fame you've always dreamed of), don't sweat it. We have plenty of promposal enthusiasts in the office, so we're always churning out creative ways to ask your crush to prom (promposals weren't a thing when we were in high school, okay?!). So, no need to lose sleep over crafting the most ingenious promposal; just keep reading for inspiration that guarantees your date will reply with a resounding "YES!"
Disney Promposal Ideas
If your intended date is enamored by the wonderful world of Disney, then call on some of your favorite cartoon characters to lend you a helping hand. Construct a promposal that will bring your crush's favorite Disney characters to life. You don't have to make the long (and expensive) journey to Disney World for the big occasion. Just turn your idea into a magical reality with our Disney gifts!
If they're a fan of Disney Princess movies, dress like a prince and try presenting her with a glass slipper and an invitation to prom. Girls, don't think that you can't send a promposal either! Maybe you could dress like Elsa and present your date-to-be with a sign that says, "Join me at prom? I'll never leave you out in the cold." Toy Story fans will find it clever if you dress up as Sheriff Woody and write the word "prom?" underneath one of your cowboy boots. Any Winnie the Pooh fans out there? If you know that your "honey" loves the pudgy yellow bear, then wear a character pajama costume while holding a sign that reads, "I'd walk a thousand acres to take you to prom!" We also have some cute Disney presents for two. A 2-pack of Pop! vinyl figures, or you could give her pins or a Disney wallet featuring two or more of her favorite characters. If you're looking for a simple promposal, why not present her with a cute pair of mouse ears? She'll certainly hang onto them until she can take her next Disney trip!
Star Wars Promposal Ideas
Want to make your special someone geek out during your promposal? Well, you won't need any Jedi mind tricks to land the date of your dreams because our Star Wars gifts are some of the best in the galaxy. If the one you admire has always wanted to train to be a Jedi Master, then why not dress like Obi-Wan with a note reading, "You're the Obi-Wan for me. Prom?" Other Star Wars characters would be great as well! Ask your date not to let you fly "Solo" as Han solo or tell them that they're your "Rey" of sunshine. Even Princess Leia could be looking for her scruffy nerf herder!
If a costume is too bold for you, try some other subtle ideas with these cute Star Wars gift ideas. Lave a proposal on their desk or in their locker in a cute droid mug, or set up a little scene with Han and Leia Bobbleheads. These are just some ideas for you, but we're sure that you'll be able to think of something amazing! As Jedi Master Yoda would say, "Do or do not. There is no try."
Harry Potter Promposal Ideas
An invitation to Hogwarts was what ultimately changed Harry Potter's life, so why not use the magic of Harry Potter to invite a date or friend to prom? Find out your invitee's Hogwarts House so you can make it extra special, or perhaps dress up as their favorite Harry Potter character! We also have many great Harry Potter gifts perfect for smaller promposal presentations. (You know, not everything is done for the 'gram and social these days!)
How cute would it be to present your invitation inside of a letter from Hedwig with this adorable Loungely mini backpack? Also, this quidditch-themed photo frame is absolutely screaming for you to write, "You're a keeper" inside of it. The work is practically done for you with cute promposal ideas like these!
Pokémon Promposal Ideas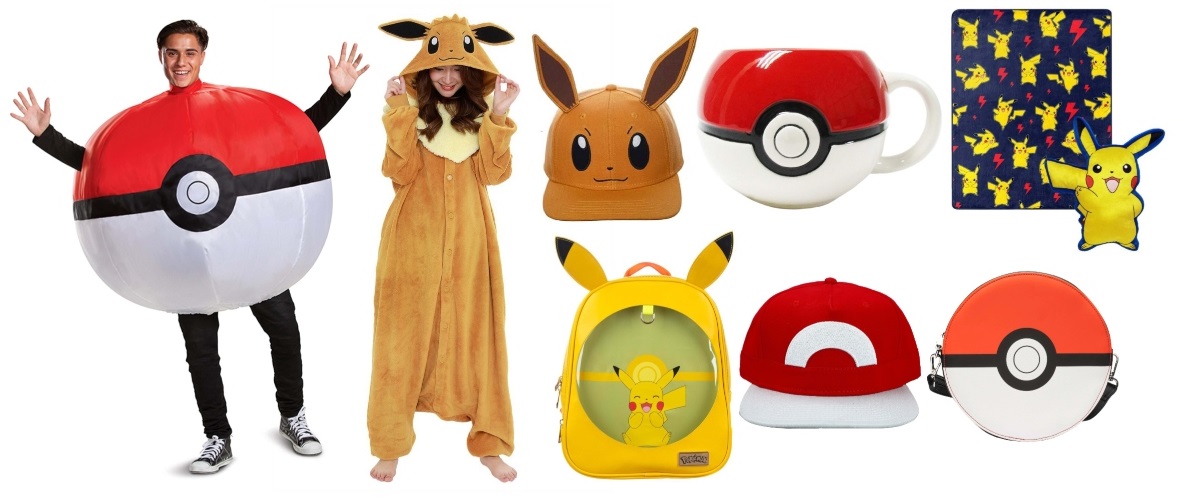 Luckily, snagging a date for the prom isn't as difficult as tracking down a Charizard or a Gyrados! You won't need to spend hours training at the gym or waiting for your starter to finally evolve. To "wooloo" your impassioned Pokémon crush, all it takes is our Pokémon products and your creativity. Orchestrate a promposal that is squee-worthy of anime fangirls everywhere by decorating their room with adorable Pokémon Pop! figures and a poster board inscribed with the following poem: Charmanders are red, Squirtles are blue, I need the best prom date, so I choose you.
However, if you like the idea of dressing up, we have cute Pokémon kigurumis as well as a Pokéball costume! An Eevee costume with a sign that says, "You're just my type!" would be very cute, while you can easily say, "I choose you" while dressed as a Pokéball or wearing Ash's hat. (Just make sure to pull Ash's hat backward by the bill as you say the words!)
Superhero Promposal Ideas
Let's be real for a second: what person wouldn't want to go to prom with a superhero...or perhaps a supervillain? We can't inject you full of super-soldier serum or pump you with powerful gamma rays, but we can hook you up with stylish suits and bold blazers that will give you superhero swagger. Dress in an Avengers suit jacket and hold up a handmade sign that reads, "Prom would be MARVEL-ous with you." What about a Harley Quinn invitation? "Hey, Puddin'! Prom?" It would also be fun to "riddle me this" your way into a prom invitation or tell your date how wonderful they are as Wonder Woman!
Of course, not everyone gets excited about formal suits and costumes. If you're looking for a more low-key promposal idea, why not try an Iron Man felt letter board? You could write out something along the lines of, "I love you 3000", which is almost guaranteed to snag you a date. There are other Marvel gifts and DC Comics gifts just begging for your superhero promposal ideas too. You don't need to be Professor X to come up with your own idea!
Anime Promposal Ideas
There are so many high schoolers that love anime! How cool would it be to dress like one of your date's favorite characters when you invite them to prom? Look super cool and mysterious as Tuxedo Mask from Sailor Moon, or try something a little more unique with an Attack on Titan costume. There are so many awesome anime gifts to get you started!
Not everyone wants to have a huge spectacle when they issue their promposal, and that's okay! Use a cute plush like Kirara to send an invitation, or leave a note inside a cute glass or mug. (May we suggest, "In the name of the moon, I'll ask you to prom!" if you're doing something Sailor Moon?) We're sure that you can come up with plenty of other cool promposal ideas on your own!
Video Game Promposal Ideas
"Will you be my player two?" Who said gamers can't be sweet? Maybe you already have a special someone that plays multiplayer games with you, or you're still working up to pursue the Zelda to your Link. Either way, you can have fun dressing the part with some video game suits or other gamer clothing. You don't want to be too late and find out that your princess is in another castle!
Once you have your gear down, find a little video game gift or perhaps a prop to guide your way to victory! Playstation button coasters won't break the bank, and who could say no to a Foxy plush holding your prom invitation? Of course, with all the puzzles you're used to solving in video games, we're sure that you'll figure out your own way to ask your perfect date.
Prom Style Guide
So the hard work of finding a date is all said and done, but now you have to dress to impress for the big dance itself! Of course, there will be tons of normal suits, fancy dresses and maybe some women's suits too. But you're not interested in being normal! (Honestly, were you "normal" if you decided to use one of our unique proposal ideas?) We'll give you some ideas for what to wear to prom, but you're more than welcome to mix it up.
FUN Wear Women's Blazers
Your friends just called you up and are ready to go dress shopping at some overly expensive Prom boutique, but for some reason, you're just not that interested in spending hundreds on a dress you'll probably only wear once in your life and then sell to a girl on Facebook for some extra cash. You've already bought a homecoming dress, as well as spent your fair amount on party dresses. So instead of worrying about whether you're going to wear a classy Prom dress or a two-piece Prom dress, make a bold statement by wearing a suit! We know you might be cringing right now, but hear us out. With so many inspiring women in the media lately, now is the perfect time to set a change for gender norms. Wearing a suit is a sign of power and let's be real, who wouldn't want to walk onto the dance floor feeling as iconic as Wonder Woman? Worried about coordinating your look with your date? No problem, whether your date is a guy or a girl or other, we have matching items for all genders. If you are looking for a dress that isn't too formal, you can always check out our selection of fandom dresses.
Opposuits for Men
One of your peers may think he's really standing out by wearing a navy blue prom suit, but if you want to steal his attention and wow the crowd, try on one of our Opposuits. Now, if you're not a fan of having all eyes on you, which we totally understand, then you'll probably want to go with a plain-colored suit. But if you don't mind the attention, throw on a wildly patterned suit with your best pair of shades to make for the most Snap-able, Instagram-able entrance. These will definitely beat out any tux that comes your way. If that doesn't get people's attention, then we don't know what else will.
Opposuits for Women
Not to be outdone by the guys, if you're not inclined to wear a prom dress, there are also colorful suits for women. Wear the complete set or just the blazer with your preferred set of slacks—styling it is really up to you! Of course, if you'd just prefer a solid color, that's fine as well. Pair these women's Opposuits with the perfect bag and shoes, and you're well on your way to a stylish night out.
Camo Prom Accessories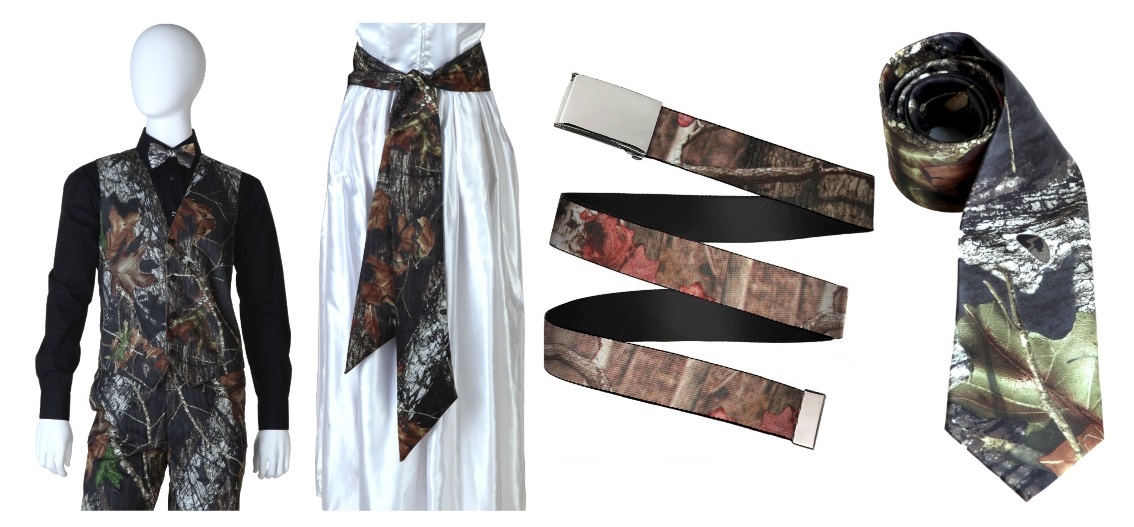 In an ironic twist, wearing camo accessories to prom can actually help you stand out from the crowd! Sure it may seem tacky or weird to some, but you feel most at home wearing the likes of Mossy Oak. We're already encouraging getting down with your nerdy side, so why not embrace your love of forest brush-printed accessories? Pair these with a neutral-toned outfit, or even go full camo! If your date knows you well enough, they'll know exactly how to spot you.
Geek Chic Prom Accessories
Okay, now that your main attire is pinned down, it's time to accessorize. Prom is a night that's known for costing some coins. When you're eating at that bougie restaurant you normally could never afford, do you want to pull out a plain, black purse you've had since the sixth grade? Or would you rather whip out a cute, pop-culture-themed purse that people will flood you with comments over? I think we both know the answer to the question. Whether you're a fan of Disney or DC Comics, we've got insanely adorable purses for each fandom. Now that you've got your Prom purse figured out, we can't forget your Prom shoes. Are you going to go with flats or heels? Whichever you choose, Irregular Choice has options for either style! Irregular Choice is known for having shiny, fabulous, attention-grabbing shoes and guess what? We carry them! The best part is a lot of them match perfectly with the purses we already mentioned. With these accessories being so flashy, they're sure to boost your confidence and make your friends wish they would have gotten them!
So how will your upcoming promposal go down? Will you toss Poké Balls or wear one of our crazy suits to whisk her off of her feet? Don't forget to tell us all about it in the comments below!