Alright, let's get serious for a second here. Did you know that there are approximately a zillion Funko Pop! Vinyl figures in the world? Ok, maybe not a zillion, but a lot. There are movie ones and TV ones, Stark and Lannister ones, and even sports and holiday themed ones. You can have Kermit next to Bilbo, The Dude next to Heisenberg and Captain America alongside Jack Skellington for vinyls' sakes - the options are limitless! So how do you even begin to decide who and what to start collecting? We'll break it down for you. (And, as always, start with The Dude.) This can also help serve as a gift guide for someone with an upcoming birthday!
For Fans of Science Fiction
Star Wars Funko POP! Vinyls Star Trek Collectibles
Do you have a favorite season of Star Trek? A preferred mythological arc in X-Files lore? Perhaps you've dressed up as a certain nerf-herder at a convention? Then you're a sci-fi geek and you should get all of these pop figures. (AND, Next Gen is the best season, and "Anasazi" is a legendary X-Files episode.)
For Fans of TV Shows
Game of Thrones Funko POP! Vinyl Figures Big Bang Theory Funko POP!
TV character-themed Pop! Vinyls are the choice for you if Netflix and Hulu are your go-to sources of entertainment, whether you're on the treadmill at the gym, the train to work, or laying in bed trying to go to sleep. You're still having Breaking Bad withdrawals, even though Better Call Saul is amazing! At least (!!!), Game of Thrones starts again soon to fill that TV-sized hole in your heart. In those cold times between binge-watching seasons, these little guys will keep you company.
For Fans of Horror
Jason Voorhees Freddy Krueger Beetlejuice Pennywise Gremlins
Scary & Horror Funko POP! Vinyls
Classic horror movies are such a large staple in cinema that an entire series of Pop! Vinyls is more than called for. We have Frankenstein, for the super old school fans - Chucky, Gremlins, and Jason, for the 80s horror film-obsessed - and even Ghostface and Jigsaw, for lovers of more current scary flicks.
For Fans of Video Games
World of Warcraft Gifts Assassin's Creed Gifts
If someone you know has put enough hours into WoW that the time can be translated to DAYS spent playing... maybe a Murloc Pop! Vinyl is a good choice for a gift. If you're that person, you probably have already bought yourself that gift, as well as every other piece of World of Warcraft merch that you've been able to lay your hands on.
For Fans of Kid's Movies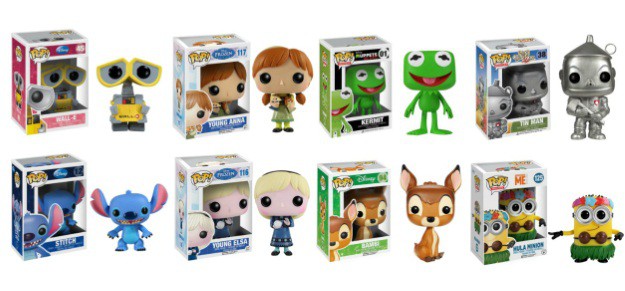 Disney Funko POP! Vinyls Disney Gifts
Okay, we alllll know that kid's movies aren't just for kids. And the best part of being a grown up? You can buy your own toys. That means Bambi, Thumper, and Flower can all decorate your desk without having to ask mom and dad "pretty, pretty pleeeeeasseeee."
For Fans of Kid's TV Shows
Spongebob Squarepants Funko POP! Figures Nickelodeon Funko POP! Vinyls
These kid's TV-themed Pop! Vinyls are a good choice for you if you've spent more than one afternoon catching up on all the seasons of Adventure Time (and becoming deeply entrenched in the historical mythos of Simon/Ice King and Marceline). See also: you know the difference between Pinkie Pie, Rainbow Dash, and Fluttershy, AND you have a favorite between the three. Don't lie, we see right through it!
For Fans of Movies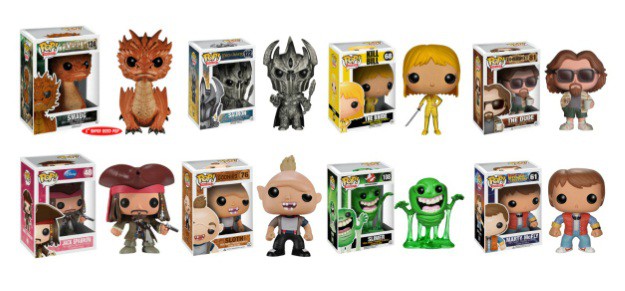 Some movies are instant classics. The first time The Dude shuffled on screen, shopping for ingredients for a White Russian? You knew that he was cinematic legend. Same goes for The Bride zipping through Tokyo in her yellow Bruce Lee-inspired jumpsuit, or Sloth singing out "Hey, you guu-uuuuys!" If these perfect moments in movies are important to you, then a movie-themed Pop! Vinyl collection is up your alley.
For Fans of Sports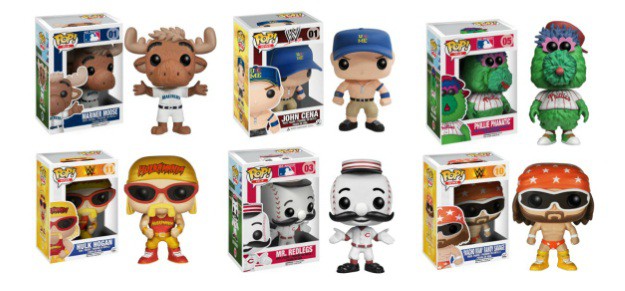 Funko Sports POP! Vinyl Figures
Alright, this is an awesome and easy one. Say you're shopping for a friend and that friend just happens to love baseball. That friend lives in Philadelphia. BAM! The Phillie Phanatic. DONE. Pack it up, send it. Game over. That Funko Pop! Vinyl will be a surefire, dare we say, home run of a gift. (UGH. Too easy!)
For Fans of Comic Books
Marvel Comics Deadpool POP! Figure
Marvel Collectibles DC Comics Collectibles
Your dad loves comic books. Your little sister who works at the library loves comic books. You've seen your boss watching The Avengers: Age of Ultron trailer a million times because they! Love! Comic books! You, yourself. Admit it. You love comic books. A superhero action figure is such a classic gift, you can't go wrong. Plus, just look how dang cute Rocket and Groot are.
For Fans of Japanese Pop Culture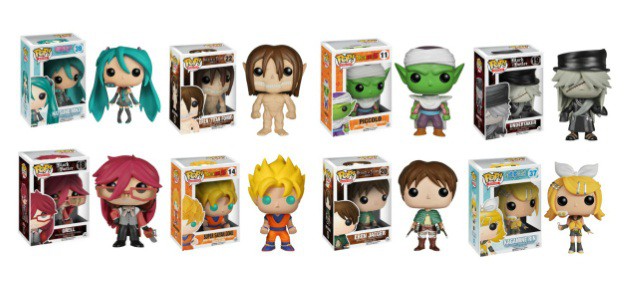 Dragon Ball Z Piccolo Dragon Ball Z Super Saiyan Goku
Anime Gifts Dragon Ball Z Collectibles Attack on Titan Gifts
Did you know that Hatsune Miku is about one techno song away from taking over the world? It's true. She was on David Letterman, opened up for Lady Gaga, so, world domination is the next course of action. So, you might as well jump aboard that train before it's too late.
Seriously though, do you love Funko Pop! Vinyls as much as we do? What collection do you have littering your desk, dresser, countertops, bookshelves, end tables, fireplace mantles, etc.? If you want to take a look through our entire selection, see our Pop! Vinyl figures or tweet us a picture of your own collection @fundotcom_.