The ugly Christmas sweater party has been slowly working its way into our busy December schedules over the past few years. The trend is now here to stay, with people taking these parties just as seriously as their batches of cookies, tree decorations, and holiday-themed bar crawls. So, how do you throw an ugly Christmas sweater party that's better than the rest? That's more exciting than just going to someone's house wearing an icky old vest from the thrift store? Just keep reading, we'll tell you how!
What to Wear
Obviously, the star of the show is what you wear on your top half. Ugly sweaters have evolved from just nasty-90s mom-wear to some pretty awesome tongue-in-cheek designs. Our selection ranges from "Oh, that's cute!" to "I soooo can't believe they wore THAT!" What style are you?
Reindeer Head Wreath Sweater Cat-zilla Laser Sweater Unicorn Ugly Christmas Sweater
What to Eat
Luckily for all involved, the holidays lends itself to some pretty delicious treats. The specific snacks you pick aren't important, what matters most is that you have a never-ending stream of them. Stock the fridge with cartons of egg nog, maybe find a couple extra bottles of something you can use to spike them, and get the oven pre-heated, so it's ready for non-stop cookies!! We did you a favor and scoured Pinterest for some snackspiration. You can thank us later for this selfless sacrifice.
[Source: Popcorn Cups | Grinch Popcorn
Holiday Puppy Chow | Candy Cane Shooters | Lumps of Coal]
What to Do
Take a minute now to Google "awkward family Christmas photos." Back? Pretty good stuff, huh? Use these as inspiration to stage your own photo shoot at the party. You can set up a backdrop with a Christmas tree and other decorations, and start posing. The cheesier the better! If you want to kick the party up a notch, too, you can have a partygoer take a turn dressing as the big guy in red.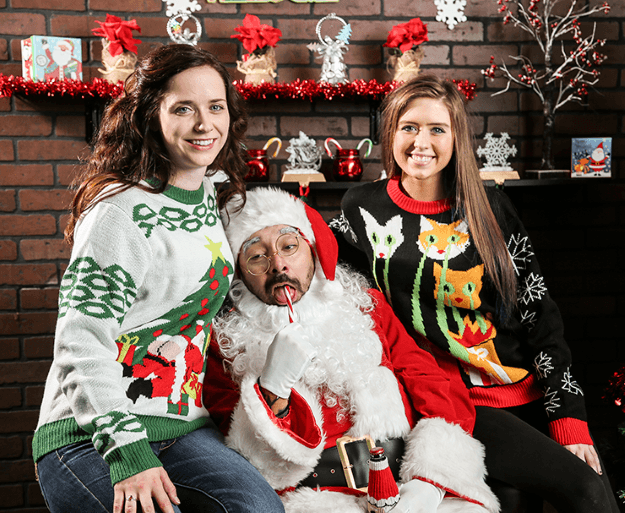 What to Watch and Listen To
Just like holiday treats, another thing that Christmastime has an excess of is festive movies and songs. You can meticulously plan a playlist before the party, so the dance floor is never without a hit, or you can let the night unfold as it will, and let the tunes happen spontaneously. Or, you can skip the dance party (but why?) and plan a perfect Christmas movie marathon. Here are some of our favorite songs and films!
Elf | "All I Want For Christmas is You" by Mariah Carey | It's a Wonderful Life

"The 12 Days of Christmas" by John Denver and the Muppets
A Christmas Story | "Christmas in Hollis" by Run DMC
Now you're ready to party! Truth be told, all you really need for a great get-together is a big group of your closest friends. Also, when you send out your Facebook event invite for the party, why not send along a little link to our ugly Christmas sweater section? Your friends might need some fashion inspiration!