The "perfect" ugly Christmas sweater might sound like a misnomer, but the times have changed from the 80s and 90s, when that grotesque gift from grandma was accepted with feigned thanks. Today, the ugly Christmas sweater is cool, it's ironic, and you'd be hard pressed to find a grump who would dismiss it as tacky. Silly? Inelegant? Sure. Tacky? Definitely not (in December). You've got one month where you can get away with wearing an ugly Christmas sweater, so make sure your closet is well-stocked. If you're unsure what sweater would best fit your personality, check out our guide below that will help put the most appropriate ugly sweater on your back.
Tv & Movie-Inspired Ugly Christmas Sweaters
If you consider yourself a film aficionado, then you should understand all the references carefully stitched onto the sweaters below. From the old classics like Home Alone and Star Wars to the new classics like Elf and The Avengers, sporting one of these cinematic ugly Christmas sweaters is the perfect way to express your love for the silver screen.
Home Alone Buzz Your Girlfriend Woof Sweater Krampus Christmas Sweater
Cat Ugly Christmas Sweaters
There are two distinct types of people in this world: those who like cats and those who furiously despise cats. If you are in the former group, hurrah, we've got a great selection of feline-inspired ugly Christmas sweaters! From laser cats to Santa Claws, ignore the haters and show your kitty pride thanks to these ugly Christmas sweater ideas.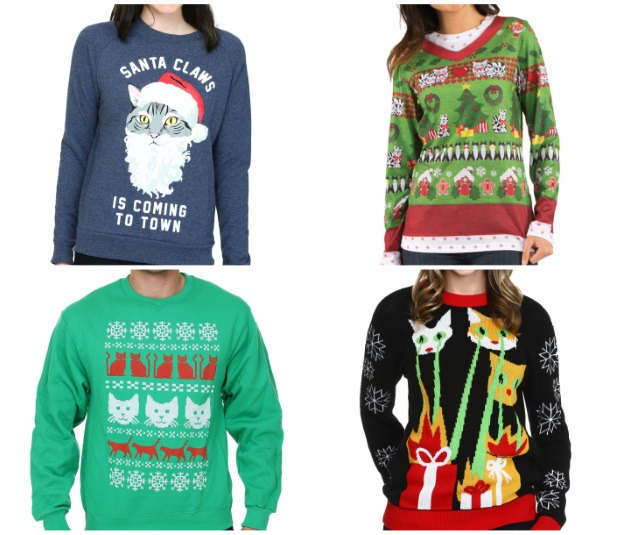 Laser Cat-Zillas Ugly Christmas Sweater
traditional Ugly Sweaters
For many, Christmas is a time of stoic, serious cheer—no funny games allowed. No blaspheming the holy, decorated spruce. No jokes about Santa's rotund belly. Instead, this is a time to celebrate the birth of Jesus, as well as the birth of those mouthwatering gingerbread cookies that just came out of the oven. Keep it clean and traditional with this selection of fun and inoffensive ugly holiday sweaters that will leave no question who is the #1 Christmas fan.
3D Gingerbread Man Christmas Sweater Snowman with Scarf Christmas Sweater
Inappropriate Ugly Christmas Sweaters
If you're the type of person that thinks no joke is too bawdy, no feelings can be too offended, then we've got a selection of ugly Christmas sweaters for you! When you enter a room, do you love being the center of attention? Do you enjoy seeing people scoff and roll their eyes at your attire? Make a scene this Christmas with one of these tasteless, semi-offensive ugly Christmas sweaters. No "balls" or butt joke is off limits with these shameless ugly holiday sweater ideas.
Men's Free Santa Christmas Sweater
Snowman Balls Christmas Sweater Kiss Me Under the Mistletoe Christmas Sweater
Funny Ugly Christmas Sweaters
The holidays are about giving and cheer, so offer up the gift of laughter with these funny (and still work appropriate) ugly Christmas sweaters. Humorous, but still tasteful, choose from our great selection of ugly holiday sweaters that will bring a smile to the face of both your nephew and your grandma.
Santa vs. Bear Christmas Sweater Happy Holla Days Christmas Sweater
All I Want For Christmas is Beer Sweater Pooping Moose Ugly Christmas Sweater
Don't end up as the only person at the holiday party without an ironic ugly Christmas sweater. If you don't have a holiday party to attend, you can always Instagram yourself, drink in hand, ugly sweater on while in the bathroom mirror. Same thing. We hope this post helped you to decide what your personality says about what sort of ugly Christmas sweater you should wear. We're not here to judge, only to help. Happy, irony-filled holidays!