When you look at the calendar on your phone or hanging on your wall, the upcoming holidays are printed there and black and white. Whether it is a holiday that you've already prepped for or one that snuck up on you, the excitement starts rising pretty quickly! Are you ready to let your neighbors know that you're here for a festive time? Well, from the spooky days of Halloween and the holiday spirit of Christmas to the explosive fun of the Fourth of July and the bright colors of Easter, we're here to help you show all the year's fun! Check out some ideas to out-do everyone on the block with the ultimate in holiday décor.
Christmas and Hanukkah Decorations
When the holidays are here, you want to show your Christmas spirit and Hanukkah hopes for all the world to see. Fortunately, you can find several bright and shining holiday decorations that are easy to arrange around your home. Perhaps you're hoping for an early visit from Santa Claus himself? Well, some of our inflatable Christmas decorations can make that happen! Pick your favorite festive and religious décor! From cheerful welcome mats and festive trim around the tree to Christmas table décor and a gleaming Menorah, start here to deck your halls!
Geeky Christmas Decorations
There are a lot of conventions out there for how to decorate for the holidays. That doesn't mean you have to go the traditional route, though! If you have some fandoms that you just can't get enough of, you've probably seen a holiday special or two. Well, you can hop right on that kind of fun by surrounding yourself with all of your favorite characters wearing Santa hats and dishing out their own holiday cheer! Bring some magic with Harry Potter Christmas decorations or start with The Nightmare Before Christmas in October and keep Jack around all year!
Disney Christmas Decorations
Disney has a way of touching our hearts and bringing us all of the best moments in cartoon history. Naturally, that makes them perfect to bring the smiles to help close out the year! Funny Christmas decorations include Mickey and friends darting around in the snow while some of the more animated outdoor Christmas decorations will make it feel like a holiday trip to Disneyland! Light up your home with 80 years worth of Disney decorations for the holidays.
Scary Halloween Decorations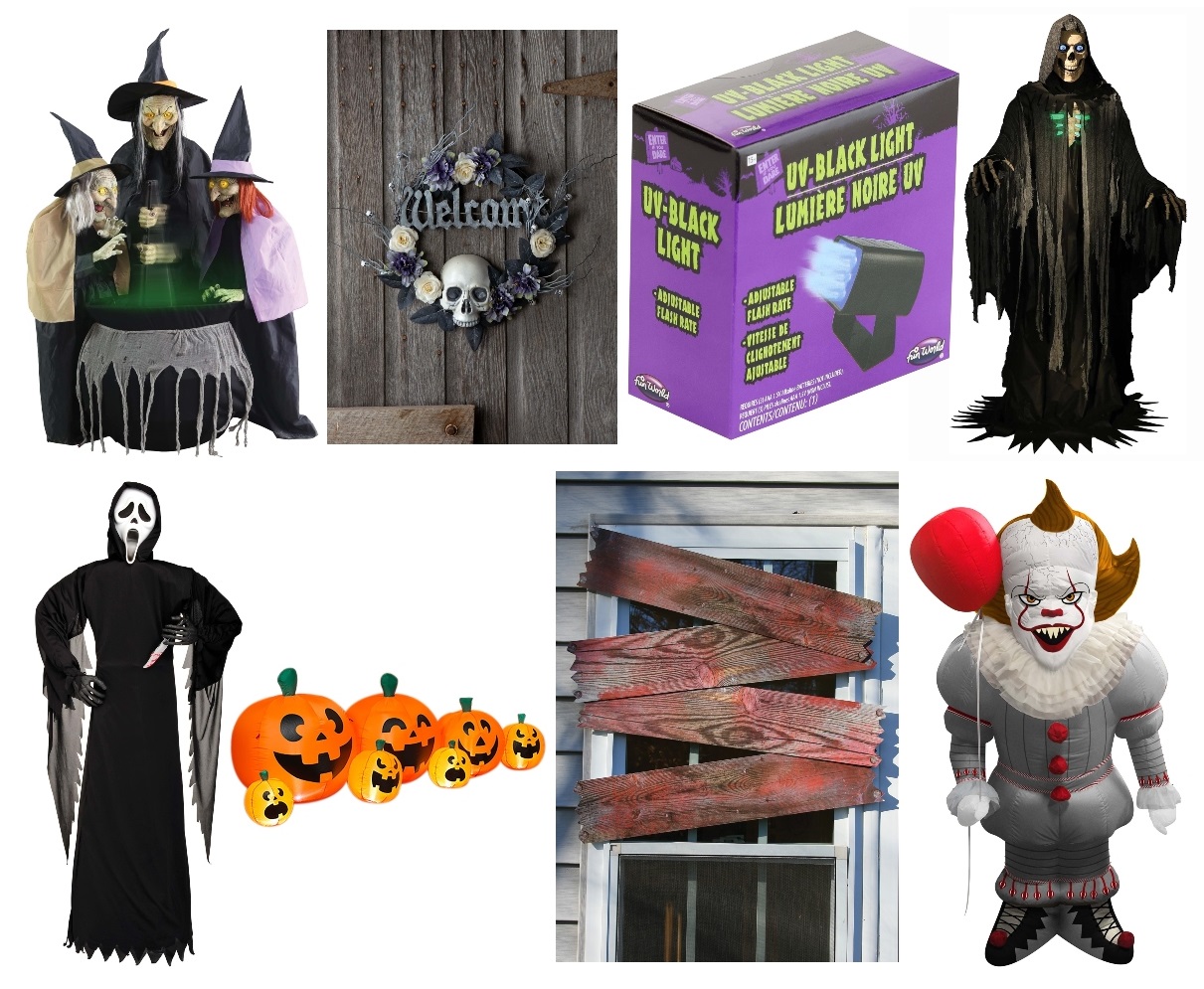 When the festivity of Halloween begins, the first thing folks are going to see will be the Halloween props that you put up on your lawn, porch, or just outside your apartment. If you're looking for outdoor Halloween decorations to set the stage, Halloween outdoor décor is the place to start. Go beyond mere jack-o-lanterns and you'll find there are tons of options to unearth! Let those ghouls and goblins go wild by picking out your favorite creatures, set them up outside, and then you can just relax-in-peace!
Day of the Dead Decorations
The Day of the Dead is a special holiday that coincides with (but is unrelated to) Halloween. It's celebrated by people all over the world, especially in Mexico. Give your house a splash of color and culture when you decorate with Día de Muertos decorations. From sugar skulls and bright faux flowers to candelabras and candies, you can give your October the ofrenda that will raise your spirits.
Halloween Tree Decorations
Most folks think that decorating the tree is only acceptable at Christmas. We're here to tell you that a Halloween Tree is a great idea that really gets folks howling! Pick a delightful LED tree or even set up your standard evergreen and then decorate with skull-themed lights and a host of haunted ornaments. You can even hang treats from the tree for folks to snatch so your season is festive and functional.
Thanksgiving Decorations
Did you think that Thanksgiving was all about the pageants and the delicious dinners? Don't get us wrong—we love those parts, too! But there is just something great about celebrating fall colors and the harvest season! Plus, you really need something to separate your Halloween and Christmas seasons! Bring an air of greetings and giving when you decorate with pumpkins, falling leaves, and (of course) a few gobbling turkeys with Thanksgiving décor!
Fourth of July Decorations
American Independence Day is pretty much synonymous with fireworks and summer fun. It is a ton of fun and those bright colors are bound to draw a lot of attention. Of course, if you've got the right kind of 4th of July decorations around your home, you'll be able to get a few "oohs" and "aahs" at your decorative prowess, too! Try a ton of unique red, white, and blue décor that includes everything from flag decorations to your favorite fandoms in patriotic stances.
Festive Decorations for Any Holiday
Some holidays require a bit more inventiveness when it comes to decorating! But, we're here to help with all the holidays throughout the year. When decorating for Valentine's Day, reach out for hearts, shades of pink and red, and characters known for caring! Easter decorations include a variety of religious decorations as well as numerous pastel colors and bunnies galore! (Don't forget the cute lambs, though!) Shamrocks and the Luck of the Irish abounds for St. Patrick's Day decorations. "What else?" you might wonder. Well, just realize that any moment you want to celebrate can be a holiday for your family. Get some wedding decorations or make birthday décor a part of your party planning.
When you're getting ready to celebrate all of the best holidays out there, be sure to choose the best holiday decorations out there to match! Use some of these suggestions to get yourself started or mix and match to create DIY holiday decor that will leave your guests feeling the holiday spirit, whether that's a haunted Halloween or a genuine visit from Santa Claus! And, just remember: holidays can be a year-round lifestyle, so don't let anyone be a grinch about your year 'round holiday décor!