We love the Ghostbusters here at FUN.com, from the classic movies to The Real Ghostbusters animated series, plus the subsequent films, too. And we make sure to carry all the best Ghostbusters gifts for everyone. That includes casual fans and super fans—you know, the people who seemingly own everything with a Ghostbusters logo on it. We'll also be sharing some common questions about Ghostbusters that you may want to know, especially if you're new to the franchise or attending a Ghostbusters party. In this Ghostbusters gift guide, we've rounded up captured our favorite Ghostbusters merchandise, so let's take a look!
Keep reading for a Ghostbusters FAQ or jump to the Ghostbusters gift guide.
Ghostbusters FAQ
How many Ghostbusters Movies are there?
There are 4 Ghostbusters movies: Ghostbusters (1984), Ghostbusters II (1989), Ghostbusters (2016), and Ghostbusters: Afterlife (2001). We look forward to seeing what other movies the franchise may have to offer in the future!
What are the Ghostbusters' names?
The original Ghostbusters are Egon Spengler, Winston Zeddemore, Peter Venkman and Raymond Stantz. They are portrayed by Harold Ramis, Ernie Hudson, Bill Murray and Dan Aykroyd.
How many Ghostbusters are there?
Originally, there were 4 Ghostbusters: Peter Venkman, Egon Spengler, Winston Zeddemore and Raymond Stantz. Extreme Ghostbusters added a new team of 4, along with the 2016 Ghostbusters movie and Ghostbuster: Afterlife and their respective teams.
Who sang the Ghostbusters theme song?
Ray Parker Jr. sang the original Ghostbusters movie theme song. Later renditions were performed by Run-D.M.C., The Rasmus, Mickael Turtle, Fall Out Boy, Missy Elliott and Walk the Moon.
Who played Gozer in Ghostbusters?
In the original movie, Gozer was played by Slavitza Joan with Paddi Edwards doing the character's voice. They dubbed the character's voice due to the actor's Slavic accent. In Ghostbusters: Afterlife, Gozer is portrayed by Olivia Wilde and voiced by Shohreh Aghdashloo.
What is the Ghostbusters' number?
A commercial was made for the first Ghostbusters movie where they share their phone number—555-2368. Just don't be surprised if you get a "Ghostbusters, whaddaya want?" on the other end of the line!
Ghostbusters Gift Guide
Ghostbusters Toys

Whether or not you have deemed your kids old enough to watch your favorite Ghostbusters movies with you, they have Ghostbusters toys for kids that are too cute to pass up! What kid wouldn't enjoy an incredibly cute ghost plush? What about some Playmobil Ghostbusters toys? Your little Ghostbuster won't have to fear ghosts anymore with the likes of Spengler and Zeddemore by their side!
Ghostbusters Figures and Collectibles
Ghostbusters figures and collectibles are great gifts for any hardcore Ghostbusters fan. We have a few Ghostbusters bobbleheads perfect for geeking up anyone's desk space, along with collectible action figures and toys! Grab a couple so your giftee can create an entire scene, or simply hide a few ghosts in fun places around your house. Even if you want to create a Ghostbusters-themed man cave, we have the Ghostbusters merch to help you get started!
Ghostbusters Clothes
When you want to show off your love for the Ghostbusters but can't wear the jumpsuit, then Ghostbusters apparel is the next best option. We've got a variety of Ghostbusters shirts with the iconic logo, or ones that glow in the dark! Kids and adults will love to show off their favorite movie franchise with these fun tops. If you manage to snag a few Ghostbusters accessories to match, you can create an entire Ghostbusters outfit!
Ghostbusters Accessories
Speaking of Ghostbusters accessories, they work well on their own or as part of a Ghostbusters ensemble. We also have socks and underwear if you want to be more discreet. This cute Loungefly bag can be the focal point of your themed outfit, or maybe that's your shirt. Even if you can't show off your love for the fandom due to uniforms or dress codes, that doesn't mean that you can't enjoy something a little less likely to be noticed!
Ghostbusters Home & Office
Now let's turn to Ghostbusters gifts that are just plain fun! We're talking about all the cool things you can get for the home or office...or the home office! We're talking next-level Ghostbusters super-fandom here! Get a little kitchen help from Stay Puft and the gang, or enlist the aid of the Ghostbusters when charging your phone. You know who you gotta call to enlist aid around your house!
Ghostbusters Costumes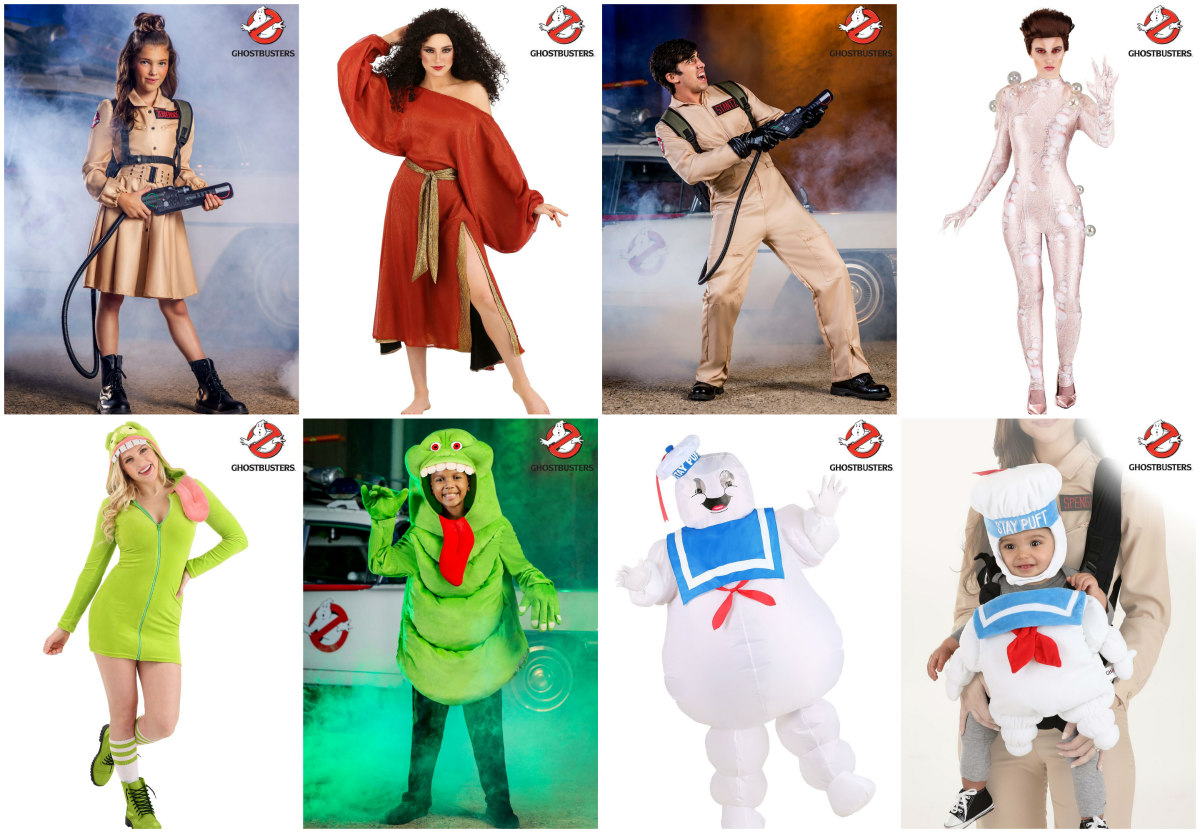 FUN.com is the best place to find Ghostbusters costumes for Halloween, for cosplay, or for play around the house. That's because these costumes are officially licensed and Made By Us, which means our in-house costume designers created them. We're always expanding our line of Ghostbusters costumes for adults and kids to include more characters, costume variations (like Ghostbusters dresses), and also plus-size options. We also design our own Ghostbusters costume accessories, like the Proton Pack backpack that works like a real backpack!
Ghostbusters Costume Accessories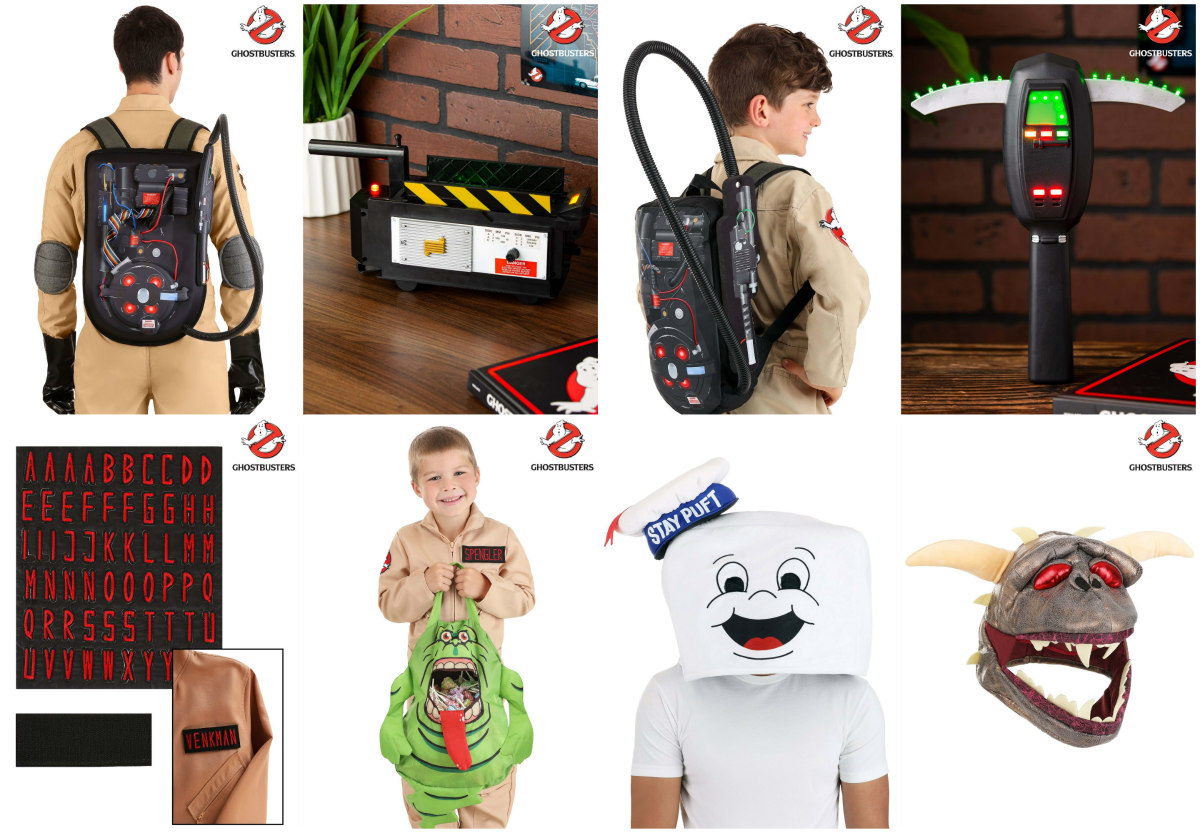 Do you know what takes a good costume and turns it into a great Halloween costume? Costume accessories! Feel like an authentic Ghostbuster when you use our custom name badge kit to add your name to your Ghostbusters outfit, and add some ghost-hunting props like the ghost trap and P.K.E. meter. We also have a few costume purses and backpacks that will not only blend in with your costume, but allow you to take your goodies along with you, whether it's your phone and wallet or your child's candy! With these Ghostbusters costume accessories, you'll be ready for anything.
Did you find that perfect Ghostbusters gift for yourself or the super-fan? Let us know what you picked out in the comments. Also, let us know if you have any cool costume ideas! We think we've got the best Ghostbusters costumes for women and men, girls and boys, but we can always do better. Have a great day and we'll see you in the theater when the next movie comes out!