Maybe you are in need of gifts for the ultimate sports fans, or maybe for those infamous fairweather fans. Maybe you're looking for a sport present for the one who yells at the TV until their lungs are sore. Or maybe the one who can't miss a game. Even if you are looking for a unique sports gift for the one who takes the term 'sports fan' to a whole new level, we can guarantee that this person will approve of the sports gifts and items we carry here at Fun.com. We're talking about clothing and accessories, collectibles, NFL costumes, Hockey board games, WWE toys and much more. Don't believe us? Read on and let us prove it!
NFL Clothing and Accessories
We really do have something for everyone. Do you know a Denver Broncos fan? Maybe she needs this Broncos tank top in her life! We have t-shirts for sports fans of many teams, from the Minnesota Vikings to the Kansas City Chiefs and every team in between. If you're searching for a sports gift for men, these sweatpants are sure to be a hit. And even though we love all of these wonderful items, we are obsessed with these team sneakers. (In our opinion, one of the best gifts for sports fans!) Not what you are looking for? How about a pair of slippers with your NFL team logo. Picture your loved one cheering on their team while sporting a pair of the comfiest slippers. Sounds pretty sweet to us!
Sports Collectibles

Does your sports lover have all of the team gear imaginable? We know it can be so hard to buy sports gifts for men. That's why we recommend these Pop! figures. They make for cool sports gifts, and pretty soon they'll be asking for the whole collection. The best part about that is that now you don't have to spend hours each year trying to figure out what to buy. NFL items are pretty sick but don't forget about sports such as Nascar, UFC and Soccer. There is a Pop! or some kind of collectible for each one at Fun.com. We cannot go on without mentioning WWE. Seriously, add the Undertaker to your cart. Do it!
Sports Costumes and Accessories
Let's not forget about the perfect sports gift for kids. Maybe you have a mini sports fanatic at home! Maybe the big sports fanatic is currently training the mini to become a future sports fanatic. We think they both need a uniform to live out their dreams of playing together with their favorite players. Have them transform into (almost) real players by ordering them these amazing sports uniforms. We carry so many team jerseys! Calling all Steelers, Tampa Bay Bucs, Chargers, Patriots, Saints, Panthers and Buffalo Bills fans! You don't want to miss out on these. Speaking of missing out, your household pet shouldn't fall victim to this either! That's right, we have a pet jersey. Make your dog the happiest by getting him one for your favorite team. He won't forgive you if you don't!
Sports Home and Office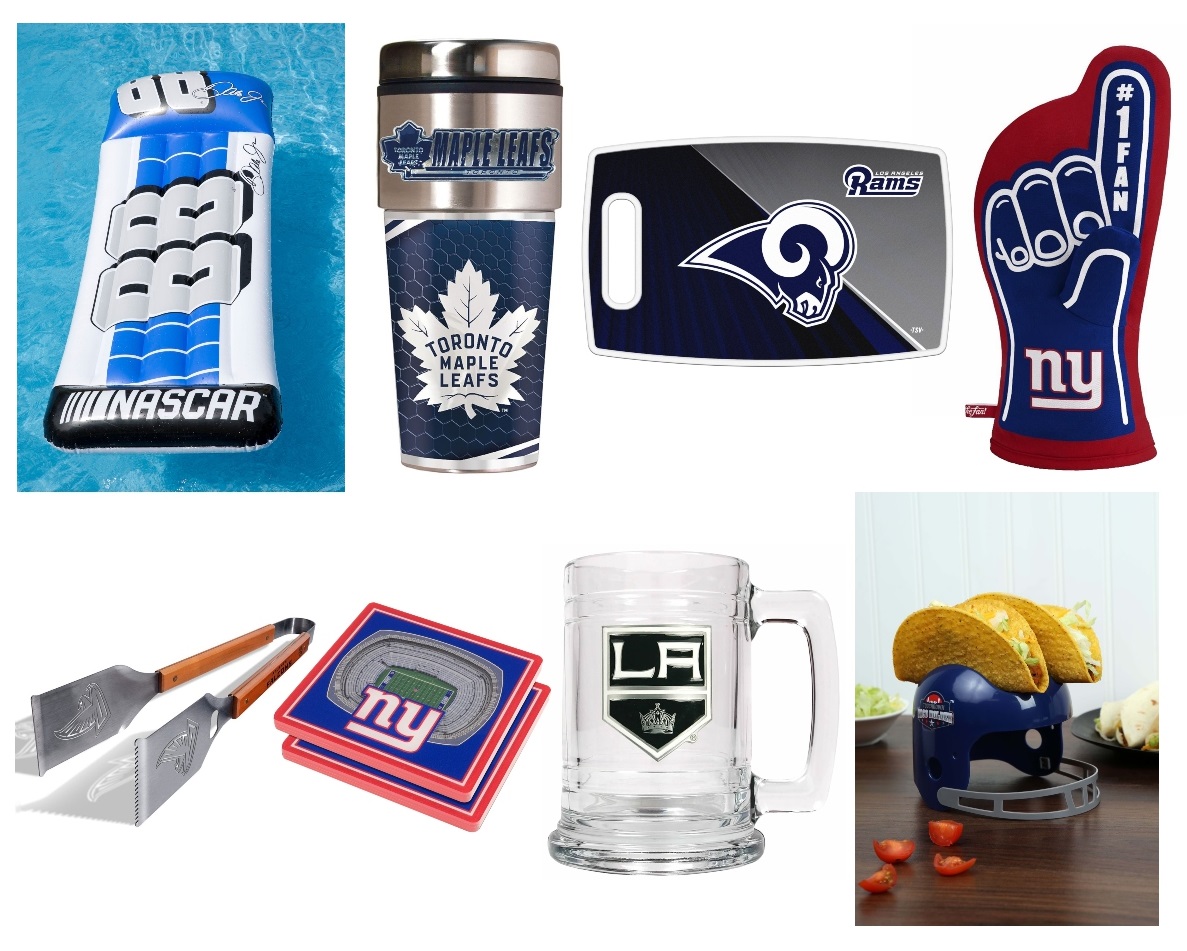 Introducing the most unique sports gifts, also known as the sports gifts for the ultimate sports fanatic. This person has everything and more and can be so hard to shop for. It could be your mother, father, sister, brother or friend. It doesn't matter, we have something for everyone! How about this sports gift for her: a Stanley cup hot air popcorn maker. Yes, please! Is mom a crazy WWE fan? Get her this John Cena fleece throw to be the best kid in the world. Need a sports gift for a Superbowl party? Bring this touchdown taco holder with and become the most valuable partier. Can't find a sports gift for dad? Bring home this grill cover and watch him flip burgers until the sun goes down. Need a sports gift for a child? The WWE legends metal lunchbox is sure to be a hit! Regardless of who you are shopping for, we can guarantee that they will love these sports fans' gifts.
Sports Toys and Games
What do the sports fanatics do during the offseason? Or in between games? They spend hours playing sports board games of course! Feed the addiction by giving them a cribbage set, or an NHL Toronto Maple Leafs puzzle. Maybe you are a WWE superfan? We'll then you need to practice your moves with this jumbo wrestling ring. If you're training your little one to become a WWE fan, we recommend getting her a WWE fashion doll. Regardless of what games or toys are your favorites, we can all agree that sports games and sports toys are just a whole new level of fun.
Regardless of what sport or team you cheer for, sports are one of the basic joys of life. There is a little bit of magic in watching the underdog take home the W. Or a team winning the match/game on overtime. There is something so special about knowing that in each game someone becomes the hero, and someone becomes the villain. It is, in fact, the name of the game. Before you go, become the hero of our blog by selecting one of these amazing sports gifts and let us know what team you cheer for in the comments below.