It's about that time of the year. The temperatures are dropping, people who still wear shorts in October are starting to put on jeans, and Christmas music is prematurely playing on the radio. Let's take time to appreciate the best part of the change in seasons: it's now appropriate to wear ugly holiday sweaters! Retailers like us at FUN.com are turning the familiar styles and aesthetics into something between ugly and cute. There are a TON of ugly Christmas sweaters out there, so we'll make it easy to find the ugly sweater aesthetic that's right for you. Hopefully, you'll find the Christmas sweater of your dreams!
Funny Holiday Sweaters
If you're expecting to wear an ugly Christmas sweater for a holiday party—or perhaps an ugly Christmas sweater party—inject some fun into the moment with something funny! Silly sweaters with Santa doing something goofy or strange are always a hoot. Or, you could try a 3D holiday sweater such as this wreath sweater, or this cat sweater with decorative pom poms. Even a Jesus Christmas sweater can have some humor to it. This Buddy Christ sweater from Dogma is for film fans and funny sweater lovers alike!
Cute Holiday Sweaters
Ugly Christmas sweaters used to be "ugly" but they have since evolved into something more stylish. If you have an ugly sweater party coming up and are trying to stick with something that's cute, these are some of your best options. Can you imagine walking around the party with a cup of hot cocoa while sporting a sweater of a sloth with a Santa hat? You'll be the talk of the party! How about an adorable throwback with a vintage Santa holiday sweater? If none of these are your quite your style, you can always choose other sweaters with cute animals or perhaps even a gingerbread house. Who wouldn't get a kick out of that?
Best Holiday Sweaters

Now if you're looking for a more festive outfit and want to don the red and green, we've got a selection for you to choose from. These aren't just any holiday sweaters, though! Additions like tinsel, bows, sparkly yarn, lights and fantastic patterns make these holiday sweaters extra-festive! Rock around the Christmas tree sparkling with glitter and tinsel, or mimic the presents underneath. Perhaps you can even pull the fam together for a Christmas sweater family photo. With holiday sweaters as festive as these, no one is going to take your Christmas spirit into question!
Kids' Holiday Sweaters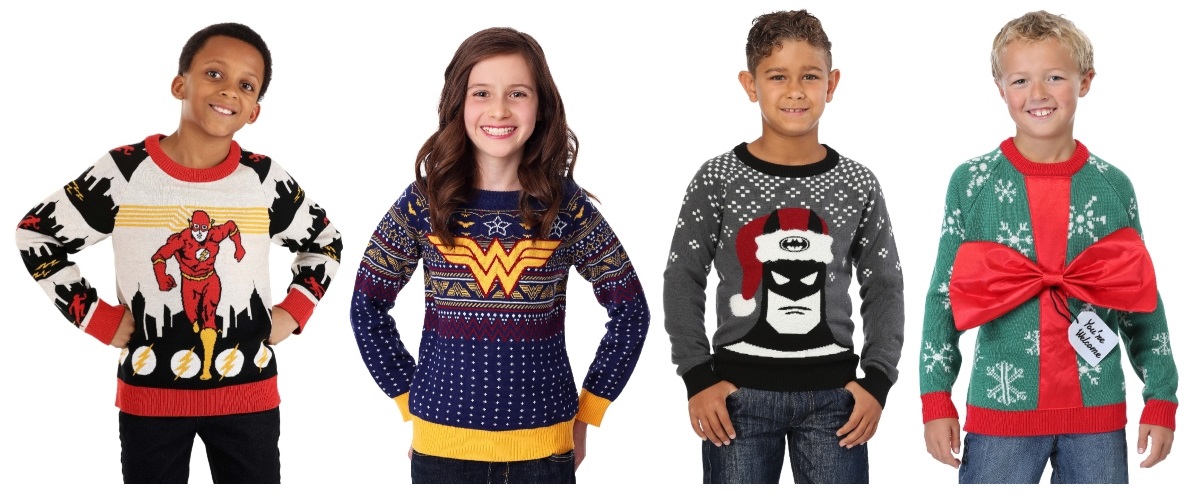 Ugly Christmas sweaters may seem like an adult affair, but kids can get in on the silly Christmas spirit, too! Dinosaurs, Batman and the Care Bears are sure to make your kids keener on joining in with this weird holiday tradition. It's going to be hard to refer to these holiday sweaters for kids as "ugly" when they're so cute! You're going to want to take plenty of holiday photos to hang onto these memories for years to come.
Kooky Couples Holiday Sweaters
You'll find more than a couple of odd holiday sweaters for couples at FUN.com. These two-person ugly sweaters require a pair of people in order to be worn, but you're sure to win the award for the best couple's Christmas sweater. Show that you're attached at the hip dressed as Santa and Mrs. Claus, or let everyone know who's naughty or nice. We'd say that these uniquely weird holiday sweaters are one of a kind, but maybe it's more like they're two of a kind?
Tacky Holiday Sweaters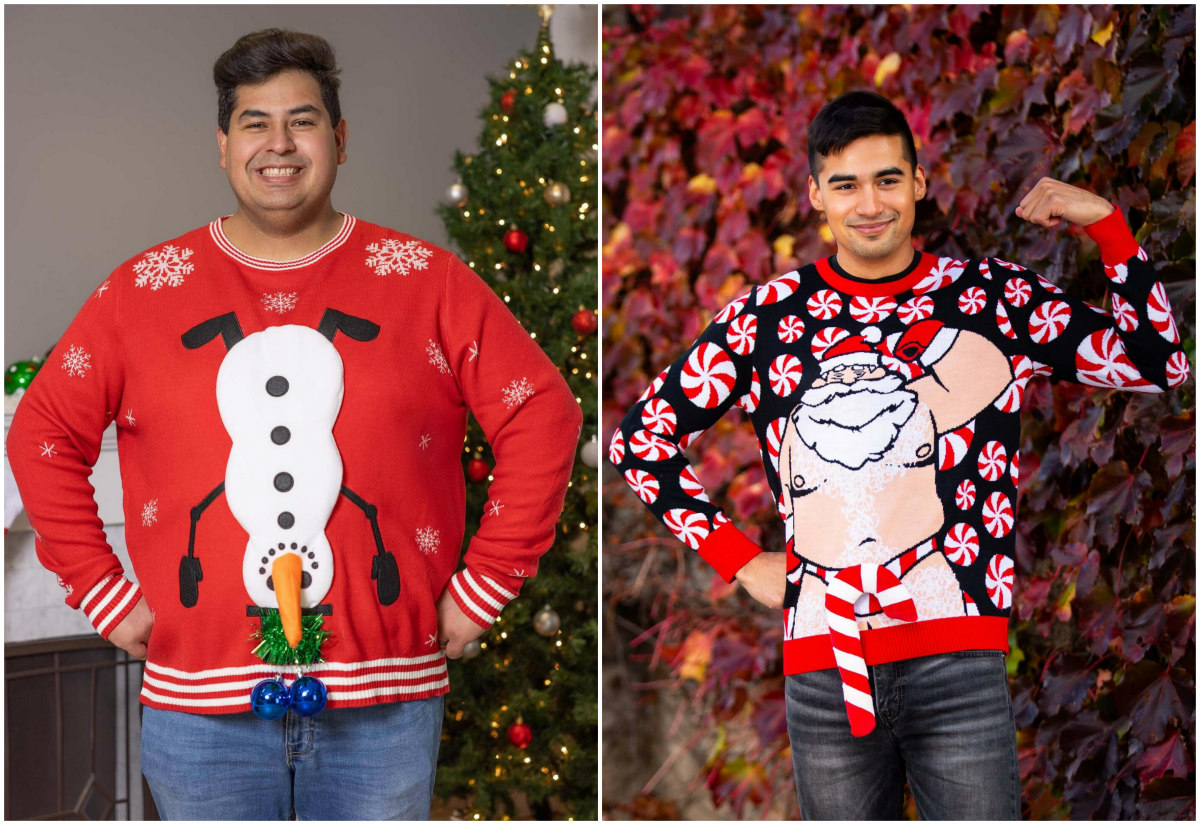 Ugly Christmas sweater parties can get a little crazy. (Perhaps even a lotta crazy!) Party animals who love tacky, crude ugly Christmas sweaters are going to need some serious stones to pull off these ensembles. Whether you're going for innuendo or politically incorrect humor, you're not going to be left out in the cold looking for something to wear. Now, we're not saying that these adult humor holiday sweaters should be worn to the family Christmas party, but that's ultimately your call.
Ugly Hanukkah Sweaters
The holidays aren't limited to Christmas—let's not forget ugly sweaters for Hanukkah! And you'll find plenty of excuses to wear one of these Hannukah sweaters at an 8-day celebration. Whether you're singing traditional songs, eating fried foods or sipping on your favorite drink, you'll feel especially festive with these crazy knits. You won't find any weird Santa sweaters here, but you can enjoy plenty of llama and menorah puns!
Nerdy Christmas Sweaters
These days, it's cool to be a nerd. Being a fan of Star Wars, superheroes, and video games is no longer a reason to be made fun of. If anything, it gives you more street credit. When it comes to geek apparel, you'll find plenty of nerdy sweaters to sate your appetite. Rep your favorite heroes/Jedis/droids and pick from our geeky ugly holiday sweater line and bring out the hero in you.
80s Holiday Sweaters
While nerdy holiday sweaters might not be terribly "Christmasy", that only gives you more excuses to wear them during the colder months. (Here in Minnesota, that's practically 3/4 of the year!) Celebrate with 80s greats like Gremlins—arguably one of the best Christmas movies of all time—Care Bears, Rainbow Brite, Labyrinth and ALF. Your friends are about to be jealous that they don't have the coolest Christmas sweater at the holiday party.
TV Holiday Sweaters
Many TV shows are famous for having special holiday episodes, so why not celebrate some of your favorite TV series with an ugly Christmas sweater? Show off your fandom with a Friends Christmas sweater, or let everyone know that Christmas is the ultimate holiday with WWE's Ultimate Warrior. These nerdy sweaters will make you feel right at home, no matter how far you travel this holiday season.
Movie Ugly Christmas Sweaters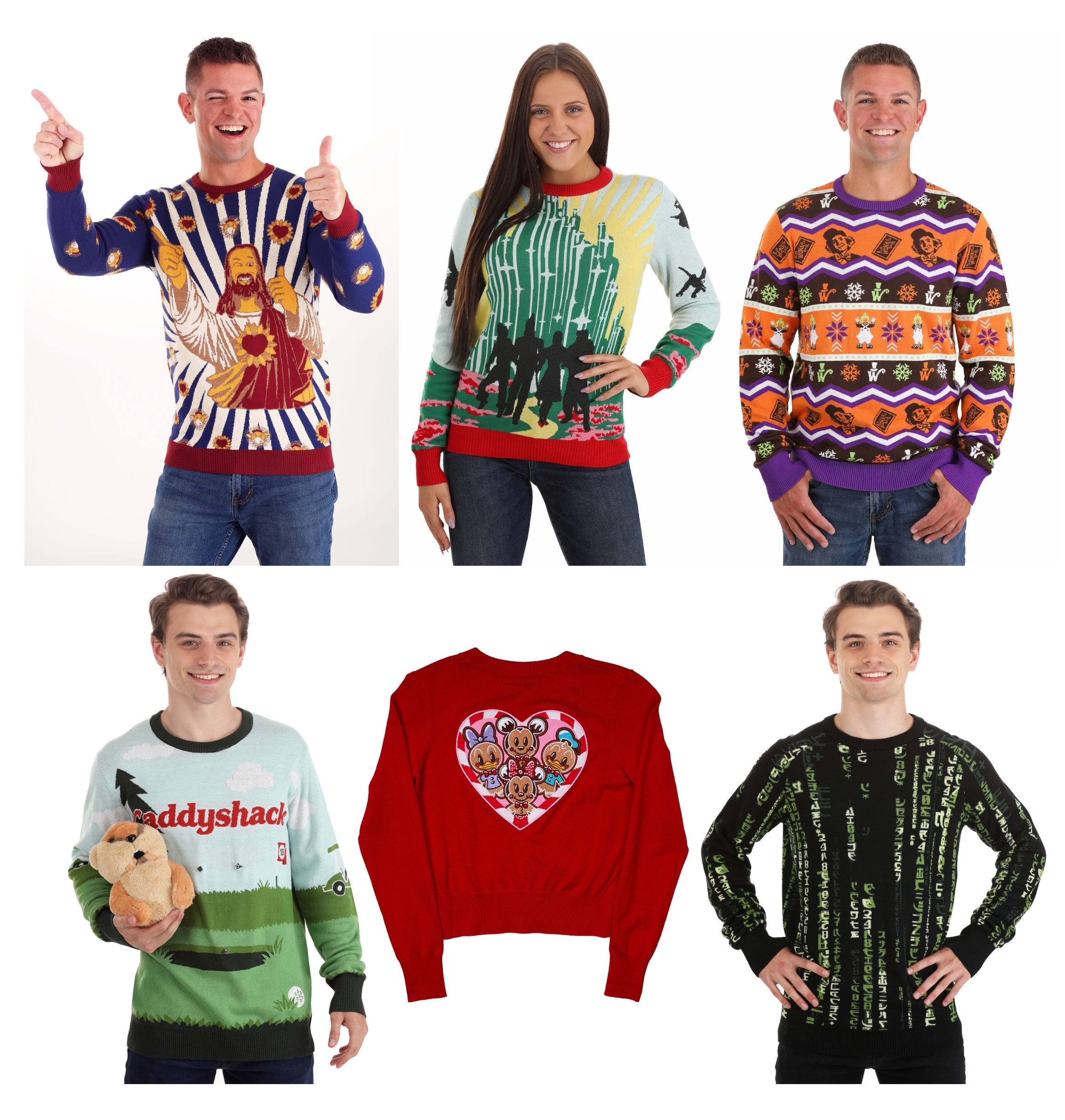 There are certainly lots of Christmas movies to enjoy around the holidays, but that doesn't mean that your holiday-themed movie sweater has to have its own holiday movie. Show everyone that you're more than ready for a night of movie trivia with these movie-themed holiday sweaters, or snuggle up with hot cocoa and your favorite flick. It doesn't matter if your holiday plans are big or small, because you're going to be comfortable no matter what.
Superhero Ugly Christmas Sweaters
Is there anything nerdier than some great comic book character ugly sweaters? Sure, they have gone a bit more mainstream these days because of some of our favorite DC and Marvel movies, but you can still carry some serious nerd cred with these ugly Christmas sweaters. Show your dedication to comic books with Deadpool, Wonder Woman, Black Panther and a number of other themed holiday sweaters. Also, should you be in a pinch at any comics convention, you'll be able to wear your favorite nerdy sweater again!
So which sweater are you going to wear this year? Something geeky? Something funny? Something cute? Maybe something on sale? (We love sales here at FUN.com, so you're sure to find cheap ugly sweaters that are quality and won't break the bank.) Let us know in the comments below! And of course, we want to see you donning our holiday sweaters so get one today! Happy holidays!