Everyone knows the Disney princesses as well as a handful of other Disney characters. We love Mulan, Stitch, Buzz Lightyear, Cinderella and others. (Hey, even Marvel and Star Wars count!) If you want to be part of the trend known as "Disney bounding", where people coordinate their outfits to resemble their favorite Disney characters, we're going to share some tips and tricks, as well as Disney outfit ideas perfect for wearing at your favorite Disney parks. Be our guest and take a look at the Disneybound outfit possibilities!
What is Disney Bounding?
| | | | |
| --- | --- | --- | --- |
| Gaston Disneybound | Hades Disneybound | Fix-It Felix Jr. Disneybound | Baymax Disneybound |
On most occasions, park guests aren't allowed to wear Disney costumes to the parks. However, people have been creating casual outfits based on Disney characters, also known as Disney bounding. In order to avoid feeling costume-y, the majority of these outfits use everyday apparel. The twist is that you can sneak in a few costume accessories to make it obvious which character you are. Some examples would be wigs and hair bows or headbands, and even licensed purses and shoes. We have some great examples above, but we'll provide additional Disneybound ideas below!
Elsa Disneybound Ideas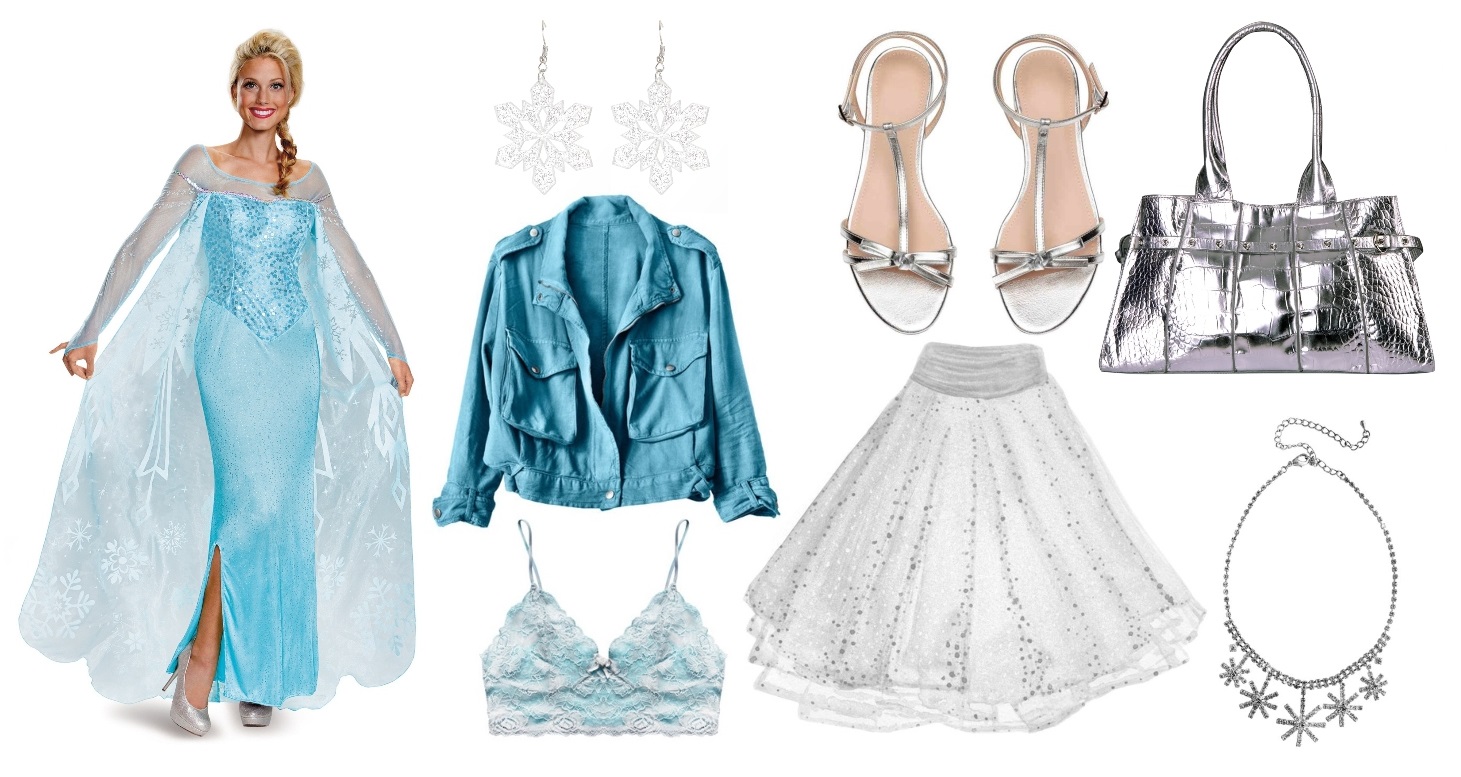 She may be the ice queen, but this look is fire! Mix together hues of white and blue, and who could say no to a bit of sparkle? The lace overlay on the top gives the feel of snow-covered ice, and we love the idea of adding fun snowflake jewelry. Bring in a few silver accents to your wardrobe with a pair of silver shoes and a purse to match, and you have the coolest Elsa Disneybound around!
Tiana Disneybound Ideas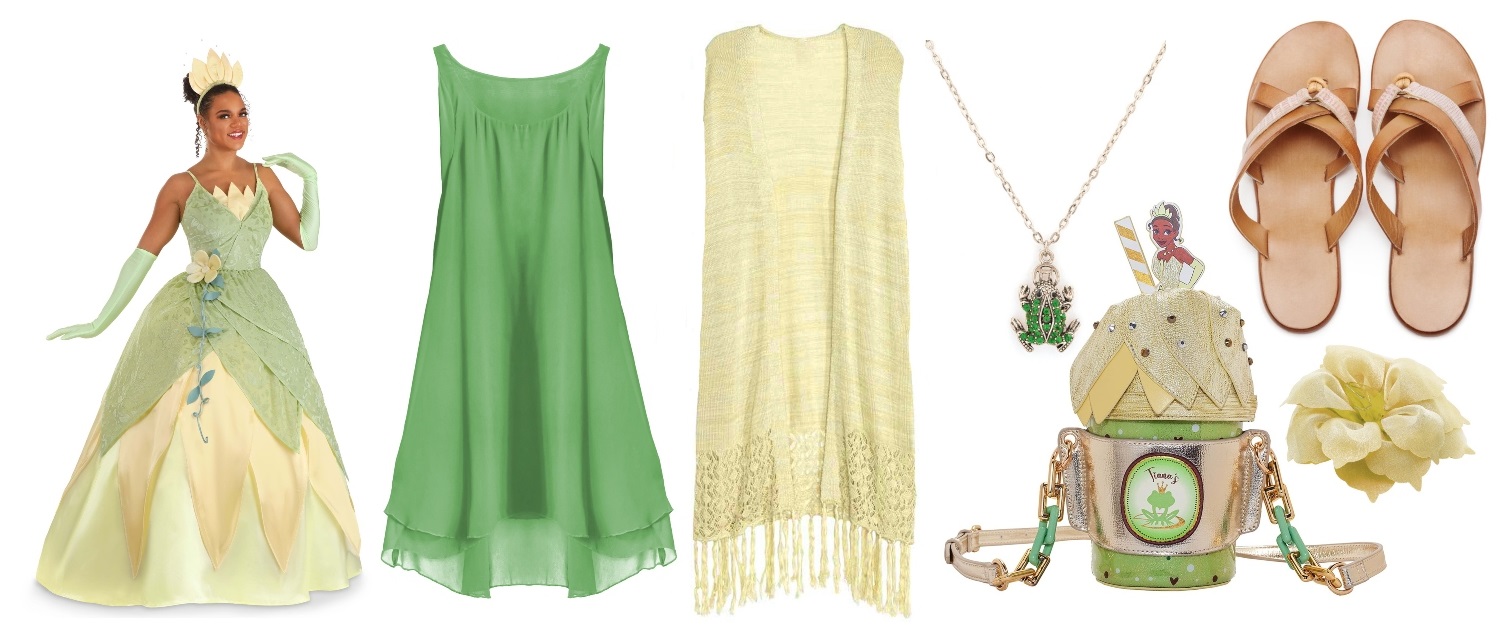 Tiana's princess dress is a lovely combination of spring greens and yellows, so find a few pieces to pull together a lovely green outfit. We like the idea of this cute spring green dress with a tiered bottom, as Tiana's dress also has a few layers. By adding a cream or light yellow sleeveless shawl on top, you're adding yet another layer of interest and bringing in some more colors from Tiana's outfit. If you can find a piece of frog jewelry that would really draw it all together—and don't forget a cute flower hairpin! We also love this Tiana bag paired with the outfit so you can keep all of your essentials handy for the day.
Pooh Disneybound Ideas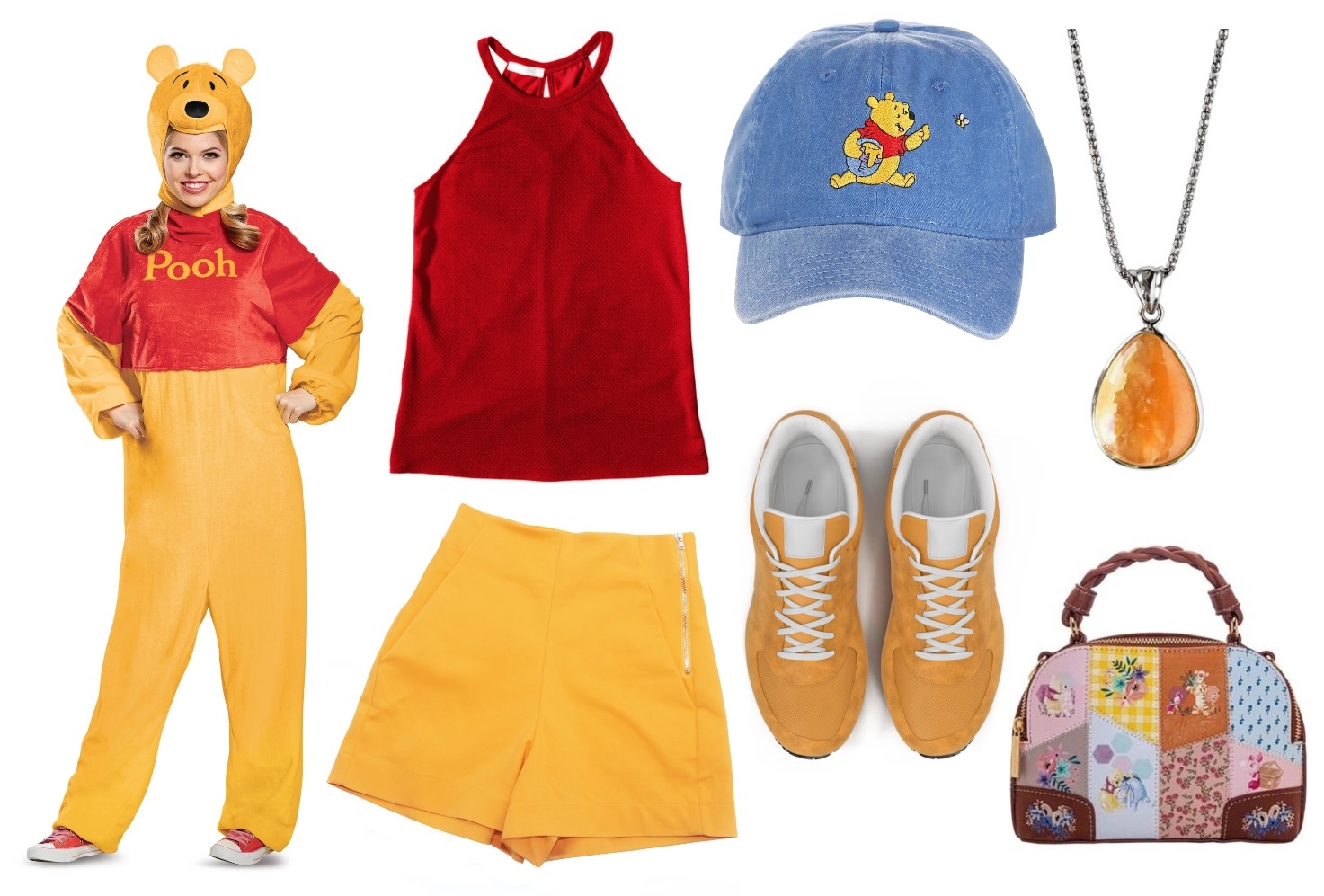 Pooh may be warm and cuddly, but you can still give off the feeling of the character without sweating it out on your Disney Parks adventures. His red and mustard color combination is utterly unmistakable, and you really only need a few pieces to pull it off. We found that a cute red tank top paired with mustard yellow shorts is most of what you need, so add a hat to keep the sun out of your eyes and a comfortable pair of yellow or red shoes for walking around all day. Don't forget a themed bag to match! This Pooh Disneybound idea isn't a bother to pull together at all.
Captain America Disneybound Ideas
Guys, don't think that you can't take part in the Disney bounding fun! Sure, we may see a lot of ladies in Disneybound outfits, but you can mimic the aesthetic of your favorite Marvel, Star Wars and Disney characters too. Captain America is pretty easy to pull off with some patriotic apparel, and we love how this casual pocket tee has blue on top with red and white stripes below in a similar fashion to Steve's classic outfit. Add a pair of comfortable shorts to match with a belt and a pair of aviator glasses, and who could resist a comfy set of Captain America shoes? As one of the comfiest men's Disneybound ideas, you can do this all day.
Ariel Disneybound Ideas
Princess Ariel has been a very popular meme subject—remember hipster Ariel?—and with magical creatures like unicorns and mermaids rising in popularity, she makes a great Disney princess for casual cosplay. Pair a cropped, plain-color t-shirt with mermaid printed leggings and ocean jewelry for an instant Ariel cosplay. Add a red wig to your ensemble if you're interested in taking that extra step to be unmistakably Ariel, and we also have a cute costume bag so Flounder can be by your side all day. You'll feel like you're part of their world at any Disney park!
Aurora Disneybound Ideas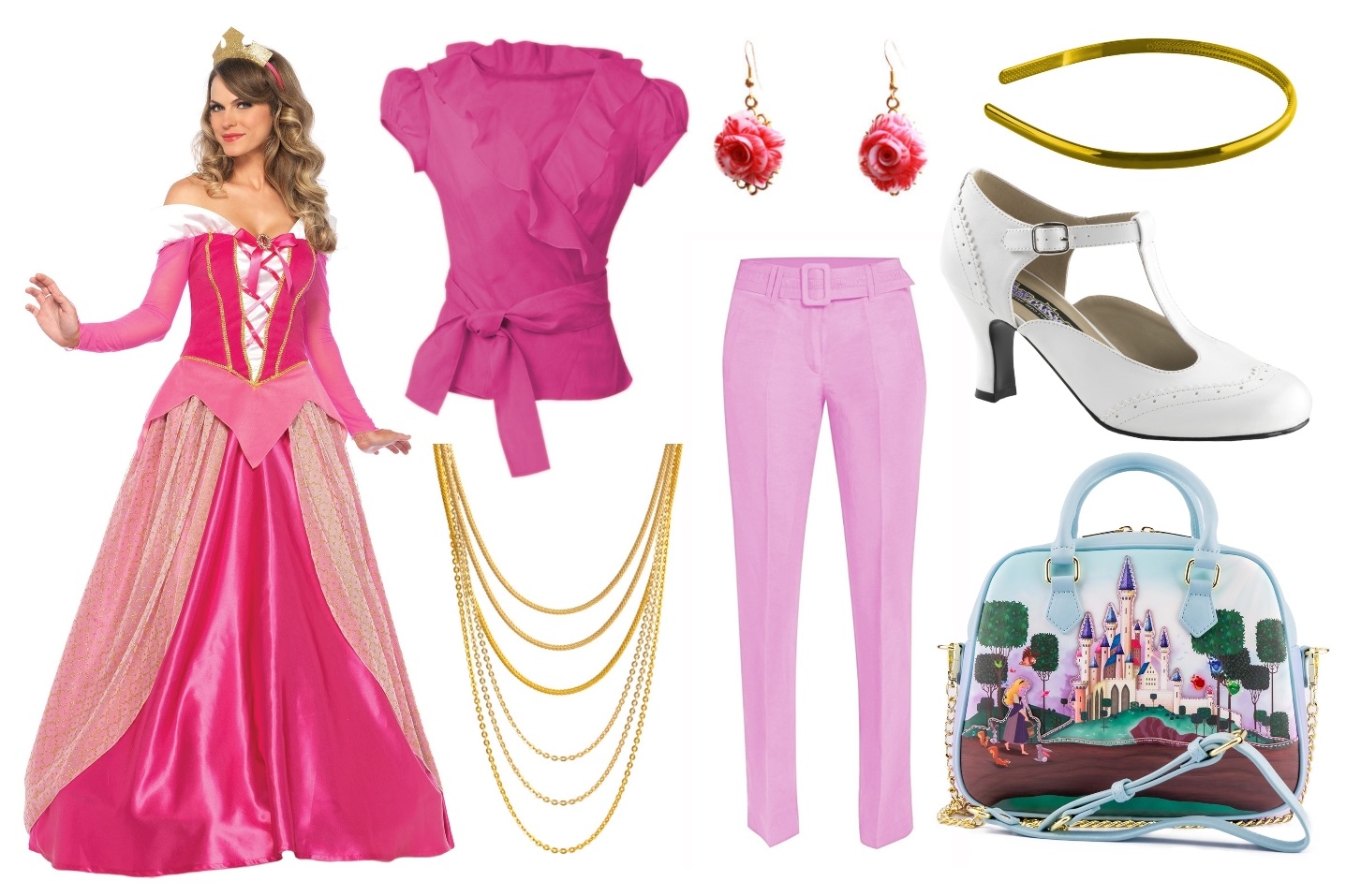 If you love pretty pink princess dresses, you'd love to try an Aurora Disneybound! Her dress features both dark pink and light pink colors, so pull a few pinks together for a cute monochrome base for your outfit. We love the idea of adding rose earrings, as her name is also Briar Rose. Don't forget to include gold accents with jewelry to mimic the color of her crown. We love the addition of this Sleeping Beauty purse with a gold chain and a scene from the movie.
Buzz Lightyear Disneybound Ideas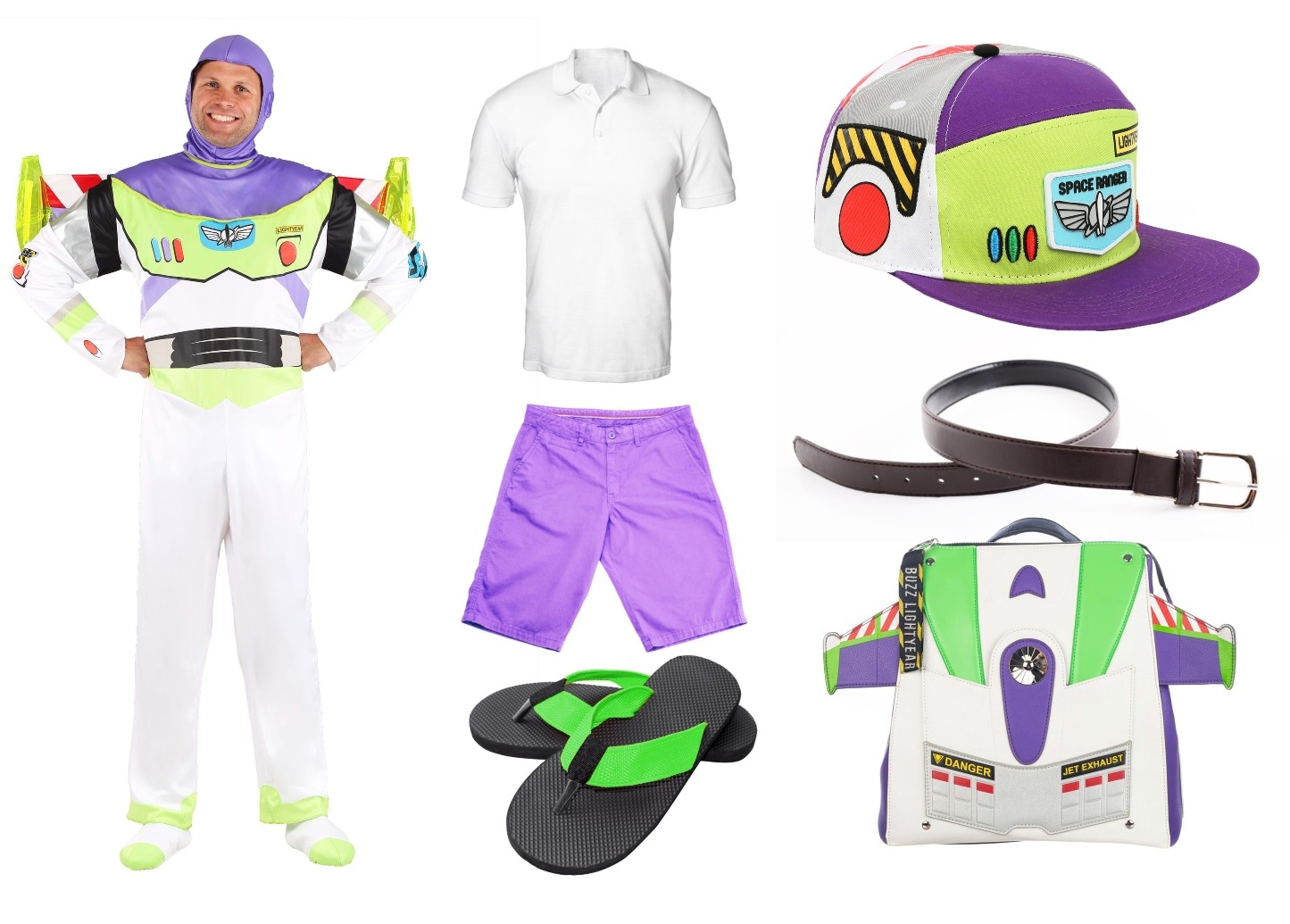 You won't need to dress for the chill of space, but here's an idea that will make you cool and comfortable while spending your day at one of Disney's parks. A white shirt and purple shorts already give a fair idea that you could be Buzz Lightyear, but adding this Buzz Lightyear hat and backpack really seals the deal. Complete your outfit with a black belt and some comfy green or purple sandals or shoes, and you're ready to go to infinity and beyond! (Well, maybe not that far, but Space Mountain seems realistic.)
Rey Disneybound Ideas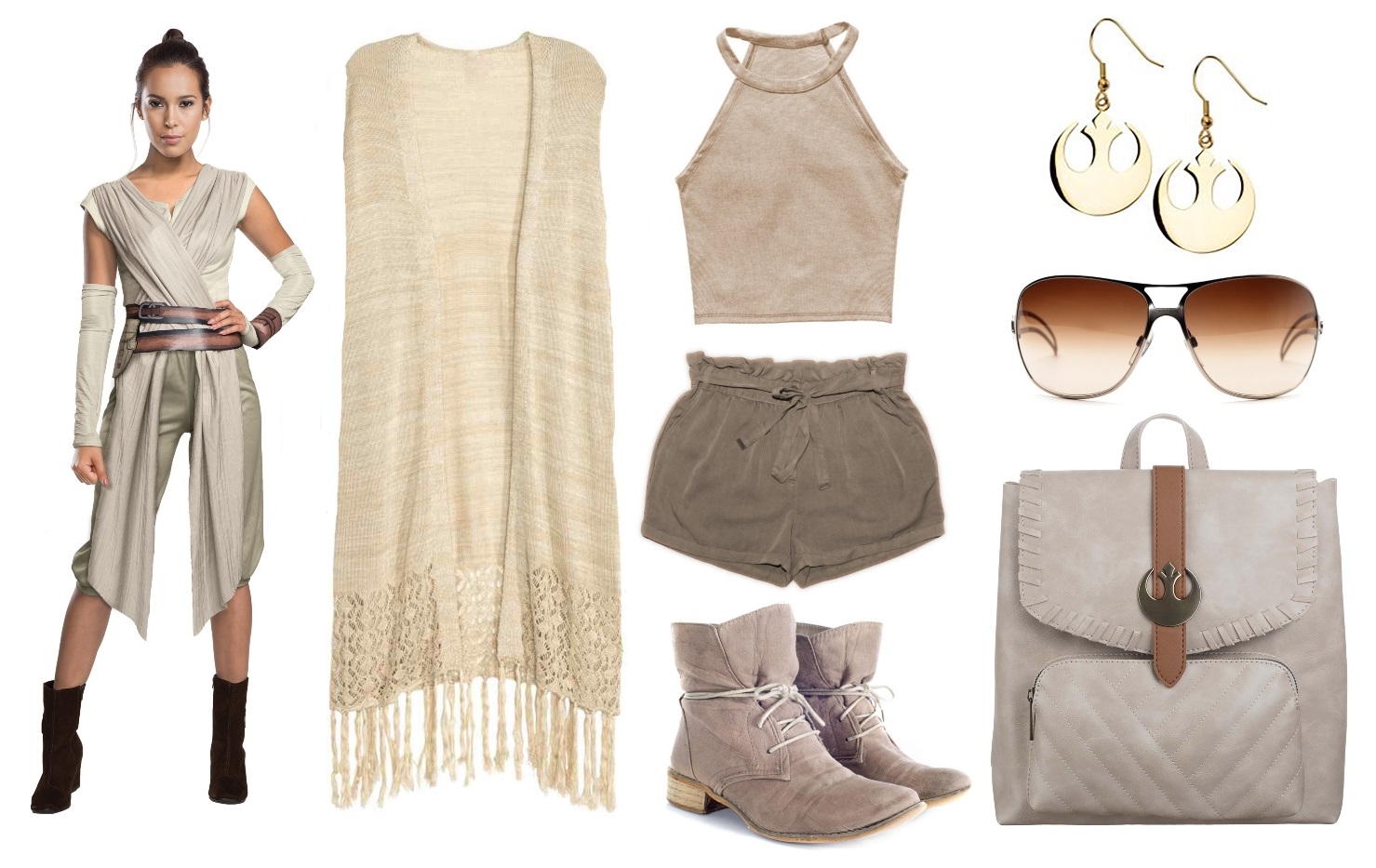 Sequel trilogy, but make it fashion! Star Wars characters like Rey, Finn and Rose are great ideas for Disney bounding at Galaxy's Edge. (Otherwise known as Batuu bounding for Star Wars fans!) We went with Rey on this women's Disneybound idea, because how cute is this dusty brown Rey bag as a statement piece? Layer summery brown and tan pieces with a cute pair of tan boots, and you're well on your way to becoming the next Jedi!
Mulan Disneybound Ideas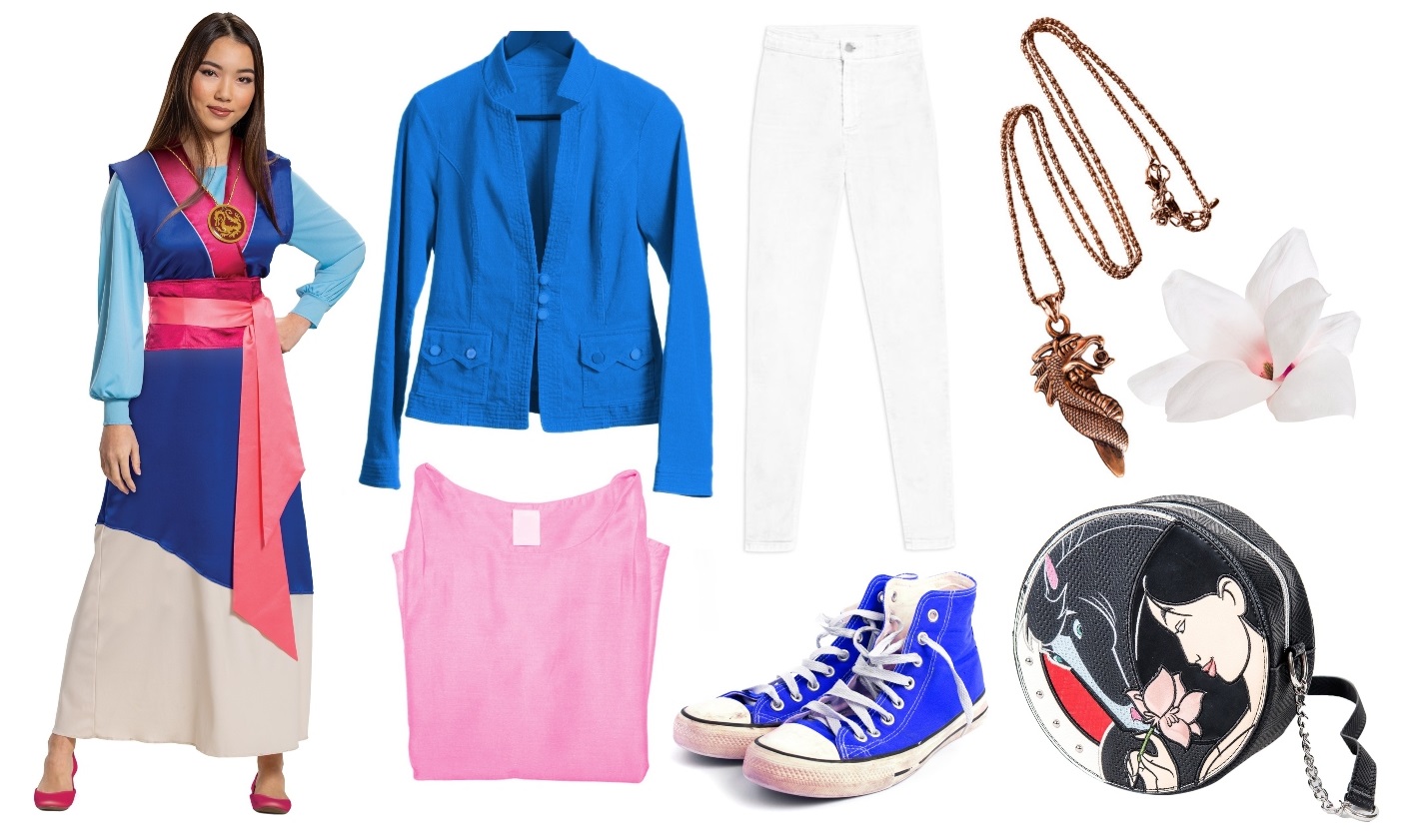 Mulan wears a few different outfits throughout the animated Disney film, so we decided to build a look based on her hanfu at the end of the movie. She's a skilled warrior at that point, so we decided to drop the dress in favor of streetwear style. Find a comfy pair of sneakers for walking in all day, and wear a combination of blue, pink and white to match her outfit. A dragon pendant necklace reminds us of the medallion she received from the Emperor, and who could resist a Mulan crossbody bag? If you can, a magnolia flower hairpin is a nice touch for anyone who remembers her iconic comb.
Evil Queen Disneybound Ideas
Get ready, Disney villain fans, because we couldn't leave out a classic villain Disneybound idea. The first-ever Disney villain was the Evil Queen from Snow White, and she paved the way for many more iconic villains. Your base outfit should be purple and black, but the real "gem" about this outfit is that it doesn't have to be too complicated to give us evil queen vibes. She has a large red jewel on her cape clasp, which you can easily represent with a red pendant necklace. Of course, our favorite part about this outfit is the poisoned apple purse. You'll certainly feel like the fairest in the land with this adult Disneybound outfit!
Rapunzel Disneybound Ideas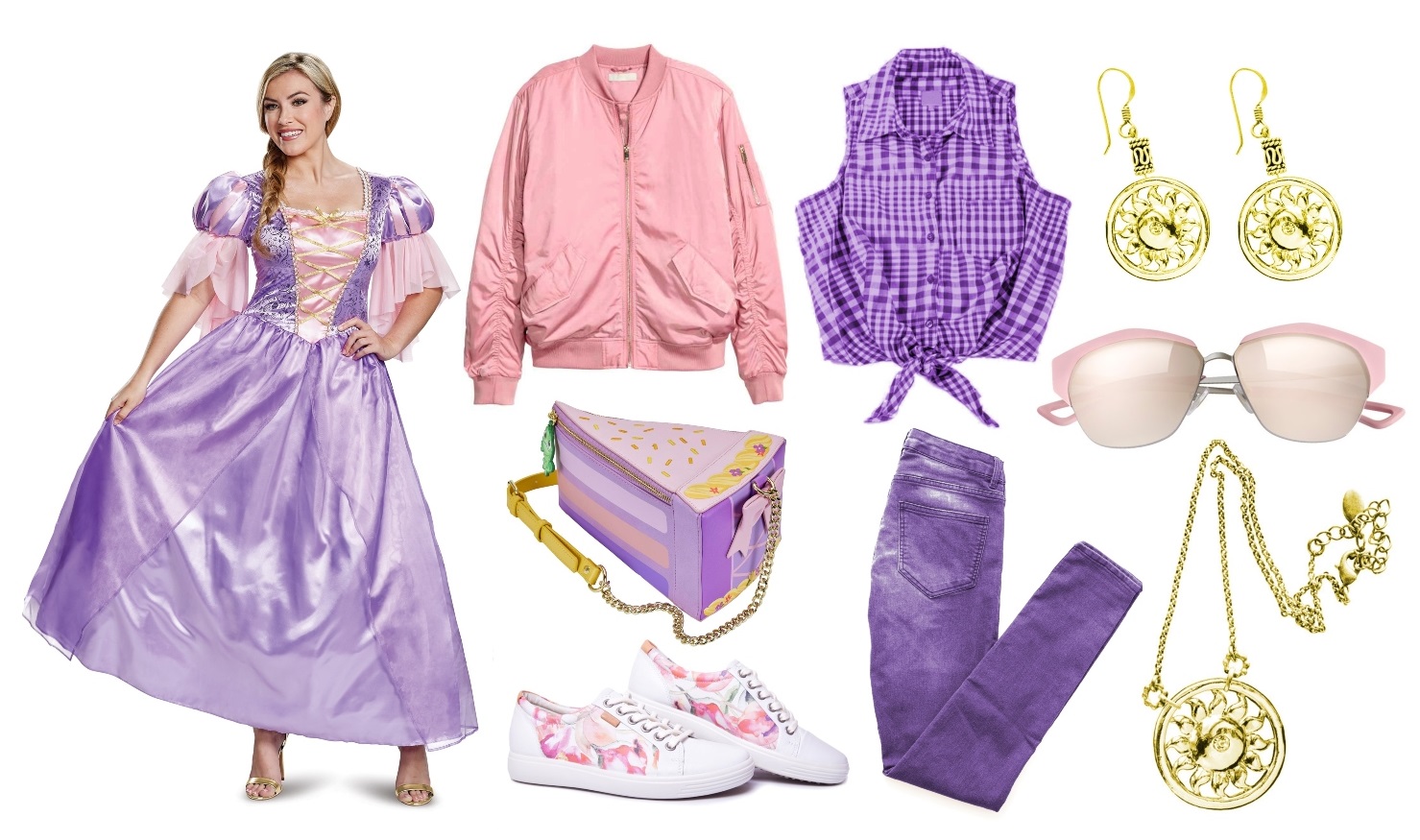 One of the newer Disney princesses, Rapunzel's pink and purple attire and long blonde hair are unmistakable! Pair pink and purple pieces together to create the perfect Rapunzel Disneybound, and you'll be ready to take on the unknown with Flynn. The sun symbol in Tangled appears throughout the movie, so finding some sun jewelry items is a great way to add movie symbolism to your outfit. This streetwear style is so sweet that we added a matching Rapunzel cake purse. Best day ever!
Cinderella Disneybound Ideas
Bibbidi bobbidi blue! If you're looking to dress like rags-to-riches princess Cinderella, blue is the key element to your casual Disney princess apparel. We paired a blue shirt with ripped jean shorts in reference to when her step-sisters ripped her dress apart. (This time, we're going to own that ripped look!) Cinderella's iconic blue headband and black choker necklace are essential for this Disneybound outfit, so no one mistakes you as Elsa or any other blue Disney character. Feel free to style your hair to look like Cinderella's classic 'do.
Boba Fett Disneybound Ideas
Boba Fett? Boba Fett! Where? You may hear people trying to spot you Disney bounding as Boba Fett, because he's such a cool character. We used a gray base layer with gray jeans and a t-shirt, and layered over them with an olive puffer vest to mimic his armor. Wear a brown belt and matching boots for a casual Boba Fett outfit, and you can seal the deal with a jet-shaped mini backpack and a character hat. Everyone else only wishes their Batuu bound clothing looked this amazing!
Cruella Disneybound Ideas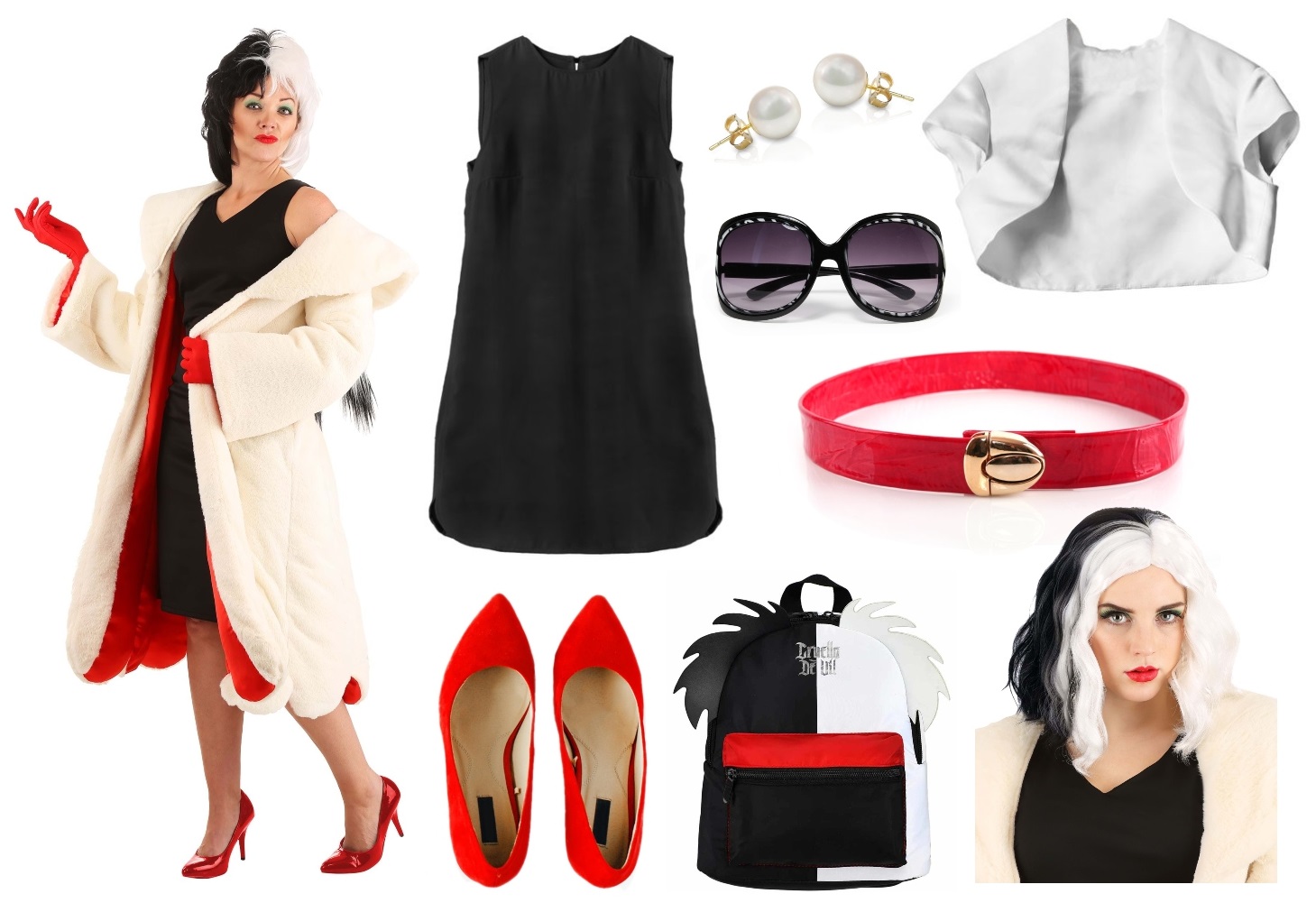 What's black and white and red all over? If you're a Disney fan, you're likely thinking of Cruella de Vil. You're welcome to go as simplistic or all-out fashion as you want, but you'll likely want to start off with a little black dress. To avoid looking like you're wearing her iconic costume, you'll want to ditch the fur coat. (It would likely be too warm at Disney during tourist season anyway!) We also added a wig with this one, because who could resist Cruella's iconic black and white hair?
Stitch Disneybound Ideas
Not every Disneybound is based on a human character, so why not pick a classic non-human character like our favorite blue alien, Stitch? For the most part, you'll be rocking a monochrome outfit with an ear headband. Mickey Mouse ears are common enough to see at the parks, so why not mix it up a little bit? The blue-spotted shoes add a fun touch to finish off this Disneybound outfit idea. And how cute is this Stitch purse by Danielle Nicole?
Dolores Madrigal Disneybound Ideas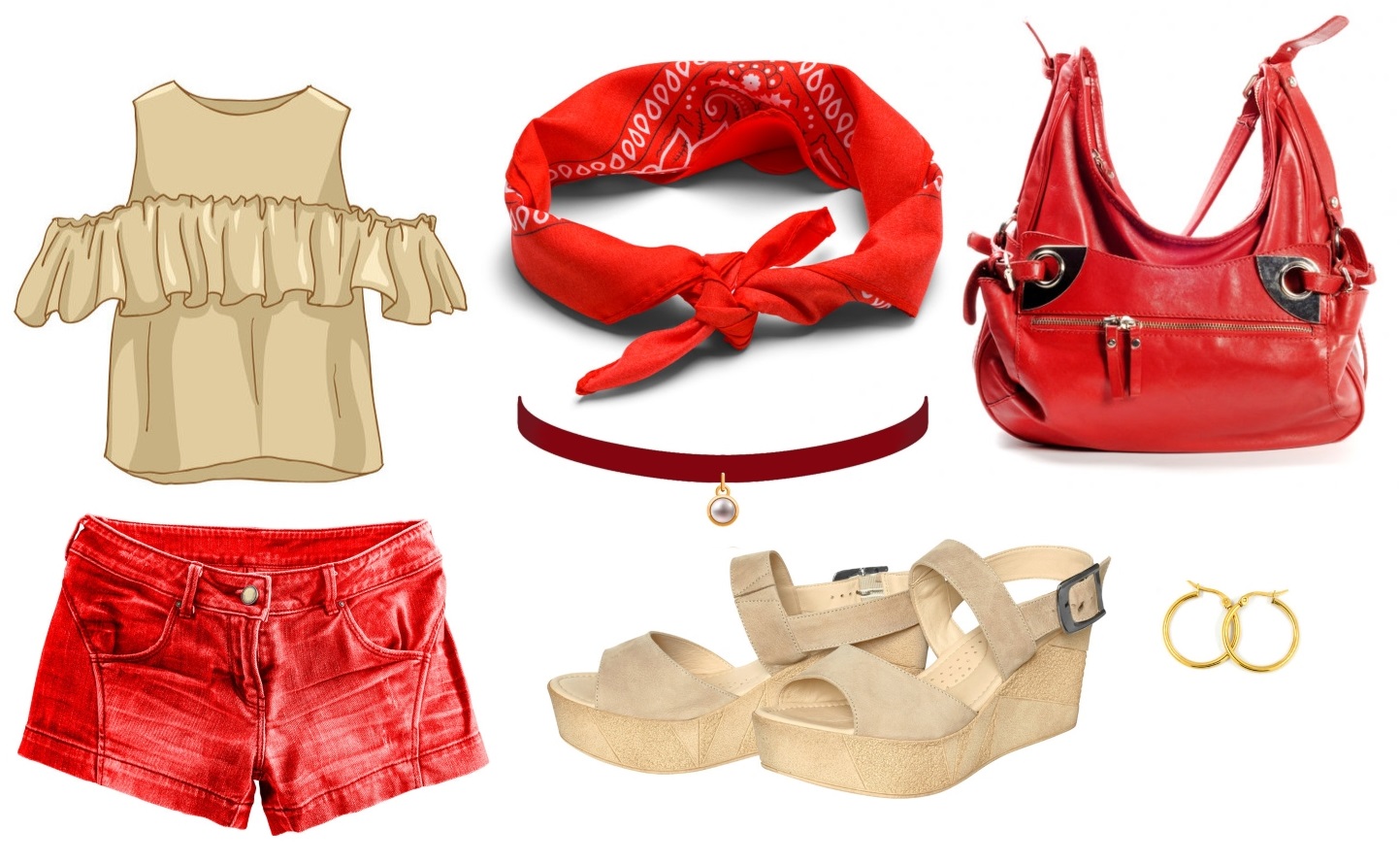 Disney's Encanto is filled to the brim with so many wonderful characters that we honestly want to Disneybound them all! However, we decided to go with our girl Dolores because she has so many fun accessories to play with. The main part of your outfit that screams "Dolores Disneybound" will be her red hair bow. Even if you only tie your hair up in a red bandana, people will get it when it's paired with the rest of your casual Disney outfit. Find a ruffled top in cream or white, and pair it with cute red shorts or a skirt. Add in some summery sandals, a red purse and a choker necklace, and there's no doubt who you're dressing as for the day!
We hope you're feeling inspired after seeing some of our casual Disney looks, whether you're planning to Disneybound at one of the parks or throw together a last-minute Halloween costume DIY from your own closet. Adding a wig to your Disney apparel can also make the character more identifiable. Who is your favorite Disney character? Have you done any casual Disney cosplays? Feel free to share your Disney bounding and Disney cosplay looks with us in the comments below! Remember that your imagination is the best tool you have! "If you can dream it, you can do it."- Walt Disney.