There are many reasons and times of the year that we give gifts, and sometimes they need to be of a particular size. Maybe you need some tiny gifts that fit in an envelope for a distant friend's birthday, or small gifts for Advent Calendars that you're making by hand. Other gift-giving traditions may have you putting gifts into children's shoes, stockings, or plastic Easter eggs! We'll share some of the best tiny gifts for special occasions. (Or even just because someone deserves a gift!) Remember, it's not always about a gift's size or the price tag, but it's the thought that counts!
Keychain Gifts

Tiny yet mighty, we often use keychains for more than just our house and car keys! Some people like to attach them to purse or backpack zippers, and even camping gear like emergency flashlights and multitools that have a habit of getting lost. They help tell items apart, and give you something small to smile about. You can see why these fun enamel keychains make great gifts! If you know your giftee's favorite movie, TV series, or something they like, finding gifts they love will show how much you care.
Mini Figures Gifts
Have you ever wondered if there are gifts tiny enough for Advent calendars or for placing inside plastic Easter Eggs? We highly recommend sets of Nano Metalfigs, such as these Minecraft mini figures. (You can also find superheroes, Harry Potter, and more!) However, because they're only one or two inches tall, they may not be appropriate for all ages. In that case, Fisher Price makes sets of Little People figures that are just right for smaller children! How cute are these Frozen Little People characters?
Unique Socks Gifts
We're not sure why socks as gifts get a bad rap because we think these character socks are awesome! They're great as small stocking stuffers, and you can even split up larger packs of socks to make your own themed sock Advent calendar. And how cool would it be to find a pair of these socks stuffed into your shoes on Three Kings Day? Socks are incredibly useful gifts you can wear until you can see your toes through them, so why not make an effort and find some unique socks specially curated for your giftee!
Shot Glasses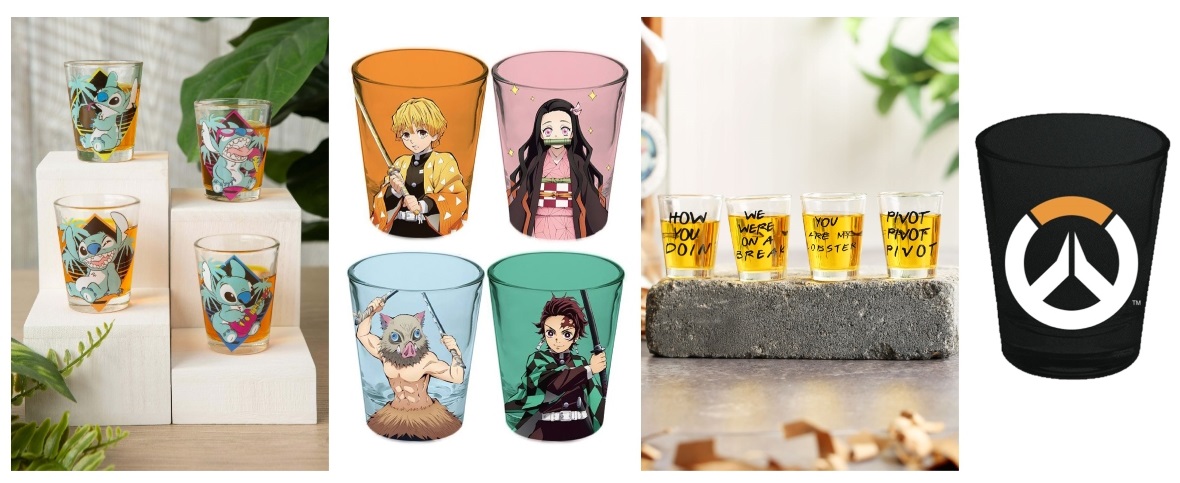 How often do you pick up little gifts for your adult friends? Maybe you snatched something that reminded you of them, or you like to pass along messages of encouragement with a small gift. These cool shot glasses make great tiny gifts for adults, no matter the occasion! You can take them out of the package and make an adult Advent calendar, or find another fun way to give them as birthday gifts. Shot glasses may be small in stature, but they could be just what you need for the perfect gift!
Blind Box Toys Gifts

Many blind box toys are similar to the mini-figures we mentioned earlier, but you get the added surprise of finding out who's inside! We'd argue that blind box toys are especially great Easter basket stuffers because they mimic the anticipation of opening gifts hidden inside plastic eggs. They're also great gifts for collectors who enjoy small desk trinkets. If you're having a frustrating day at work, it's nice to rearrange your desk items to give you something to smile about!
Cute Enamel Pins
Not to be overlooked, enamel pins make the best tiny gifts! So many people love to collect them and use them to embellish their everyday wear, and it's even better if someone likes to show them off with their favorite ITA bag. They also cover a huge range of fandoms, from Disney enamel pins to video game pins. Whether you choose to leave them in their original packaging or take them out to arrange your gifts in another fashion, these tiny gifts can be pretty thoughtful!
Nerdy Jewelry Gifts

Okay, so these nerdy jewelry items may not be for everyone, but if you have that special person for whom these would be perfect, do it! A Star Trek friendship necklace is always in fashion for Trekkies, and what Harry Potter fan could resist a set of tiny stud earrings? Also, how cute are these tiny playing cards? Honestly, what's the point of having your ears pierced if you don't have at least one set of silly earrings?
Hot Wheels Gifts

Small toy cars like Hot Wheels make great tiny gifts for kids! You may find yourself opening a pack of cars to fit your Hot Wheels into Easter eggs or Advent calendars, but seeing the looks on your children's faces will be well worth the effort. We love these Hot Wheels character cars from Mario Kart and Masters of the Universe, and you can even find a large pack of toy cars that will help you fill an Advent calendar in no time. Even if you're finding small gifts for potty training your toddler, having a multi-pack of Hot Wheels is a great way to get started!
Unique Salt and Pepper Shakers

We love a quirky cooking space! These small salt and pepper shaker sets will add a touch of whimsy to any kitchen. Whether you're giving these sets as a stocking stuffer or just because, they're great gifts for any budget. And you can find them for a bunch of fandoms too. Disney, Dungeons & Dragons, Star Wars—you name it! Now, if you'll excuse us, we need to add some dark side and light side seasoning to our lunch.
We hope you have tons of great tiny gift ideas! Have you ever received an itty bitty gift? What are some of your favorite occasions for small gift items? We'd love to hear your thoughts in the comments. It's always great to have more options when shopping for the perfect gift!