We all love our movies and television shows and comic books and video games and…well, the list goes on and on. Not that long ago, it was difficult to find geek chic accessories and apparel for all of the pop culture franchises that we love. But no longer! The variety of geek fashion has exploded over the past few years, and we're proud to say that FUN.com is the best place to get it all. So whether you're a fan of Disney or DC Comics or video games, we've got something for you! Let us bring your boring duds into pop culture territory!
Anime Clothes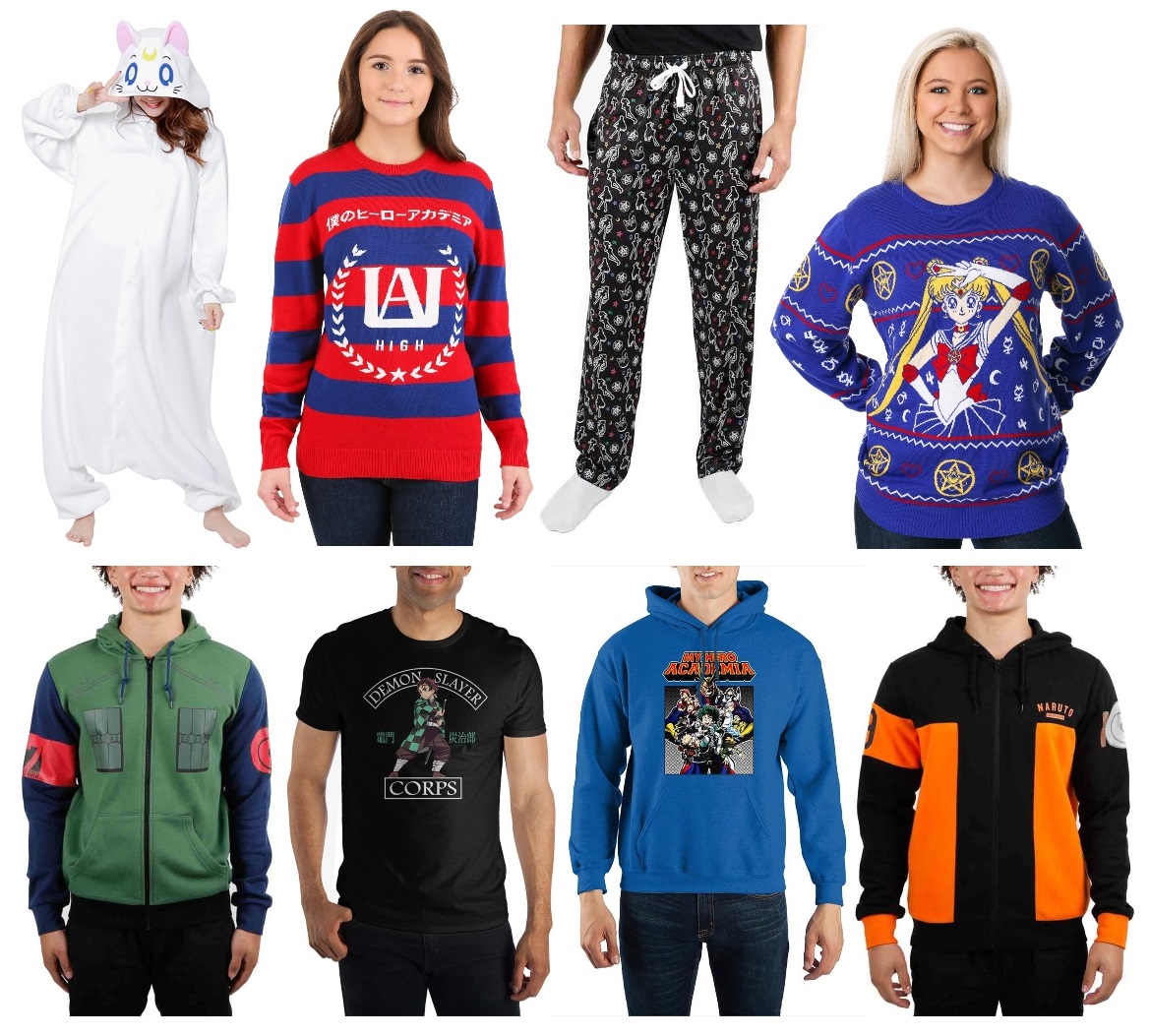 It's always nice to be able to wear nerdy clothing that reflects your favorite movies or TV shows, and the same can certainly be said for anime fans! You can find anime merch like Sailor Moon sweaters and Naruto shirts, along with Demon Slayer, My Hero Academia and more. You'll love repping your favorite shows whether you're watching anime at home, or attending an anime convention with friends. This anime apparel is sure to be a blast!
Anime Accessories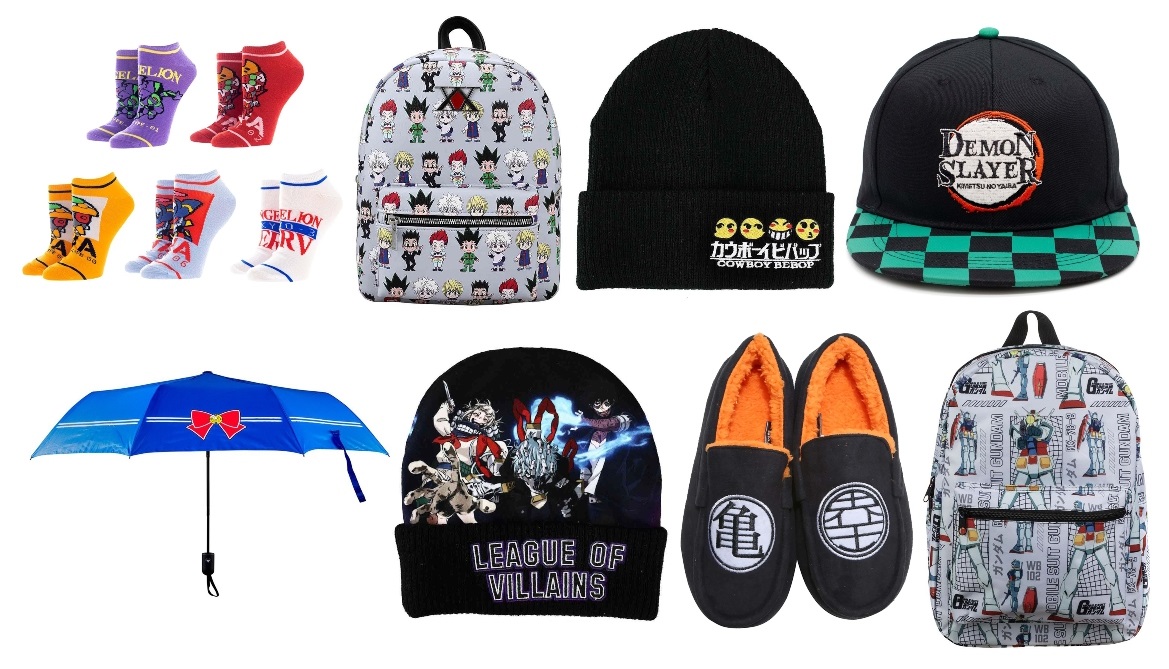 Anyone looking to assemble the perfect anime outfit is going to need some geek chic accessories to tie their whole look together. Maybe you need a hat or some socks to go with your anime shirt—whether or not you mix shows together is up to you. (It's a little chaotic to add Sailor Moon accessories to your My Hero Academia outfit, but your own personal style is your choice!) You may also want to find some practical anime accessories like umbrellas and keychains. While you don't necessarily wear them as you would with an outfit, it's the perfect geeky touch to brighten up your day.
Video Game Clothing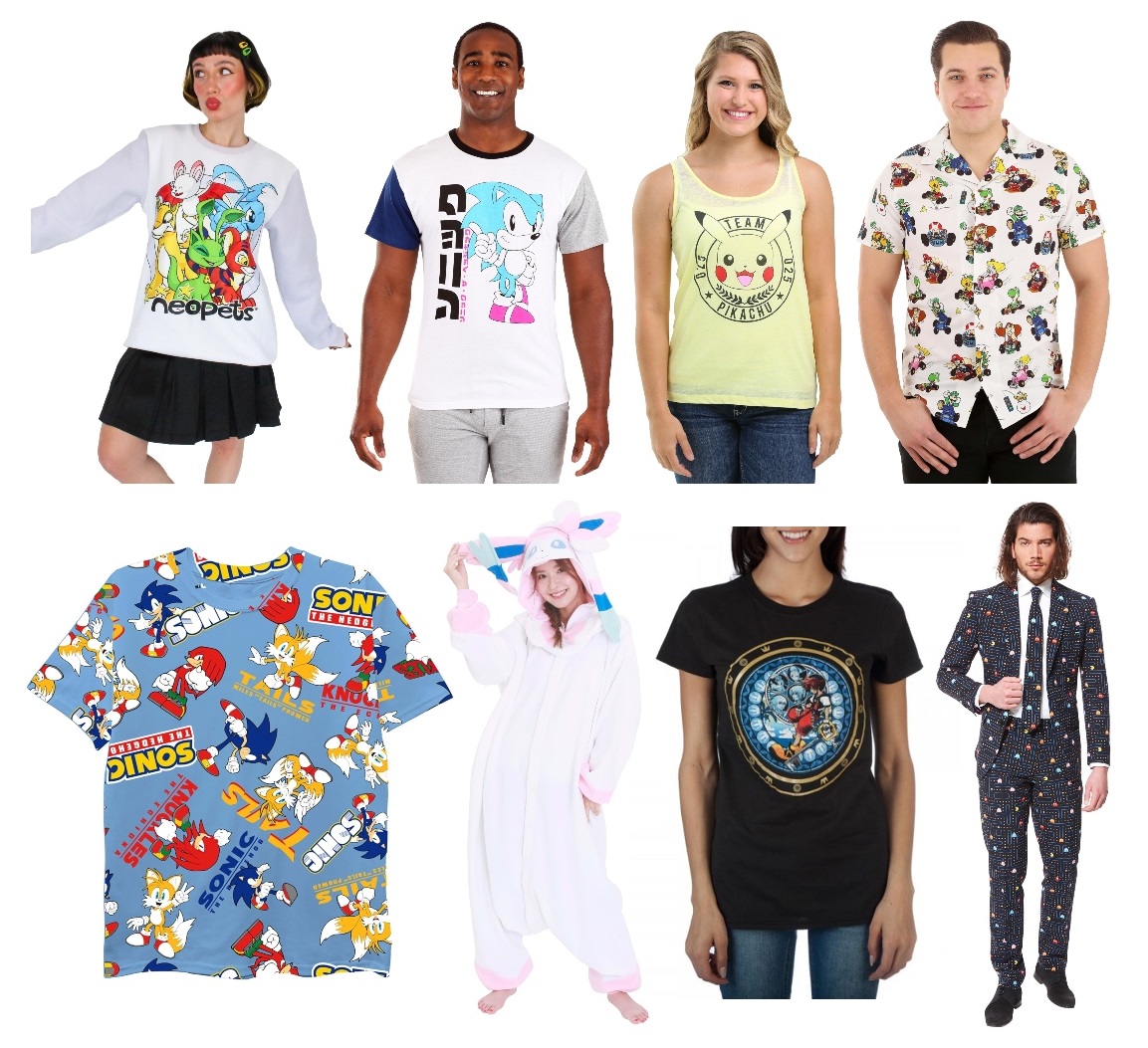 You don't have to be a professional streamer to wear video game apparel! Pop into your local game store for your next preorder in a licensed graphic shirt, or snuggle up on the couch in a Pokemon kigurumi. There doesn't even need to be an occasion, honestly. If you're shopping for a friend or family member, gaming clothing is the perfect gift for a video game enthusiast. Pop culture fashion is great because you don't have to try to snag a popular game before it sells out, and licensed clothes are practical and going to get used!
Video Game Accessories
You can't always take your video games wherever you go, but you can still have some of your favorites along as part of your gamer aesthetic. Find a wide variety of video game hats to cover your head, and keep your gear safe with gamer purses, bags and wallets. You can even get comfortable in gamer merch at home with some Sonic slippers! Check out all of the gamer accessories you need to complete your geek chic outfit.
Star Wars Clothing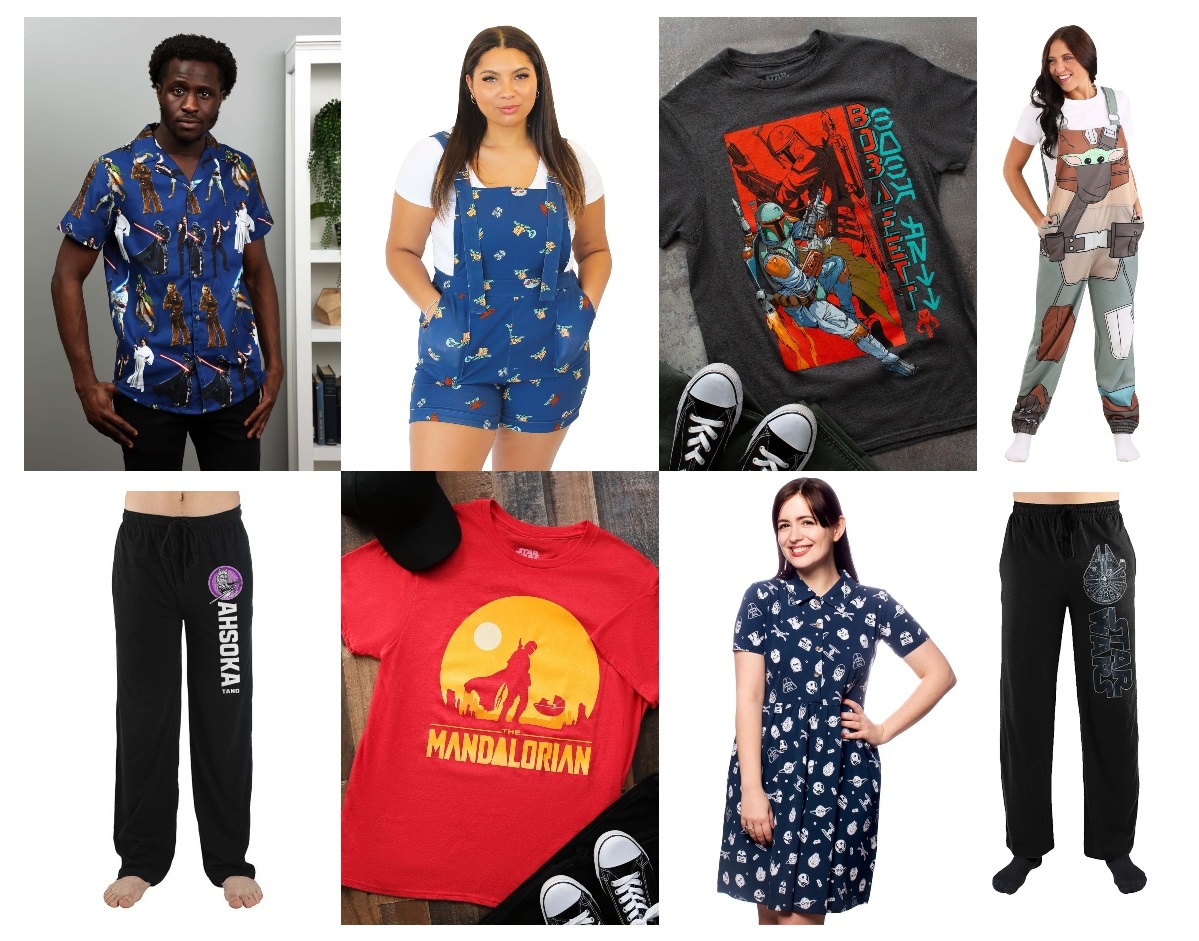 Some people live, breathe and eat Star Wars, so why can't you also dress Star Wars? (You totally can!) There's a galaxy full of Star Wars merch at your fingertips if you know where to look, and we have the Star Wars apparel on FUN.com that you may be searching for. Find cute Star Wars dresses and Star Wars shirts, along with lounge pants and other nerdy clothing items. Don't forget to check out other Star Wars accessories to create your perfect galactic outfit!
Star Wars Accessories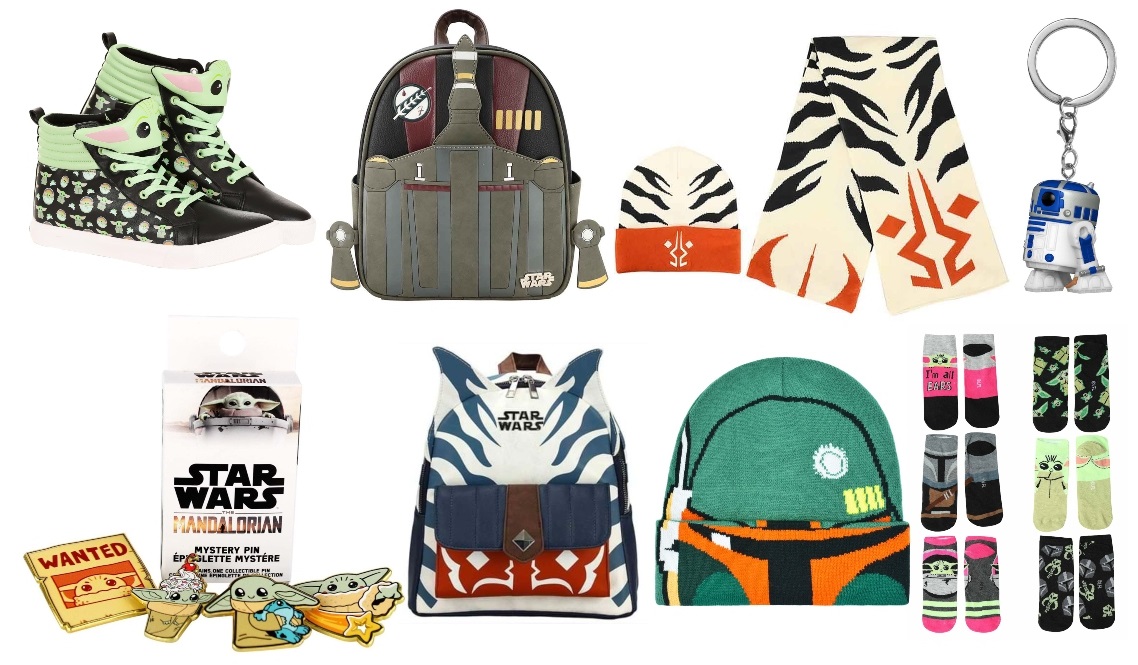 Whether you want to take part in Star Wars Day or that's just your style every day, we have the Star Wars accessories you're looking for. Get ready to make the perfect nerdy outfit filled with Star Wars hats, Star Wars shoes, Star Wars purses and just about any other nerdy accessory you might want! There are even Star Wars accessories for kids to get in on the Force-filled fun. After all, you don't want anyone to think your kids are a couple of scruffy-looking nerf herders!
Harry Potter Clothes
Feel simply magical whenever you step into your favorite Harry Potter clothes. We have cute Cakeworthy dresses, casual shirts and even some sweaters that feel like they hopped right off the pages of Harry Potter. Show off your house style with any one of a number of Ravenclaw, Gryffindor, Hufflepuff or Slytherin outfits, and you can even represent some of your favorite characters! All you have left is to find a few coordinating accessories, and no one will accuse you of being a muggle.
Harry Potter Accessories
Every Hogwarts hopeful needs some Harry Potter accessories in their wardrobe! Chic geeks will love to show off their Ravenclaw prowess with this scarf, but the rest of the Hogwarts houses can find nerdy accessories perfect for them as well. Harry Potter shoes will keep your feet feeling fantastic on your way to class. But you can find tons of other Harry Potter merch, including hats, fanny packs and bags. You'll want to accio all of this Harry Potter merchandise before the nargles get them!
Marvel Clothing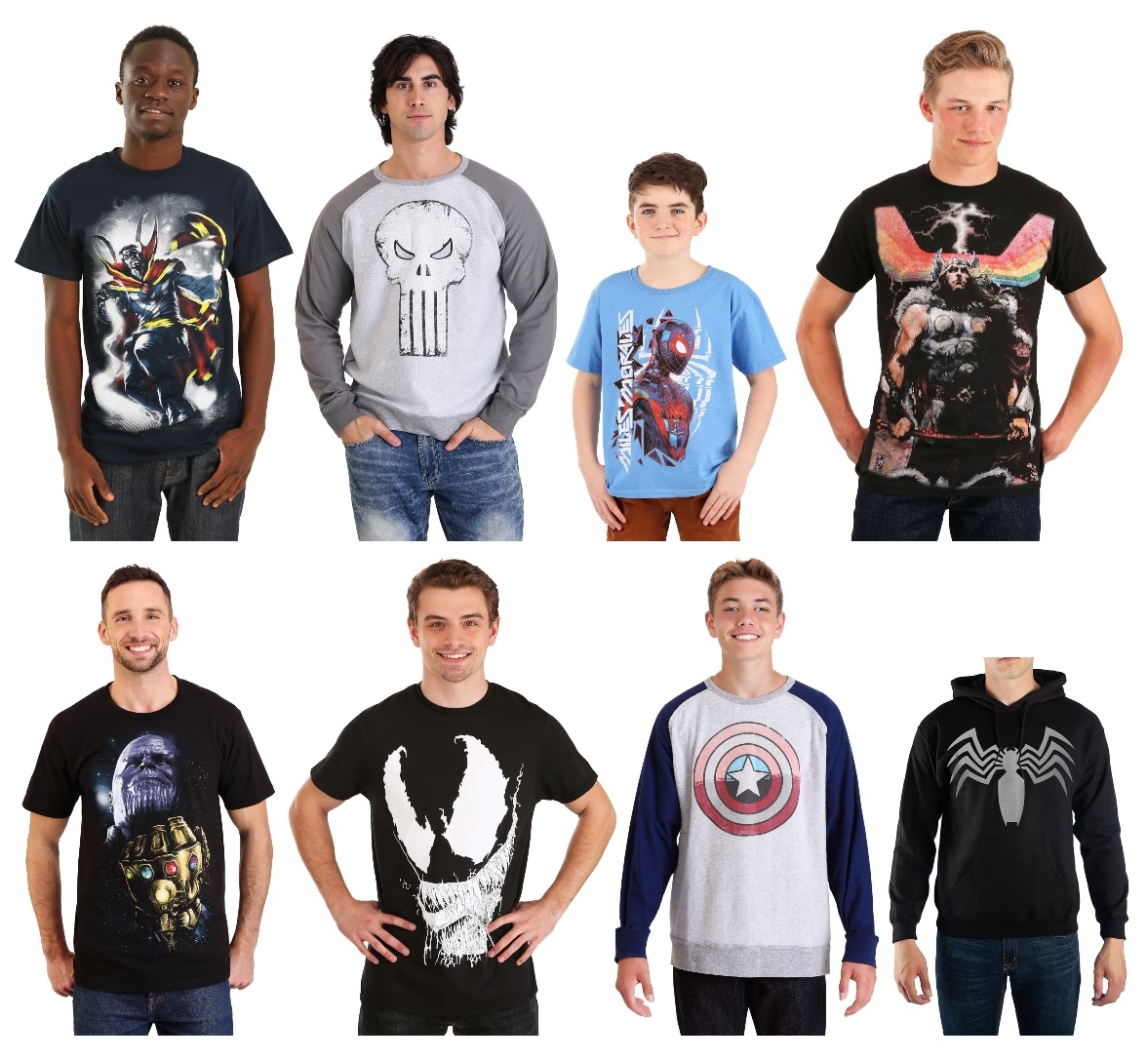 Superhero shirts are tons of fun to wear, and if you plan on wearing one, why not find geek clothing featuring your favorite heroes? There are so many Marvel superheroes to love, from Spider-Man and Captain America to Venom and Doctor Strange. We have these Marvel shirts and other Marvel apparel items that would love to be at home in your closet!
Marvel Accessories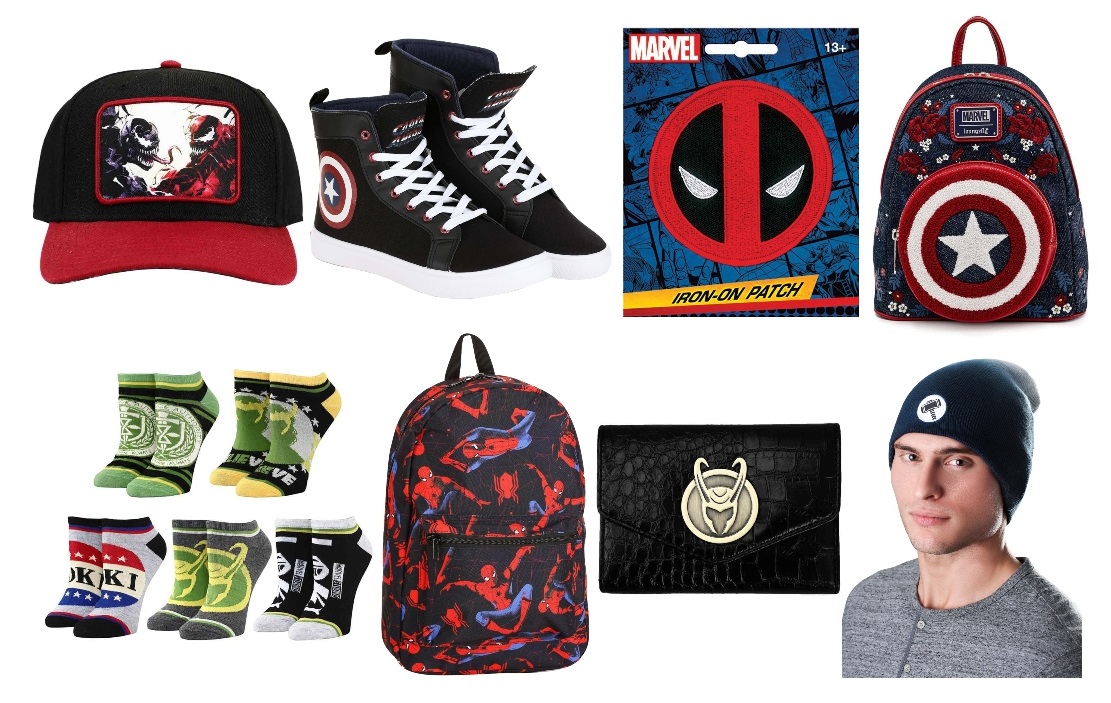 Whether you hopped on the Marvel train after reading the comics or seeing the Marvel movies, you're looking for the perfect accessories to complete your nerdy-cute Marvel outfit. Take a Spider-Man purse filled with Marvel pins to the next Marvel movie premiere, or add a more subtle touch with low-cut Marvel socks. You can have the Avengers assemble your nerdy outfit in any way you choose! With a variety of bold and subdued Marvel accessories, you'll have whatever it takes to make your nerdy-chic outfit your way.
Disney Clothes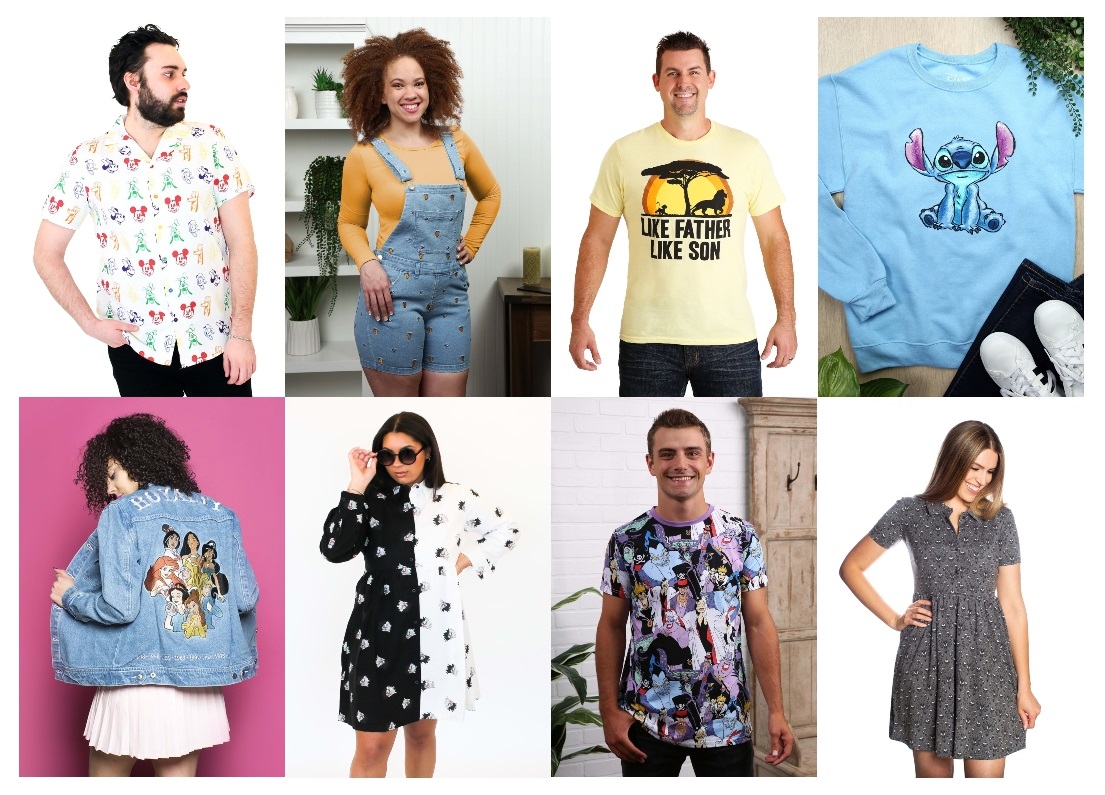 Maybe every day for you is a Disney day, or you're just looking for something to wear on your latest trip to Disney World. Whatever the case may be, we have the Disney apparel for you! Find a variety of cute Disney dresses by Cakeworthy, or perhaps some Disney shirts and shorts for a warm day in the sun. You can chill like a villain or feel like a magical princess for the day by assembling your very own Disney outfit.
Disney Accessories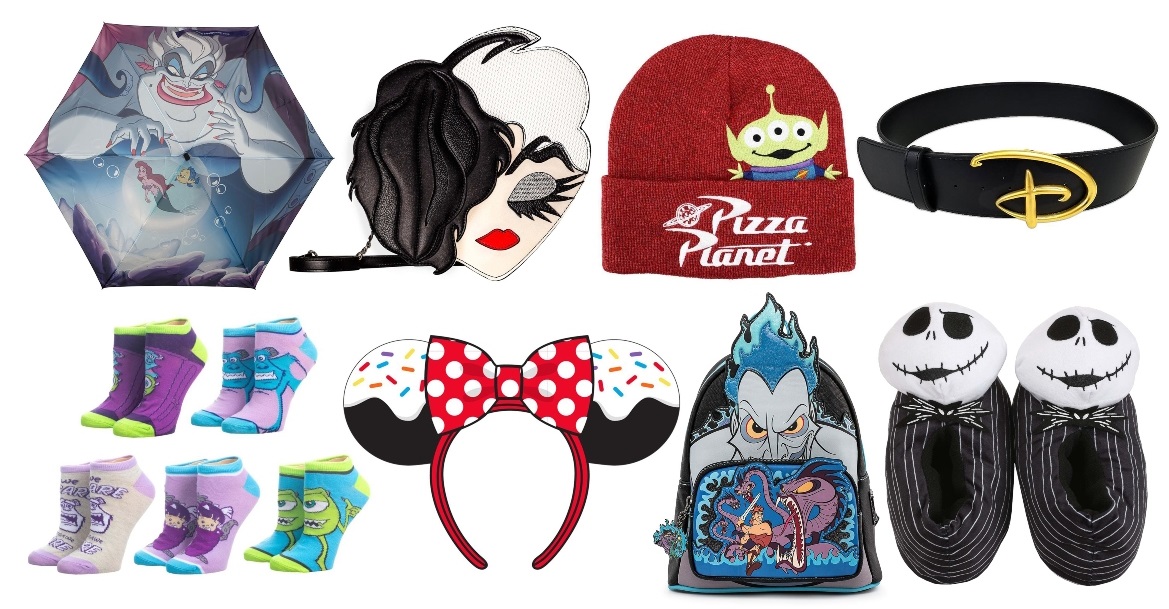 You may be looking for Disney accessories for your next Disneybound outfit, or maybe you just like to add a little Disney to your day. Whichever it is, we're here to help you add some mouse magic with these Disney accessories for your outfit. Toy Story fans will love wearing a Pizza Planet beanie that gives a nod to the movie's best pizza restaurant. We also have more subtle novelty accessories like low-cut socks and even a black belt with a Disney logo buckle! If you're a fan of letting your fandom flag fly, we have quite a few Disney purses, mini backpacks and bags to carry with you on every adventure.
DC Comics Clothing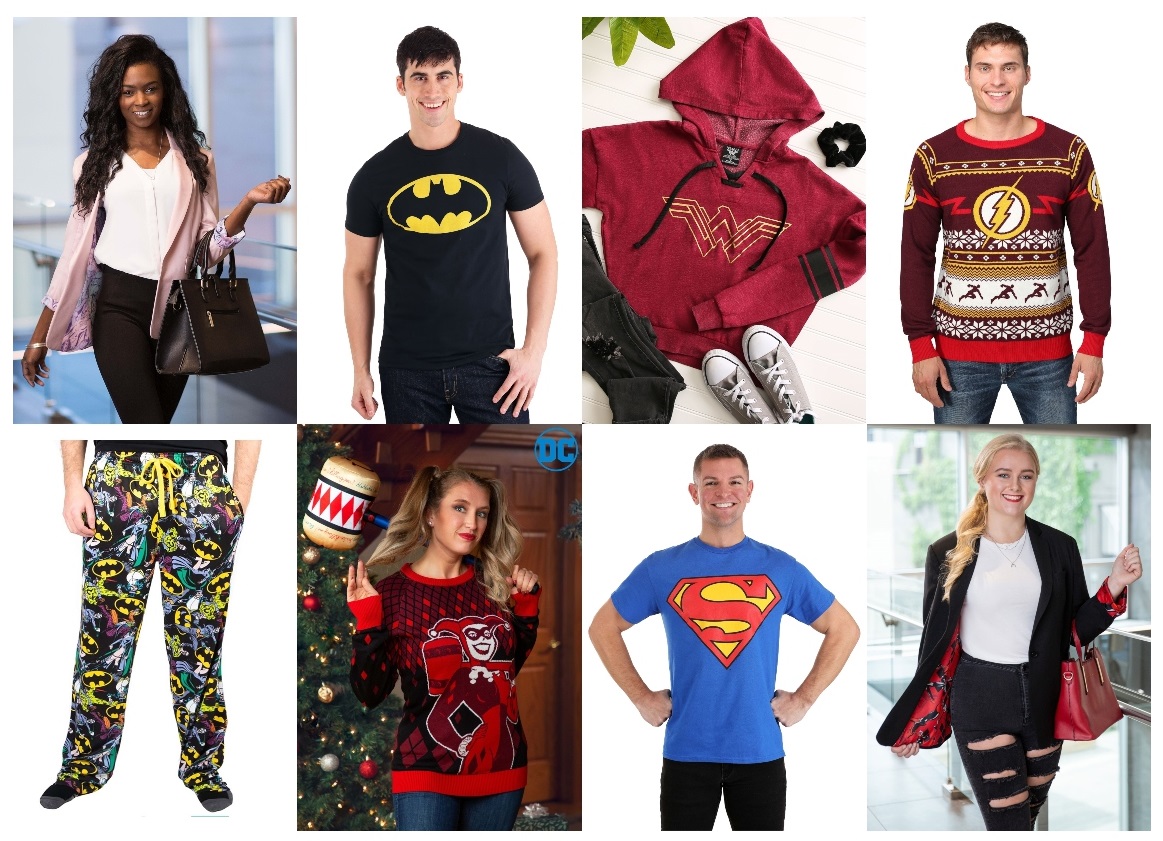 People love to wear superhero apparel, but maybe you're more of a DC fan. You love classic characters like Batman and his rogue's gallery, Superman, The Flash, Wonder Woman and others! Well, get ready to wear all of your favorite DC Comics apparel—shirts, blazers, lounge pants and even sweaters for when it gets chilly inside. That way, you won't feel like you had a meeting with Mr. Freeze in your Batman t-shirt.
DC Comics Accessories
Not everyone's superhero style involves Marvel, and that's okay! DC Comics has plenty of superhero characters that people love, from Wonder Woman and Batman to the rest of the Justice League, Teen Titans and more! Wonder Woman fans are in for a treat because you can find tons of Wonder Woman accessories, including these FUN.com exclusive Wonder Woman shoes. Still, don't count the rest of the DC gang out! Heroes and villains from Aquaman to Harley Quinn can be found on novelty hats, bags and other DC accessories, too. Your nerdy outfit will have everything it needs for your next convention.
Horror Clothing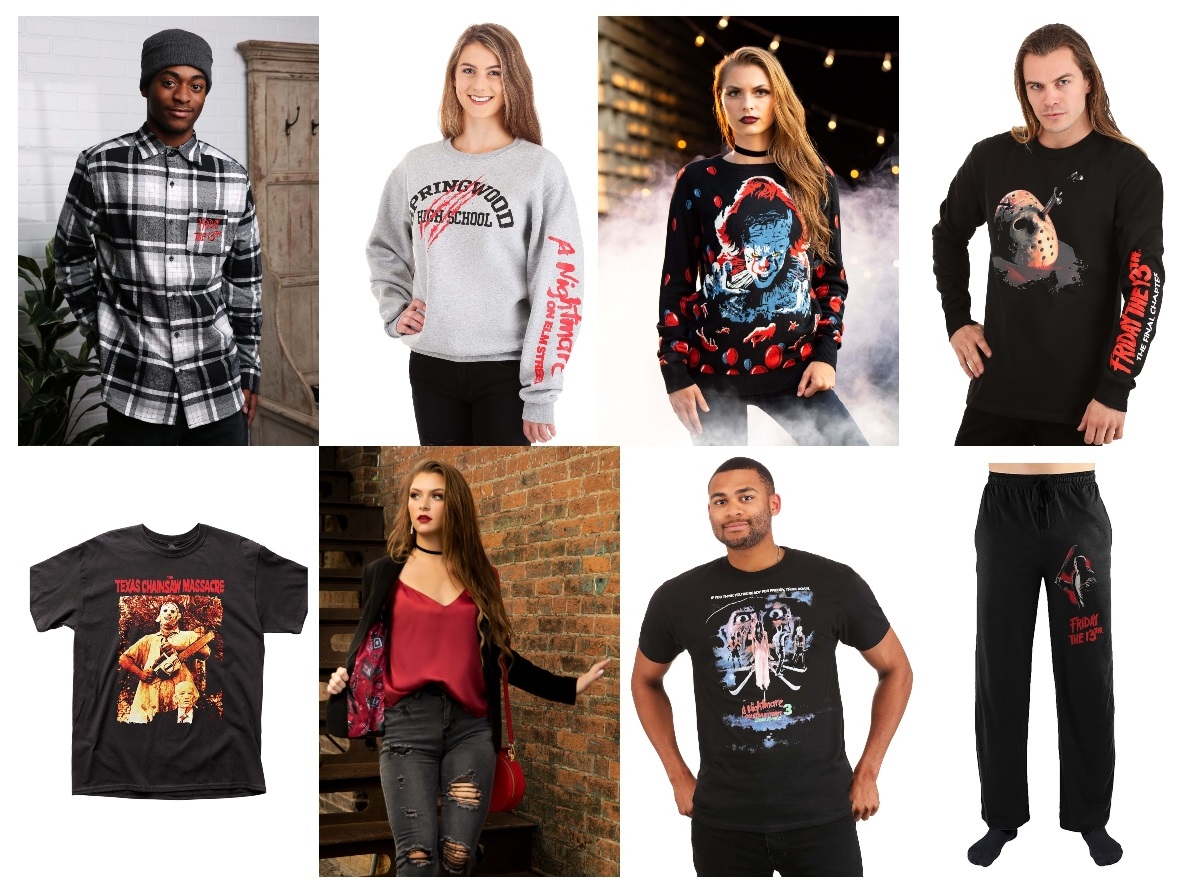 Some might find your tastes to be a little weird, but you find comfort in knowing you can wear whatever clothing you want—horror movie apparel included! There's nothing quite like getting into a comfy shirt or lounge pants and sitting in front of your favorite horror movie with a bowl of popcorn. Better yet, why not make it a horror shirt or set of sweats? Still, there are times that you might have to put your horror-loving self into business attire, but you won't have to keep all your favorite horror merch at home with these fun horror blazers!
Horror Accessories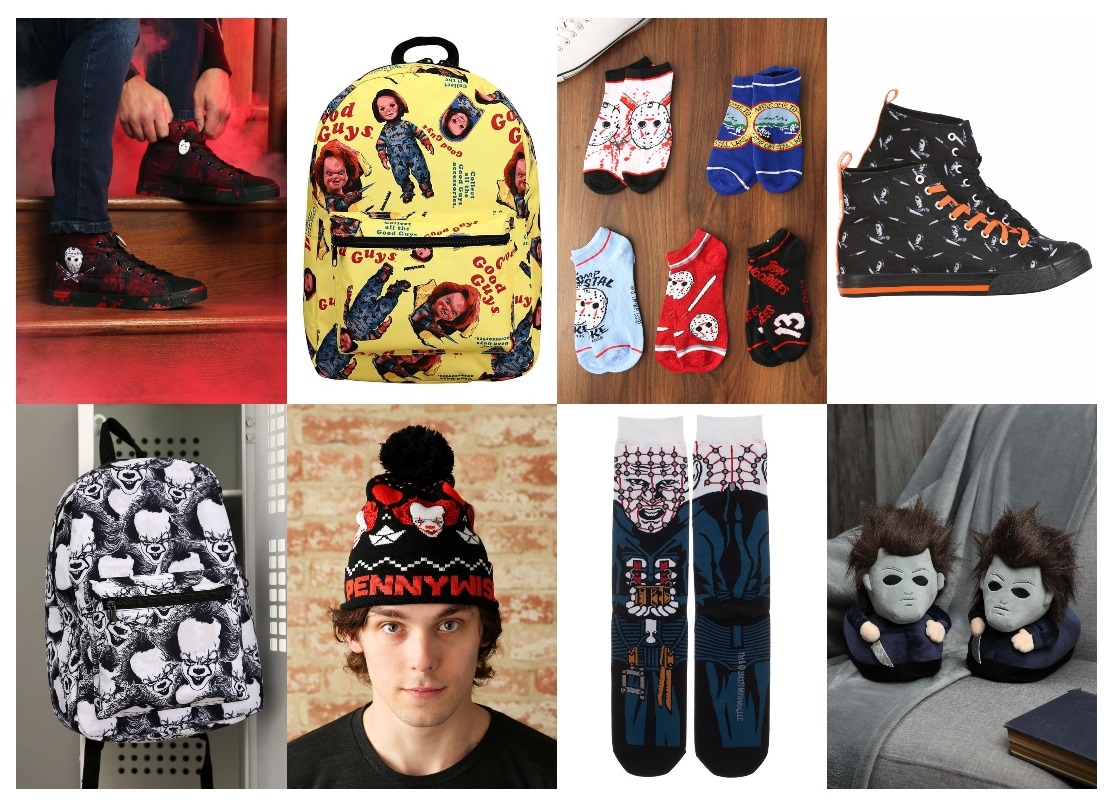 Cute, geeky outfits may not be everyone's style, but we don't want our horror fans to feel left out! Craft the perfect horror movie outfit by adding any one of a number of horror accessories. Scary socks are tantalizing for your toes, while sinister scarves and hats can put the finishing touch on your spine-tingling outfit. You're not going to want to miss out on creating your perfect horror movie look.
Nickelodeon Clothing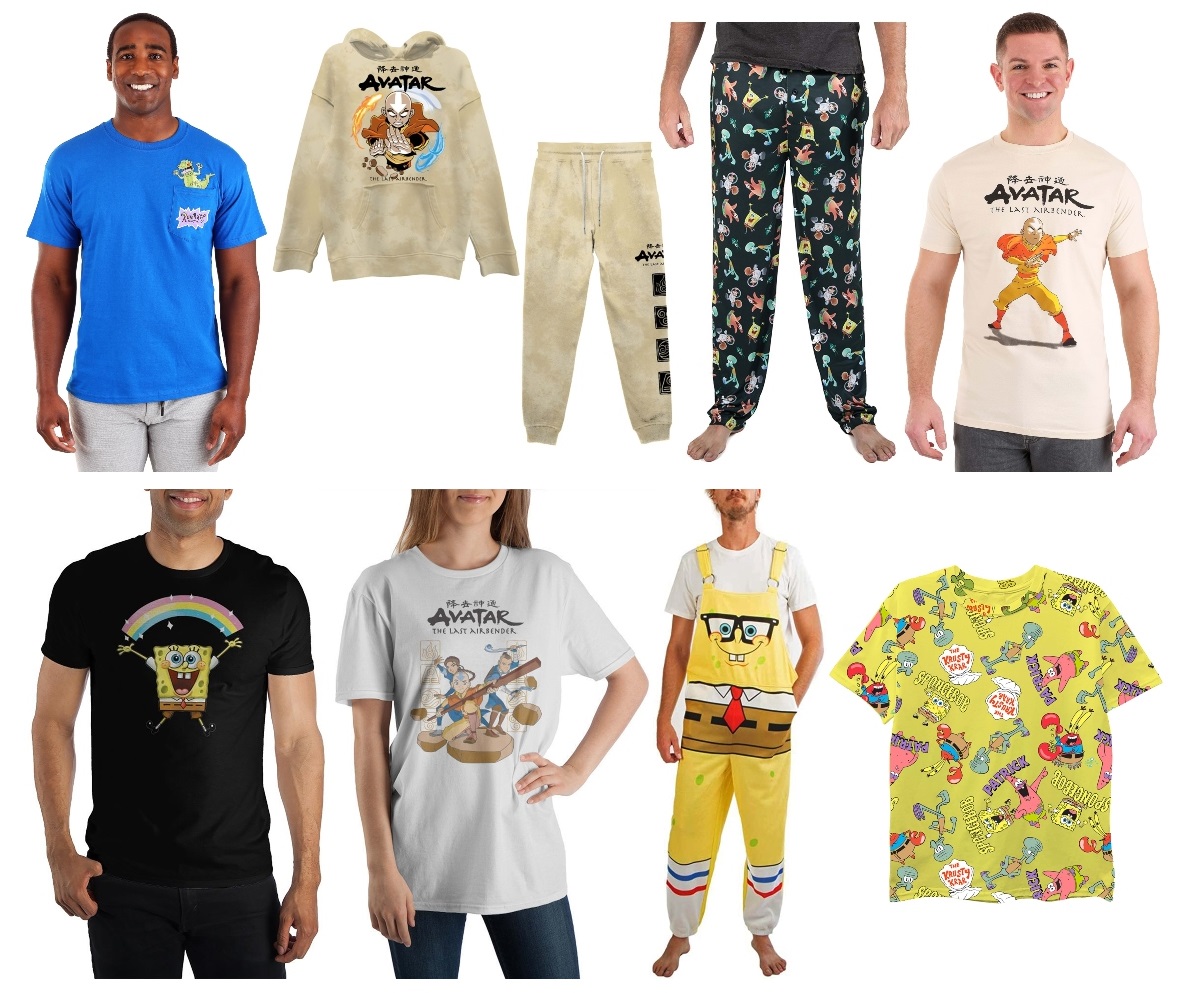 Who doesn't love watching some of their favorite Saturday morning cartoons in their favorite loungewear? What about running into that other person that noticed the characters on your t-shirt? Well, get ready to wear some of your favorite Nickelodeon cartoons with a variety of Nickelodeon apparel! Avatar the Last Airbender, Spongebob and Rugrats are some great cartoons, so who wouldn't want to wear them in or out? That's what this fun Nickelodeon merch is all about!
Nickelodeon Accessories
While you might have grown up watching Nickelodeon cartoons as a kid, that 90s and 2000s nostalgia can be hard to break. Satisfy that inner 90s kid with any one of a number of Nickelodeon accessories! No geeky outfit is complete without a pair of character socks, but you can easily step up your game with these Avatar: the Last Airbender shoes. Of course, don't forget great shows like Spongebob Squarepants or Rugrats. You can find Nickelodeon merchandise for these shows and more! Get ready to wear your Nick at night and day.
Did you find the perfect geek fashion for your favorite fandom? Or was there a particular movie or show on our list of faves that you particularly love? Leave us a message in the comments! If you're still working on your own geek chic style, you'll probably find what you need in our nerdy apparel and accessories category!