If you're a wrestling fan who's waiting for the next big WWE event, whether it be the Royal Rumble or WrestleMania, you're going to want to gear up to show off your fandom of your favorite Superstars. Luckily, we've got a handy WWE gift guide here filled with toys, apparel, and more WWE merchandise that will have you ready to step into the ring...or at least have you ready to be cheering ringside.
WWE Shirts for Men
New Day T-Shirt Finn Balor T-Shirt
WWE WrestleMania T-Shirt Dean Ambrose Hoodie
Shirts are the best way to show your allegiance to your favorite WWE Superstar. Show some love for Finn Balor or the New Day in style with some FUN.com exclusive t-shirts. You can also find classic t-shirt designs like Roddy Piper's Hot Rod shirt or the logo for the WWE's flagship event, WrestleMania. These shirts are perfectly practical gifts for Christmas and birthdays, especially a Stone Cold Steve Austin hoodie, which is actually quite warm!
WWE POP! Vinyl Figures for WWE Fans
Of course, you can always look to Funko to find the perfect Christmas gifts and birthday gift ideas from all forms of pop culture. The WWE is no different, with a variety of characters from current favorites like John Cena and Sasha Banks to all-time favorites like The Undertaker or Mick Foley. These Pop! figures are tough enough to display proudly on your desk, but they won't try to put you in a choke hold, so don't worry about that.
WWE Costumes for Men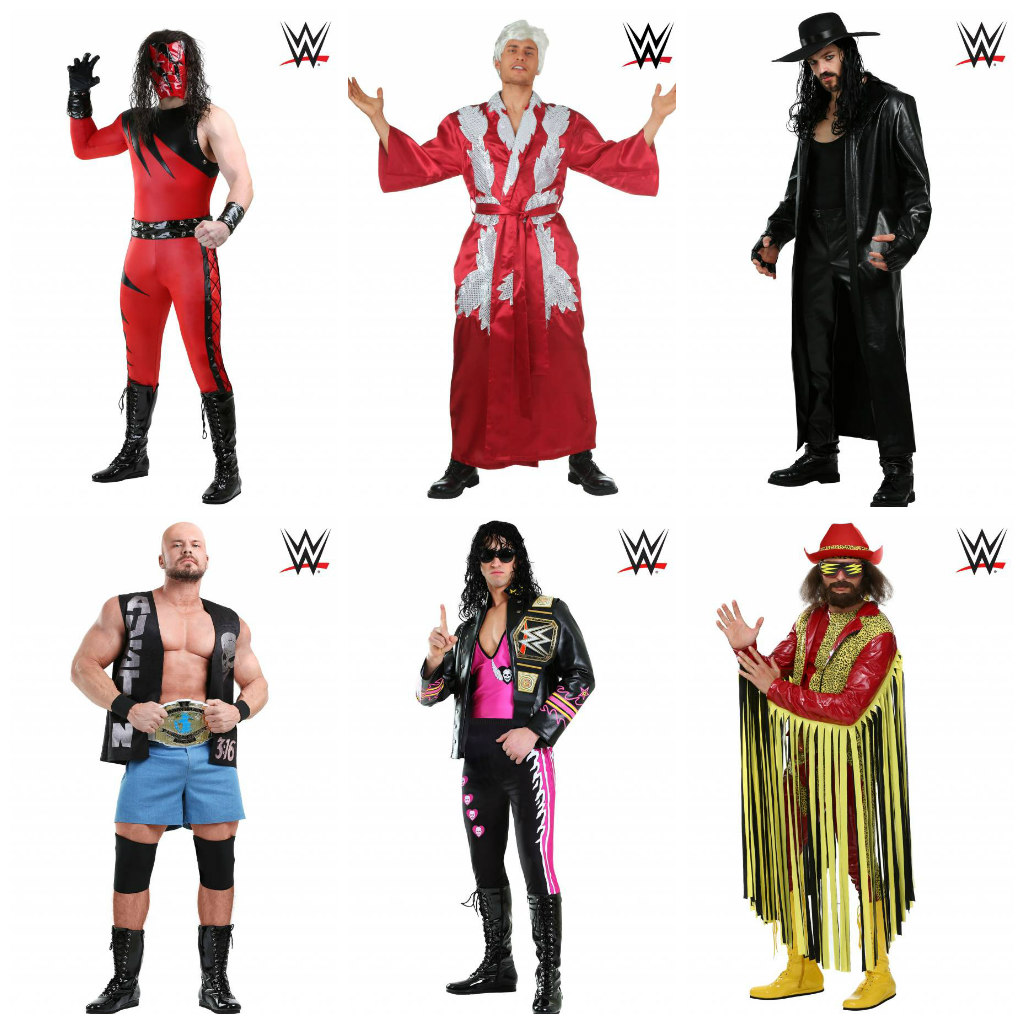 Kane Costume Ric Flair Costume The Undertaker Costume
Stone Cold Steve Austin Costume Bret Hart Costume Macho Man Randy Savage Costume
If you like wearing apparel showing off your favorite wrestlers, why not up your game a bit and dress up as them? With these WWE costumes, you can get the look of Superstars like Ric Flair, Hulk Hogan, "Stone Cold" Steve Austin and more without even having to step into the ring. (Remember, just because you look the part doesn't mean you should try out the moves.) Leave the body slams and finishing moves to the trained professionals.
WWE Masks for Adults
Macho Man Randy Savage Mask John Cena Mask Kane Mask
Rowdy Roddy Piper Mask Ultimate Warrior Mask Mankind Mask
Maybe dressing up in full costume isn't your thing. That doesn't mean you can't pretend to be any one of your favorite wrestlers. Just put on one of these WWE masks and you're one step closer to looking like Macho Man Randy Savage, John Cena, or the Ultimate Warrior. However, be sure that putting on the mask doesn't lead you to take on the personas of these wrestlers. It might get weird with someone wandering around in a Mankind mask shoving socks in people's mouths a la Mick Foley.
WWE Odd Sox for WWE Fans
Speaking of socks, if wearing your favorite Superstars on your head isn't your thing, you can certainly dress up your feet with these WWE Odd Sox. A pair of knit socks with the Ultimate Warrior's face paint design on them might not allow you to kick through walls, but they sure are comfy and stylish. Typically socks aren't the most exciting Christmas gift idea, but ones that look like this are perfect for any WWE fan.
WWE Gifts for Fans
WWE Title Belt Sculpted Mug WWE Universal Champion Belt
Looking for more WWE gift ideas? How about some drinkware like a championship belt-shaped mug or a set of shot glasses featuring WWE legends? Something like that can always come in handy while taking in the latest pay-per-view events. You can even enhance your championship-caliber fandom with a replica belt. WWE Superstar ornaments are not only a great Christmas gift idea, but also a great piece for decorating your own tree as well!
Who is your favorite WWE Superstar? Are you a fan of current champions like Brock Lesnar and AJ Styles? Or are you hoping someone wins the belt away from either of them? We have no preferences so long as the matches provide top-notch entertainment. We hope you've found some FUN things to help show off your WWE fandom. Our WWE gifts category is constantly growing, so keep checking back if you're looking for more WWE FUN while on the road to WrestleMania.