The countdown is on to February 14th. Valentine's Day is a fun holiday for couples to celebrate, but can also present a challenge as far as gift-giving goes. Flowers, candy, and heartfelt cards are great but are also viewed as the default Valentine's Day gift. Also, they may not be the top choice for everyone. Looking for Valentine's gifts for him or her that are a little more unique?
Sure, you want to get your significant other, like, THE PERFECT present to tell them, "I love you," but…what? Wasn't it JUST Christmas? You exhausted all your gift-giving ideas back in December, and now you have to think of something even more meaningful? More sentimental? More romantic? AND with a loved one as unique and interesting as yours, cliché boxes of chocolate and a dozen roses just won't cut it.
What other options are there? Of course, some people spring for expensive jewelry on February 14th, but for people who haven't been dating very long, they may not be ready to dive that deep into their pockets. Well, we put together this helpful list of some great gifts that break the mold. We've got Valentine's Day gifts for your boyfriend, girlfriend, wife, husband, friend, neighbor, and boo-thang! Thankfully, you have Fun.com to help you pick out some show-stopping, unique Valentine's Day gifts for the one you love.
Valentine's Day Clothes and Apparel
No matter what kind of gift you get for your valentine this year, make sure it's something they love. What better gift than some Valentine's Day clothes and apparel showing off their favorite movies or TV shows? Whether they enjoy all-time classics like Care Bears and Star Wars or they love DC Comics superheroes, you know they'll be able to show it off. What better way to let them know you care than buying matching underwear! Or find some cute Valentine socks for some extra flair. Apparel is a great Valentine's Day gift idea that shows off your thoughtfulness in knowing what they like.
Unique Valentine Gift Ideas
Valentine Jewelry and Gifts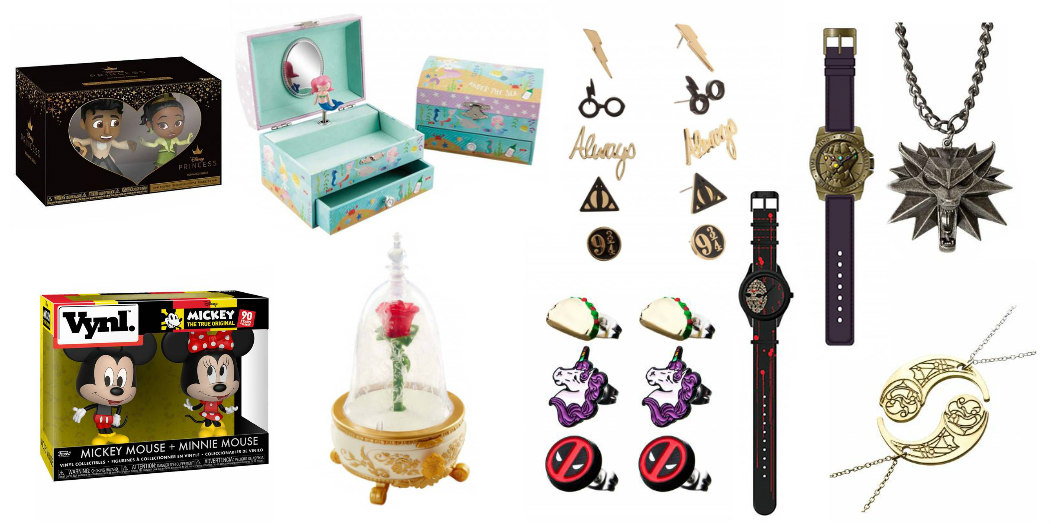 We know we said jewelry wasn't always everyone's ideal gift, but what if that piece of jewelry is based on popular TV shows like The Witcher or action-packed movies like Deadpool—and it's affordable? That's right! You can find Valentine's Day accessories gifts for him and her that matches both their pop-culture interests and their hobbies. From Harry Potter to Disney, we have jewelry gifts that are perfect for him or her. Or find some wrist candy in this selection of watches. Plus, we even have jewelry boxes for your significant other to store his or her valentine jewelry. Of course, you can find all of these fun accessories at Fun.com!
Bags and Backpacks
Backpacks, purses, and wallets make great gifts that are both practical and stylish. Looking for a gift for him that he can bring to the office? An Overwatch backpack is the perfect subtle item for him to carry around his belongings in geeky, video-game fashion. For something a little more noticeable, what better gift for men who like to hit the gym than a Rick and Morty gym bag? Or buy a Minnie Mouse purse or an Anna from Frozen mini backpack as a lovely Valentine's Day gift for girlfriends who are always on the go!
Cold Weather Gifts
Valentine's Day falls right in the middle of winter, so many of us are still bundled up, cozy at home in the evenings, trying to stay warm. A perfect way to "heat things up"—in a completely literal and innocent way—is with a gift package full of cuddly accessories. Pick a theme that fits their interest, like Avengers, Game of Thrones, or Disney, and go to town. There are tons of fuzzy blankets and mugs to choose from that would go together perfectly for a cuddly night in. Become a stuffed burrito when you two snuggle inside one of these warm valentine blankets. For a warm drink, choose from matching valentine mug sets or a pop-culture inspired mug from which they'll love to sip coffee, tea, hot cocoa...or you know, a little wine.
Valentine Mugs
There's nothing like waking up in the morning to a hot cup of coffee. Spread that joy to your significant other and they'll definitely know you love them! Choose from any of these valentine mugs for a fun way to show you care. Whether they love Marvel or nostalgic cartoons, they can enjoy their cup of Joe with a smile on their face!
Valentine Blankets
Since Fun.com is based out of Minnesota, we're no strangers to harsh weather, especially the frigid winters. We know the best way to cuddle up is with a big fluffy blanket. This Valentine's Day, treat your other half (and you) with one of these cozy valentine blankets!
Hopefully, you've found something that will make your significant other smile this V-Day. Do you have any other out-of-the-ordinary Valentine Gift ideas? If you still need some more recommendations, check out our Valentine's Day category for more great gifts. Are you a last-minute shopper for Valentine's Day? Let us know if this guide helped you out or if you found any other great, unique gifts for Valentine's Day this year in the comments below.