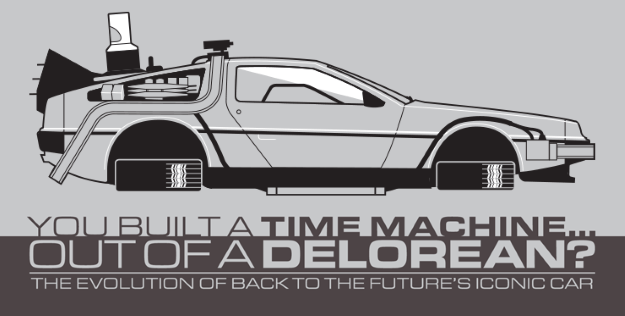 Few car models have had such a strange and exciting history as the DeLorean DMC-12 sports car. The Delorean Motor Company had a tumultuous and storied history, with the DMC-12 being the sole vehicle that made it through the assembly line. Today, this iconic car is known less for the machinations that brought about its life and death, and more for its appearance in the three Back to the Future films. Chosen by the filmmakers for its affordability and unique design, the DMC-12 is instantly recognizable as "the Back to the Future car" even by those who have not seen the films. Take a trip with us as we look back (and forward) at the evolution of the DeLorean time machine.
[Click infographic for a larger view]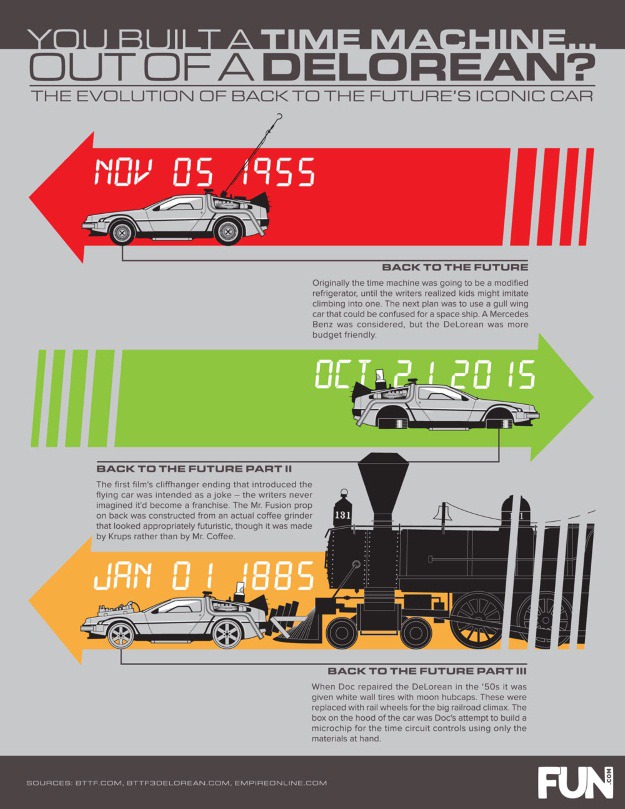 Embed This Image On Your Site:
You Built a Time Machine...Out of a DeLorean?: The Evolution of Back to the Future's Iconic Car Transcript
Back to the Future
Nov. 5, 1955
Originally the time machine was going to be a modified refrigerator, until the writers realized kids might imitate climbing into one. The next plan was to use a gull-wing car that could be confused for a space ship. A Mercedes Benz was considered, but the DeLorean was more budget-friendly.
Back to the Future Part II
Oct. 21, 2015
The first film's cliffhanger ending that introduced the flying car was intended as a joke—the writers never imagined it'd become a franchise. The Mr. Fushion prop on back was constructed from an actual coffee grinder that looked appropriately futuristic, though it was made by Krups rather than by Mr. Coffee.
Back to the Future Part III
Jan. 1, 1885
When Doc repaired the DeLorean in the '50s it was given white wall tires with moon hubcaps. These were replaced with rail wheels for the big railroad climax. the box on the hood of the car was Doc's attempt to build a microchip for the time circuit controls using only the materials at hand.
Sources: BTTF.com, BTTF3DeLorean.com, Empireonline.com
Which version of the iconic DeLorean time machine is your favorite? If they were to reboot the Back to the Future franchise, what car would you love to see them use? If you'd like to put on your own version of Back to the Future in your living room, thankfully, we've got you covered. Fun.com is the exclusive seller of the officially licensed 1:1 scale Hoverboard, Back to the Future 2 light up shoes, 2015 Marty McFly hat, and many more exciting Back to the Future gifts.
Design Credit: Kate Willaert