There are so many reasons to love animals. Some of them make great pets—they also contribute to the ecosystem in ways we can't always imagine, and at their most basic, they make life more enjoyable. While there are people who like animals, we're going to be talking about gifts for people who love animals—especially our pet owners out there! (And with a pop culture twist.) We hope you enjoy these awesome gifts for animal lovers!
Dog Clothes for Humans
Who is your favorite cartoon dog? We love the idea of a 101 Dalmatians sweater dress for dog mom gifts. And who could overlook everyone's favorite mystery pup, Scooby-Doo, on a fun sweatshirt? Even a pair of Bluey pajamas make great gifts for young animal lovers. It's a tough choice, so we'll say that we love them all!
Cat Clothes for Humans
Many people who enjoy cats will love to have a cat on their clothing! Cozy cat cardigans make wonderful cat mom gifts, and the cat dads out there may want a ball cap or vintage sweater. (Bonus points if you can give a black cat gift to someone who owns a black cat!) These gifts for pet lovers are guaranteed to be loved and used.
Pet Sweaters
Would you like to discuss some puppy presents? People love to dress up their dogs, especially if their pooch is not a fan of chilly weather. Dog jackets and sweaters make the perfect gifts for dog owners in cold climates! Find something fun and festive, like one of these Christmas dog sweaters, or show off their nerd pride with a Cthulhu dog sweater. After all, a cozy pup is a happy dog.
Matching People and Pet Sweaters

We know that we just talked about pet sweaters, but how cute are these matching people and pet sweaters? Most of our pet sweaters also have a version that you can wear, so you can be extra matchy-matchy with your furry friend. Wear these ugly Christmas sweaters for your Christmas party, or get the holiday spirit going early by taking the most adorable photos for your Christmas cards. You're sure to sleigh all day in these adorable matching sweaters!
Cute Dog Collars
Sure, one man's cute is another's pop culture nerd, but everyone's dog will look adorable in a Scooby-Doo dog collar. If you're hoping for something a little more nerdy-subtle, a Star Wars dog collar inspired by Boba Fett's outfit may be the way to go. However, Marvel fans may enjoy a bright, bold dog collar—especially if their pet is named after their favorite Marvel character!
Cool Cat Collars
Fun cat collars are great gifts for cat lovers! Do you have a friend or family member with a black cat named after Thackery Binx? Or other collars, such as a polka-dot Minnie Mouse collar, would make an adorable gift. Even if a person simply loves a movie or TV show, these unique cat collars will help their pet stand out from the crowd.
Cool Dog Leashes
When some men and women who love dogs take their pets out on a stroll, they love cool pet accessories that are guaranteed to turn heads. A bright, green Teenage Mutant Ninja Turtles leash will get you noticed! Yet, we love how these gifts for pet owners are fun and functional. The secure clip will keep a pet leashed properly as you walk around the neighborhood with these cool dog leashes.
Unique Pet Beds
Try a fun new pet bed if you're shopping for unique gifts for animal lovers! These licensed dog and cat beds will make a pop culture geek's day. While it's not exactly the bat cave, a bat cat or dog can chill in style in a Batman pet bed, and the Friends bed looks nearly as comfy as their famous couch. Just make sure to check the sizes available, so you're not getting a Chihuahua-sized pet bed for a Great Dane!
Squeaker Toys
Some of the best gifts for animal lovers are fun toys for someone's pet to enjoy. Have you ever gotten a thank-you video with a dog or cat playing with a new toy you bought for them? We love that! Should you know a pet's birthday, these silly squeaker toys are some of the most fun dog birthday presents. Or, they're also great dog gifts for Christmas. Do we even need a holiday to make a pet's day?
Cute Plush Animals
Maybe someone is simply an animal lover, and they don't have a pet of their own. (This especially applies to kids!) Enter the stuffed animal, some of the best animal gifts for people who love animals. We know that tigers and lions are best left in the wild, but a tiger lover will freak with a tiger stuffed animal gift. There are even famous pets in TV shows and movies, such as Kirara and Luna. You may not be able to have them as a pet, but you can give them as a gift!
Unique Pet Carriers
Anyone looking for cat dad gifts should check out these unique pet carriers. When you walk into the vet's office, and everyone's watching you bring your cat in the catmobile carrier, it makes you feel fantastic, right? Or maybe someone has a small dog that would feel at home in the Mystery Machine. When you port your pet around, why not do it in style?
Pet Costumes for Cats and Dogs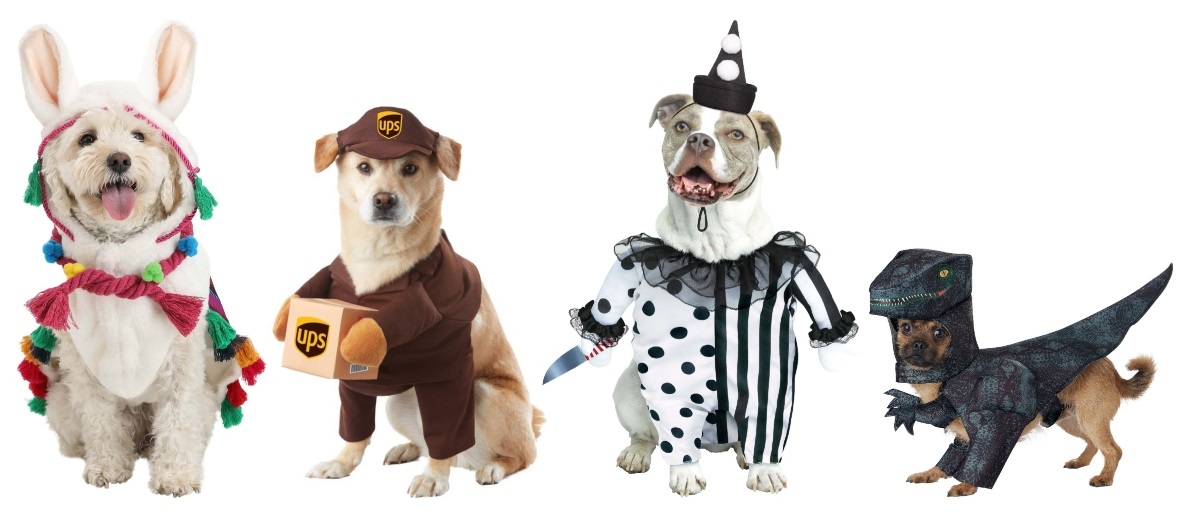 While pet costumes might seem like unusual gifts for animal lovers, some people love to dress their pets up for more than just Halloween. (Especially if you happen to know a blossoming petfluencer!) We have fun pet character costumes, and everyone loves a dog in a dino costume. If you ask us, these are some of the best funny dog gifts that no one expected!
Have you recently found yourself looking online for animal gifts? Are you the biggest animal lover in your family? We love all of the memories we have made with loved ones and their furry companions. Let us know if there are other animal gifts you'd like to see on FUN.com!