We all need to drink now and then, whether it's water or coffee or wine, so why not drink in style? From mugs to wine glasses to shot glasses and much more, we put together a collection of must-have drinkware for you! After all, who wouldn't want to drink from a Baby Yoda mug or take pulls from a donut flask? Keep on reading to find the best drinkware for YOU! And who knows, you might even find yourself buying the entire collection!
Fun Mugs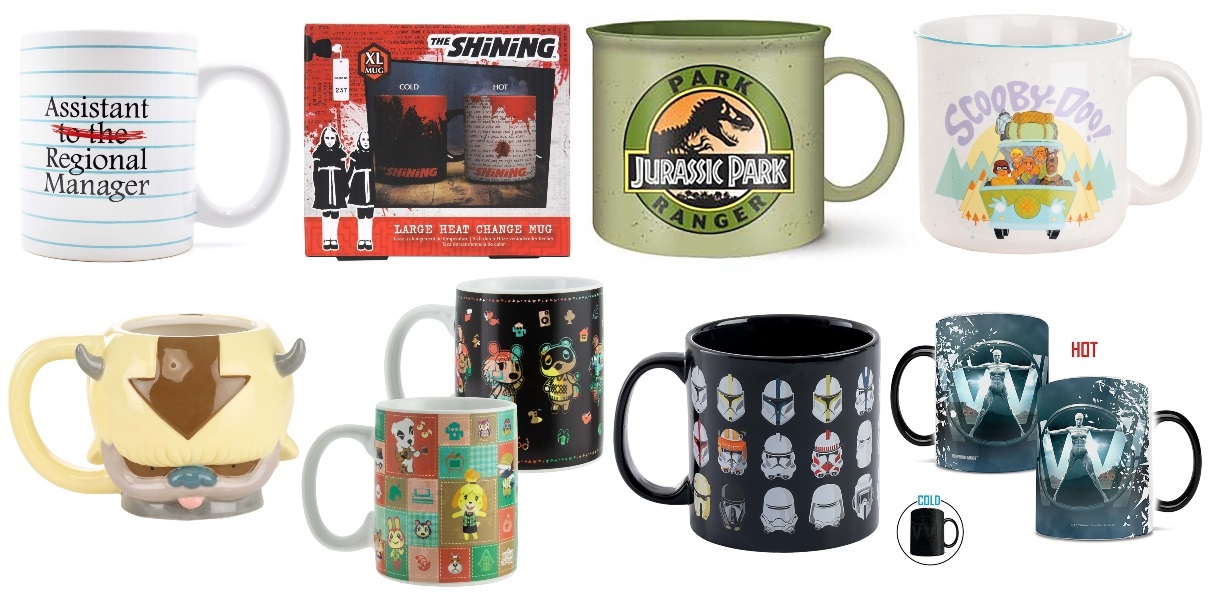 There's nothing that a good ol' cup of joe can't solve. Why not do it in style with some of our favorite novelty coffee mugs? Paying tribute to the best assistant regional manager, this The Office mug is perfect for the ultimate binger of the beloved sitcom. Is your coffee out of this world? We also have Star Wars mugs to choose from as well! If you're looking for cool mugs, this Jurassic Park ranger mug will surely make you look badass drinking from it. Still haven't come across one you love? The good news is, we have hundreds of mugs for you to choose from!
Novelty Soup Mugs
Is there anything more comforting than a nice, warm mug of soup? Sure there are bowls, but nothing beats a nice soup mug with a convenient handle, or even a lid! Serve up some sleuthing soup with Scooby-Doo, or snuggle up with a cozy Disney soup mug. These fun soup mugs also make excellent gifts around Christmas, when we all want warm food to keep the cold at bay.
Geeki Tikis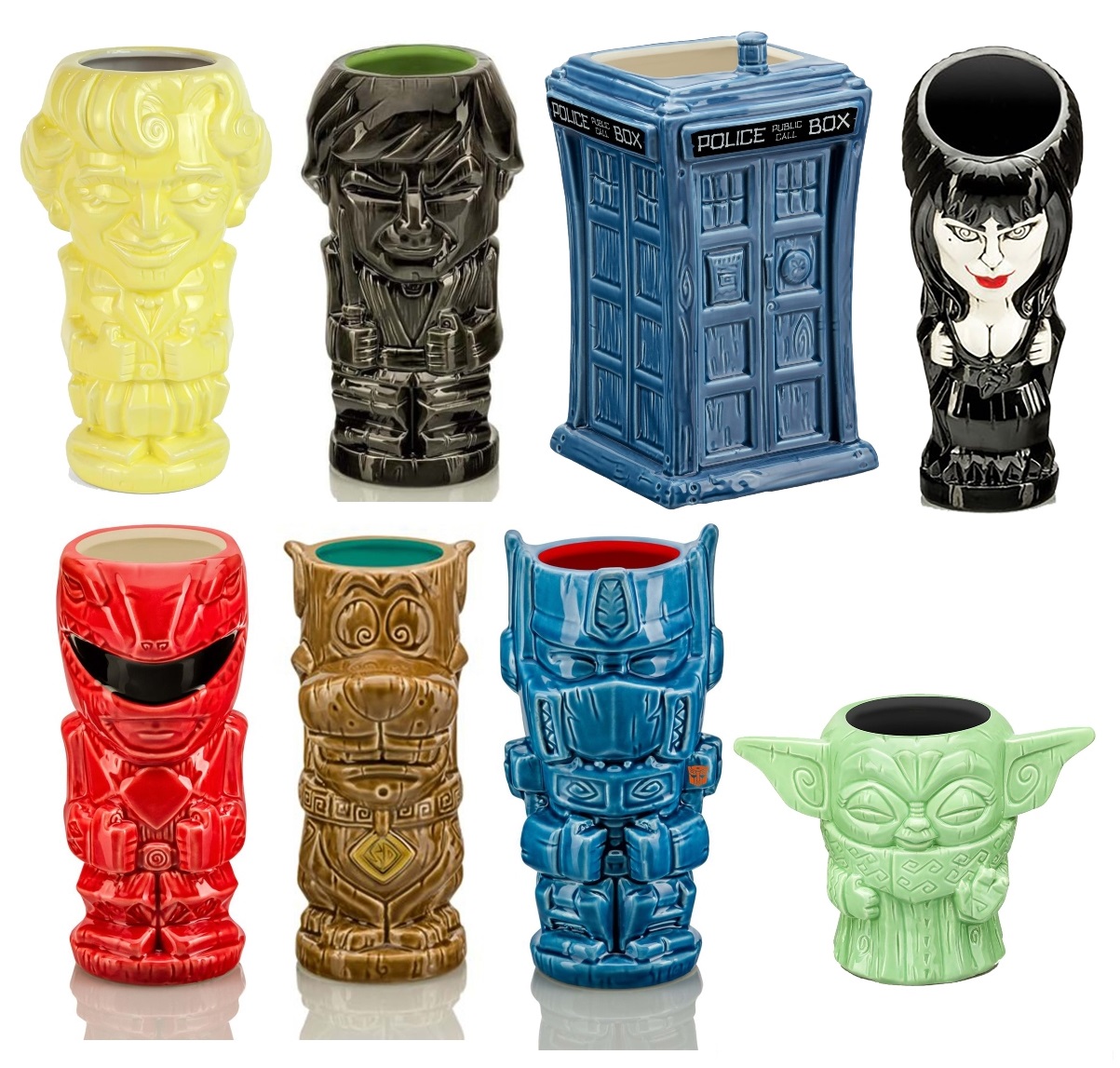 Nerdy drinkware doesn't get much geekier than Geeki Tikis! Whether you're filling your tiki mug with your favorite frozen drink recipe or tropical beverage, there's nothing more refreshing than geeking out in style. Geeki Tikis make all kinds of fandom-based tiki mugs for everyone, from Disney and cartoon characters to Star Wars, Doctor Who, and more. The sculpts are so much fun on these character mugs that it's hard not to want to collect them all!
Fun Water Bottles
Water bottles are a great accessory to carry around with you to work, school, the gym, pretty much anywhere! Grab one that shows off a bit of your personality with one of our nerdy water bottles! Whether you're looking for an insulated water bottle, a stainless steel water bottle, or a BPA-free plastic water bottle, we have all sorts of options to quench your thirst. Another thing to consider while shopping for a water bottle is the size. Many people wonder, "how many bottles of water should I drink a day?" Some officials suggest half a gallon or 64 oz. Using this number, you can determine which water bottle would be the right size for you!
Cute Tumblers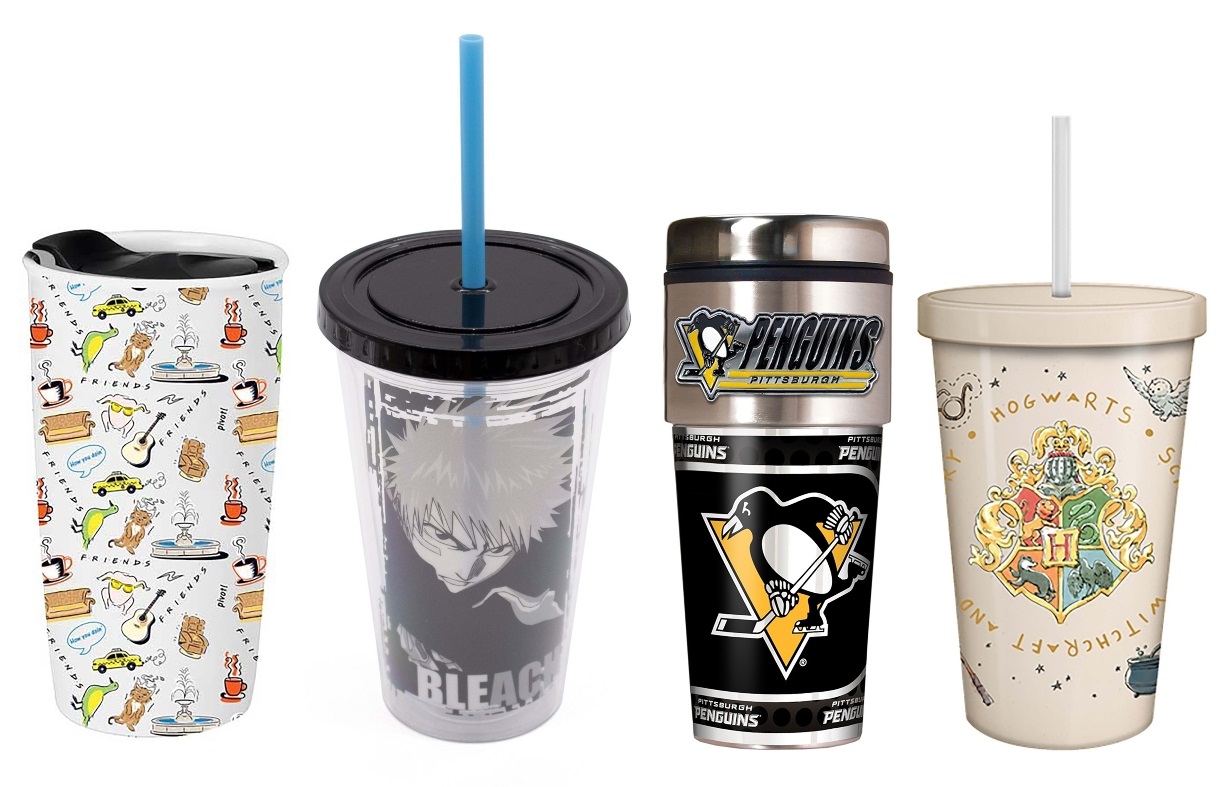 Tumblers are great to keep in your collection for on-the-go hydration. Not only are they made to be on the go, but they also have a ton of great features as well! These novelty tumblers are durable and will keep both your cold and hot beverages at their appropriate temperature! The insulated design on some tumbler cups also helps keep condensation from the sides, which is a huge plus for those who don't like a sweaty tumbler.
Stainless Steel Wine Tumblers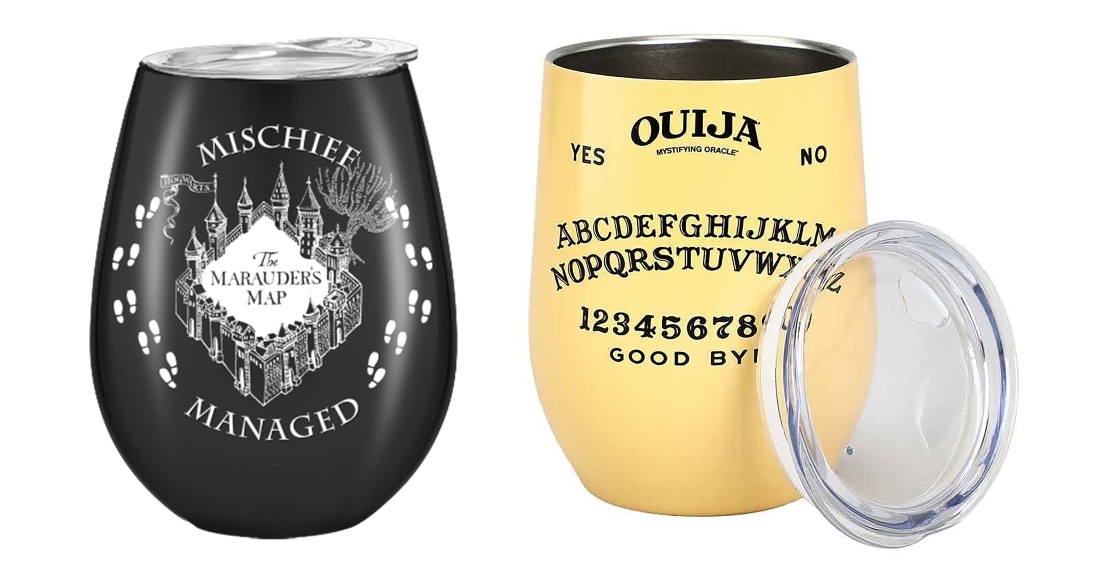 It's nice to have a cup of bubbly once in a while, but when you're out lounging at the pool or camping, sometimes you want a stemless wine glass that won't break on you. But, you don't simply want a plain stainless steel wine tumbler—you want something with a little pizzazz! Enter these fun, insulated wine tumblers. (As a bonus, they also come with lids to help keep the bugs out!) They're incredibly durable wine glasses that do a great job at keeping your drinks cool as well as safe.
Fun Wine Glasses
There's nothing better than coming home from work, kicking off your shoes, and pouring a nice glass of wine. There are countless types of wine glasses available, so if you're looking to spice up your collection, we've put together some of our favorites available on our site. If you have a bit of an 'extra' personality, the ornate goblets would be the perfect match for you! Or, if you're concerned about spilling because you have kids or pets, maybe a stemless wine glass is more your style. They're available for a variety of fandoms as well, from Disney to Harry Potter to Game of Thrones!
Cool Shot Glasses

Did someone say shots? While they might not necessarily hydrate you, they'll definitely put some life in you! No home is complete without a few sets of unique shot glasses to entertain your guests. From Disney Princesses to Disney Villains, Game of Thrones to Ghostbusters, we have a wide selection of shot glasses available that are both hilarious and great conversation starters. We've been voting for which one is our favorite and we need your help deciding. The Friends shot glasses are in the lead, so comment below which set is your personal favorite and help us decide!
Nerdy Neoprene Koozies and Flasks
Check out our hilarious can koozies and hidden flasks. They all keep your drink insulated but show off your personality! Fans of Futurama can pretend they're drinking Slurm—"it's highly addictive!"—while the Super Mario bros can enjoy their 1-UP. The donut flask is for Simpsons fans, or anyone who enjoys a nice frosted snack! However, we can't let this crazy-looking Hulk-hand drink holder escape your attention. (Maybe don't "Hulk smash" with a drink in hand.)
Nerdy Coasters
Beverage holders are cool and all, but don't forget about all the necessary accessories! Coasters are great for protecting your coffee table, computer desk, and other surfaces from having glasses on bare furniture. And, because we love pop culture, why not make coasters FUN? These gaming coasters are perfect to have as part of your desk setup, but you can find them for movies and TV shows too. A few are even trivia coasters, which make great ice-breakers when you have company.
Fun Bottle Openers

If you love the satisfying sizzle sound when cracking open a bottled beverage, you're going to love these unique bottle openers. Cool and quirky, they're perfect for people that like to be out of the ordinary. (Not to mention safer than trying to impress people by taking off bottle caps with your bare hands!) Just make sure to have your unique bottle opener handy when tailgating, at home with friends, or wherever you might happen to be.
Feeling thirsty? Us, too! Head over to our drinkware category and add some of your favorites to the cart. We also have plenty of other fun kitchenware for you to shop from in case you're looking for an entire kitchen refresh. We even wrote a gift guide about our favorite geeky kitchen gadgets!