You did it. You almost thought it wasn't possible, but you made it all the way to adulthood, moved out of your parents' place, and now you have a kitchen of your own. You cook your own dinners these days, you drink out of your own coffee mugs, and gosh darn it, you make your own toast in the morning! Since you can do whatever you want with your kitchen, why not decorate it in true nerd fashion with some awesome geek swag? Perhaps you could adorn your countertop with a nice Disney cookie jar to house your latest baking craze. We've picked out some of the best kitchen gadgets and other food prep helpers that are 100% nerdy and 100% a necessity for any nerd with a geek kitchen to decorate.
Novelty Waffle Makers

If you thought those plates were cool, just wait till you get a look at these character waffle makers! Not only are some of your favorite movie superheroes immortalized in flaky breakfast goodness, but you're getting waffles with character. Would you like to dine with the Teenage Mutant Ninja Turtles? What about some Waffles Wakanda? Well, these kitchen appliances should help you create your own delicious meals while adorning your kitchen with geek chic style.
Quirky Taco Holders
If you're looking for something for your friends and family to 'taco bout, present these funny taco holders at any taco night and watch the joy unfold. Crazy creatures like dinosaurs and unicorns will fill your guests with delight (and tacos), while green army men just might win over your Toy Story-obsessed picky little eaters. Of course, there's also a football helmet taco holder perfect for showing off your snack bar on game day.
Unique Salt and Pepper Shakers
Add a dash of salt and pepper to your dishes with these dashing salt and pepper shaker sets. You can find a variety of Disney salt shakers and ceramic salt and pepper shakers from other movies, too. These unique kitchen items will certainly delight dinner guests when you bring them to the table!
Unique Teapots
Adults with kitchens drink tea as they try to wean themselves off their college coffee binge days. Tea is the sophisticated potable that gives a slight boost of energy in the morning, but that doesn't mean you should do it in the normal, old boring ways. You can do it in glorious, nerdy style by choosing a fun teapot! Feel like you're part of the Avatar: The Last Airbender universe when you break out a Jasmine Dragon teapot or enjoy the finer things in life when you sip on a cup from this The Office tea set. However, you don't have to keep the wonders of tea to yourself! Invite your friends over for a tea party so you can show off your geeky novelty teapot.
Unique Cookie Jars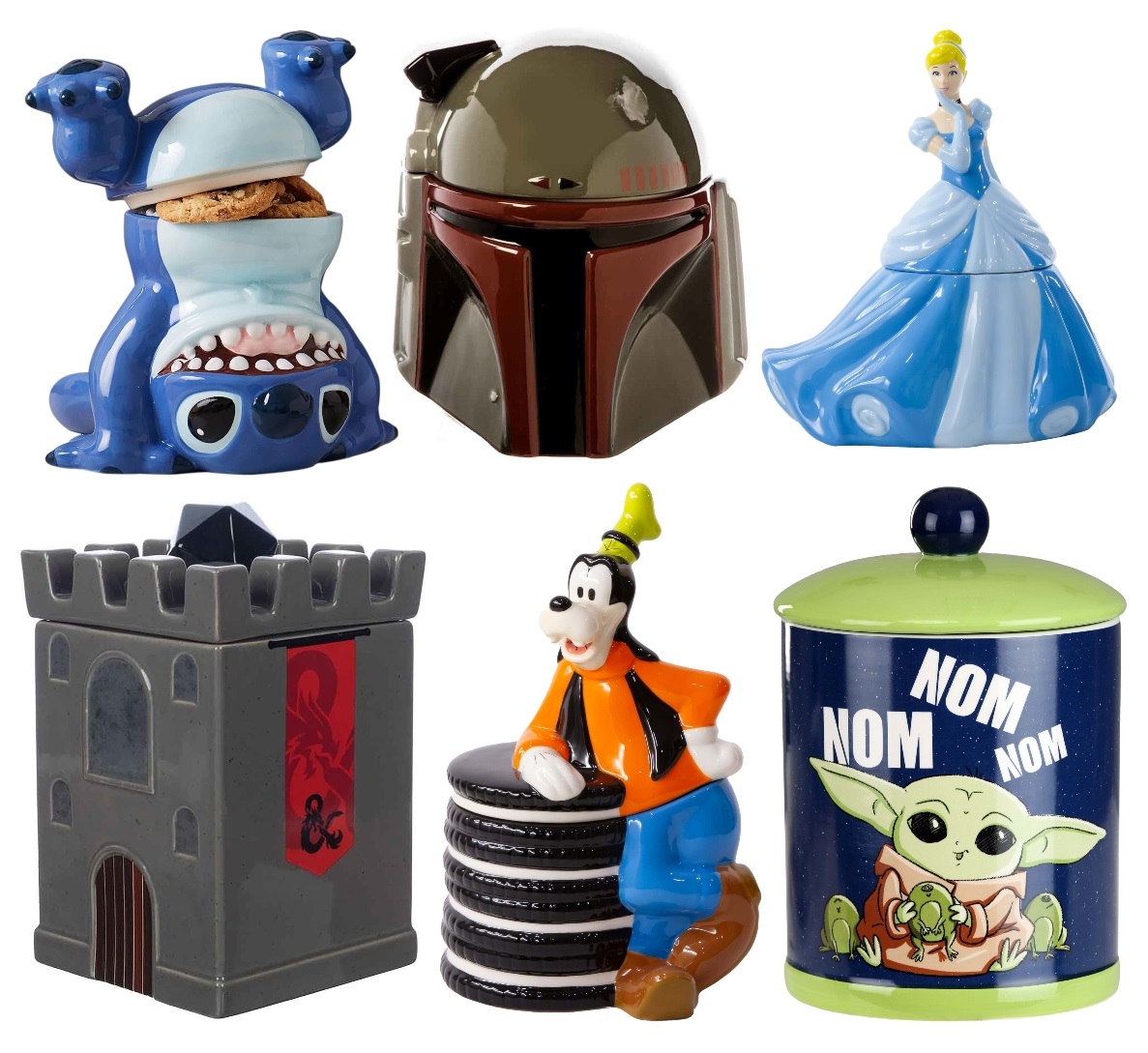 Cookies are great, but cookies in nerdy cookie jars are even better. Kids will love coming to your geek kitchen to open up a Star Wars or Disney cookie jar to retrieve the goodies within. It's almost like having a decorative statue with a function other than looking cool! (If you ask us, that's a win-win.) They have everything from princesses to bounty hunters and even Dungeons & Dragons kitchen gear. Your cookies will be almost as fun to eat as they are to get from the kitchen!
Funny Fridge Magnets
What's a fridge without a bit of swag? Decorate your refrigerator with colorful, fun magnets for the fridge that are both colorful and functional! Geek novelty magnets are where it's at! You'll love getting breakfast in the morning with a smile from Friends, and you can work out the best battle strategies with a Game of Thrones magnet map. (Just make sure to hide the goodies you don't want to share. You can't blame Tyrion if they go missing.)
Unique Dinner Plates and Dish Sets
If you want to eat, sleep and breathe Harry Potter, Disney and other favorite fandoms, let's get you started on the eating part. Normal plates are okay, but wouldn't you like to feel like you're sitting down for a meal in the Hogwarts great hall? What about a Disney palace? You might not be able to do so, but these licensed plates will at least bring you one step closer.
Nerdy Ramen Bowls with Chopsticks

Are you looking for a ramen bowl set with chopsticks, but you're hoping for something a little less ordinary? Well, take a look at these awesome ceramic ramen bowls with chopsticks! You'll be more than ready to chow while watching your favorite anime, or perhaps other movies or TV series. Even if you're simply planning on a quiet meal without the entertainment, your chopsticks will always be ready to dig into a bowl of delicious ramen.
Other Nerdy Kitchenware
You might be surprised to know that there are even more unique kitchen gadgets perfect for nerds like us. Want a sip of your favorite juice with Lilo and Stitch? How about a cup of coffee with Wonder Woman? Nerdy kitchen gadgets run the entire gamut, from popcorn makers and cheese graters to slow cookers and popsicle makers. If you're ready to go on a geek cooking binge, you can find everything you need at FUN.com!
With these kitchen gadgets and tools, you should be able to live like a true adult without sacrificing your nerdy passions. Which kitchen gadget is your favorite? Make sure to check out all of our nerdy kitchen gadgets and let us know your must-have item for your kitchen. You may also be interested in our gift guide to nerdy glassware and drinkware!