We all need to drink now and then, whether it's water or coffee or wine, so why not drink in style? From mugs to wine glasses to shot glasses and much more, we put together a collection of must-have drinkware for you! After all, who wouldn't want to drink from a Baby Yoda mug or take pulls from a donut flask? Keep on reading to find the perfect drinkware for YOU! And who knows, you might even find yourself buying the entire collection!
Coffee Mugs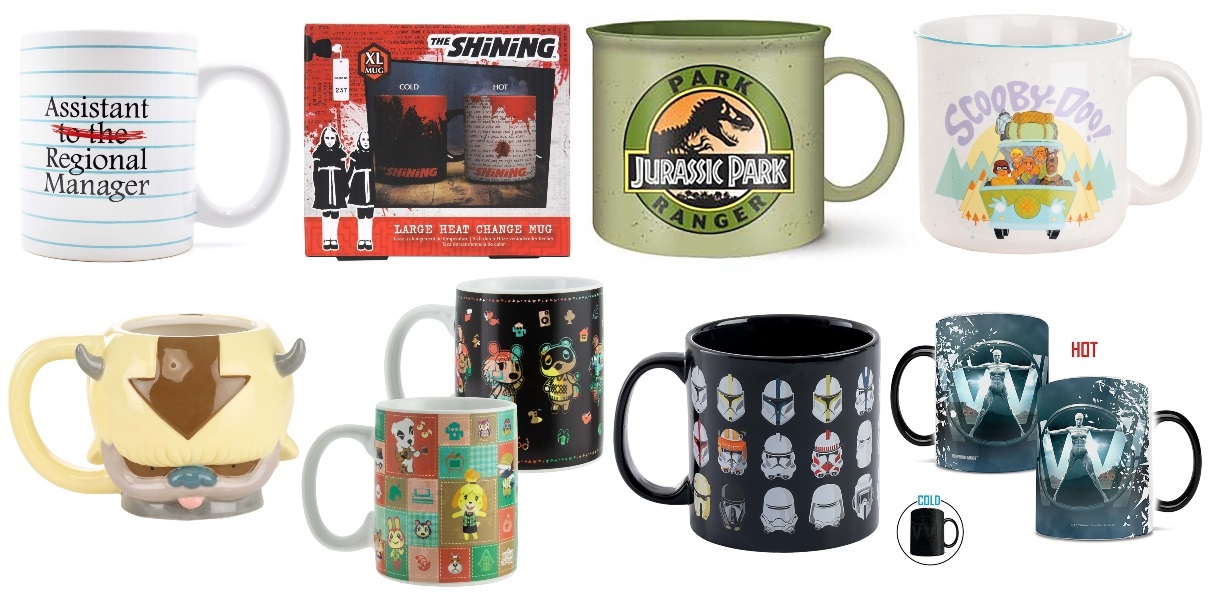 There's nothing that a good ol' cup of joe can't solve. Why not do it in style with some of our favorite pop culture coffee mugs? Paying tribute to the iconic coffee shop, Central Perk, this Friends mug is perfect for the ultimate binger of the beloved sitcom. Is your coffee out of this world? We also have Star Wars mugs to choose from as well! If you're looking for cool mugs, this Thor hammer mug might not be the most practical, but you surely will look badass drinking from it. Still haven't come across one you love? The good news is, we have hundreds of mugs for you to choose from!
Water Bottles
Water bottles are a great accessory to carry around with you to work, school, the gym, pretty much anywhere! Grab one that shows off a bit of your personality with one of our pop culture bottles! Whether you're looking for an insulated water bottle, a stainless steel water bottle, or a glass water bottle, we have all sorts of options to quench your thirst. Another thing to take into account while shopping for a water bottle is the size. Many people wonder, "how many bottles of water should I drink a day?" Some officials suggest half a gallon or 64 oz. Using this number, you can determine which bottle would be the right size for you!
Tumblers
Tumblers are great to keep in your collection for on-the-go hydration. Not only are they made tough, but they also have a ton of great features as well! These tumblers are durable and will keep both your cold and hot beverages at their appropriate temperature! The insulated design also helps keep condensation from the sides, which is a huge plus for those who don't like a leaky tumbler.
Shot Glasses
Did someone say shots? While they might not necessarily hydrate you, they'll definitely put some life in you! No home is complete without a few sets of funny shot glasses to entertain your guests. From Disney Princesses to Disney Villains, Golden Girls to Ghostbusters, we have a wide selection of shot glasses available that are both hilarious and great conversation starters. We've been voting for which one is our favorite and we need your help deciding. The Toy Story shot glasses are in the lead, so comment below which set is your personal favorite and help us decide!
Wine Glasses
There's nothing better than coming home from work, kicking off your shoes, and pouring a nice glass of wine. There are countless types of wine glasses available, so if you're looking to spice up your collection, we've put together some of our favorites available on our site. If you have a bit of an 'extra' personality, the ornate goblets would be the perfect match for you! They're available for a variety of fandoms as well, from Disney to Harry Potter to Game of Thrones!
Can Koozies and Flasks
Check out our hilarious can koozies and hidden flasks. They all keep your drink hidden but show off your personality! Fans of Futurama can pretend they're drinking Slurm—"it's highly addictive!"—while the Super Mario bros can enjoy their 1-UP. The donut flask is for Simpsons fans, or anyone who enjoys a nice frosted snack! And the binoculars flask is perfect for people who want to sneak—well, we'll let you figure that out for yourself.
Feeling thirsty? Us, too! Head over to our drinkware category and add some of your favorites to the cart. We also have plenty of other fun kitchenware for you to shop from in case you're looking for an entire kitchen refresh. We even wrote a gift guide about our favorite geeky kitchen gadgets!