There are times when it might be hard to find that perfect birthday gift or gift for Christmas. But, let's get real—we live and breathe comic book characters. They're super important to us. If they're super important to you, too, then you're in for a treat! Whether you're buying superhero gifts for yourself or simply in search of gifts for superhero fans, we've got you covered.
Now, you might be wondering why superheroes are so popular, or how they even came to be. And, why are they dressed so strangely when they do their heroics? If you have burning questions like these while you're shopping for superhero gifts, we'll try to answer a few of them here for you. Superheroes' evolution from nerdy comic books to popular movie franchises is pretty awesome!
Keep reading to see our superhero FAQ, or jump to the superhero gift guide.
Superhero FAQ
Who was the first superhero?
The first costumed superhero was The Phantom, who debuted in his self-titled comic strip on February 17th, 1936. Several earlier characters—like Hugo Hercules, the Scarlet Pimpernel, and John Carter—influenced the genre but did not embody all of the typical superhero characteristics.
Who was Marvel's first superhero?
The Human Torch is generally credited as being Marvel's first superhero because he was the first of three superheroes to appear in Marvel Comics #1 (October 1939). The Marvel Comics series was published by Timely Comics, which rebranded as Atlas Comics by 1951 and then as Marvel Comics in 1961.
Who was the first DC superhero?
Superman first appeared in Action Comics #1 (June 1938) and is generally regarded as DC Comics' first superhero. However, a case can be made for Doctor Occult, also from Superman creators Jerry Siegel and Joe Shuster, who first appeared in New Fun #6 (October 1935).
Who was the first black superhero?
Black Panther premiered in Fantastic Four #52 (July 1966) and is generally regarded as the first black superhero. However, Orrin Cromwell Evans' often-overlooked Lion Man debuted in June 1947, 19 years earlier!
Is Deadpool a superhero?
Deadpool is an antihero character who debuted in The New Mutants #98 (February 1991). While he was initially a supervillain, Deadpool became an antihero who operates on both sides of the law.
Is Harley Quinn a superhero?
Harley Quinn has a storied past where she began as a villain on Batman: The Animated Series in 1992. However, after distancing herself from the Joker, she grew into an antihero. Today, Harley Quinn is considered to be a hero after leaving the Suicide Squad and joining the Birds of Prey.
Why do superheroes wear capes?
There is no one reason why superheroes wear capes. Throughout history, capes were worn by the aristocracy to represent their wealth, power and royalty. Capes also add an air of mystery, and heroes like Batman use them as a prop to conceal and glide. Characters with magical powers also often wear capes similar to magicians. While there is no one reason, modern superhero designs generally avoid capes as they are often impractical and unnecessary.
What was the first superhero movie?
Judex, a 1916 French movie serial, was the first superhero movie. In America, the first superhero movie was Mandrake the Magician, a movie series from 1939.
When is national superhero day?
National superhero day is celebrated on April 28th. It was created by Marvel comics in 1995.
Superhero Games
While you can't necessarily be one of your favorite superheroes, you may get the chance to play as one with a number of fun superhero board games. Pick up a superhero-themed Monopoly game, or try something new! You can find plenty of old favorites with superhero themes, as well as some new games for adventurous folks. If you love superheroes, these are sure to be some excellent superhero gift ideas.
DC Comics Women's Suits
We'll start with our newest line of comic-themed suits for women. They're the best superhero gifts for women in need of cool office clothes! You have your choice of a black blazer with a bold printed lining featuring DC Comics superheroes, or a soft pink blazer with a muted lining. The line also includes black trousers with a print on the inside waistband and a pencil skirt with a printed interior lining.
DC Comics Suits for Men
Our FUN Wear line of DC Comics suits also includes six jackets and matching pants for men, which can be superhero dad gifts or even just superhero gifts for men who like fancy things. For dudes who like to keep their superhero fandom in disguise, there are Secret Identity suits with subtle exteriors and comic print interiors from the Justice League to the Joker. For those with more outrageous tastes, consider the Authentic Riddler and Joker jackets and matching pants. You can also find a matching overcoat, vest, and shirt for the Authentic Joker suit.
Men's Marvel Suits

Moving on to our men's Marvel Comics suits, you can find subtle pants with interior linings based on comic book panels, featuring teams like The Avengers, and individual characters such as Captain America. We also make Alter Ego suits designed to look like superhero costumes! They're the perfect Marvel superhero gift for him or you!
Superhero Toys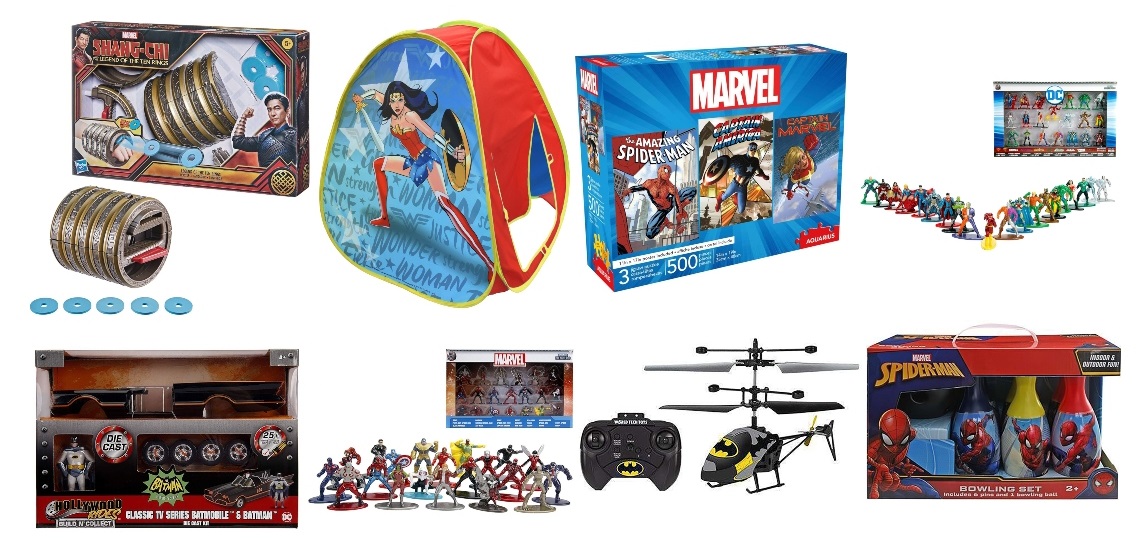 Kids love superheroes just as much as us grownups, so why not find one of a number of superhero toys they're bound to love? We love these packs of Nano Metalfigs mini-figures, filled with plenty of characters ready for action! Batman is also known for having all the toys, from cars to motorcycles and even helicopters, and there are tons of Batman vehicles for kids to play with too. Don't forget various toys, puzzles and other superhero toy items that are sure to keep your kids entertained for hours!
DC Comics Action Figures
If you're more into action figures than clothing, we can help. Square-Enix may be known as a game developer, but they also make collectibles like these figures of Wonder Woman, Robin, and Harley Quinn. You can also find DC Collectibles and DC Designer series figures as well as themed sets of figures and vehicles! And remember that action figures are great superhero gifts for kids and adults, too!
Marvel Statues
Marvel has tons of cool action figures too, such as the Marvel Select series of action figures. You can also find a number of Marvel Gallery statues from Diamond Select Toys. We're talking about classics like The Hulk and Iron Man, Deadpool, and more. However, if you're a fan of stylized statues, you can find cool Marvel figurines by MiniCo and Q-Fig that are as amazing as they are cute. Any Marvel fan would love to receive one or more of these superhero collectibles!
Collectible Superhero Props
Or maybe superhero props are more your style? Like action figures and statues, they also look great on a shelf or a wall, making them fantastic gifts for superhero lovers. (You could even make your own hall of armor just like Iron Man!) Or, if you're the type to actually play with your toys, you can reenact some of the greatest scenes in comic book history. There are Marvel props like Thor's hammer and Captain America's shield, and DC props like Batman's grappling hook and shield and Harley Quinn's mallet. Batman utility belts are also super fun and one of the best Batman gifts for kids! If you're more of a Marvel villain fan, you can even play as Thanos with his Infinity Gauntlet!
Superhero Décor and Home Goods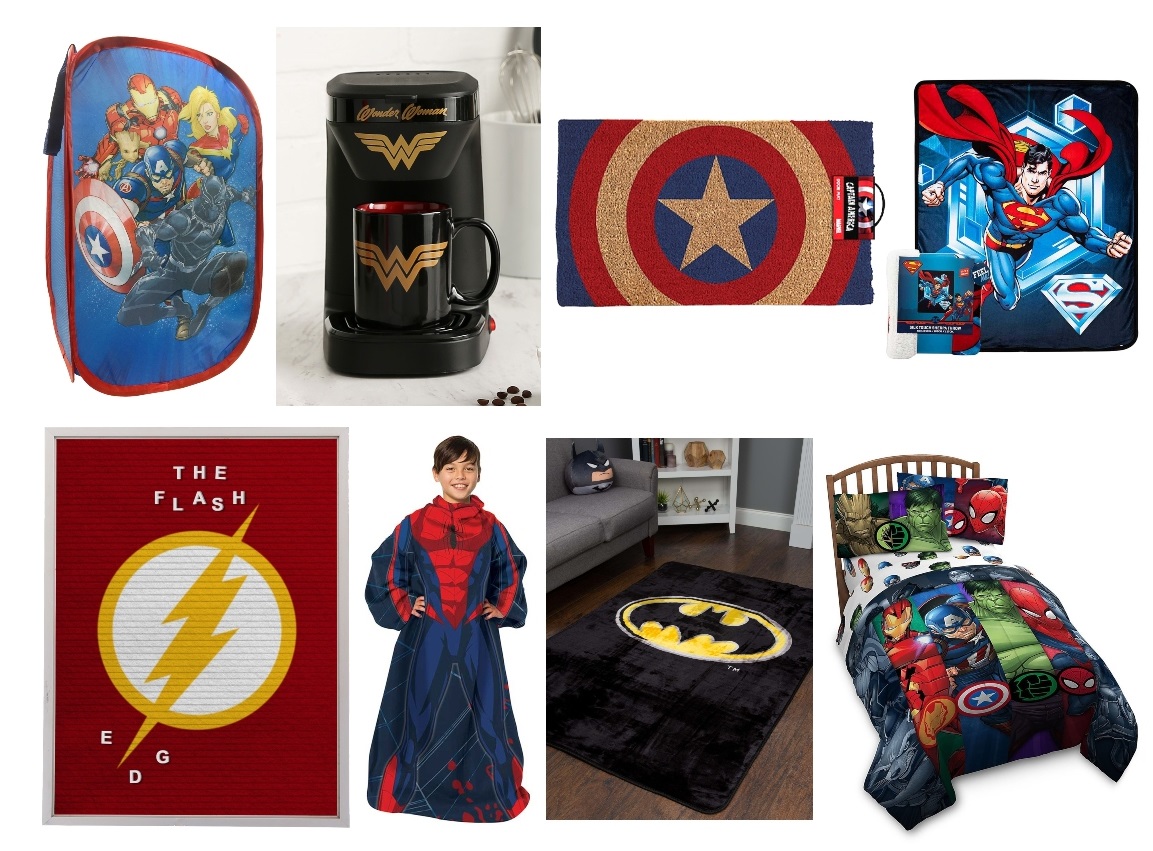 Comic book gifts aren't just about clothes and toys anymore. You can find cool gadgets to use around the home or at the office, like a Deadpool clock or a Spider-Gwen bank. If you're handy in the kitchen, you can find Wonder Woman aprons and Batman toasters and plenty of nifty superhero-themed gadgets! And when it's time for bed, there are blankets and sheet sets of iconic characters like Batman and Captain America!
Funko Pop! Superheroes
Then we come to Pop Vinyl figures. They're great for birthday gifts and Christmas stockings, or really just any time you need to buy someone cool superhero gifts. Or buy yourself a gift. Buy everyone superhero gifts! We've got Marvel Pops from Miles Morales to Shang-Chi, and DC Pops like Wonder Woman and The Flash!
Did you find everything you need? Did we miss one of your favorite superhero toys or collectibles? Let us know in the comments! If you're still looking for that perfect superhero-themed gift, be sure to check out our selection of DC Comics gifts and Marvel Comics gifts!