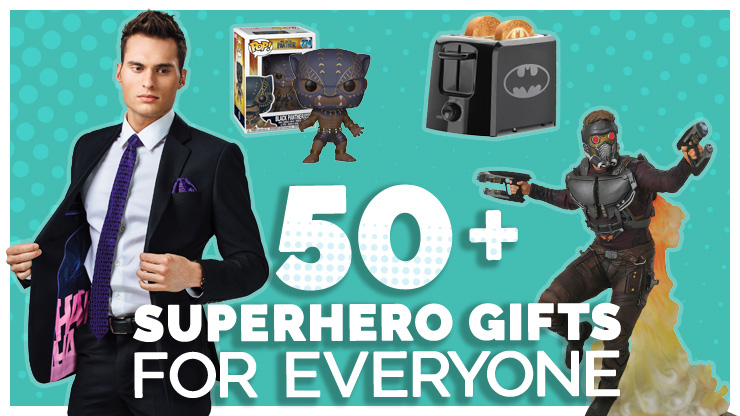 It's finally spring, and that means just one thing to us: plenty of new blockbuster superhero movies for the next six months or so. Okay, sure, nice weather and flowers and stuff, too. But let's get real, we live and breathe comic book characters. They're super important to us. If they're super important to you, too, then you're in for a treat! Whether you're buying superhero gifts for yourself or simply in search of gifts for superhero fans, we've got you covered.
DC Comics Women's Suits
We'll start with our newest line of comic-themed suits for women. They're the best superhero gifts for women in need of cool office clothes! You have your choice of a black blazer with a bold printed lining featuring DC Comics superheroes, or a soft pink blazer with a muted lining. The line also includes black trousers with a print on the inside waistband and a pencil skirt with a printed interior lining.
DC Comics Men's Suits
Justice League Jacket and Suit Pants
The Joker Secret Identity Jacket and Suit Pants
The Riddler Jacket and Suit Pants
The Joker Authentic Overcoat and Suit Pants
Our line of DC Comics suits also includes six jackets and matching pants for men, which can be superhero dad gifts or even just superhero gifts for men who like fancy things. For dudes who like to keep their superhero fandom in disguise, there are Secret Identity suits with subtle exteriors and comic print interiors from the Justice League to the Joker. For those with more outrageous tastes, consider the Authentic Riddler and Joker jackets and matching pants. You can also find a matching overcoat, vest, and shirt for the Authentic Joker suit.
Marvel Comics Men's Suits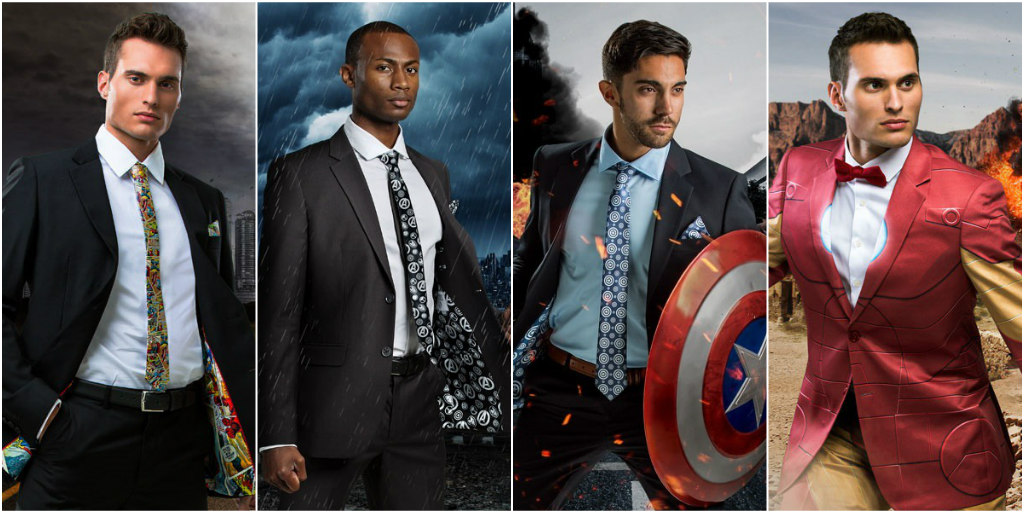 Marvel Comics Jacket and Suit Pants
The Avengers Jacket and Suit Pants
Captain America Jacket and Suit Pants
Iron Man Jacket and Suit Pants
Moving on to our men's Marvel Comics suits, you can find subtle jackets with interior linings based on comic book panels, featuring teams like The Avengers, and individual characters such as Captain America. We also make Alter Ego suits designed to look like superhero costumes! They're the perfect Marvel superhero gift for him or you!
DC Comics Action Figures
If you're more into action figures than clothing, we can help. Square-Enix may be known as a game developer, but they also make collectibles like these figures of Wonder Woman, Robin, and Harley Quinn. You can also find DC Collectibles and DC Designer series figures as well as themed sets of figures and vehicles! And remember that action figures are great superhero gifts for kids and adults, too!
Marvel Comics Statues and Action Figures
Marvel statues: Iron Man, Hulk, Deadpool, Colossus
On the Marvel side of things, there's the Marvel Select series of action figures, with fan-favorite Deadpool, X-Men heavy Colossus, and even Abomination! You can also find a number of Marvel Gallery statues from Diamond Select Toys. We're talking about classics like The Hulk and Iron Man, Deadpool, and a whole line of Guardians of the Galaxy statues, including Star-Lord, Drax with Baby Groot, and Gamora with Rocket Raccoon. Any Marvel fan would love to receive one or more of these superhero collectibles.
Superhero Props and Collectibles
Or maybe superhero props are more your style? Like action figures and statues, they also look great on a shelf or a wall, making them fantastic gifts for superhero lovers. Or if you're the type to actually play with your toys, you can reenact some of the greatest scenes in comic book history! There are Marvel props like Thor's hammer and Captain America's shield, and DC props like Wonder Woman's sword and shield and Harley Quinn's mallet. Batman utility belts are also super fun and one of the best Batman gifts for kids! If you're more of a Marvel villain fan, you can even play as Thanos with his Infinity Gauntlet!
Superhero Home and Office Gifts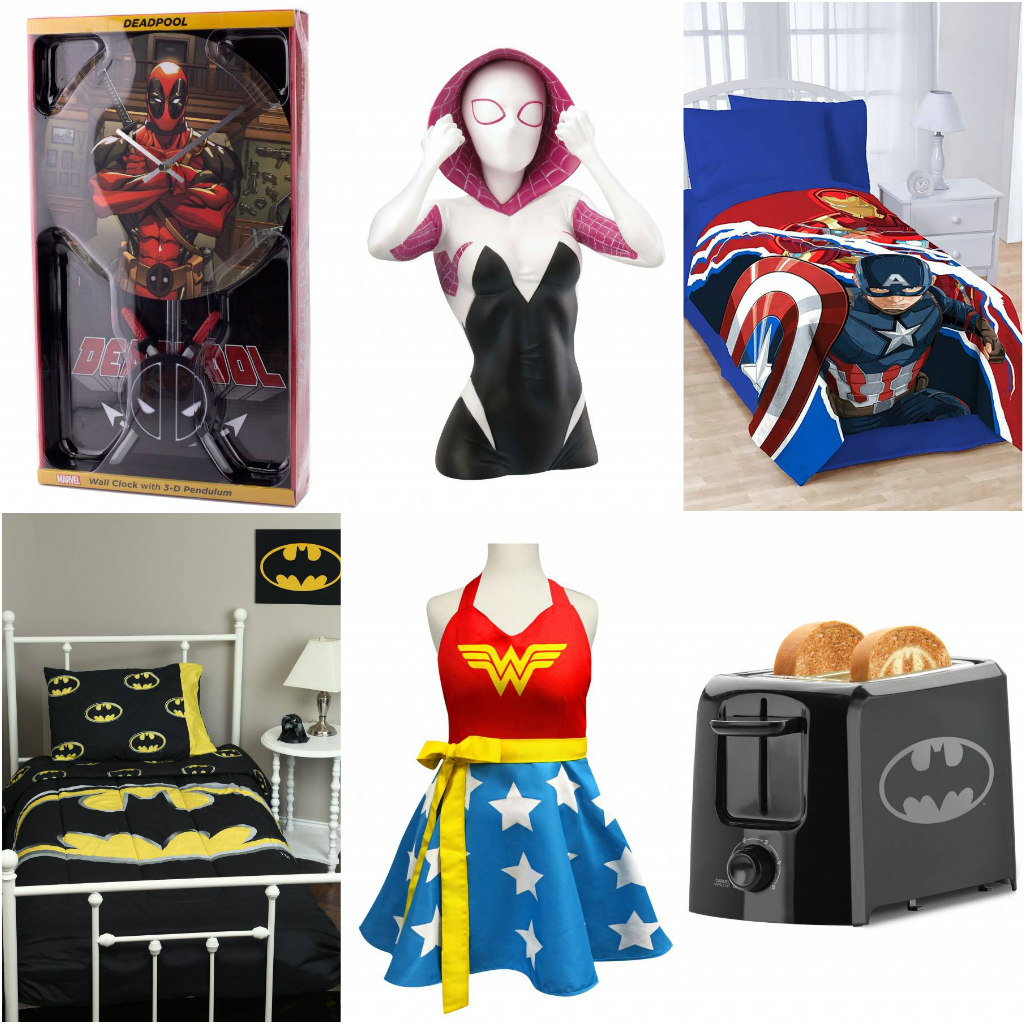 Batman Comforter Set, Wonder Woman Apron, Batman Toaster
Comic book gifts aren't just about clothes and toys anymore. You can find cool gadgets to use around the home or at the office, like a Deadpool clock or a Spider-Gwen bank. If you're handy in the kitchen, you can find Wonder Woman aprons and Batman toasters and plenty of nifty superhero-themed gadgets! And when it's time for bed, there are blankets and sheet sets of iconic characters like Batman and Captain America!
Superhero Pop Vinyl Figures
DC Comics Funko POP! Marvel Funko POP!
Then we come to Pop Vinyl figures. They're great for birthday gifts and Christmas stockings, or really just any time you need to buy someone cool superhero gifts. Or buy yourself a gift. Buy everyone superhero gifts! We've got Marvel Pops from Black Panther to Jessica Jones, and DC Pops like Wonder Woman and Batman!
Did you find everything you need? Did we miss one of your favorite superhero toys or collectibles? Let us know in the comments! If you're still looking for that perfect superhero-themed gift, be sure to check out our selection of DC Comics gifts and Marvel Comics gifts!