Nerds used to be outcasts. They used to be persecuted for spending their hard-earned money on stacks of comic books. They used to be ridiculed for unwinding by playing a few hours of their favorite table-top RPG. They used to endure all sorts of stereotypes society had about them for their love of video games. But that time is no more! The naysayers figured out that comic books are actually pretty fun, using their imagination is cool, and video games might be the greatest invention that mankind ever made. Yes, we live in a society filled with nerdy people who have nerdy passions, and the people at Funko think that's pretty cool. They've made whole lines of figures dedicated to the most nerdy of hobbies, from video games to anime, and even wrestling. So, if you're looking for a little swag to express your passions, a Pop! Vinyl figure or two at your desk does the trick with flying colors. Here we have a list of some cool Pop! Vinyls to kick-start your collection for 2016.
Anime POP! Vinyl Figures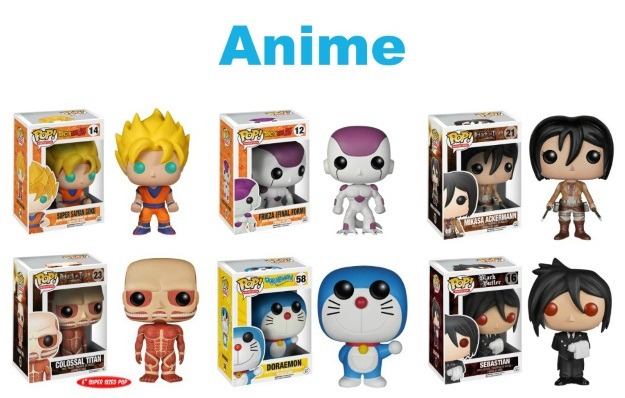 Dragon Ball Z - Super Saiyan Goku Dragon Ball Z – Frieza
Anime Funko POP! Vinyl Collectibles
Anime nerds come from all of different walks of life. For some, the anime spark ignited during middle school, rushing home to see the next episode of Dragon Ball Z on Toonami. For others, it all started with Eren Yeager and the frantic action of Attack on Titan. There are even plenty of old school anime fans, who've been laughing at the antics of Doraemon for years. The one thing that all anime fans can agree on, though, is that our friends in Japan certainly have a way with animation! These anime Pop! Vinyls are for anime fans of all types, from those who remember the first time that Goku went Super Saiyan, to anyone who dreams of having a futuristic robot cat as a best friend.
Video Games POP! Vinyl Figures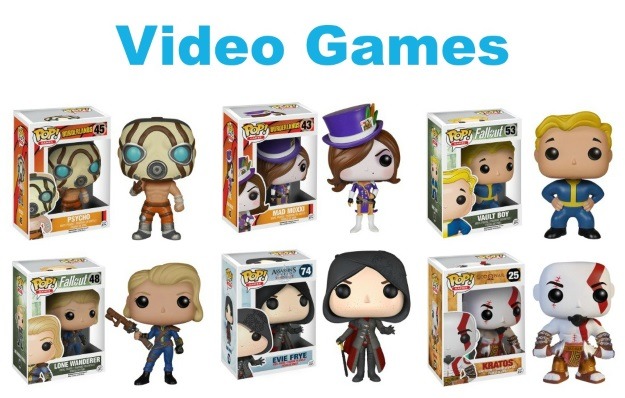 Video Game Funko POP! Vinyl Collectibles
Video games might be that best invention since sliced bread. Really, video games are probably better than sliced bread, since video games are better than sandwiches (only by a little bit). Games let us blast the bad guys into oblivion, they let us BE the bad guys for a change, and sometimes they teach us mildy inaccurate lessons on Greek mythology. (Don't use God of War story beats to study for your next Greek mythology test). If you've shared a love affair with the screen and controller, then video game Pop! Vinyls are the right choice for you. From Borderlands' Mad Moxxi to Fallout's Vault Boy, there's a Funko Pop! for any type of gamer looking to spruce up their work area.
World of Warcraft POP! Vinyl Figures
Some people don't get it. Some people didn't spend countless hours playing a Troll Restoration Shaman named Bazba, slogging through The Black Temple, spamming Chain Heal on the crazy Undead Rogue who thinks that he can tank trash mobs. Some people didn't spend their entire Saturday morning fishing for Mr. Pinchy. Some people never used their business savvy to control the prices of adamantite ore in the auction house. Of course, these World of Warcraft Pop! Vinyls are for the people that DID do those things. They're for the players who had to watch helplessly as Thrall broke every CC in Caverns of Time heroic mode. They're for those players who spent way too much time trying to break a turtle-fest in Alterac Valley. They're for anyone who wants to commemorate their time spent in the greatest MMORPG of all time. And that's you, right?
WWE POP! Vinyl Figures
If you cite watching Macho Man Randy Savage squaring off against Shawn Michaels as a life-changing event, then you're probably a wrestling nerd. From the golden age of Hulk Hogan, to the new blood of John Cena and CM Punk from the 2000s and on, the world of wrestling and the WWE has had tons of stars step into the ring. Funko has recreated all the big names of wrestling, so you can create some crazy dream matches, like Daniel Bryan vs. Andre the Giant, with your WWE Pop! vinyls at your desk. Just make sure that your boss isn't watching when you play Royal Rumble with all of your collectibles.
Teenage Mutant Ninja Turtles POP! Vinyl Figures
Teenage Mutant Ninja Turtles Collectibles
Do you remember the days of collecting Teenage Mutant Ninja Turtle action figures? That TMNT line taught the world the important lesson that Leonardo, Donatello, Raphael, and Michelangelo had a robust career, spanning far past the simple job of being a ninja. Farmer Michelangelo taught us that Mikey could drive a tractor, while Don, the Undercover Turtle, taught us that Donny was really into noire-style stories. Raph, the Space Cadet, taught us that he was not only cool and rude, but also that he held employ as an accomplished astronaut. These TMNT Pop! Vinyls teach us that the turtles can be just as adorable as they are skilled at ninjutsu and everything else! These little Funko figures let everyone know where you spent your Saturday mornings (in front of the TV, watching Shredder get his butt kicked).
Ghostbusters POP! Vinyl Figures
Perhaps Ray Parker Jr. said it best in the theme song: "Bustin' makes me feel good!" Ghostbustin' makes everyone feel good, since it's probably the best movie to ever come from the 1980s. Actually, it might be the best movie ever made, since it has Bill Murray, Dan Akroyd, Harold Ramis, and Ernie Hudson in their prime, the genius of Rick Moranis, and even a giant Marshmallow Man. With Kristen Wiig leading a new crew of Ghostbusters in 2016, now is the perfect time to fill out your collection with these Ghostbusters Pop! Vinyls.
Ghostbusters Funko Idolz Figures
Pop! Vinyls aren't the only cool collectible that Funko has out for the Ghostbusters. Their new line of Vinyl Sugar Idolz feature a brand new look based on Peter Venkman, Ray Stantz, and Egon Spengler. The new style adds a sort of claymation vibe to original 1980s characters, and they sure are making a splash in the collectibles scene. So if you're gearing up for the new movie, these wacky figures might be the newest addition for your collection.
Magic: The Gathering POP! Vinyl Figures
Who would've thought that Chandra would be the one to land a finishing blow on the Ulamog and Kozilek? Are Sarkhan and Ugin homies now? What is the deal with those crazy blue glowing things on Jace's face? That all either went over your head completely... or you're a Magic: The Gathering nerd. With all the main Planeswalkers represented, Funko has this whole Magic: The Gathering Pop! Vinyl thing down. (Sorry Tibalt fans, but Funko has decided not make a figure for him just yet). The great thing about these figures is that their converted mana cost is 0 and you can play them at instant speed. Of course, if you're playing in a tournament at your local game store, your opponent might call a judge over after you slap down your Liliana Vess Pop! Vinyl down during their turn.
Those are the vinyl figures that should sate your innermost nerdy desires! What kind of POP! nerd are you? What do you think of the Idolz line by Vinyl Sugar? If you were stranded on a desert island and could only take one Funko Pop! Vinyl figure with you, which one would you choose?