Decorating the Christmas tree is quite possibly one of the best traditions in the Christmas season. Sipping a warm cup of hot chocolate or egg nog while you and your family place tinsel, lights, and ornaments from years of Christmas past on the beautiful evergreen. But, if those same decorations have been used for decades, it might be time to give your tree a bit of a makeover, a geeky one that is! With big movie premieres like Star Wars: The Force Awakens and Batman v Superman: The Dawn of Justice on the horizon, a pop culture inspired tree is just what you need!
1. Star Wars: The Force Awakens Tree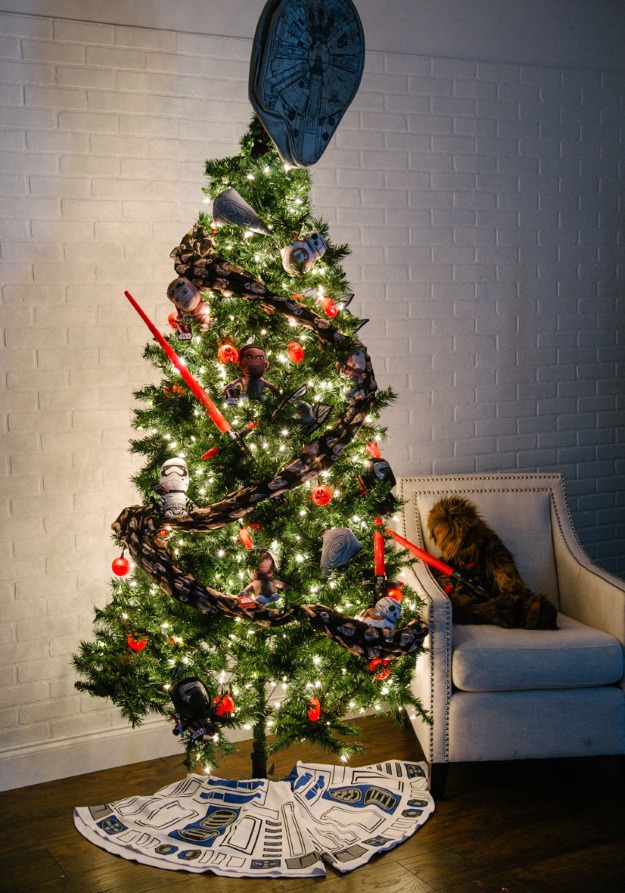 Unless you have been living under a rock... or a Christmas tree, you probably know that the new Star Wars film is hitting theaters this Friday. We definitely don't shy away from being Star Wars fans, so it was obvious that a Star Wars: Episode 7 tree just had to be part of our round-up. We decorated with BB-8 scarves, plush figures, lightsabers, and some R2-D2 skater dresses to make the Force strong with this tree.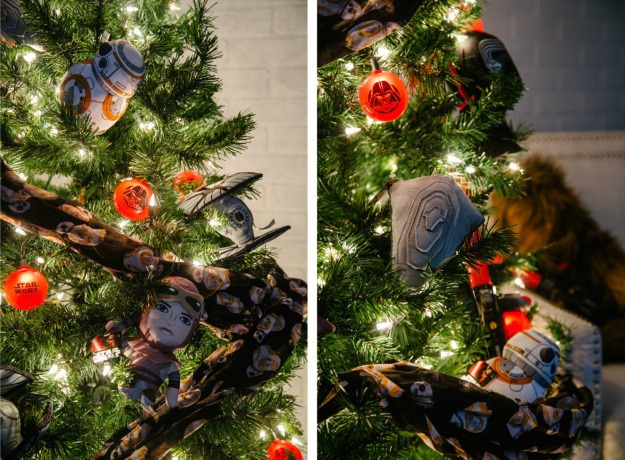 Kylo Ren Lightsaber Chewbacca Backpack
Star Wars: The Force Awakens Gifts
2. Harley Quinn Tree
Harley Quinn has become a prominent character in Batman comics since her introduction in 1992. Her twisted love affair with the Joker and her psychotic persona have given her a reputation destined for evil, but she has remained an Arkham favorite for many years. We used Harley scarves, bloody knives, inflatable mallets, jester hats, and a few Joker accents to give this tree an edge. We are crazy for this tree!
Jester Cane Inflatable Mallet Harley Quinn Mask
3. Batman v. Superman Tree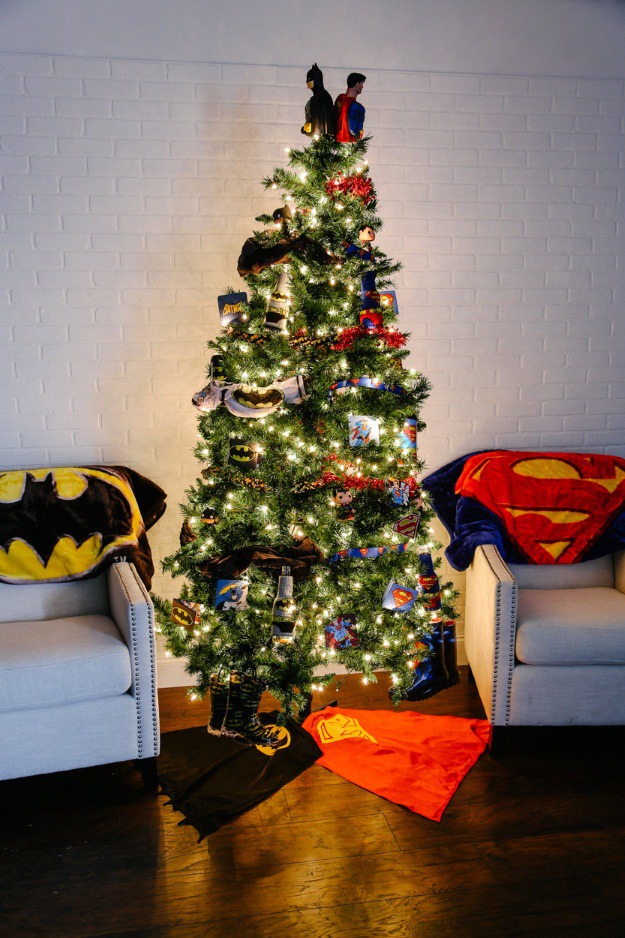 In 2016, the Dark Knight and the Man of Steel will face off for an epic battle! Excited artists have combined their bodies and faces for half and half drawings, the symbols have now collided to form one, so what was next? Obviously a Christmas tree! Half of this tree is decorated with Batman and the other half is garnished with Superman. The coin bank toppers allow us to perch both of them atop the Christmas tree this year!
4. Doctor Who Tree
So what if this Doctor Who inspired Christmas tree doesn't have the ability to travel in time, Doctor Who sure knows how to spruce up an ordinary Christmas tree. If your feet get cold, don't act like you won't borrow a pair of the TARDIS slippers from the skirt! Grab some Dalek lights and ornaments, a Sonic Screwdriver, the Fourth Doctor's scarf and you'll be part of the Whovian crowd. Don't forget your sweater, too!
4th Doctor Scarf 10th Doctor POP! Vinyl
5. Minion Tree
Who knew that some of the cutest creatures could cause so much trouble? Thankfully, these little guys will rest safely on your tree without creating a ruckus. Unless of course we are living in the movie Toy Story, then you might want to keep an eye on them. These little trouble makers are sure cute to look at, though, making this tree an excellent choice for families who have a hard time agreeing on a theme! Everyone loves Minions!
6. Disney Princess Tree
Elegance and beauty, this tree's got it! Disney princesses have been classic icons for decades. Whether their popularity shines through on Halloween, at birthday parties, or just playing dress-up - these princesses are everywhere! With how much we love Disney princesses, it was only fitting that we made a tree just for them because we simply cannot choose a favorite. Now this tree, this is the fairest of them all!
Disney Gifts Disney Princess Gifts
Does your tree also have a non-traditional theme? Geeky or not, we would love to see them! Feel free to share your pictures and ideas with us in the comment section. For additional tree décor items or to start shopping for presents to put under the tree, be sure to check out our large selection of gifts for everyone on your list. Happy Holidays!