Collecting Pop! Vinyl figures is a common practice nowadays. They look cool, are reasonably priced, and there's a giant selection for fans of nearly anything. However, so many options can make for difficult choices from time to time. Some people only like to collect the ones from series they like or ones they think are cute, but others treat them like Pokemon (gotta catch em all!). If you're not a die hard collector that's out to get every single one of them, we've put together some of the top Pop Vinyl series and themes from 2015.
1. Star Wars
C-3PO Funko Pop! BB-8 Pop! Vinyl
Kylo Ren Funko Pop! Finn Pop! Vinyl
With a new Star Wars movie releasing this year, you better believe Funko made sure to make figures of the new characters. Star Wars mania is in full force right now, so picking up some new characters from Star Wars: The Force Awakens like Kylo Ren, Captain Phasma, or BB-8 would make a good choice. There's also some new versions of fan favorites like Chewbacca and C3P0. The Force is strong with these collectibles.
2. Marvel
Big blockbuster superhero movies still reign supreme at the box office and there is no sign of that stopping in the near future. Between Marvel Studios and Fox, there's going to be five new movies in 2016 featuring Marvel characters, including the much anticipated Captain America: Civil War, which'll be a continuation of 2015's Avengers: Age of Ultron. Marvel also ruled the small screen with shows like Agents of S.H.I.E.L.D. and Daredevil. Whether, you're looking for Avengers or other popular characters like Deadpool or Agent Coulson, there's no shortage of Marvel superheros for any fan!
3. Disney
Disney Funko POP! Vinyls
2015 was a big year for Disney. Aside from huge releases from their other properties, Star Wars and Marvel, Disney studios released a number of films including Tomorrowland, The Good Dinosaur, and Inside Out, which captivated audiences of all ages with it's unique approach at looking into the human mind. Along with some new favorite characters like Bing Bong and Arlo the Dinosaur, Disney took a new approach to one of their most famous, timeless characters when they released a new live-action version of Cinderella.
4. DC Comics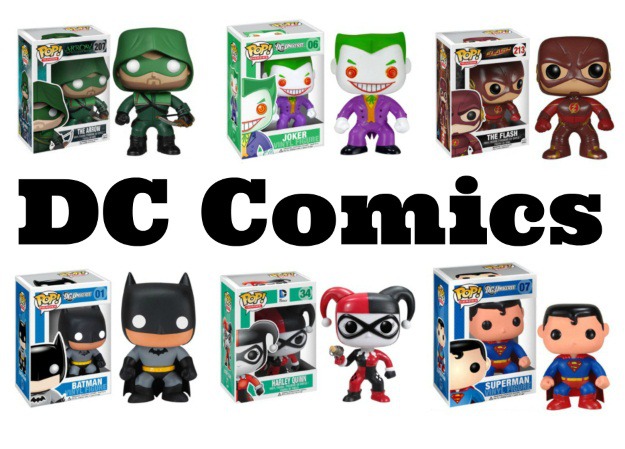 While there were no DC-related movies released in 2015, there was certainly a lot to be made about both of next year's releases: Batman vs. Superman: Dawn of Justice and Suicide Squad. Many are excited to see the new expanded DC Universe come together in film and the studios made a splash this past year at ComicCon, debuting what looks to be a new look at favorite characters like Batman, The Joker, and Harley Quinn. With a couple of strong TV shows like Flash and Arrow, there are plenty of great DC characters for collecting.
5. The Hunger Games
This past year saw the final chapter in the Hunger Games movies, made popular by the young adult novels. Katniss Everdeen has come a long way since that first movie and you can collect many of her different looks from the movies in the form of Pop! Vinyl figures. You can also get other main characters like Peeta, President Snow, and Effie Trinket to round out your Hunger Games collection.
6. Television
There were a ton of popular TV shows in 2015, but none may have been bigger than Game of Thrones or The Walking Dead. The intense drama of fighting for control of Westeros or seeking survival during the zombie apocalypse has captivated vast audiences. Who knows what Jon Snow is up to right now, but you can at least bring home his Pop! Vinyl figure for your collections. Other popular TV shows with series released this year included Once Upon a Time, American Horror Story, and Bob's Burgers, among others.
7. Sports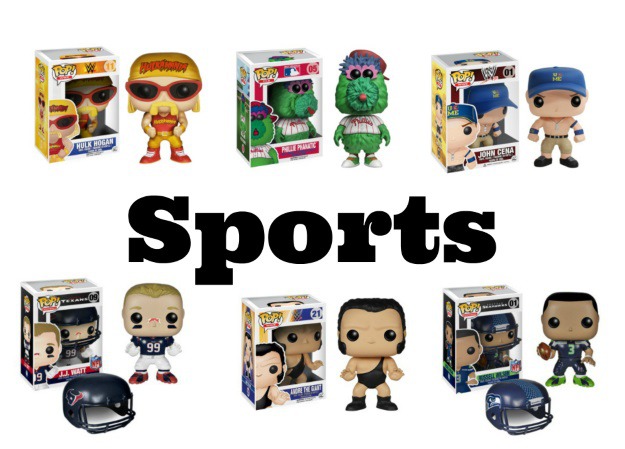 In the world of pop vinyls, there's even plenty of options for sports fans who want figures to show off their favorite teams or players. Build up your collection with NFL superstars like JJ Watt or Russell Wilson. There's even a series of baseball mascots like the Phillie Phanatic or Wally the Green Monster! Another popular series of figures includes popular WWE wrestlers like John Cena or classic favorites like Hulk Hogan and Andre the Giant for nostalgic fans.
8. Peanuts
This year marked the 50th anniversary of A Charlie Brown Christmas Special, as well as the release of a new computer animated movie featuring Charlie Brown and the whole Peanuts gang. To commemorate the characters based off the popular comic strip by Charles Schultz, Funko released Peanuts figures in July. Good grief, what a great collection for fans of comics.
9. Nostalgia
Nostalgia has been a popular theme this year and Funko had taken notice. Several series of Pop! Vinyls featuring favorite movies and TV shows from the past were released, such as Rocky Horror Picture Show and Monty Python and the Holy Grail, both of which celebrated their 40th anniversaries in 2015. To celebrate the 30th anniversary of Back to the Future and Back to the Future Day (October 21st), we partnered with Funko to release an exclusive Marty McFly with hoverboard figure.
10. Funko Dorbz
While pop vinyl figures have maintained peak popularity, Funko has started launching new lines of collectibles featuring favorite characters. One of the newest and smallest groups are called Dorbz. Appropriately named for how adorable they are, each figure features a version of a character slightly smaller than a regular Pop! Vinyl figure in a rounded shape with a cute smile on it's face. While they started the line with popular Marvel and DC characters, more and more have been released featuring Teenage Mutant Ninja Turtles, Disney characters, and horror movie villains, to name a few.
What do you think? What are some of your favorite characters from 2015? What characters would you like to see Funko release? We've had a lot of fun coming up with our own dream line of Pop! Vinyl figures, as well as photobombing them into popular scenes recently. Feel free to leave a comment with your opinion and be sure to check out our selection of Funko Pop! Vinyl figures. Whether you're shopping for yourself or buying a gift, you'll be sure to find characters perfect for any collector.