With Minions coming out this week, we knew that we wanted to do something fun, mischievous, and cute to match the personalities of these little yellow guys. Taking inspiration from the Christmas pastime of hiding the Elf on the Shelf doll, we created our own Minion on the Shelf scenarios. This would be a great way to get your kids excited for the movie (like you need to worry about their level of anticipation). Here are the ideas that we came up with! We used two Funko Pop! Vinyl figures, Dave and Carl, to play this game.
1. Minions with Bananas
When you think of Minions, you think of bananas. They're yellow, and they love those fruits. Heck, in Minionese, "Me Want Banana" translates to "I'm Hungry." There's no doubt that you'd find them in the trash with the peels.
2. Minions in Cat Food
Maybe the cat would have made more sense in the garbage can, but finding two Minions hiding in your kitty food dish would be quite the sight in the morning for both your kids AND your pet!
3. Minions with Gelato
We know that if we were looking for a Minion, we'd go straight to the freezer. Why? GELATO, of course! Just make sure to tell your kids that you're having frozen waffles for breakfast – that way, they'll spot the yellow dudes trying to l'eggo your gelato-eggo.
4. Minions with Jelly
Who let them in the marmalade?! Minions don't love the taste of jelly (can't blame them for trying it, though!), but they used the spread as an anti-serum to turn them back to the cute little Minions we all adore. But, what if it was … banana jelly?! (Is there such a thing?!)
5. Minions in the Sandbox
The Minions kind of remind us of busy little bees, not just because of the yellow and black colors, but because they're always moving around and working! Even though they were originally Gru's evil, uh … minions, we're so happy that they turned into the loveable creatures they are. You know, the type that would totally go play in the sandbox at the park!
6. Minions in the Sink
Scrub-a-dub-dub! Hide your Minions in the sudsy sink to give your kids a goofy surprise when they wash their hands after eating their breakfast. (Don't forget, they probably got jelly all over their hands finding the previous pair of trouble-makers.) PLUS, look how adorable Dave looks floating on that sponge like it's a raft in the ocean.
7. Minions Roasting Marshmallows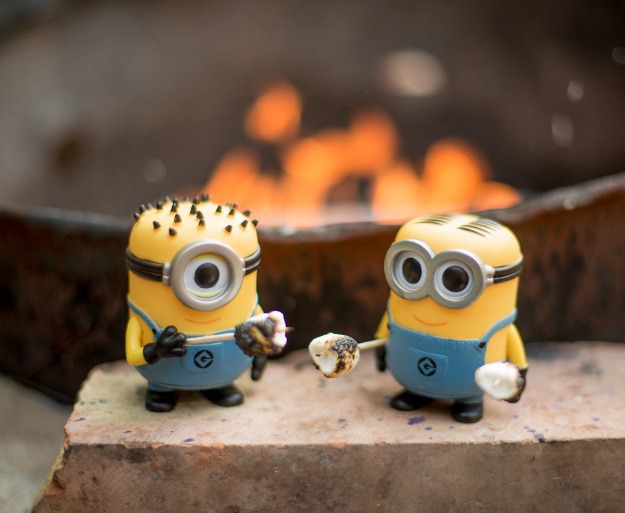 Oh, this one is our favorite! It takes a little more time to put together, but the results are so worth it. You can hide your Minions by the stovetop or out by the fire pit to create this s'mores scenario. All you need are some toothpicks and some miniature marshmallows – the hot cocoa kind! Looks like Carl likes his like we do – burnt to a crisp!
8. Minions with Smoothies
You KNOW that these guys are sippin' on some strawberry banana smoothies, extra banana and hold the strawberry. Set up a comfy summer scene on your back patio for your kids to come across. What SPF do you think they would need, though?
9. Minions on a Fire Hydrant
Bee-do-bee-do-bee-do! Minions LOVE fire safety, which is why placing them on a fire hydrant would be a great idea for your Minion on the Shelf game. Here's a tip: download these siren paper doll materials for the toys to play the part.
10. Minions Rock Climbing
You can't tell us that you wouldn't be surprised to see Minions rock climbing in someone's backyard. They're adventurous (maybe!), dexterous (sure), and athletic (uhhh, jk on that one). Hide your toys in your landscaping out back for a cute surprise when your kiddos look out the window.
11. Minions on a Zip Line
Hana, dul, sae – LET'S GO! (That means "one, two, three" in Minionese, by the way.) Turn your laundry lines into a zip cord for Carl and Dave in this Minion on the Shelf idea. Where do you think they're off to?
Minion Pop Vinyl Figures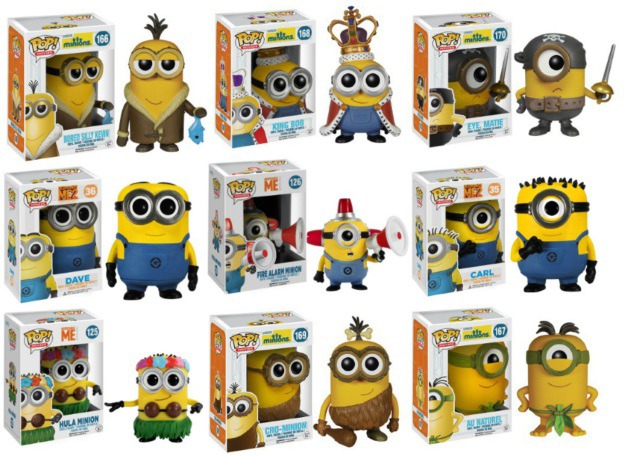 Minions Gifts Despicable Me Funko POP! Vinyl Figures
Besides your imagination, all you need to play this at-home game is a Minion toy or two! We used Dave and Carl, but there are pleeenty to choose from! Maybe you even want to use Gru or Agnes. The sky's the limit, folks.
Elf on the Shelf Ideas and Inspiration
If you need even more inspiration, you can always search for Elf on the Shelf ideas on Pinterest. Here are some of our favorites:
[Source: Left | Center | Right]
Let us know if you try any of these pictures. Maybe you have some more creative ideas? Take a look at our Minion toys here and have fun at the movies this weekend!