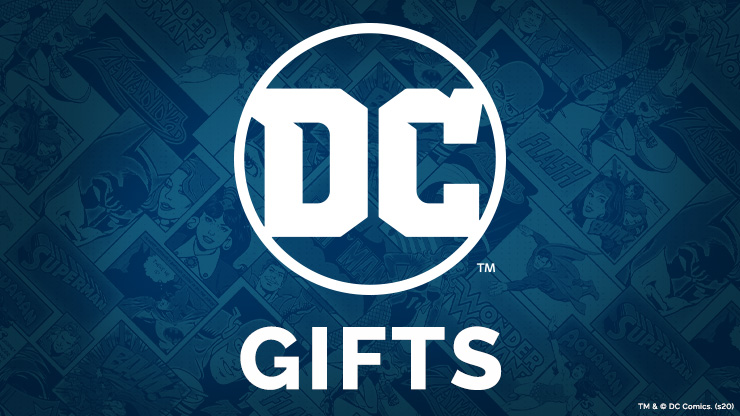 So you need to buy the perfect gift for a DC Comics fan and you're not sure what to get. Maybe the person you're shopping for is notoriously picky. Maybe they're you! No matter who it is, Fun.com is coming to the rescue! We'll help you pick the best DC Comics clothing, toys and games, or collectibles. We even have DC Comics Halloween costumes and products for the home and office! Throw on that Superman shirt because you've got some super-shopping to do!
DC Toys and Games
First up are our DC toys and games. We've really got something for everyone here! Anyone who loves building LEGO sets will be thrilled to get a DC Comics LEGO set like this Batmobile with Batman and Joker Minifigures. We also carry foam weapons like this Wonder Woman sword for active play, or a DC Super Hero Girls purse for role play. (It also functions as a purse. Imagine that!) Older fans will love this collectible Nendoroid Flash figure, and younger fans this Flash finger puppet. Of course, some Flash fans would probably enjoy both of these DC gifts! Then we've got DC games, which range from jigsaw puzzles to licensed versions of beloved games—like DC Spyfall—to a DC version of the Funkoverse Strategy Game. There really are DC superhero toys for everyone!
DC Home and Office
Next are some great DC Comics gifts for the home and office…and a few other places, probably. This Justice League lunchbox and Harley Quinn water bottle are great for taking your food and drink on the go. Because everyone's gotta eat, right? Well, maybe a few DC superheroes don't, but we're assuming that everyone reading this is a regular human being. A human being who has to keep track of human things…and might find this Batman letterboard or Joker note booklet handy! Wow, that was a stretch! But it's fine, you can stretch all you want in this Wonder Woman blanket or apron. Aaanyways, another great DC gift for the home is this Superman popcorn popper with a built-in popcorn bowl! And if you need a perfect gift for that pre-superhero-fan, there's always this Superman bib that will make your kiddo impervious to stains!
DC Clothing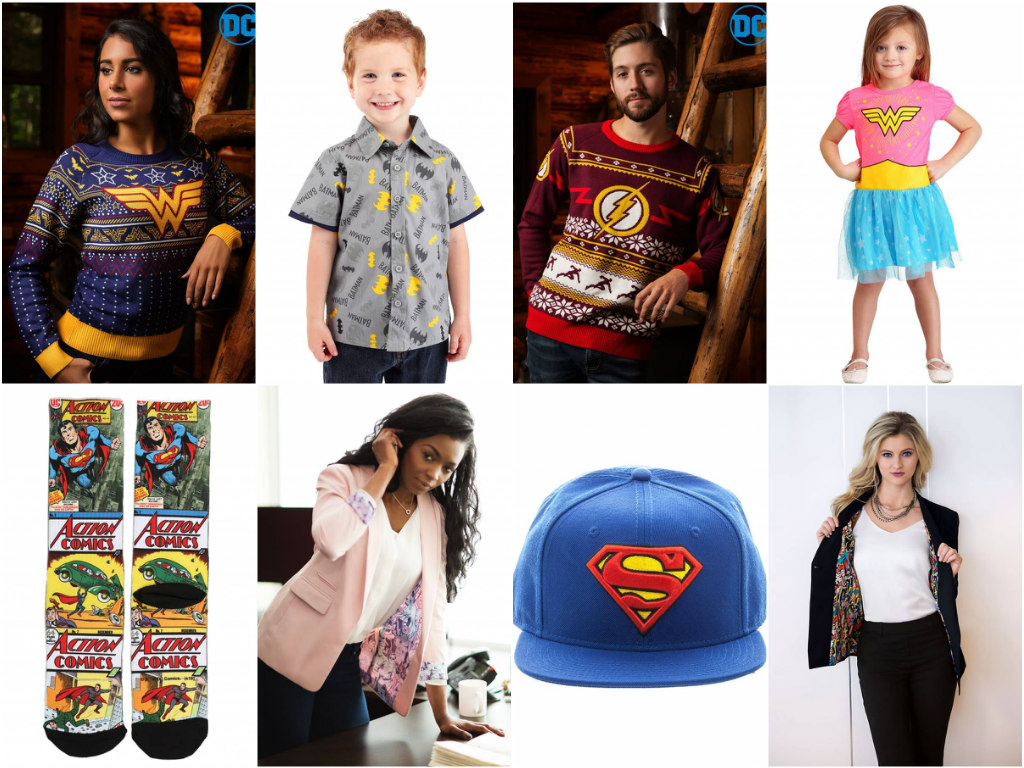 Apparel is up next on the list, so let's check out some DC clothing that you'll love to give…or get! There's DC apparel for everyone, from kids to adults, women and men. Adults will love this Wonder Woman ugly Christmas sweater or this pink DC blazer. There are also DC ugly Christmas sweaters featuring favorites like the Flash, Harley Quinn, Superman, Batman, and the Joker. Plus there's a black blazer with a more vintage DC Comics print on the inside! Of course, we've also got DC Comics apparel for kids, like this Batman button-up shirt and Wonder Woman dress. And then there are accessories, from Superman hats to socks and more. We can dress adults and kids from head to toe in DC gear so they can show off their favorite fandom!
DC Outerwear
You've got your DC apparel covered, but what about…covering those coverings. We're talking about jackets, okay? DC Comics outerwear! We've got all kinds of styles, with an emphasis on style. From a Wonder Woman duffle coat or cargo jacket to a Justice League peacoat, we'll keep you warm and stylish at the same time. For kids, we've got outerwear for all of the DC Comics superheroes, from Superman to Batman to Wonder Woman. Take your pick!
DC Collectibles
Now we'll look at our DC collectibles. There's plenty of overlap between toys and collectible—a lot of toys are collectible, and basically anything can be played with—but we're going to focus on DC gifts that can be displayed. Of course, the biggest name in collectibles right now is Funko, so we'll start by mentioning Funko Pop!, Bombshell, and 5 Star figures. Pretty much everyone knows about Pop! Vinyl figures like this Shazam Pop!, but Funko also makes a line of figures with vehicles called Pop! Rides. This Batman with Batmobile Pop is one of our favorites. One of Funko's newer lines is 5 Star, which are slightly more realistic figures than the Pops. Another newer line is the Mystery Mini, a scaled-down Pop sold in blind boxes, so every figure is a surprise! Of course, your favorite DC Comics characters are available in all of these formats! Now Funko isn't the only name in the collectibles game. Diamond Select Toys makes (among other things) detailed PVC statues like the Flash and Batman & Carrie Kelley. (DC collectible statues are huge right now!) NECA's Head Knockers line includes this Harley Quinn collectible. And Quantum Mechanix made this fun 1:1-scale Batarang replica! Any of these collectibles would look great on a shelf!
DC Costumes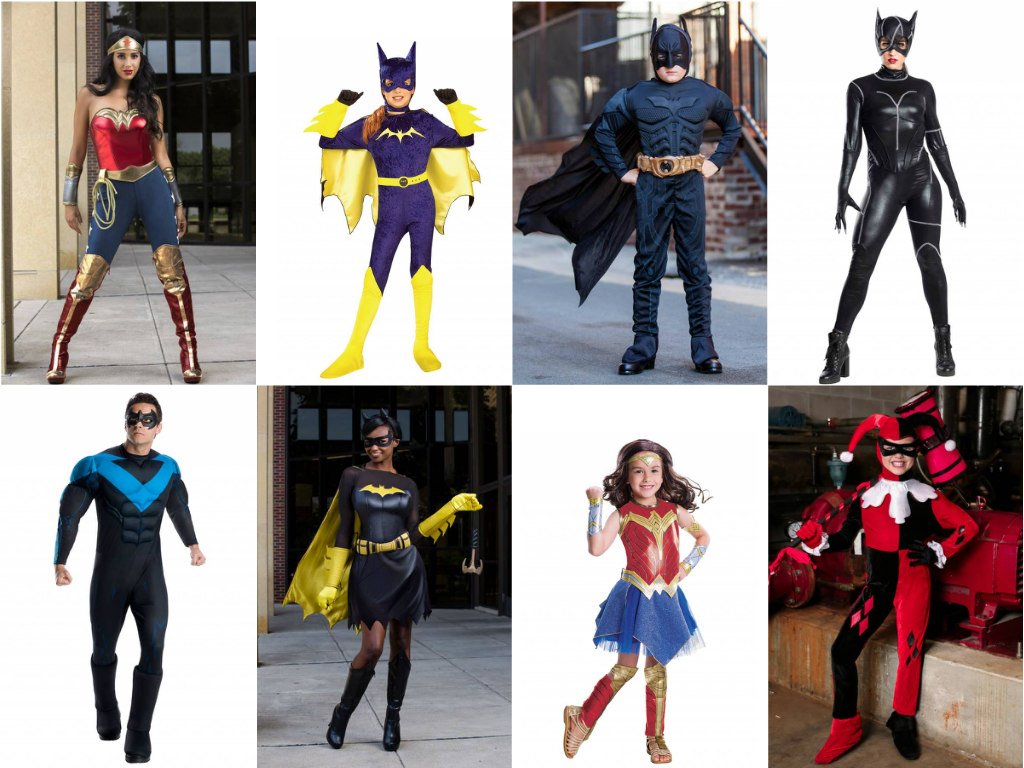 It's time for our last section of superhero gifts: DC costumes! Keep in mind that costumes aren't only for Halloween. You can wear them to conventions, movie premieres, themed parties, even just around the house. Some of our favorite adult DC Comics costumes include Wonder Woman, Batgirl, and Nightwing. Or Catwoman is great if you're looking for DC villain costumes! And for kids, we've got designs from Harley Quinn to Wonder Woman and Batman to Batgirl. Give a gift that will turn someone into a comic character and you'll be the real superhero!
We want to know what you chose! Are you going with a Batman and Batmobile set or something with the Flash instead? Or maybe an article of Wonder Woman clothing? Are you buying for yourself or someone else? Tell us all about your shopping list in the comments. If you haven't found the perfect gift, keep in mind that we have all kinds of DC Comics gifts on our website!