So you need to buy the perfect gift for a DC Comics fan and you're not sure what to get. Maybe the person you're shopping for is notoriously picky. Maybe they're you! No matter who it is, FUN.com is coming to the rescue! We'll help you pick the best DC Comics clothing, toys, home goods and collectibles. We have DC Comics merchandise for Justice League fans, as well as tons of character-specific novelty products to love. Throw on that Superman shirt because you've got some super-shopping to do!
Batman Gifts
Batman has been the star of the show at DC Comics for decades, so it's hard to go wrong when you pick up some Batman gifts. With more comics, TV series, movies and video games than you can count, Batman has done it all! This versatile superhero can easily be found in a variety of gifts as well. Batman apparel, Batman toys and collectibles, and even Batman-themed home goods await. Batman fans of all ages are sure to love any one of these Batman gift ideas.
Wonder Woman Gifts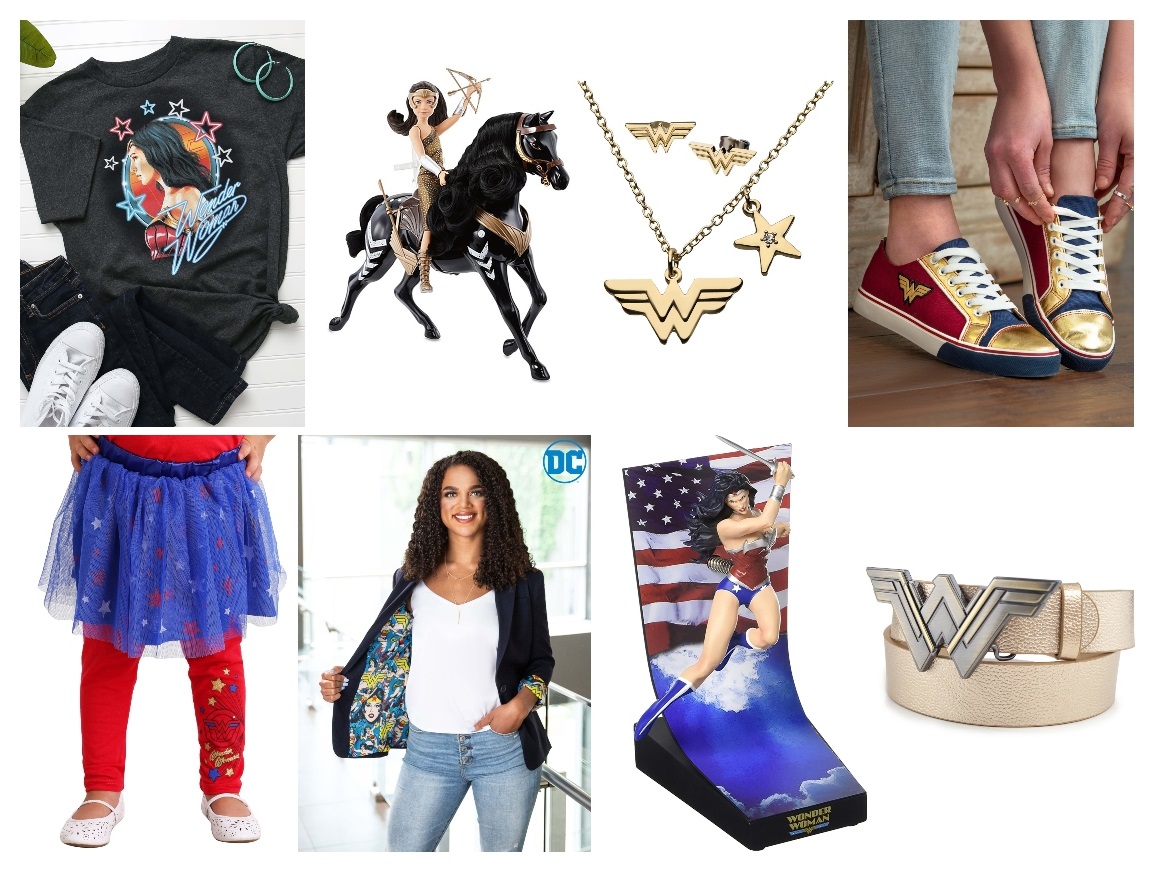 While there are tons of male superheroes, Wonder Woman stands out from the pack as one of the best female superheroes. Little girls look up to her, and ladies of all ages wish they could be her! There are lots of great Wonder Woman gifts for girls including dolls, apparel and accessories. However, there are guys who love Wonder Woman, too, and they'd appreciate some Wonder Woman collectibles. Wonder Woman is so confident in her abilities (with a wit to match) that it's impossible not to love her!
Superman Gifts
Hailing way back from the era of Action Comics, Superman is the classic Superhero that has done it all. His famous shield emblem is recognizable worldwide, and it would feel odd not to spot at least one in anyone's DC Comics collection. Add to any Superman fan's Fortress of Solitude with home goods and decor. Or make sure that your Superman fan is able to represent their favorite superhero with Superman apparel and accessories. With Superman gift ideas like these, they'll feel ready to take on the likes of Lex Luthor at a moment's notice. (Even if it's a tad hard to find a phone booth these days!)
The Flash Gifts
The fastest man alive has pulled off some pretty wild feats—he used his super-speed to move through time, has been able to visit alternate universes and even ran himself back to life. Wow! (He also has the power to deliver amazing punchlines.) Naturally, The Flash is a favorite among DC fans, so there are lots of The Flash gift ideas! Flash apparel can help to curb their need for speed, while Flash collectibles will feel right at home with any DC collection. He looks sharp in red and yellow, and these DC Comics gift ideas do, too!
Justice League Gifts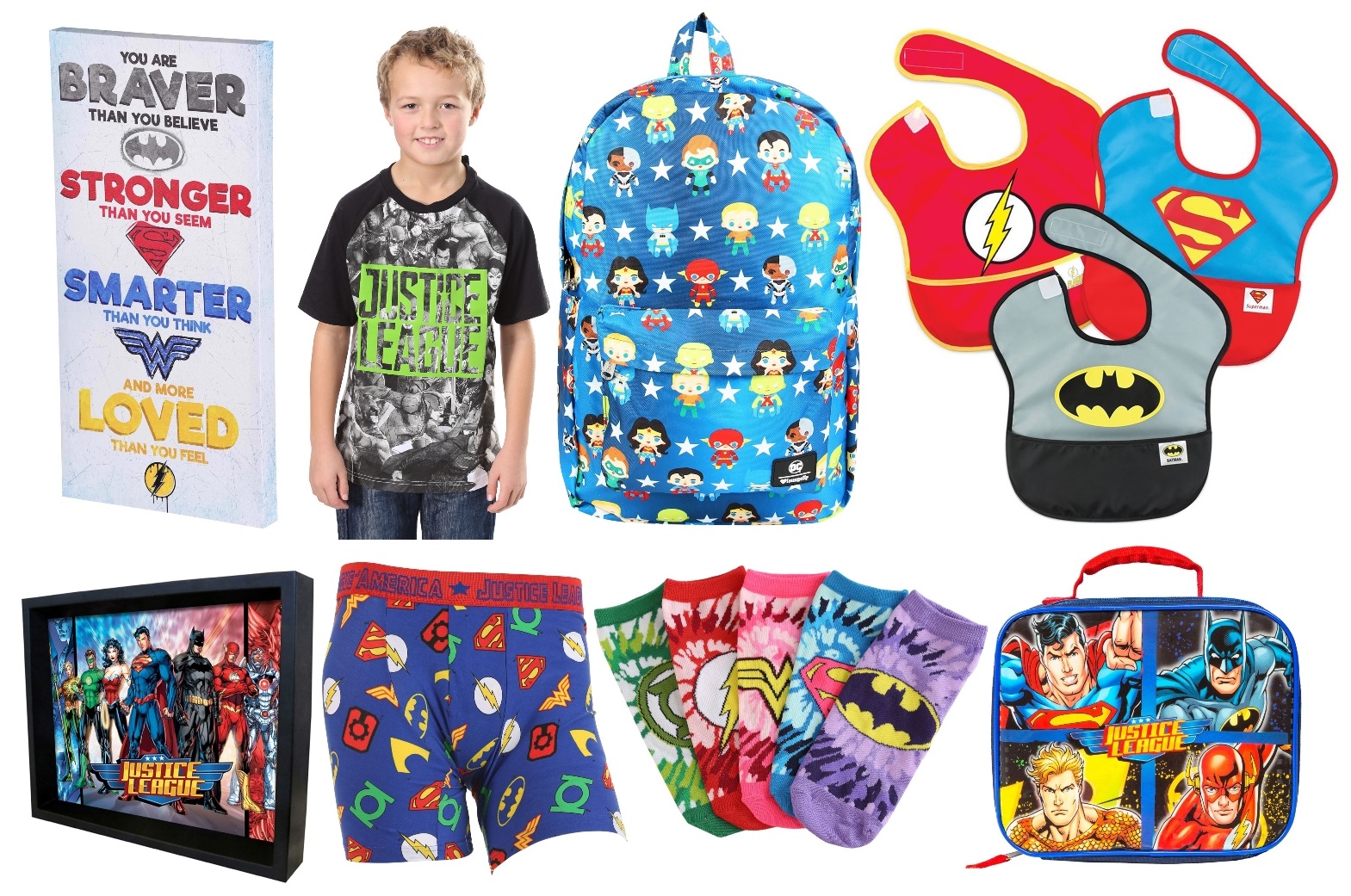 The Justice League includes the world's greatest heroes from the DC Comics universe, so you can't go wrong giving a DC fan some Justice League gifts. The Justice League includes many of the heroes we've talked about already, like Wonder Woman, Batman, Superman and The Flash, but you're covering all your bases here! There are Justice League gifts for adults and kids, and even babies! A pack of superhero-themed bibs will make sure your kid is styling (even with spaghetti in their hair), while grown-up licensed socks and underwear will satisfy the comic book nerd in you. These Justice League gift ideas will make any normal day feel extraordinary!
Harley Quinn Gifts
Is she a villain? Is she a hero? While Harley Quinn frequently crosses that line, it's hard to resist her bold personality and style. (She has something like 13 different outfits in the Birds of Prey movie, and we love them all!) Whether you're a fan of classic Harley Quinn or you like some of ner newer outfits, there are Harley Quinn gift ideas to satisfy every fan. Steal some of her style for yourself with Harley Quinn apparel and accessories, or add a touch of Harley to your home with wall decor and pet accessories. There are also some great Harley Quinn collectibles that DC fans are sure to enjoy.
We want to know what you chose! Are you going with a Batman and Batmobile set or something with the Flash instead? Or maybe an article of Wonder Woman clothing? Are you buying for yourself or someone else? Tell us all about your shopping list in the comments. If you haven't found the perfect gift, keep in mind that we have all kinds of DC Comics gifts on our website!