We're huge fans of pop culture and collectibles here at FUN.com, but you probably guessed that already. Most of us have at least a few Funko Pop!s on our desks, if not stacks of Pop!s in their boxes. Maybe a full-on medieval Funko fortification or two. That means we get asked a lot of questions about those adorable bobbleheads, like what "chase" and "flocked" and "vault" mean. So let's talk about Funko Pop!s, starting your Funko Pop! collection, and all the other questions we get! We'll also look at some of the best Funko Pop! collections we want to add to our own stash!
Frequently Asked Questions about Funko Pop! Vinyl
Alright, let's tackle some of the questions we get about Funko Pop!s. Let's start with the easiest question of them all:
What is Funko Pop! Vinyl?
Funko is a company that makes all kinds of pop culture collectibles, like bobbleheads. Their first bobblehead was Big Boy, but their Pop! Vinyl figures include characters from most pop culture franchises, from movies to television to comics to video games. So if you're wondering "what are Pop! Vinyl figures?" just take a moment and look around because they're pretty much everywhere!
What are the different Funko brands or lines?
Funko has a variety of brands or product lines, including:
Pop! Vinyl is Funko's most popular brand of collectibles. The Pop! Vinyl line includes both bobbleheads and vinyl figures. There are also Pop!s with vehicles named Pop! Rides, and famous movie scenes in Pop! form called a Pop! Moment.
5 Star collectibles are somewhere between Pop!s and action figures. Each figure can be posed, and they all come with an animal companion or prop.
Vynl is a line of collectible figures that all share a similar cartoony design aesthetic. Vynl figures always come in pairs.
Hikari is Funko's line of "Sofubi" Japanese soft vinyl figures. These limited edition figures are colorful and glittery.
Rock Candy is Funko's brand of 5" vinyl figures. These figures all come in a cool power pose and feature a stylized aesthetic.
Wacky Wobblers is Funko's line of bobblehead figures. They were also the very first product line!
Vinyl Idolz is a line of tall, stylized figures designed by Vinyl Sugar, which was a collaboration between Funko and UK studio A Very Large Evil Corporation. Funko would later acquire A Very Large Evil Corporation, which was then rebranded as Funko Animation Studios.
Dorbz is Funko's line of miniature collectibles. They are all designed to look happy and adorable, hence the name "dorbz".
Mystery Minis are a series of smaller blind-box vinyl figures that have a variety of characters to collect. However, you won't know which one you're getting until you open it, which makes finding the rare ones even more exciting!
Vinyl Soda is a line of Funko figures that come in soda-like cans, and they all have limited runs of each figure.
Signature Games are board games made by Funko. Their FunkoVerse strategy games have little Pop! figures included as collectible game pieces, but they also have other games based on pop culture.
Pop! Pin is a collection of enamel pins made by Funko. They're small pin versions of their popular Pop! Vinyl line.
Pop! Keychain is a collection of miniature Pop! Vinyl figures made as cute little keychains.
Funko Tee is Funko's line of pop culture shirts. They're typically either short or long-sleeve t-shirts for adults.
Funko Plush is a line of adorable plush toys made by Funko. Some plush figures may have a similar style to the large-headed Funko Pop! vinyl collectibles.
What are Pop! Vinyl "chase" figures?
Some Pop! Vinyl figures include a "chase" figure, which is a special variant of the default figure. This variant can have different coloring, accessories, or pose. Not every figure has a chase variant—but of those that do, approximately 1 in 6 figures is a chase. (It used to be 1 in 36!) What this means is that chase figures are more rare and desirable than the default figure. Pop! Vinyl figures are already collectible, but some of them are super collectible!
What is a Pop! Vinyl "flocked" figure?
A "flocked" Pop! means that it's covered in soft, fuzzy fibers. The fibers are tiny and feel like velour or felt. Many Pop!s have what are called "limited edition flocked chase" variants, where only the chase figure is flocked, but there are also standard, non-chase flocked figures, too.
What are Funko Pop!s made of?
Funko Pop!s are called "Funko Pop! Vinyl" for a reason, because they're made of vinyl. Specifically, polyvinyl chloride or PVC, the same material used to make pipes, flooring, and even clothing. And, of course, vinyl records. Vinyl is a form of plastic, so you could also just say that Funko Pop!s are made of plastic!
What is the Pop! Vinyl "vault"?
You may have heard of Pop! Vinyl figures getting "vaulted", which conjures images of bobbleheads getting sealed away in banks or something. But it really means that the specific figure is being discontinued or phased out and won't be available any longer. That's good news for collectors because it means the figures will only get rarer over time.
What is the most valuable Funko Pop! figure?
This question is not easy to answer. Since we're talking about collectibles, the value always depends on what collectors are willing to pay, which will fluctuate over time. But the most valuable and rarest Pop! figures are typically San Diego Comic-Con exclusives, because they only make several hundred or thousand of those figures. For example, the Comic-Con metallic Dumbo figure has sold for $5,000 or more several times. The headless Ned Stark figure, also a Comic-Con exclusive, has increased in value recently and now regularly sells for over $2,000.
How do I display Pop! Vinyl?
That's a great question, and the answer depends entirely on you! We love Funko's blog series about Funko collectors named "Funatic of the Week". They show the full range of Funko fans: dedicated collectors who display their Pop!s on custom shelves with glass doors, others who stack their Pop!s out in the open, and also the casual collectors who place figures randomly around their home. No matter how you display it, consider putting your favorite or valuable figures in a Pop! Vinyl protector case to keep them safe. That way, no matter which Pop!s you get, they'll be kept in tip-top shape!
Which Funko Pop!s should I collect?
As Funko says, "Everyone is a fan of something." Collect what you love! Look for older Pop! Vinyl at garage sales and hobby shops, or even here at FUN.com. If you want something shiny and new—possibly covered in chrome—keep reading for some of the best Pop! Vinyl figures!

Popular Funko Pop! Categories
Nerds used to be outcasts, but that time is no more! The naysayers figured out that comic books are actually pretty fun, using their imagination is cool, and video games might be the greatest invention that humans ever made. Yes, we live in a society filled with nerdy people who have nerdy passions, and the people at Funko think that's pretty cool. They've made whole lines of figures dedicated to the nerdiest of hobbies, from video games to anime, and even music and sports. So if you're looking for a little swag to express your passions, a Pop! Vinyl figure or two at your desk does the trick with flying colors. Here we have a list of some cool Pop! Vinyls to kick-start your collection
Pop! Rocks
Moments in music can be hard to capture, but we'd like to think that you can share some of your favorites with these Funko Pop! Rocks figures. Occasions like Devo's "Whip It" music video or Selena belting out tunes in her iconic burgundy outfit are capable of filling us with a sense of whimsy and nostalgia, so why wouldn't you want to hang onto something to help you savor the moment as a music fan? Perhaps your mom who loves Queen would appreciate a Pop! of Freddie Mercury, or your funky fresh brother would love a miniature Jam Master Jay.
Pop! Games
Video games might be the best invention since sliced bread. Really, video games are probably better than sliced bread, since video games are better than sandwiches. (Only by a little bit!) Games let us blast the bad guys into oblivion, they let us BE the bad guys for a change, and sometimes they teach us mildly inaccurate lessons on Greek mythology. (Seriously, don't use God of War story beats to study for your next Greek mythology test). If you've shared a love affair with the screen and controller, then video game Pop! Vinyls are the right choice for you. From Fallout's Assaultron to Overwatch's Pharah, there's a Funko Pop! for any type of gamer looking to spruce up their work area.
Funko Pop! Marvel
Your dad loves comic books. Your little sister who works at the library loves comic books. You've seen your boss watching MCU trailers a million times because they! Love! Comic books! Admit it, you love comic books, too. A superhero action figure is such a classic gift, you can't go wrong. Plus, just look how dang cute Sylvie and Ned are. The MCU has graced us with enough goofy comic book goodness that we simply want all of the Marvel Pop! figures!
Funko Pop! Star Wars
Shop all POP! Star Wars Figures
There are so many Star Wars movies and TV shows now that our Star Wars collections are already bursting at the seams—and yet we still want more! If you're shopping for a big Star Wars fan or you happen to be that person, there are so many Star Wars collectibles to pursue. Action figures and statues can get pretty pricey, so we can't blame you if you're attracted to budget-friendly collectibles like Funko Pop!s. There are sooooo many options that you can find niche characters like The Mythrol and Grogu from The Mandalorian. We could hardly share all of our favorites here, so don't hesitate to peek at the rest of the Funko Pop! Star Wars collection on FUN.com
Funko Pop! Disney
Disney movies are loved by adults and kids—and honestly, we could say the same thing about Funko Pop!s. You can decorate a child's room with a few Disney characters on a shelf, or scatter them around your entertainment center. Disney Funkos also make great gifts as well! They're so cute, and you can find more characters than you'd even thought to look for. Disney's Haunted Mansion and other Park ride figures? Got those! What about Disney's live-action movies? We have those too! Check out the magical world of Disney Funko Pop! for all of these fun figures.
Funko Pop! Animation
Shop all Pop! Animation Figures
If you have an anime or cartoon fan on your shopping list, perhaps one of Funko's Pop! Animation vinyl figures is just what you're looking for! You'll find tons of anime figures as well as characters from Western cartoons, and the designs translate really well into these adorable vinyl statues. They're so bright and colorful, and we want to collect them all! You can find everything from the iconic Naruto run in Pop! form to Avatar Korra mastering the elements.
Funko Pop! Heroes
While we absolutely adore the MCU, there are tons of other superheroes and villains out there that you can find as Pop! Heroes figures. Superheroes from the Justice League, X-Men, Suicide Squad, and other groups make great additions to anyone's comic character collection. You can buy these Funko Pop!s for yourself, or as birthday gifts for a comic book fan!
Funko Pop! Movies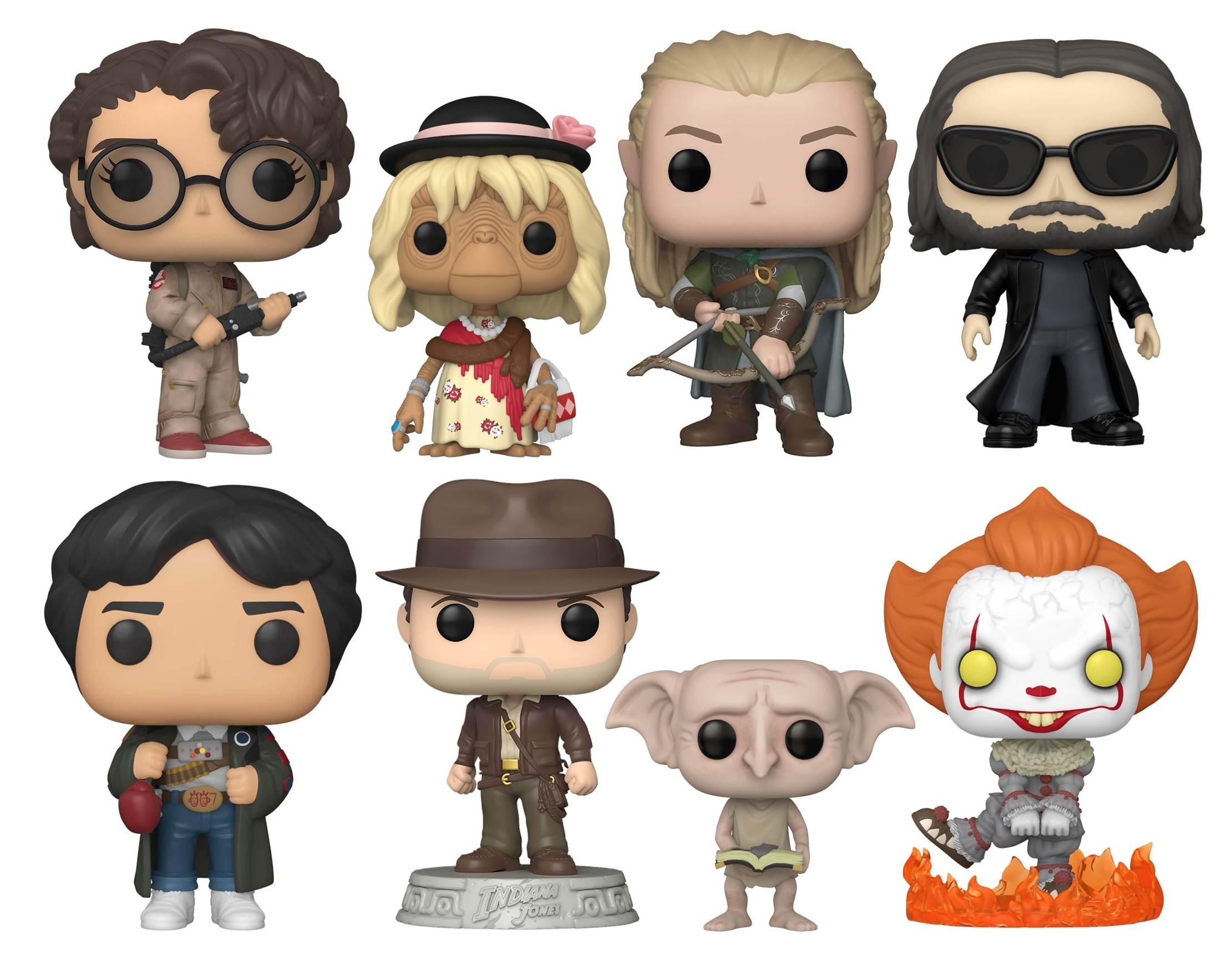 Do you have a favorite type of movie? Are you a big action movie fan, or do you love the nostalgia of 80s movies? Maybe you're more into the horror genre—and that's fine! These Pop! Movies vinyl figures help you capture some of those magic movie moments for yourself. (Or for a friend or family member, if you're hunting for movie gifts.) There are vinyl figures from new and classic movies, so you're bound to find the perfect gift.
Funko Pop! Television
Shop all Funko Pop! Television Figures
There are a few TV-related Pop!s in the Pop! Animation line of figures, but the Television vinyl characters tend to focus on our favorite live-action TV shows. You can find characters from Stranger Things, The Office, Star Trek, and more, all made in an adorable style. Some of these fun collectibles are just the characters, but others have adorable additions based on their best TV moments. We love Robin's scoreboard, but don't forget Dwight's stapler floating in a blob of jello!
Funko Pop! Icons
We often look up to celebrities and other icons, whether they're responsible for writing some of our favorite books, or perhaps they're an iconic Hollywood movie star. The Pop! Icons enable us to collect some of our favorite celebrities along with notable people from history. However, you can also find a similar line of Pop! Ad Icons featuring famous characters such as Ronald McDonald and the Energizer Bunny. Whether you really love pop culture or you're simply an avid Funko collector, you won't want to miss these vinyl figures!
Funko Pop! Sports
These sports-themed Pop! Vinyl figures are #goooooaaaaals! Many of us have favorite sports we like to watch, along with some athletic idols. Figures like Muhammad Ali and Sadio Mané become people that we look up to, and perhaps we even start to collect their sports memorabilia. Make a sports fan's day with any one of these Pop! Sports vinyl figures!
Other Funko Collections
As we mentioned before, Funko has a bunch of other product lines that are just as amazing as Funko Pop! Some of them are even Pop! style, such as the Pop! Keychains, Pins, and FunkoVerse games. However, we love their other vinyl figures too. Funko 5 Star is super adorable, and the Vinyl Soda line comes with a cool can container. Some of the other Funko Signature Games are really good, too! We can't wait to see what they come up with next.
Did we answer all of your questions about Funko Pop!s? Are there any Pop!s you're looking forward to collecting this year? Let us know in the comments! Be sure to keep an eye on FUN.com because we get new Funko Pop! Vinyl figures all the time!