A certain level of excitement comes every year as the summer winds down. Most parents are excited for their kids to leave the house and return to school. While kids may be sad about summer ending, there's still some anticipation of getting back to a daily routine at school and seeing friends more often. Back-to-school shopping is one of the best ways to prepare and amp up excitement for the new school year! Along with new clothes and bags each year, students are given a back-to-school shopping list filled with everything they need for their upcoming classes. While it's hard to be unique with classic #2 pencils and colored folders, there are plenty of other ways for students to show off their own style in the classroom. Even kids attending school at home will appreciate some novelty school supplies featuring characters they love. Check out this list of licensed back-to-school items that will put a smile on your children's faces!
Girls' Back-to-School Clothes
Girls' Back-to-School Shoes

Getting ready for back-to-school time has a lot of to-dos! There are school supplies to buy, enrollment to take care of, and often new wardrobes so your kids can look and feel their best for the next school year. When buying your child a new back-to-school outfit, you don't want to forget anything—shirts, shorts, socks, and shoes; you name it! These character shoes for girls are so cute and come in several styles. Colorful Encanto slip-ons make dressing up for school a breeze, and these Frozen sneakers with velcro ties are easy to wear. If you're looking for cute high-tops or short boots, look no further than these adorable Mavis shoes with bat wings, or Anna's pink boots. Your little girl will be so excited to go to school and show off her new shoes!
Girls' Back-to-School Shirts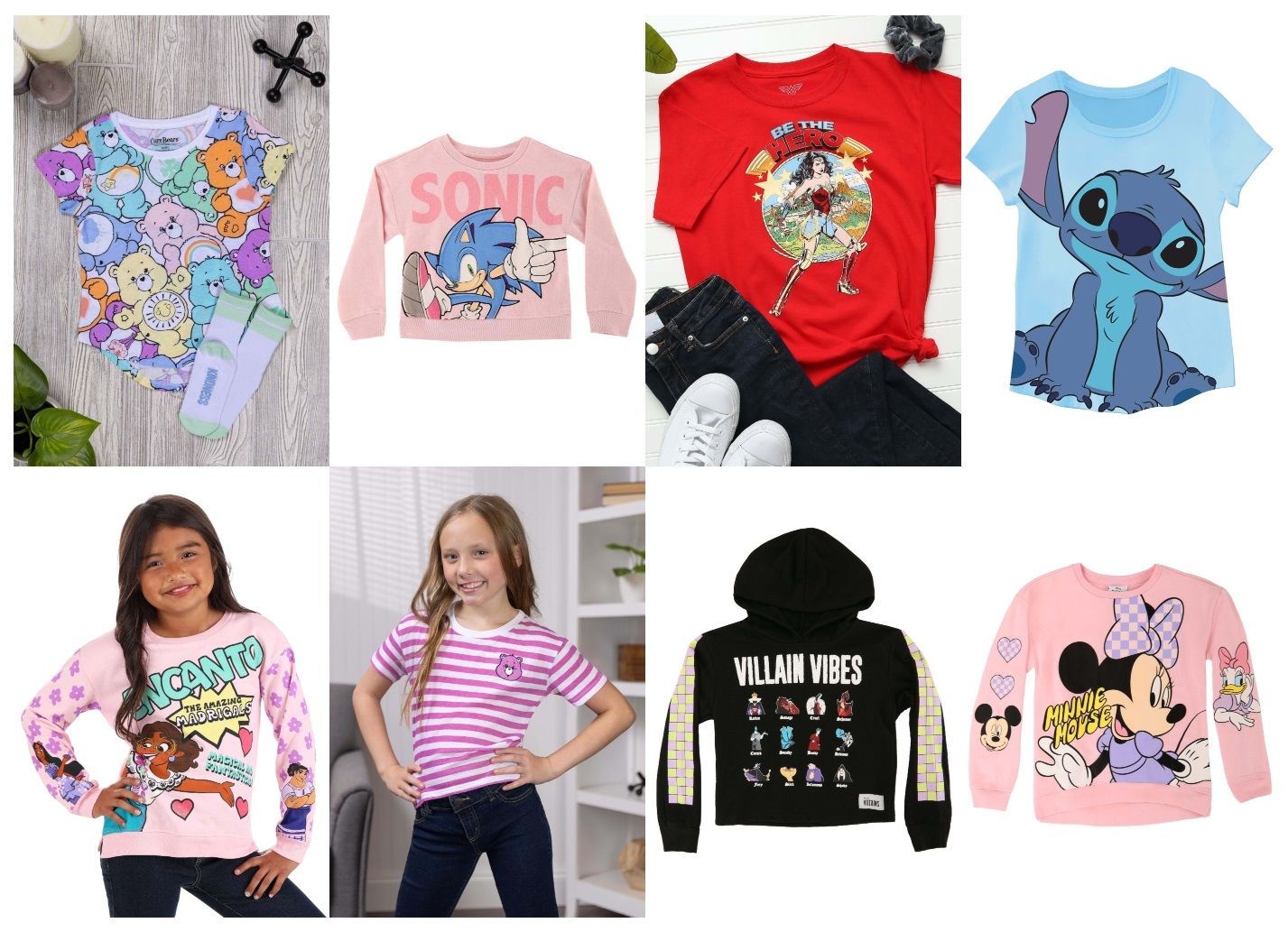 Kids have a reputation for growing up fast, which generally means they're ready for new shirts every school year. Why not have fun with it and let your daughter pick out a few licensed girls' shirts with characters she loves? The beginning of school is generally warm enough for t-shirts, but as fall takes over, you may want to have long-sleeve shirts and sweatshirts on hand. You can find shirts for girls with Disney characters, superheroes, video games, and more! With apparel she loves, hopefully, you'll have an easier time taking her back-to-school photos.
Girls' Back-to-School Socks

If there's one thing that kids wear out the fastest, it's their socks! You likely have a plethora of neutral socks ready to go, but there's nothing like having a few unique pairs of fun socks. Colorful socks can remind you to find your joy in the morning, and that you can be yourself. They can also comfort you after a rough day when you want to walk around the house in socks and pajama pants. Or, you can simply wear these socks for fun! Do we really need an excuse to enjoy the little things in life, like cool socks? (No!)
Girls' Back-to-School Hats

School may start at the end of summer, but fall and winter will come soon enough! Be prepared by buying your winter gear early. These cute hat and glove sets for girls will help keep your child's head and fingers warm when temperatures drop without sacrificing their style. A Minnie Mouse pom beanie is simply adorable, and who could resist adorable Grogu? With these hats and gloves, your daughter won't be able to wait for it to snow!
Boys' Back-to-School Clothes
Boys' Back-to-School Shoes
Not to be outdone by the girls, boys also like to wear new clothes! These cool sneakers for boys will have your child excited to go to school to share his new kicks with his friends. Comfy slip-on shoes help to take the stress out of getting dressed for the day, while stylish Buzz Lightear shoes will make him feel like a galactic superhero. Your son's first day of school pictures are going to rock!
Boys' Back-to-School Shirts
A cool t-shirt is the foundation for many boys' wardrobes. Find out what your son loves to play and watch, and he'll have plenty of shirts you won't be fighting him to wear! We have superhero shirts, Disney, video games, and others. From simple graphics to all-over prints, these t-shirts for boys will be worn over and over again!
Boys' Back-to-School Socks
Not every kid loves to wear socks, but fun socks may help to tip the scales in your favor! (Honestly, dinosaurs and sharks would also convince some adults to wear socks or eat cereal.) Animal socks are simply amazing, and we also love these astronaut boot socks. Granted, you still need to wear shoes with them. That's a battle for another day!
Boys' Back-to-School Hats
Don't let your kid leave home on a chilly day without his favorite hat and gloves set! These licensed outerwear sets are tons of fun for boys to wear. Let him join the Hidden Leaf Village with a Naruto-themed set, or find his next bounty as the Mandalorian. Do snowballs fly even better when wearing a NASA hat and gloves? Your boy's going to tell you all about it after school!
Geeky Back-to-School Accessories
Nerdy Back-to-School Backpacks
When you have to use a backpack every single day, it helps to love your backpack! These licensed backpacks are the perfect pairing of form and function. There's a book bag for every fandom, from Disney and video games to Marvel and Star Wars. We appreciate the solid canvas construction for durability and special details on some backpacks. (The player token zipper pulls on the Candyland backpack are so cute.) Of course, you can always add keychains to zipper pulls and your favorite buttons and pins to make your backpack truly your own!
Geeky Back-to-School Lunchboxes
Lunchboxes are essential to keeping your child's lunch cool, but you can make their lunch even cooler with these character lunch bags! This Mystery Machine lunchbox is one of our favorites and is quite eye-catching! Then we have plenty of superhero-themed lunchboxes, cartoons, video games, anime, and more. If it's unique, it should also be easier for your child to identify their lunch bag among their classmates' bags!
Licensed Back-to-School Water Bottles
You may need to check what kind of water bottles are allowed at your school, but hydration is essential to overall health. These fun water bottles all have lids to keep them closed when not in use, making them perfect for preventing spills at a desk. They're also decorated with characters and patterns that may appeal to kids. (Or adult Disney and gaming fans!) We love these water bottles too!
College Back-to-School Appliances
When young adults go to college, they'll generally start cooking for themselves, especially if they don't want to spend excess money eating out or at the campus cafeterias. Or, maybe your college kid needs a cup of joe to get going in the morning. You must pay attention to requirements if they're in a dorm versus an apartment, but some small appliances may be in order. (Especially crock pots. Cook while you're in class!)
Other Back-to-School Gifts for College Students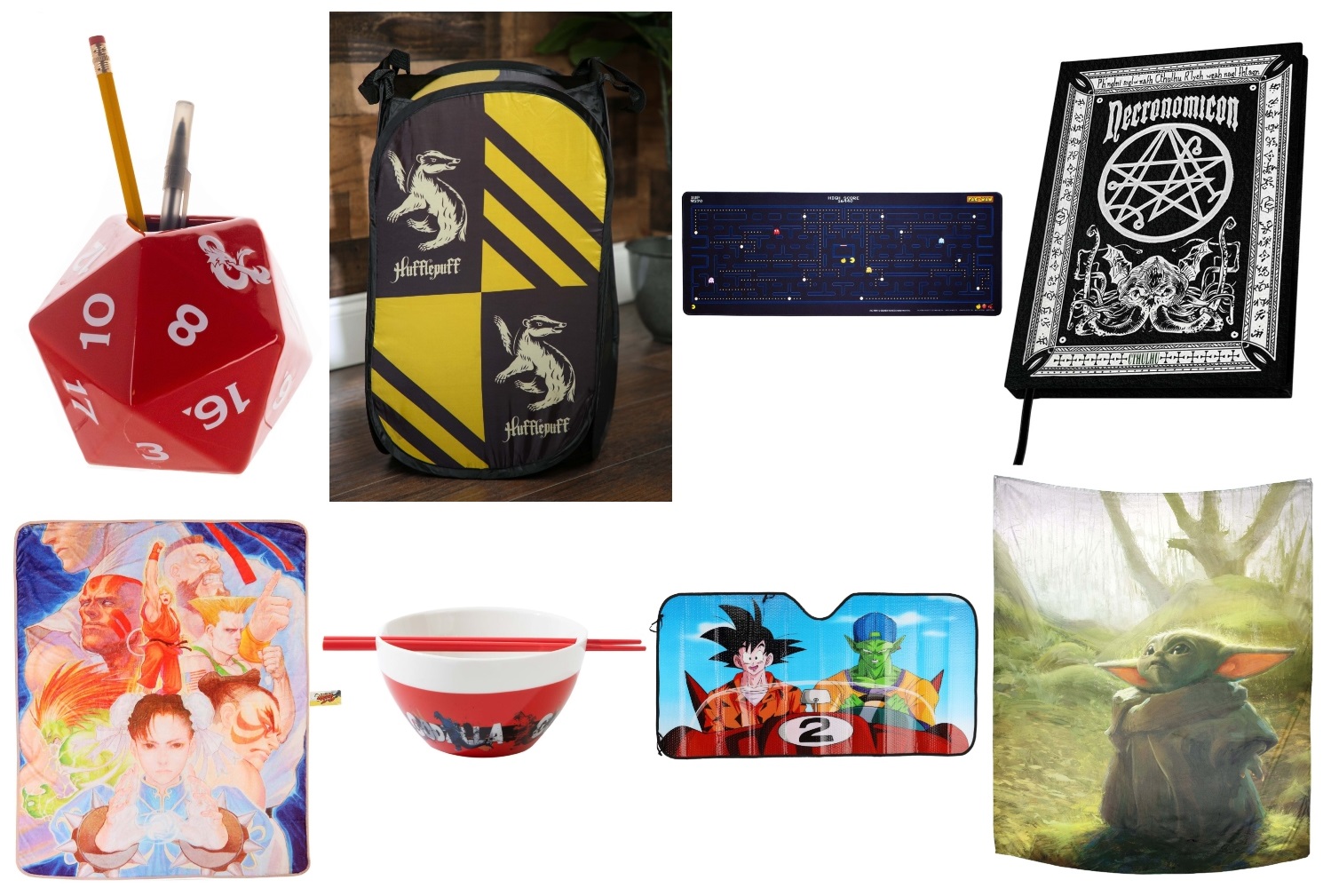 When college kids take their first leap at life away from home, there are many things they'd find useful. Ramen bowls are great if you know your college kid will eat a lot of ramen. (The budget college food staple!) Maybe they have their car on campus, so a sunshade would be handy while it's parked in the lot all day. Don't forget desk items, laundry hampers, and even simple decorations to help brighten up an otherwise plain room. These are some very thoughtful college gift ideas!
Now you can rest easy knowing your kids will return to school in style! They may even be so grateful, they'll forget all about having to get into subjects like history and math. You can browse our entire selection of back-to-school gift ideas and maybe even find something that you'll want for yourself. Remember, we also have a vast selection of games, toys, and collectibles because you can't expect all work and no play. Are you looking for even more back-to-school deals? We've done some math of our own, so there are always deeply discounted treasures in our sale category that'll give you a little more bang for your buck. Have a great school year!