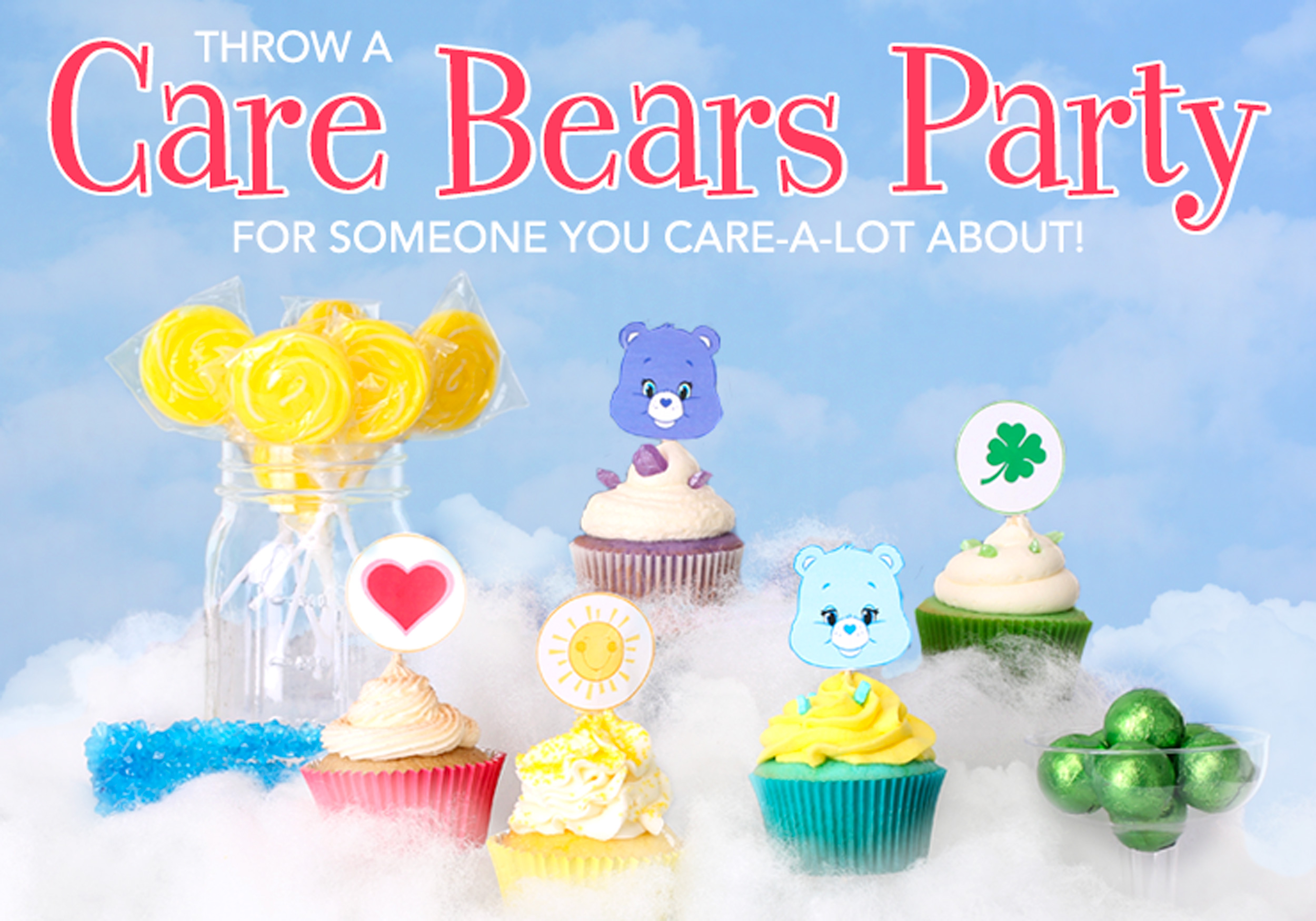 Care Bears is one of those great nostalgic shows for a parent that is still around for them to enjoy with their kids. Who doesn't enjoy watching the lovable bears while learning some great life lessons? As a kid they were just these bears that had some fun adventures, like The Care Bears Adventure in Wonderland. Now as a parent you realize they taught you a lot about being nice and helping people, which you appreciate for your kids. So if you and your family love the Care Bears, why not have a Care Bears themed party! No matter what the occasion is you're sure to have a lot of fun showing you Care-a-Lot. We've come up with some amazing Care Bears-themed cupcake recipes to help make your party the best ever! And to top it off add in our Care Bears Bedtime Bear makeup tutorial. So get in your Care Bears costumes and eat some cupcakes!
We've included printable recipe cards at the end!
Cheer Bear's Cheer Up Cupcake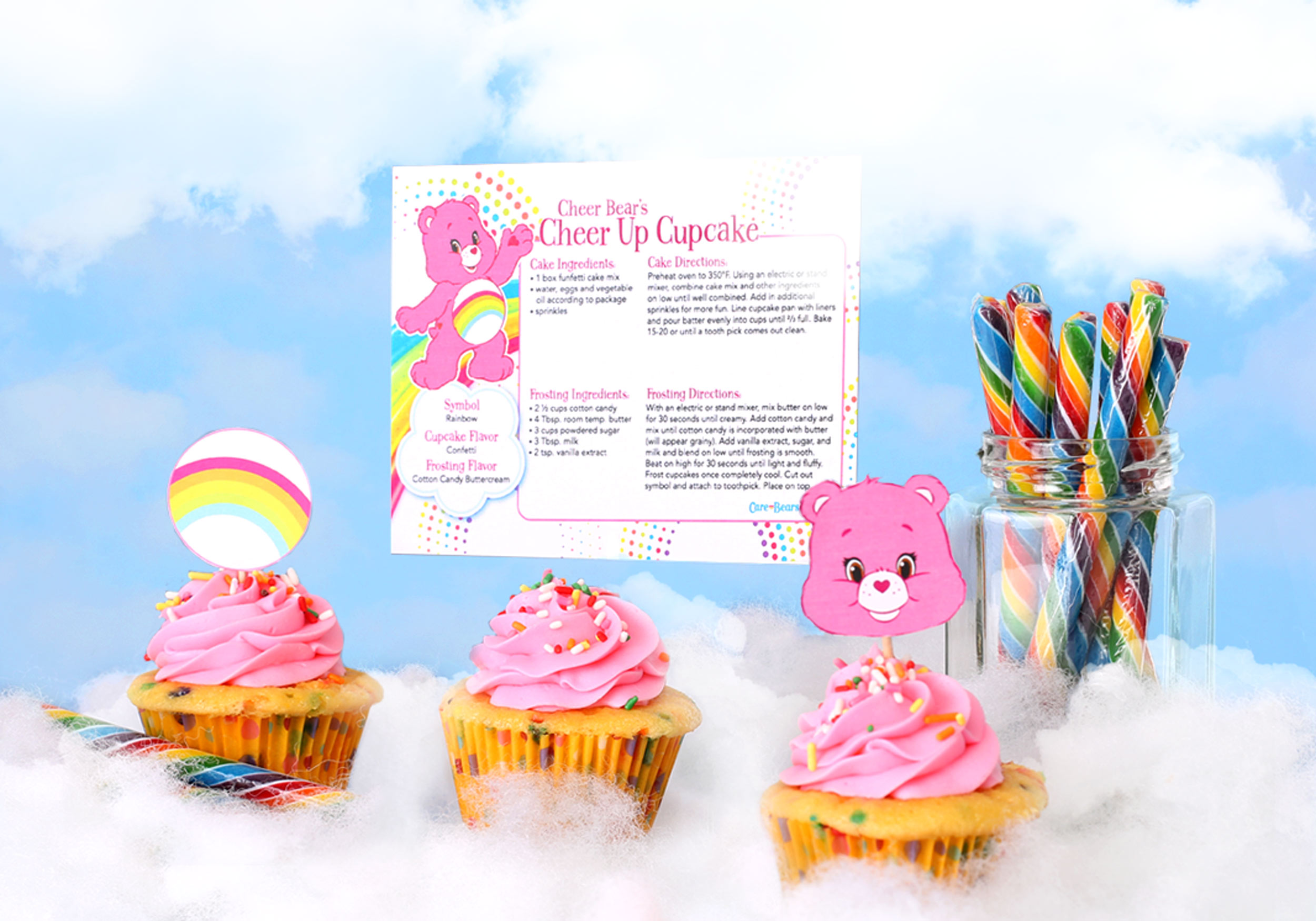 You'll simply cheer up with these Cheer Bear's Cheer Up Cupcakes that use Confetti cake mix and oh so yummy cotton candy buttercream frosting.
Bedtime Bear's Midnight Snack Cake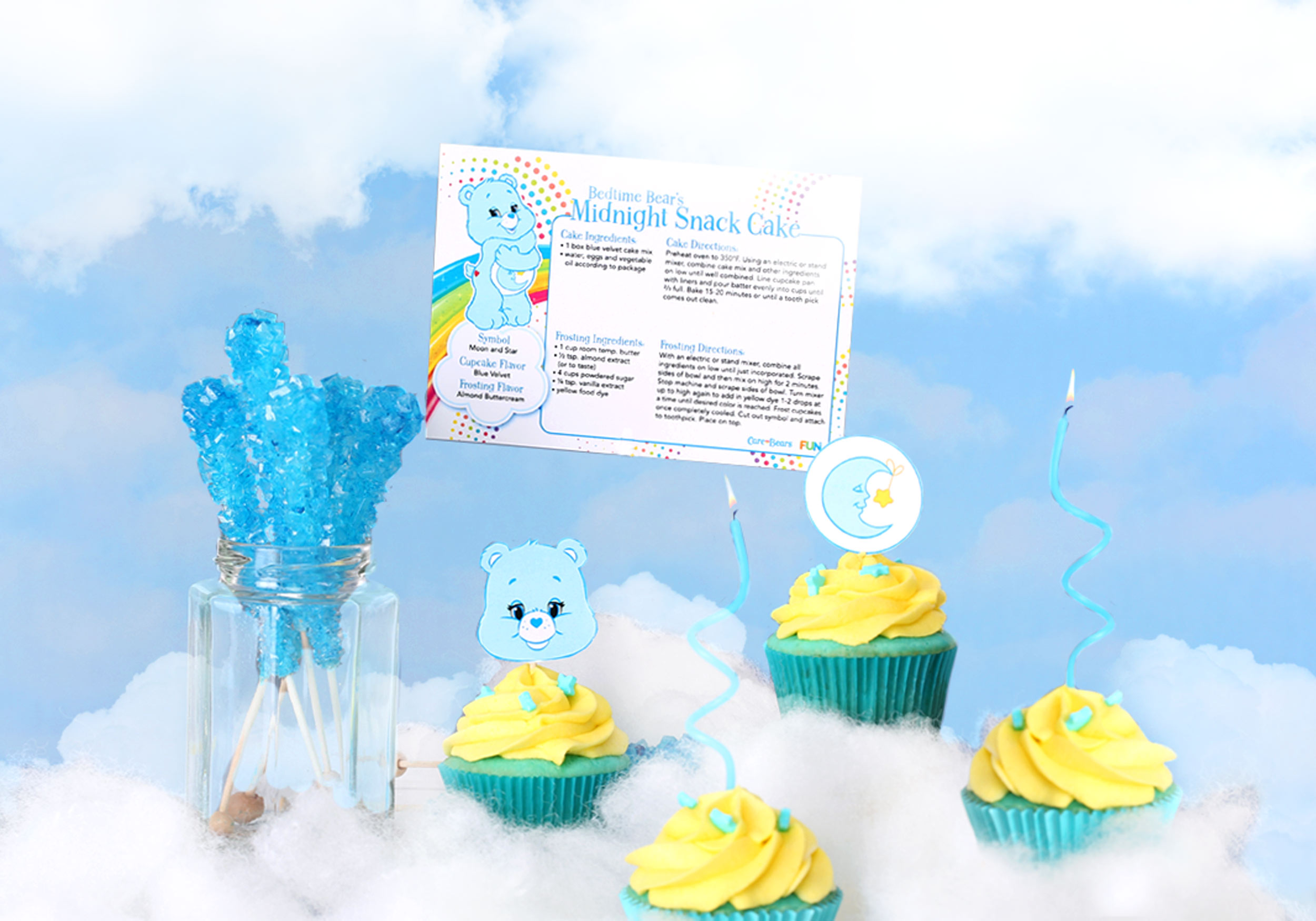 These will make the perfect midnight snack! The blue velvet cake mix gives it just the right color for Bedtime Bear.
Grumpy Bear's Grumpleberry Cupcake
Ok so these ones might just be a regular cake mix with some blue food color. But…the lemon cream cheese frosting is out of this world. If you're up for the task, though, add some blackberry yogurt to get a berry flavor in your cupcake.
Funshine Bear's Lemon Fun Cupcake
Funshine Bear's sunny tummy makes us want to relax in the sun with some lemonade. Lemonade-flavored cupcakes that is!
Tenderheart Bear's Caramel Heart Cupcake
Caramel-filled French vanilla cupcakes and cinnamon buttercream frosting, is there anything better than that? I don't think so.
Good-Luck Bear's Mint Luck Cupcake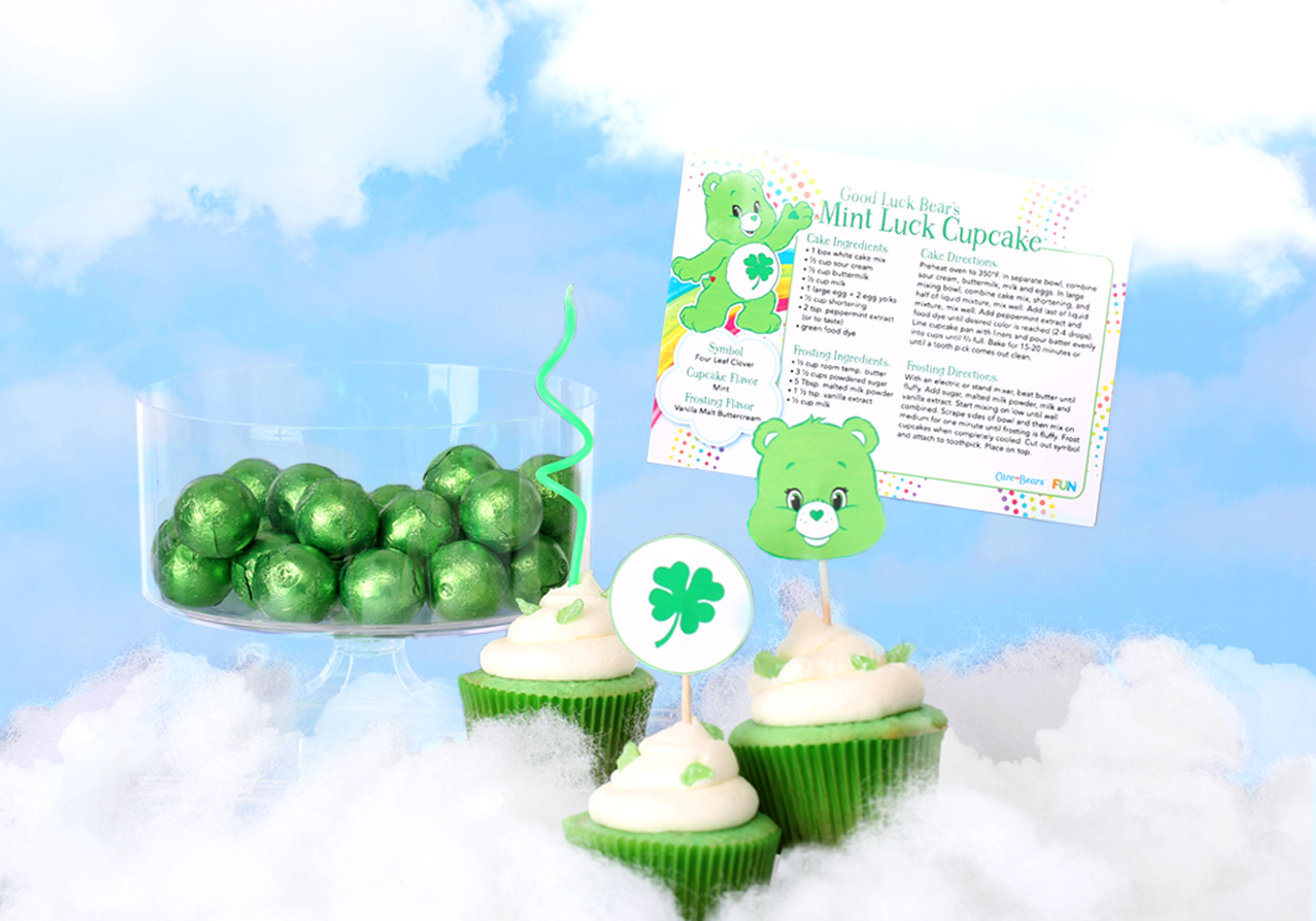 Mint cupcakes with vanilla malt buttercream, yes please! Add some green food dye to get that Good Luck bear green color.
Share Bear's Share-a-Cake
With blue velvet cake mix and marshmallow frosting, you may not want to share these Share Bear's Share-a-Cake. (But be nice and share anyways!) Since Share Bear's symbol is lollipops you can always stick some in the cupcakes as cake toppers too!
Downloadable Care Bears Cupcakes Recipe Cards
These recipes are so amazing you will be the talk of the town. We've made these into free printable cards for you to download. Included in the PDF are the cake toppers you see in the pictures. You can choose the "belly badge" or their face, or heck why not both! Simply download the PDF, cut them out and tape them to toothpicks.
When's your Care Bears party going to happen? Seriously, we want to know so we can come. Okay, we're kidding, but aren't these great recipes? It makes our mouths water just thinking about them. We want to know how your Care Bears-themed part turns out so post a comment below. Check out our Care Bears gifts for present ideas or to use for decorations at the party.