Even though Care Bears is over 35 years old they are still very popular, for obvious reasons. They started with many different TV specials and series to featured films like The Care Bears Movie in the 80s and now they have their own Netflix series, Care Bears and Cousins. These characters are so cute and cuddly with their "belly badges" each representing its personality. It's no wonder they're still around.
If you want to dress up as your favorite Care Bear, whether that's Tenderheart, Cheer, Good Luck, Share Bear or even Grumpy, we say go for it! We'll even help. We've got the perfect simple makeup tutorial featuring Bedtime Bear. It's time for the Care Bear stare! No seriously, don't blink while you watch this amazing video.
Bedtime Bear Makeup Tutorial Video
How about we sit down and watch a video.
Bedtime Bear Makeup Tutorial Video Transcript
Welcome to our channel! Here's a Bedtime Bear-inspired look that's fun and easy to do.
Start with a clean, moisturized face. Prime your eyelids so your shadow stays put. Any eyeshadow look will work—it's all about having fun and adding a little extra look to your costume. For this look, pack a lighter shade of blue into the inner corner of the eye, and a darker shade into the outer corner, leaving the center portion of the lid bare. Use a fluffy blending brush to blend the two blues into the crease. Apply a light, shimmery shade to the center portion of the eyelid, and blend it out.
Using a pencil brush, apply the blue shadow below your lower lash line. Blend, blend, blend! Using a colored eyeliner pencil, put a small heart on the tip of your nose. Using a white face paint and brush, extend a circle out from your heart-tipped nose, with the base of the circle sitting in between your chin and lower lip. Fill in the circle with white face paint, and set it all with a white or translucent powder.
Use a fluffy brush to soften the edges of the circle. Using a fine brush and your blue eyeshadows, add some furry dimension to the circle by lightly pulling strokes of blue shadow through the circle in an outward direction. Use some of your blue shadow to redefine and set your heart-tipped nose.
Define your brows and apply some contour with blue shadows. Apply a bright, shimmery shadow to the inner corner of your eyes, and apply eyeliner. Using spirit gum, adhere sequins or rhinestones to your cheekbone area, three on each side in a triangle pattern. And you're done!
Care Bears Costume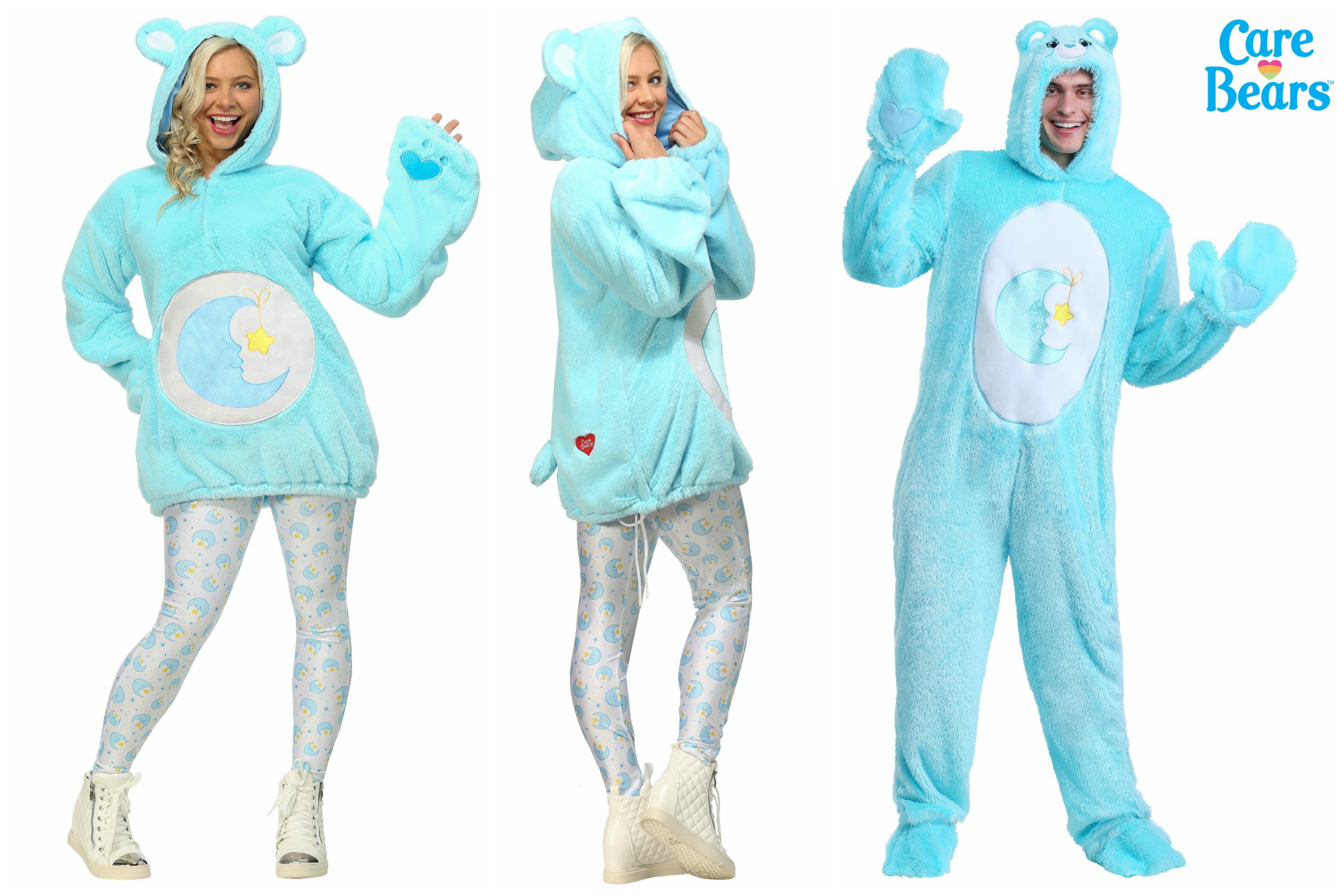 Bedtime Bear Hoodie Costume Classic Bedtime Bear Costume
Once you have your makeup done, it's time to complete the look. We used our Bedtime Bear Hoodie Costume which comes with some super comfy leggings. You can also pair this look with our Classic Bedtime Bears Costume. Either way you go, you'll be super comfy and warm! These Care Bear costumes come in adult and children too, making it a family affair.
The Finished Look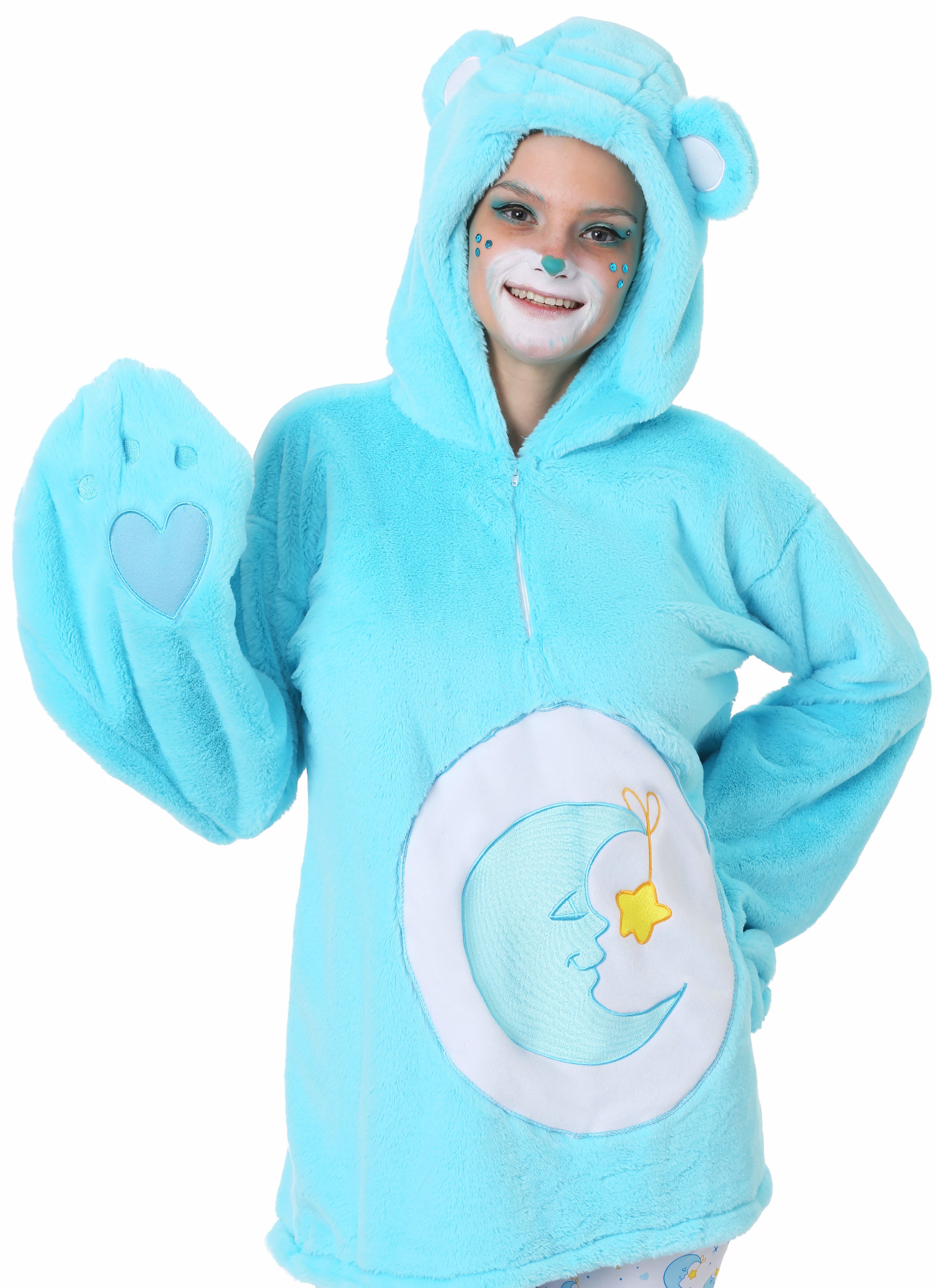 Doesn't this look just make you want to squeal with joy? It's so simple but yet so adorable. You can do this look with any one of the Care Bears friends by just changing the colors. Better yet, get a whole group together for your very own Care Bears family. What do you think? We'd love to see your attempts at this Care Bears makeup look. Be sure to check out all our great Care Bear gifts!