If you're anything like us, you know that a chill evening with Netflix is the best way to spend your Valentine's Day. You know, curled up on the couch with bae, basking in that cool television glow while binge-watching some Stranger Things or The OA. Quality together time, you know? For us, that also means snarky comments about the plot and dialogue, and obviously puns. Bad puns. Many, many bad puns. So in the spirit of bad puns on Valentine's Day, we made some valentines based on our favorite Netflix original series. They're perfect to put on your loved one's Facebook wall, or print out and hide at the bottom of the popcorn bag!
All Images Clickable for Larger View
The Wall from Stranger Things
"You make my heart flip upside down"
Luke Cage
"You're my Sweet Christmas"
House of Cards
"I love you more than sharks love blood"
Master of None
"Here's an E-Vite to my heart"
Eleven from Stranger Things
"Your cuteness level goes to Eleven"
Jessica Jones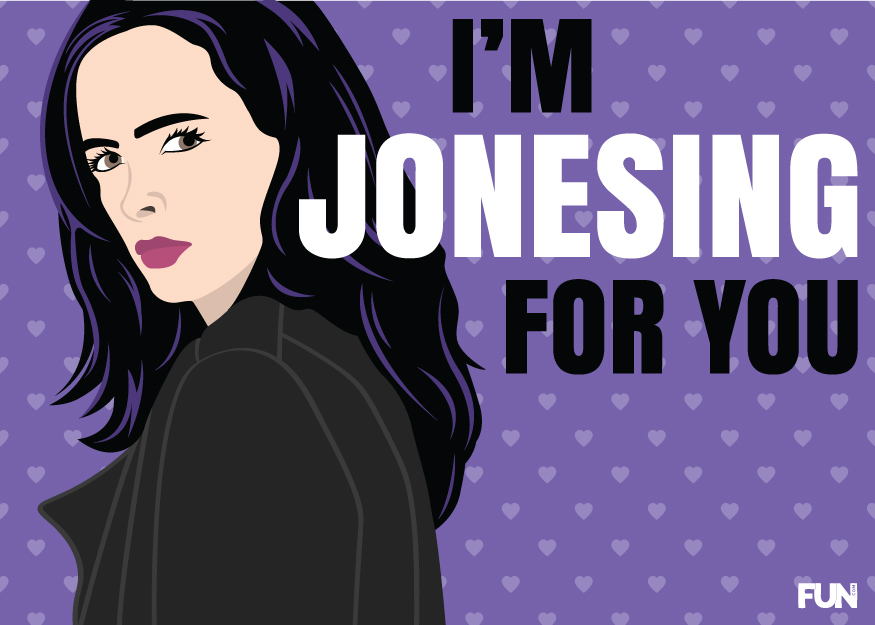 "I'm Jonesing for you"
Orange Is the New Black
"Before I met you the sun was like a yellow grape"
Unbreakable Kimmy Schmidt
"You smell like summer!"
Narcos
"You set the Escobar high"
Daredevil
"I love you like I love this city"
Fuller House
"Have Mercy"
BoJack Horseman
"Wanna horse around?"
The OA
"I like your Movements"
Sense8
"You are Van Damn fine"
Which valentine did you love the most? What's your favorite Netflix original series? Are you so so so excited about season two of Stranger Things? So many questions! It's okay, take it easy and curl up on the couch. And maybe pick up a Funko TV Pop Vinyl figure or two for bae, they're so adorable!
Design Credit: Kate Lemke