Irregular Choice shoes and accessories have been a phenomenon for many years for their wild, wacky and nerdy designs. The ultimate in geek chic fashion, you can pick these items out in a crowd because of their bright colors, bold character art and fun textures! Irregular Choice is well-known for their shoes, but they also make other accessories such as purses and bags, tights and coin purses. They have also had many iconic collaborations. Irregular Choice Star Wars shoes, Disney, Care Bears, and honestly, we could go on. We can't wait to see what the creative minds at irregular Choice come up with next! Without further ado, step right up and head into the wild world of Irregular Choice accessories.
Irregular Choice x Pokémon Shoes (2022 Collection)
If you stop to think about it, there's a lot of walking in the Pokemon games. (Until you manage to get your first bike!) Naturally, you'll want a solid pair of sneakers to see you on your journey. We love the assortment of Pokémon featured on these Irregular Choice shoes, from our favorite starter Pokemon to ghosts, fairy types, and of course, Pikachu. These cool shoes are so colorful that we could only imagine them being worn by some of our favorite gym leaders!
Irregular Choice X Pokémon Boots and Heels (2022 Collection)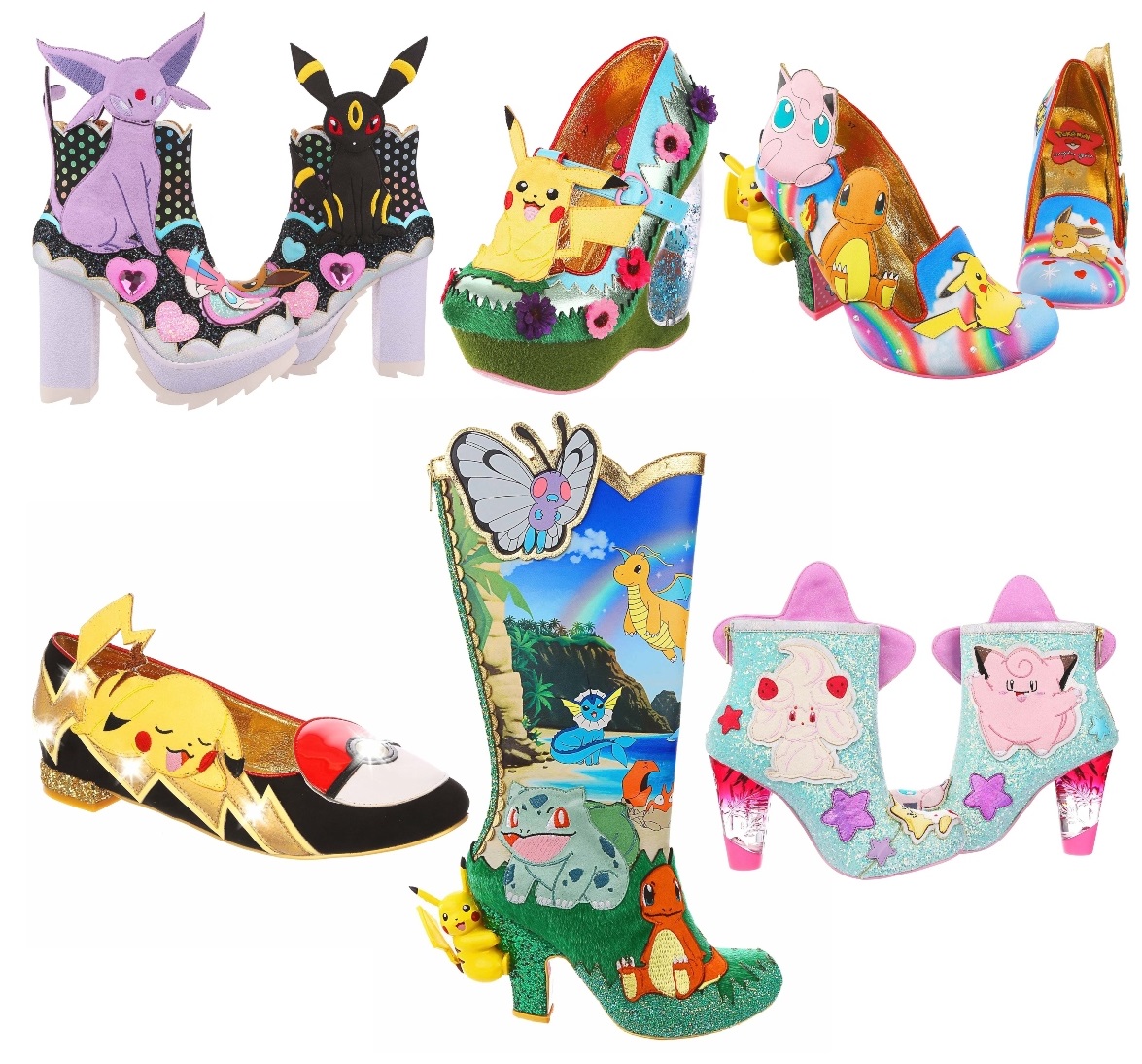 Pokémon may feel like a strange choice for more formal boots and heels, but our minds have been made up after seeing these cute new designs! Show off the duality of Espeon and Umbreon with a pair of heeled boots, or give Pikachu a ride as it clings to the backs of your shoes. This wild and colorful footwear is sure to have people asking where you got them!
Irregular Choice x Pokémon Purses and Bags (2022 Collection)
If you thought the shoes were delightful, take a gander at these lovely Pokémon bags! We love that you have a variety of Pokemon to choose from, including gen I favorites and mascot Pokémon Eevee and Pikachu. Anyone looking for a statement piece for your latest outfit—this is it! Feel like a ghost trainer with the mysterious nights purse, or fulfill your fairy trainer dreams with the awesome mode bag. These Pokémon bags are so cute that you're going to want to buy 'em all!
Irregular Choice x Wizard of Oz (2021 Collection)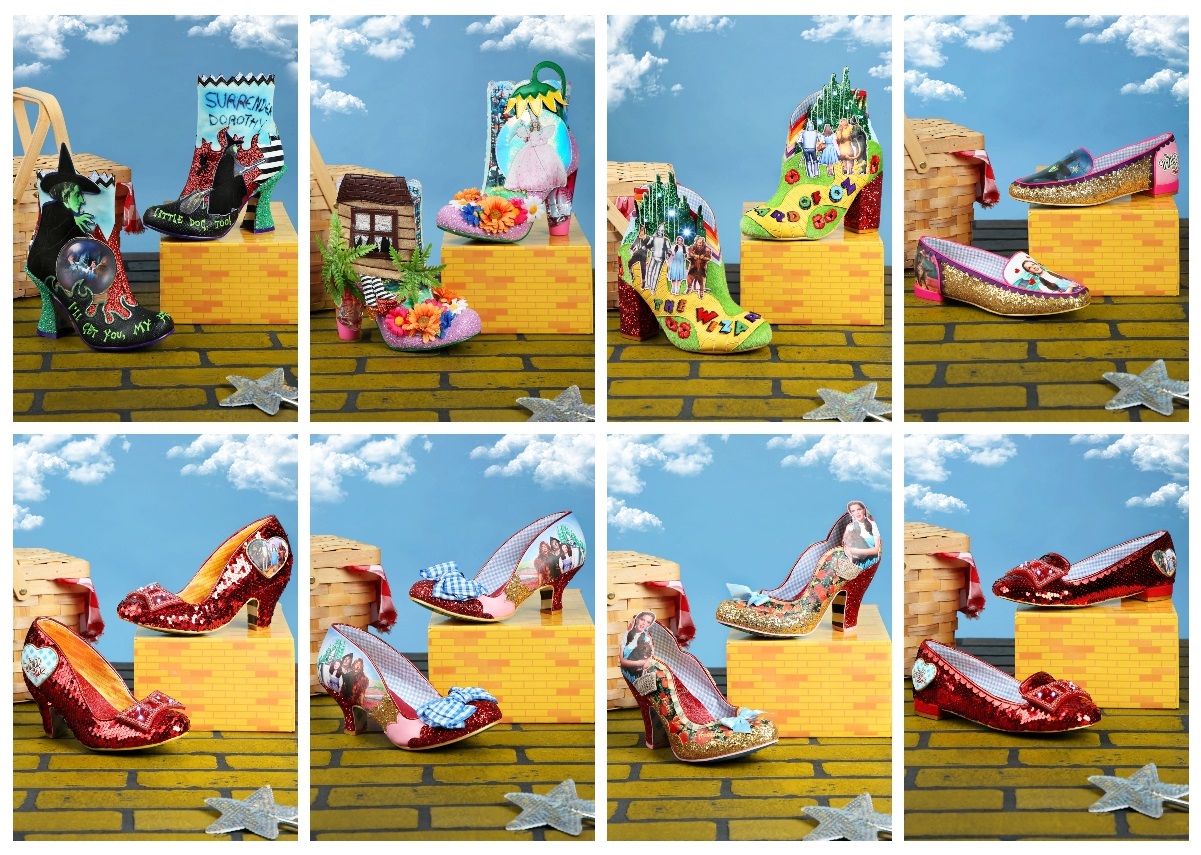 How magical would it be to click your heels together and wish yourself home? Now, we're not going to say that you'll be able to do that with these Wizard of Oz heels, but you'll love having sparkly, ruby-red shoes just like Dorothy! However, the fun doesn't stop there. Find magical heeled boots covered in the wonders of the land of Oz, or grab a witchy pair for yourself when you're feeling like a wicked witch. Now all you need is a yellow brick road to hear the satisfying click from these colorful heeled shoes.
Now, it's nice for a gal to have the perfect pair of heels, but there are other shoes and accessories that might catch your eye. A satisfyingly sequin-covered pair of sneakers is sure to look impressive, but don't overlook that blue gingham pair either! And, while shoes may be some of the most important accessories for any outfit, there's nothing quite as pleasing as the perfect purse. We can't blame you if you feel the sudden urge to skip along to your destination with your favorite characters!
Irregular Choice Halloween Horrors (2021 Collection)
Are you a fan of alt fashion? Do you like spooky-cute outfits? Well, Irregular Choice's Halloween collection is just for you, boo. In between all the glitter and glam you can find spooky skeletons, spider webs, ghosts and bats. Several items also contain lenticular portraits in golden frames holding a spooky surprise! You're going to want to grab these limited Irregular Choice shoes and bags before they disappear.
Irregular Choice x Hello Kitty (2021 Collection)
If you're all about kawaii culture, get ready to squee over these Irregular Choice and Hello Kitty shoes and accessories! This cute white cat character and her iconic bow adorn these bags, tights and shoes with a mixture of bright colors and pastels. With so many colors, you'll have tons of fun finding apparel pieces to match! (And those light-up high-top shoes will be extra fun to turn into a Hello Kitty outfit.) Bring the cute outfit of your dreams to life with the Hello Kitty Irregular Choice collection!
Irregular Choice x Cat in the Hat (2020 Collection)
It's fun to have fun, but you have to know how. We're sure that the Cat in the Hat can introduce your wardrobe to a whole new level of creativity with these Irregular Choice x Cat in the Hat shoes and accessories! Slip into a pair of tall boots with Dr. Seuss characters and imagery all over, or fish out this delightful coin purse featuring the Cat in the Hat himself. There's even a pair of tights so you can step into the world of Dr. Seuss. (Just make sure to keep the mischief at a manageable level!)
Irregular Choice x Snow White and Mulan (2019 Collection)
Irregular Choice Still the Fairest Handbag
Irregular Choice really outdid themselves launching two Disney Princess collections at once, featuring both Mulan and Snow White and the Seven Dwarfs. The Still the Fairest purse has cute apple accents on both the top of the bag and the shoulder strap, but flip it to the other side and you see the Evil Queen! Of course, we can't forget Irregular Choice's Mulan collection either. It's hard not to love all of the pretty pink cherry blossoms hidden throughout the design of this cute coin purse.
Irregular Choice x Aladdin (2019 Collection)
Oh so delightfully blue, we love Irregular Choice's Aladdin shoe and accessory collection! Discover a whole new world of bright and colorful shoes and accessories, from purses prominently showcasing Genie to adorable Aladdin and Jasmine heels. Whether you're intent on going out on the town in style, putting together your Disneybound outfit or simply collecting your favorite Irregular Choice shoes, these Aladdin items are full of heart.
With so many nerdy shoes and accessories, it's so hard to pick out your favorites! Is there an Irregular Choice shoe you'd like to see? What would be your dream item? Was there something you missed out on from a previous launch that you'd love to see re-released? Feel free to share your thoughts with us in the comments below. As always, you're more than welcome to browse through the rest of our Irregular Choice shoes and accessories. You just might find the perfect gift!