We're so excited to announce that we now carry styles from the new line of Star Wars shoes designed by Irregular Choice! These high-concept shoes are inspired by the classic trilogy and have been blowing up the fashion world since the moment the teaser images were released. Even Whoopi wore a pair on The View this month! Irregular Choice is known for their crazy, out-of-this-world designs, so creating shoes that look like they belong in a galaxy far, far away makes the perfect sense. Here are the styles we carry:
Irregular Choice Star Wars Flats
These flats work best for the more conservative Star Wars fan – you love the shoes, but don't know if you can go full on haute couture on your tootsies. These should do the trick just fine! The Threepio loafers are adorable, but you cannot go wrong with the romantic Han & Leia set. "I love you." "I know." Classic.
Irregular Choice Star Wars High Heels
Ok, now we're talking. A pair of shoes where the high heel is a light-up lightsaber? Can you honestly look at those and not say "oh, yeah, I'd totally wear those." Because, we? Would totally wear those. These styles would be great for every single day of your life, obviously, as well as sci-fi conventions, geek weddings, or when you're elected President of the United States.
Irregular Choice Star Wars Booties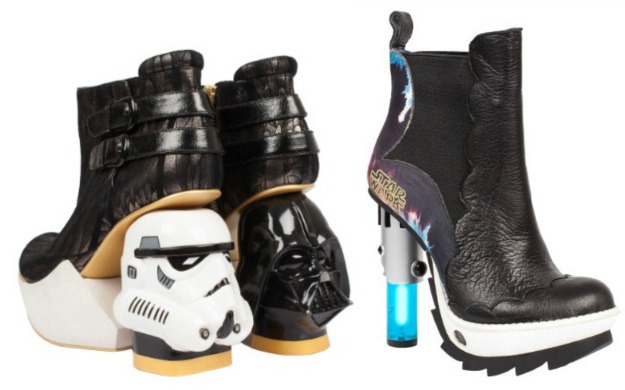 And, the last section: the booties! Another light-up lightsaber heel, yes, but what's more satisfying than taking a step on Vader and a Stormtrooper's head every time you walk down the hallway? Wear these boots on a first date, unless your first date is with Darth Vader. That might be very intimidating for him.
We love these shoes! You can see the whole Irregular Choice shoe collection or Star Wars Gifts on our website, FUN.com. If you snag a pair, you have to show us pictures of how you styled them. Let us know in the comments which were your favorite!