There are so many reasons to love stuffed animals and plush toys. They're soft, huggable, collectible and cute. They also make excellent toys for kids, but teens and adult collectors love them, too! We'll show you what kind of stuffed animals we have to offer at FUN.com. You can find lots of licensed plush characters as well as stuffed animals for babies and kids. Keep reading to see all of the stuffed characters you can get your hands on!
Pokémon Stuffed Animals and Nintendo Plush Toys
The world of Pokémon is filled with hundreds of adorable creatures, so naturally, they make excellent stuffed animals. (Just be ready for your kid to scream "I choose you!" while tossing their stuffed Pokémon.) You can also see adorable critters in many other Nintendo games, such as Animal Crossing and Super Mario Bros. Who wouldn't want a plush Yoshi doll? What about a squishy Kirby toy? These video game plush toys are sure to delight kids and collectors alike!
Large Stuffed Animals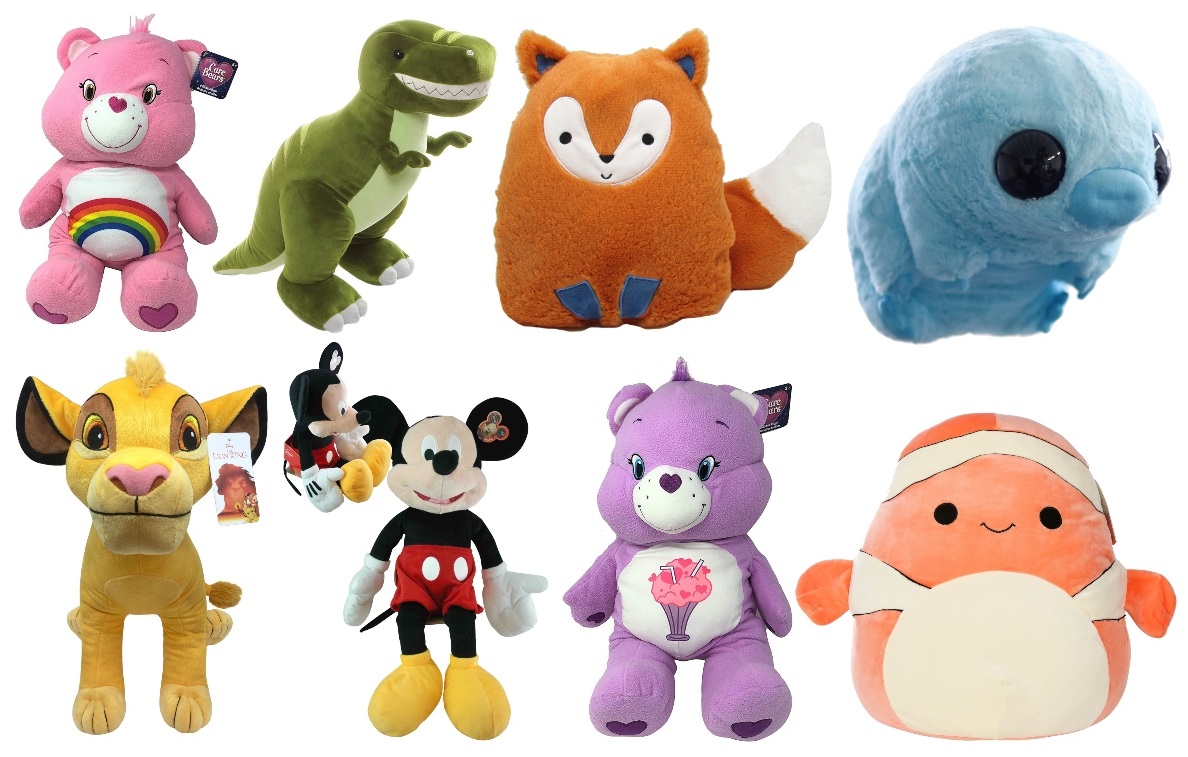 Sometimes you need something big and soft to hold onto. Kids often take comfort in having a large stuffed animal to hug, whether they're getting ready to go to sleep or in need of comfort on a long car ride. These big stuffed animals are perfect for warm hugs! If you ask us, the best stuffed animals are the ones that are always there when you need something to hold.
Cute Stuffed Animals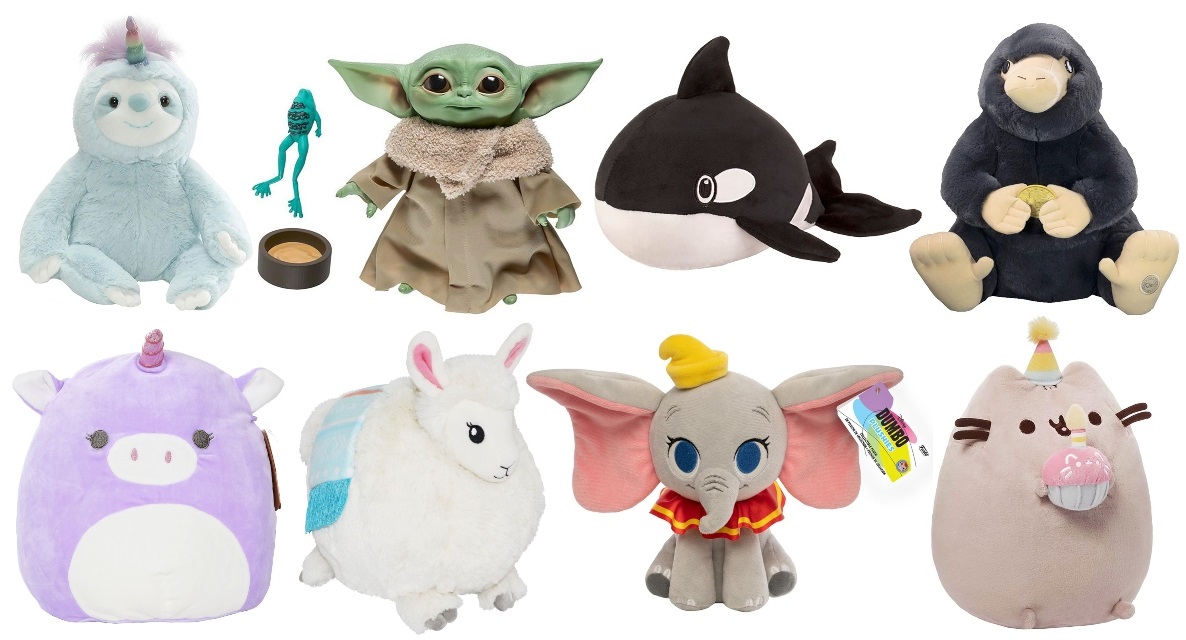 We'd like to say that most plush toys are adorable, but these cute stuffed animals will melt your heart. (Having large eyes, pastel colors and fun shapes simply make these kids' stuffed animals and plush toys irresistible!) Even adults may find some of these items collectible, such as the stuffed Baby Yoda and other Disney plushies. While there's everything from llamas and unicorns to Nifflers and orcas, the one thing these all have in common is that they're delightfully cute.
Minecraft Stuffed Animals
Minecraft is iconic with its blocky characters, and these Minecraft plushies happen to mimic that aesthetic rather well! You can collect plush Minecraft toys from creepers to several different animal friends. These affordable gifts for kids make great stocking stuffers for the little gamers in your life. (Not to mention the big ones, too!)
Small Stuffed Animals
As much as we love the big stuffed animals, there's lots of love to give the small plush toys, too! All of these stuffies are smaller than 10", making them easy for little kids to hold. You can find anime characters such as Gigi and Artemis, as well as ugly cute animals like the blobfish and tardigrade. (And how cute is the little manatee?!) Now if you'll excuse us, we're going to go bask in a pile of these.
Baby Stuffed Animals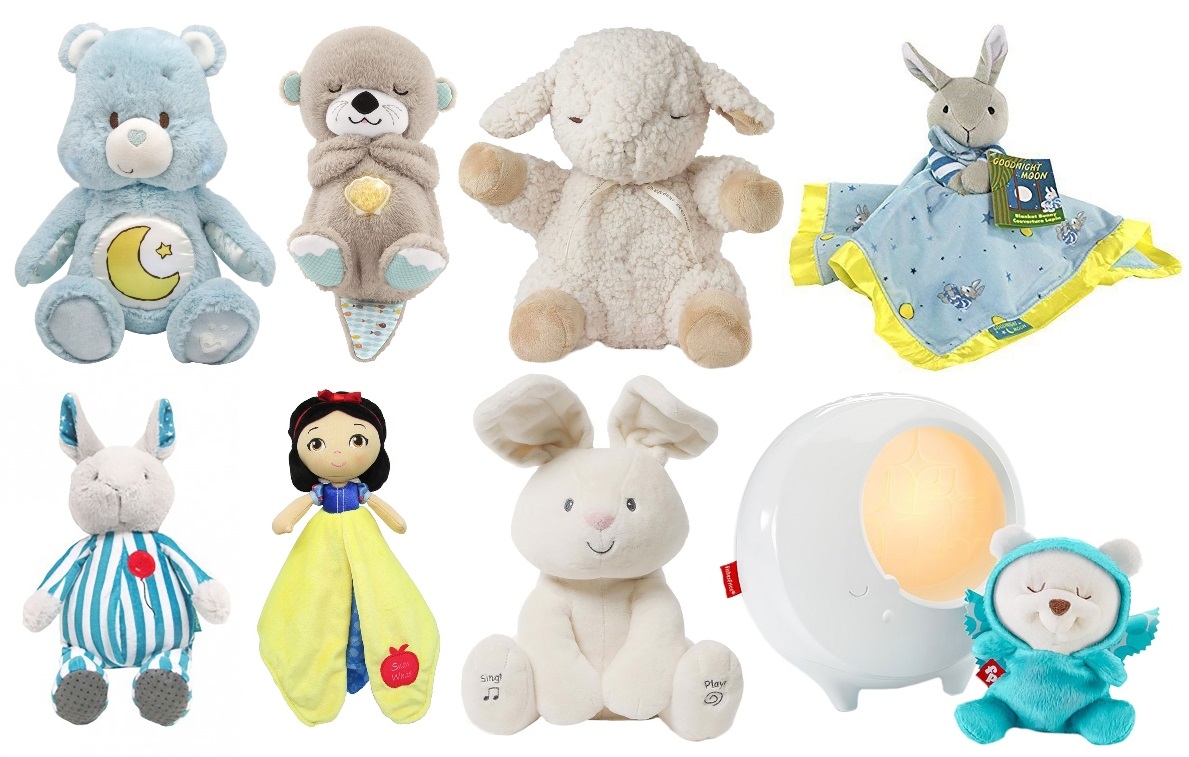 Stuffed animals make great gifts for babies! These infant plush toys are soft and age-appropriate for wee ones. Several also play soothing sounds, while others include sensory details in the fabric. Unlike stuffed animals for older children, these infant toys have embroidered eyes and details instead of plastic eyes and other details, making them baby safe. You're going to love finding the perfect baby plush toys for your next child or baby shower!
Realistic Stuffed Animals
Kids love animals, and these realistic animal toys are great for kids who love watching nature shows. (Tigers and wolves and ferrets, oh my!) Get them some of their favorite furry friends, which your kids will love taking on adventures with them. Perfect for imaginative play, you can also pair these toys with animal books so they can learn all of the facts about their new plush friends. That's right, plushes can make education fun!
Pillow Pet Stuffed Animals
Pillow pets are a particular type of stuffed animal that convert from being a cuddly friend to a convenient pillow buddy. Great for rides in the car, grandma's house or even at home, your kids will love their plush friends. Many of these stuffed toys are characters from movies and TV shows, such as the Paw Patrol plush, Olaf from Frozen and other Disney characters. You can also find several animal buddies that make super-cute pillows. Naptime can be less of a struggle when your child has their favorite stuffed toys by their side!
Weird Stuffed Animals and Toys
Not everyone wants a cute and cuddly plush toy. These collectible adult stuffed animals are meant for the older crowd...but we're not going to say that some kids won't appreciate them, either! You can find adorable horror character and 80s stuffed icons such as the Stay Puft Marshmallow Man, or a cute and cuddly R.O.U.S. from The Princess Bride. Some of these odd stuffed toys aren't even animals, really. (But isn't that plush DeLorean cute?) These weird plushies will certainly be fun to add to anyone's collection.
We hope you enjoyed looking at all of the cute and cuddly plush toys for kids and adults! Were you hoping to find some birthday presents, or perhaps something for Christmas or Easter? Does there even need to be a special occasion to shop for plushies? Are you hoping to find a particular toy? Let us know what you think in the comments below! You can always check out the rest of our stuffed animals on FUN.com.