Do you need help finding the perfect gift for a friend or family member? We'll take a special peek at nerdy astrology gifts for people who love pop culture. Maybe you already know some of their favorite movies and TV shows, which will give you a head-start. Then again, maybe you don't, and that's okay! We'll show you some of our favorite astrology gift ideas with a nerdy twist that they're destined to love.
Aries Gifts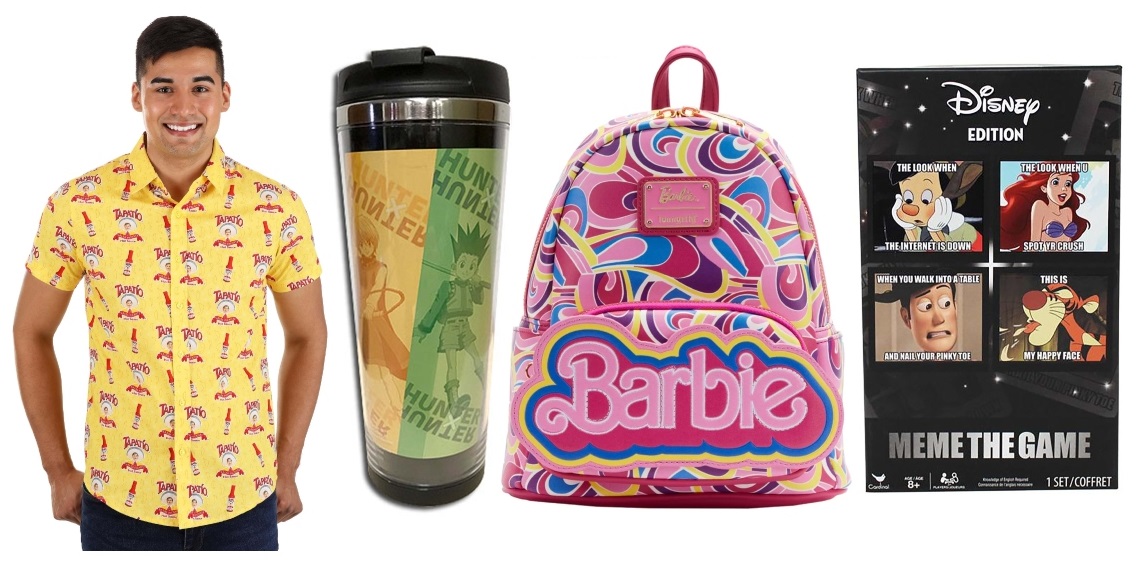 Bright, bold, and passionate, gifts for Aries men and women are fun to shop for! Because they're a well-known fire sign with a love of intense colors and patterns, we couldn't help but suggest a hot sauce-themed button up shirt. (Honestly, you can't go wrong with most of these because of the colors and patterns!) Aries are also often on-the-go, so a fun travel mug or bold mini backpack are easy and convenient to carry for the day. When it's time to have fun with friends, they'll love to pull out this quick meme game to show off their social skills.
Taurus Gifts

Everyone needs a Taurus friend! Practical, grounded, and a connoisseur of the finer things, they are the kings and queens of relaxation. It's only natural that you'd want some practical gifts for your Taurus friend or family member. If they love to have a little bubbly by the pool or the bath, a cup with a lid will keep their drink safe and fresh. We also love fun slippers, sweatshirts, and other cozy loungewear items perfect for a homebody. Also, a low-maintenance succulent planter is the perfect gift idea for our gentle earth signs.
Gemini Gifts

Fun and sociable, Geminis are well known for their love of hanging with their friends and traveling. If they're typically the hostess in your group, your Gemini friend will likely appreciate some party games for their birthday, or perhaps a goofy welcome mat to let guests know they're about to have fun! Maybe they like to break out the bubbly, so a set of unique drinking glasses is always a welcome gift idea. They may also feel like they have a camera glued to the end of their hand to record all their memories, so a photo frame may be a thoughtful gift for a Gemini who has their favorite memories recorded in pictures!
Cancer Gifts
People with Cancer signs were born at the start of summer, so it's no wonder many Cancers love hitting the beach or the pool. Known for being crabs from time to time, we couldn't help but pick out this Grumpy Bear pool float lounger. Totes and water bottles are also a must for enjoying time in the sun, and they'll make a great addition to a gift for a Cancer. If you're looking for Cancer Christmas presents when the sun and surf have gone away, cozy indoor gifts like throw blankets and ramen bowls will keep them warm and eating well.
Leo Gifts

Do they love to be the center of attention? Would other people describe them as "extra"? Congratulations, you have a Leo on your hands. If there's anything we know about Leos, it's that they love their sign. You can never go wrong with something lion-themed or with a bold tiger or leopard print pattern. As someone who loves to be in the spotlight, a game of charades is perfect for Leos to show off with friends. Other fantastic gifts for Leos include fashion-forward products and anything that can keep their mobile device going. How else will they reign supreme across their social platforms?
Virgo Gifts

Virgos are often described as creative, practical, or even perfectionists. They'll love simple, useful gifts, but don't be afraid to cater to their creative side! We also love a good floral for an earth sign like this Harry Potter mug. Other great gifts for Virgos include stationery sets with journals and sticky notes to help them stay organized, creative coasters, and fanny packs and totes to have all their essentials along on even the shortest trips.
Libra Gifts

You want to find gifts that balance form and function when shopping for a Libra. Practical yet driven heavily by aesthetics, you can still find fun pop culture gifts for Libra men and women. A creative desk mat is a welcome addition to a Libra's home office, and nothing says sweater weather like a fall birthday. Maybe a cute tea set is perfect for your friend or family member who loves bougie beverages! We're sure you can find even more gifts perfect for Libras in your circle.
Scorpio Gifts

One of the most intense signs, Scorpios are known for throwing their whole being into their interests. You probably know some of their movie and TV favorites, because they're prone to being super-fans! They also delight in edgy aesthetics, but would you expect anything less from Halloween season people? Fandom-fueled friends and family will flip over high-end collectible statues, and there are plenty of silly and sassy licensed mugs to satisfy your Scorpio. You may not need much help finding additional gifts for Scorpios at FUN.com!
Sagittarius Gifts

If anyone's going to have a travel bug, it's going to be a Saggitarius. Always energetic and on the go, Sagittarius signs love to learn and immerse themselves in experiences. When shopping for a person who loves to travel, you know that they like to be comfy when sitting on a plane or in a car for hours at a time. Why not get them a cozy jogger set? Maybe they need their beverage of choice at the ready with a water bottle. Even if they can't be on the road all the time, this National Parks-themed board game is a lot of fun. We also love the idea of a fun and thoughtful keychain for their spare sets of keys that they hand out when looking for a house or pet sitter.
Capricorn Gifts

Fiercely competitive and ambitious, it's hard to keep a Capricorn down! They honestly give us big Slytherin energy, so a Slytherin gift might be perfect! Many Capricorns are on-the-go and athletic, which suggests gifts like a coffee mug or a new gym bag. Also, quick and fast-paced games like Uno are great. You're bound to have even more gift ideas for the Capricorn in your life once you get those creative juices flowing!
Aquarius Gifts

Aquarius happens to be the sign of astrology, so your Aquarius friend or family member may feel more drawn to the stars and constellations than other signs. We love this cool astrology sweater, and fun NASA merch would certainly make an excellent gift for an Aquarius. However, with their heads so in the clouds, they may need to find ways to come back down to earth. Keeping a journal or writing for meditation are great places to start, so notebooks make great gifts for Aquarius friends and family. Tea may also be an Aquarius favorite, and how cute is this tea infuser with the famous Mrs. Potts from Beauty and the Beast?
Pisces Gifts

Highly creative and empathetic, the Pisces dreamers and artisans are bound to love any gift you give them. Sometimes it really is the thought that counts! If you're looking to put some thought behind your gift for a Pisces, we recommend gifts that remind them of their favorite books and pastimes. Puzzles are also both creative and relaxing, perfect for a Pisces dealing with empathy fatigue. They're also bound to appreciate a fun and comfy pair of slippers for unwinding at home.
We hope you're filled with plenty of great zodiac gift ideas! Are any of these gifts a perfect fit for friends and family? What's your favorite astrological sign? We'd love to hear if you have other gift suggestions for nerdy zodiacs in the comments!