So you're looking for the best Game of Thrones gifts for the collector in your life. Maybe it's your spouse or relative or just a friend…or maybe that gift is for yourself! (No judging!) Don't worry, because there are Game of Thrones collectibles and gifts of all kinds, from Funko Pops to prop replicas to clothing. Now there's a variety that should delight every kind of Game of Thrones fan!
Game of Thrones Figures
You don't have to worry if you're looking for Game of Thrones Funko collectibles or realistic Game of Thrones figures and statues. You can find these cool Game of Thrones collectibles here at FUN.com! Choose from one of a number of your favorite Funko lines, including the popular Pop! vinyls, Rock Candy and even Funko 5 Star. However, collectors looking for more detailed collectibles will love items like this Jon Snow statue, or perhaps a realistic White Walker! These Game of Thrones collectibles are ready to go on display with the rest of your collection.
Game of Thrones Office and Home
Any Game of Thrones fan looking to spruce up their office decor and home goods can find some great pieces here! Pop a Hodor doormat in your entryway so even the Wildlings enter with clean feet, or place a fancy Game of Thrones map poster on the wall in your office. Who needs a boring map of the known world anyway? Add some Game of Thrones-themed merchandise to your kitchen with ice cube molds and baking trays! What about scented candles? We could go on, but we're sure you'll find just the Game of Thrones office and home goods you're hunting for.
Game of Thrones Apparel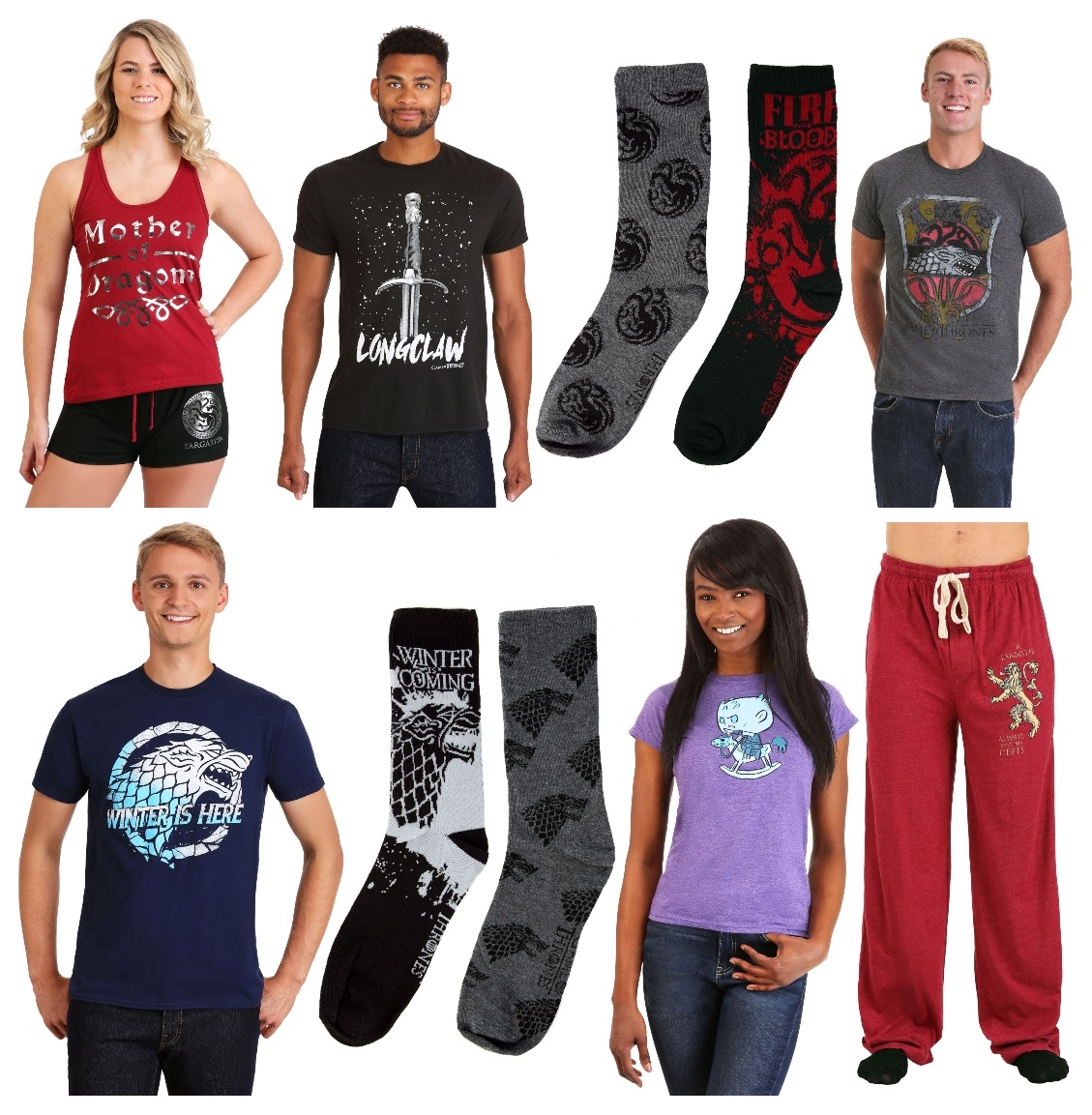 Naturally, any Game of Thrones fan worth their salt needs some Game of Thrones clothes in their regular wardrobe. Lounge like a Lannister in comfortable house sigil lounge pants, or let everyone know that winter is coming with a graphic shirt. Even if you need to dress professionally, no one can stop you from discreetly wearing your Game of Thrones socks! Men and women will love representing their favorite Game of Thrones houses with these licensed apparel items.
Game of Thrones Accessories
| | | | |
| --- | --- | --- | --- |
| Game of Thrones Map Umbrella | House Stark Wallet | Game of Thrones Map Mini Backpack | Game of Thrones Longclaw Sword Umbrella |
Why stop at Game of Thrones clothing when you can add these glorious accessories to your stunning outfit? Have the coolest umbrella on the block with the longclaw sword handle umbrella, and make sure you never get lost in Westeros with a map mini backpack at your side...back? Also, even though they say that a Lannister always pays his debts, this House Stark wallet will make sure your money is in good hands.
Game of Thrones Props and Replicas
If you prefer your collectibles a little more…sharp, then you're in luck. You can get a Game of Thrones sword for less than the cost of researching and building your own time machine to go back and buy a real one in actual Game of Thrones times. Oh. Wait a minute. We're being told that Game of Thrones is what's called a "television series" and not actually a historical time period. Who knew? No matter, these prop replicas of the Game of Thrones Longclaw sword and Needle sword are still pretty neat, even if they aren't actually made for combat or whatever. Plus, there's even a replica of the Hound's helmet. Whoa!
Did you find the Game of Thrones goodies that you're looking for? Are you more of a Pop Vinyl or statue or sword type of collector? Or maybe something else entirely? Let us know in the comments! And if you're still looking for that perfect piece of Game of Thrones merchandise, take a look at all of our Game of Thrones gifts.